Rita's Bar & Dining was the talk of Dalston with its temporary residency at Birthdays and now it has a permanent address on the other side of Hackney.  Located halfway up Mare Street, Rita's occupies an unassuming spot between The Dolphin pub and Bouchon Fourchette.
From the maroon exterior, you wouldn't imagine that the two-floor restaurant inside has a retro Miami vibe with pastel pink banquettes, diner-style tables, bright white walls and a palm tree in the corner.  It features an open kitchen and bar at the back and a private dining space on the lower floor.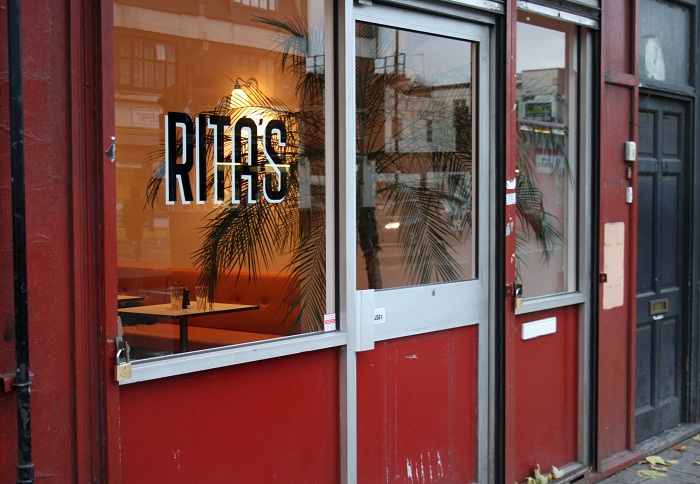 Rita's began as a 'travelling food and drink collaboration' and is headed up by Brunswick House's Jackson Boxer and Gabriel Pryce, Hawksmoor's Missy Flynn and Deano Jo of Real Gold Collective (The Alibi and FUN).
It made its name with a gourmet approach to American comfort food, but now with a bigger kitchen and premises, the menu extends to more sophisticated, innovative cooking.
There are Asian influences present with Spicy Noodles with Pigs Head Ham and Octopus Dumpling with Braised Shiitake and XO Sauce, plus tempting specials such as Big Soup Jerusalem Artichoke & Black Cabbage with Cep Buerre Noisette & Parmesan and BBQ Lamb Ribs, Smashed Cucumber, Chilli and Mint.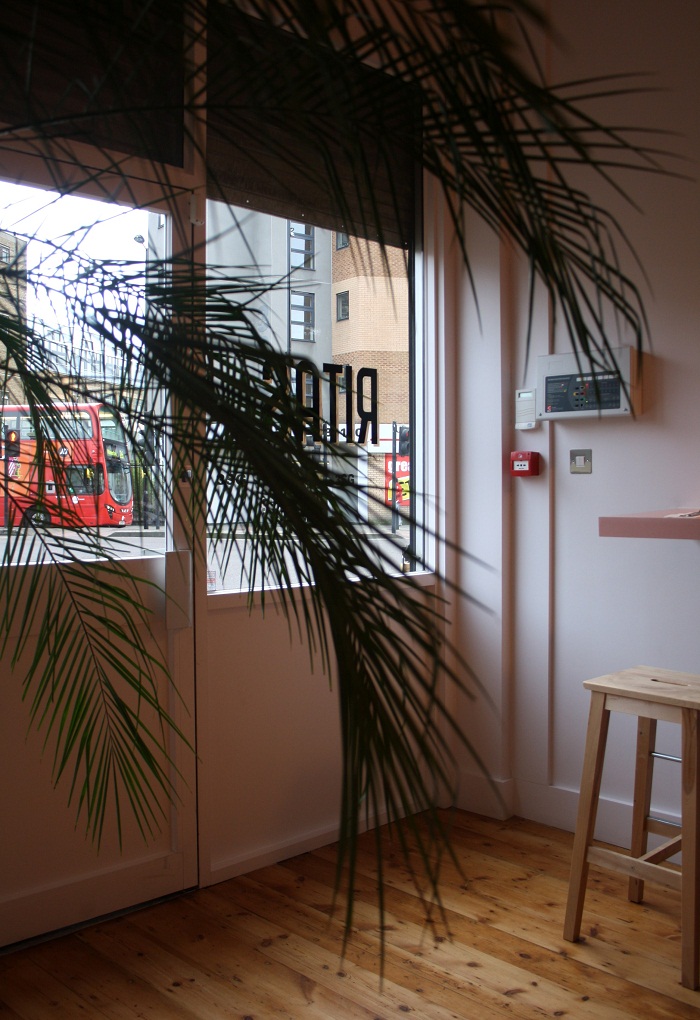 We were instantly greeted by a friendly young chap who sounded like he might be from Manchester (I still get a little excited meeting fellow Northerners in London).  On a mid-week lunchtime it was understandably quiet, with only a few tables filled, but it still managed to have a good atmosphere.
We sat close to the window, near enough to see what our neighbours were ordering, and were swiftly brought some lunch menus.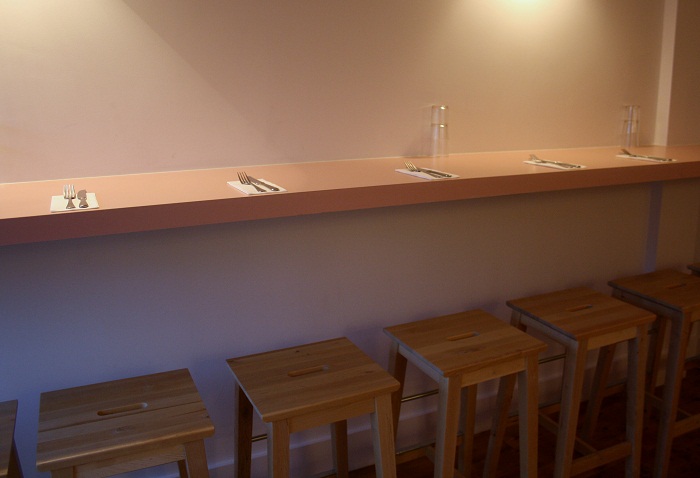 We both ordered a glass of Pink Lemonade (£2), which was tangy, just sweet enough and flavoured with natural vanilla.  The prettiness of the bright pink lemonade, powder-shade furnishings and the simple but lovely glass of wild flowers made me smile.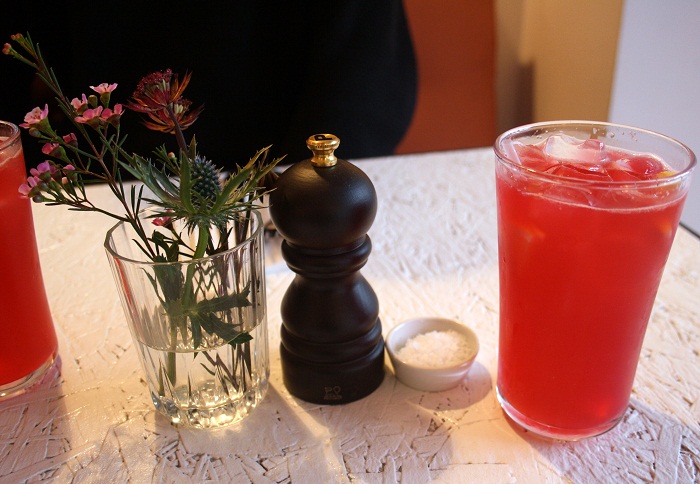 Having heard great things about Rita's buttermilk chicken, I couldn't resist the Fried Chicken Roll (£6.50).  It came served in a brown paper bag with a Rita's stamp – a fun, authentic touch that made it even more appealing.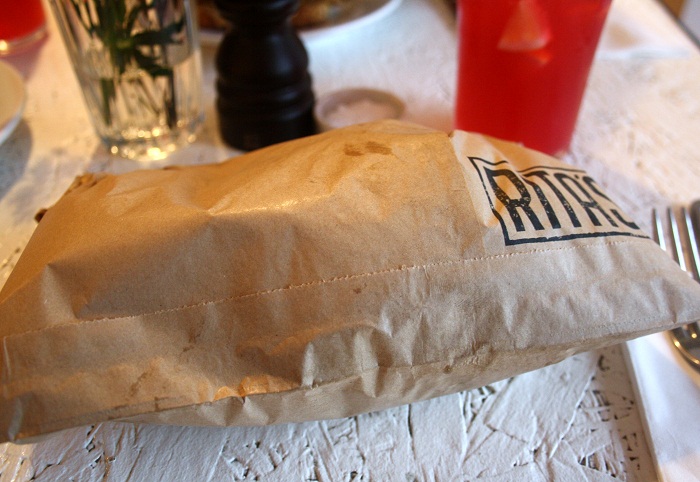 Rita's signature fried chicken is steeped in buttermilk and covered in a fine, crunchy coating with a touch of cayenne pepper and plenty of seasoning.  The juicy, succulent chicken fillet was packed inside a springy glazed bun with a few wisps of lettuce and punchy chipotle mayonnaise.
It was extremely tasty, satisfying and spicy without being overpowered with heat.  If I have one criticism, it's that the chicken fillet was a little thin in parts, so some bites were more about the breadcrumbs and bun than the meat itself.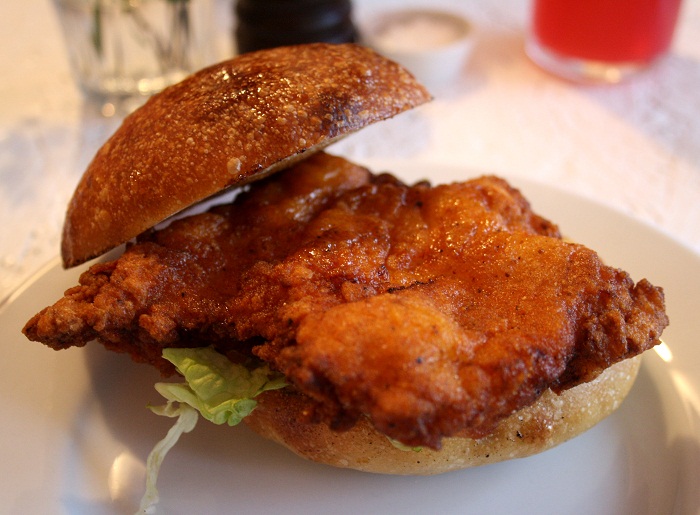 Steven's Patty Melt (£6.50) was equally delicious and even more indulgent than the Fried Chicken Roll.  The medium-cooked, tender beef patty was packed between fried slices of herby caraway bread and oozed with gooey American cheese and onion jam.
I loved how the bread was crisp on the outside and the meat juices melted into it inside.  It was so indulgent and buttery that it actually made the napkin transparent.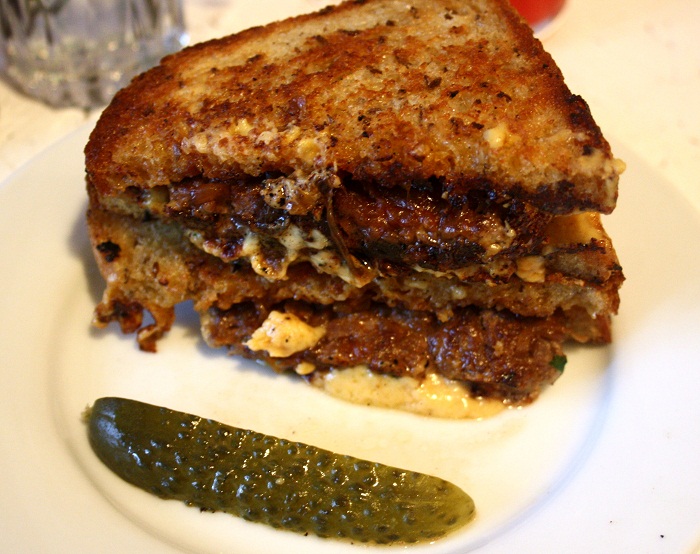 We accompanied our meat sandwiches with a side of Green Chili Mac and Cheese (£4.50), which arrived freshly-baked and bubbling hot.  Rita's Mac and Cheese is a simple mix of macaroni pasta, Gruyère, Red Leicester, mustard powder and sliced green chilis.
I adored the gooey, nutty and slightly grainy texture of the sauce and the cooling topping of smooth avocado, lime and coriander.  The macaroni was a tiny bit overcooked but the dish was still enjoyable.  Luckily, Gabriel Pryce has shared his recipe on Editer.com, so you can recreate the Rita's Green Chili Mac and Cheese at home.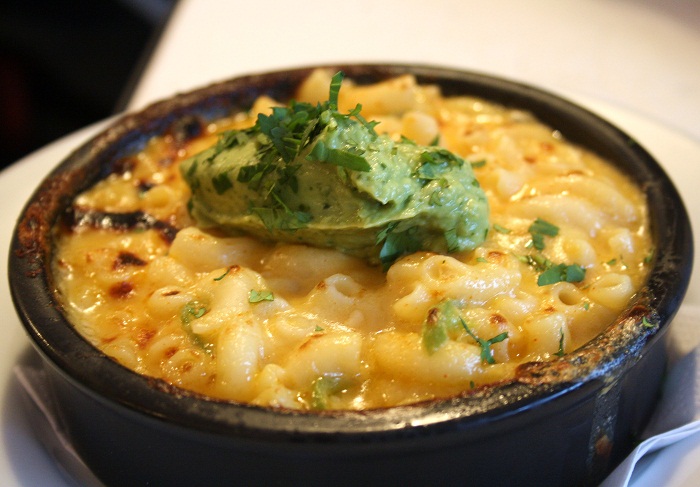 The Mac and Cheese floored us, so we couldn't manage dessert – a most unusual occurrence for me – but will definitely be back to try a slice of Rita's Pie or Beignets with Dulce de Leche.
With a number over-priced, try-hard restaurants creeping into Hackney, Rita's keeps it affordable and unpretentious, serving the kind of comfort food that is hard to resist.  The atmosphere is relaxed, fun and not at all standoffish, plus the soundtrack is typically cool and set at a volume that doesn't irritate.  Best of all, you can book a table online or take a chance with a walk-in, so you don't need to suffer the indignity of long queues.
I'm thrilled to have Rita's as a local restaurant and will definitely be back for a lazy weekend brunch – hello, Fried Chicken and Waffles – or dinner and cocktails.
For more info and booking, visit: www.ritasbaranddining.com
All photos by Chérie City