Paesan brings Italy's 'cucina povera' (peasant cooking) to Clerkenwell's Exmouth Market with a tempting menu of antipasti, small plates and slow-cooked dishes.
Authentic and affordable, Paesan is all about comforting, home-style dishes using fresh, quality ingredients.  With interiors by B3 Designers, the dining room is suitably stripped back and raw with exposed brickwork, rustic wood panelling, school-style chairs and slouchy leather banquettes.  There is also a downstairs cocktail bar, which is just as much a destination as the restaurant.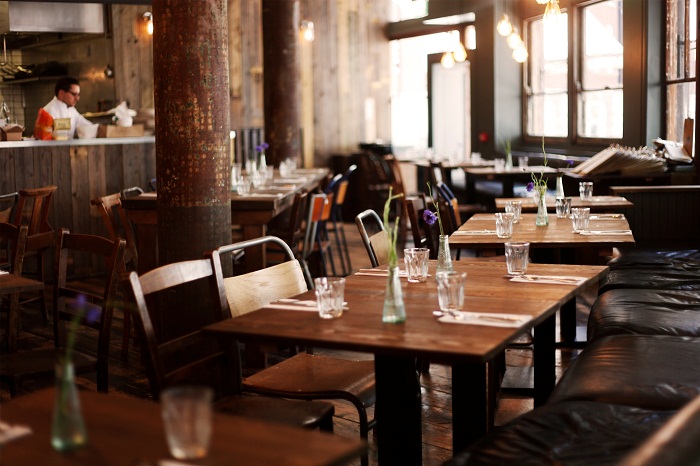 I've had many fun nights at Paesan's former incarnation, Dollar Grills and Martinis, so I was keen to see if it would impress.  Luckily, Paesan nailed it with excellent food, charming Italian staff and a gratuitous celebrity sighting – we were sat just a few tables away from Tim Minchin.
He tried to remain incognito by keeping his red locks under a beanie, but his booming voice and off-duty jokes gave it away.  For the interest of Tim Minchin fans, he went for a selection of small plates and water, but I digress…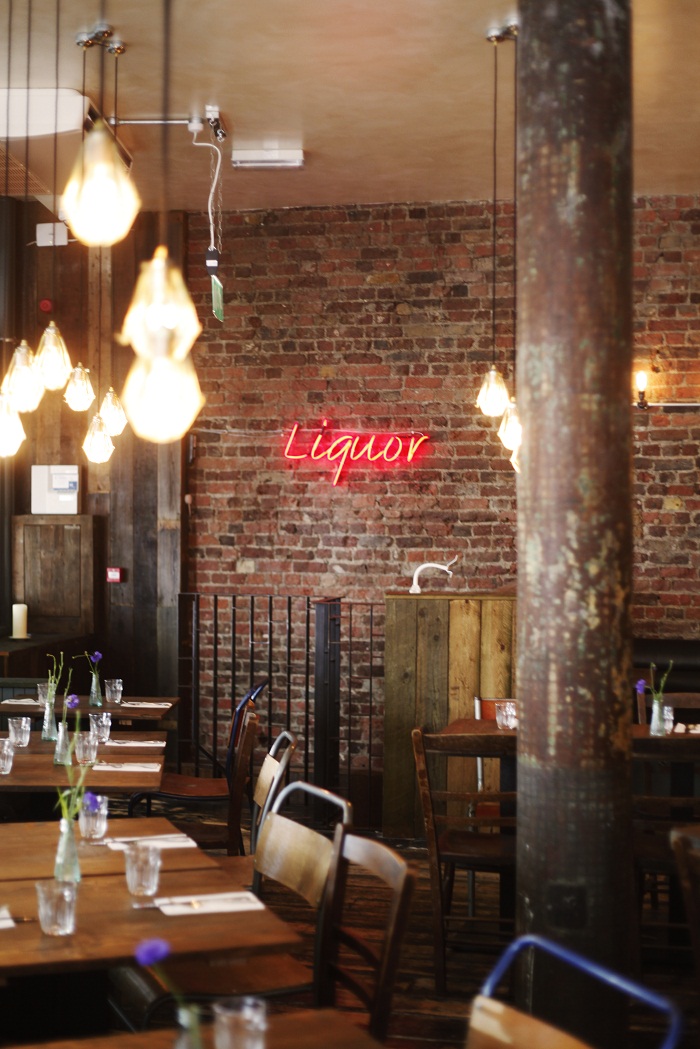 Our friendly Italian waitress explained the menu and shortly after ordering, brought us some pieces of deliciously moist and springy focaccia topped with roasted balsamic onions.
I started with Arancini filled with pumpkin & provolone (£4), one of my favourite Italian appetisers.  The two large arancini consisted of slightly firm risotto rice mixed with shreds of roasted pumpkin around a gooey provolone centre, coated in fine, crunchy breadcrumbs.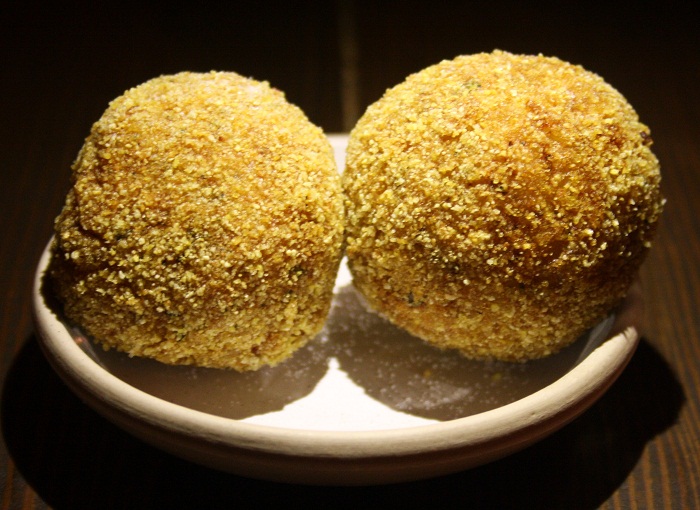 Steven ordered the Bruschetta with ricotta and peperonata (£6), which also came in two pieces  – perfect for sharing.  Thick slices of sourdough were charred on grill and topped with cool, creamy ricotta and peppers marinated in olive oil and fresh herbs, with tiny pieces of capers.  The portion sizes of both small plates were very generous, so you could easily order a few to share and have a substantial meal.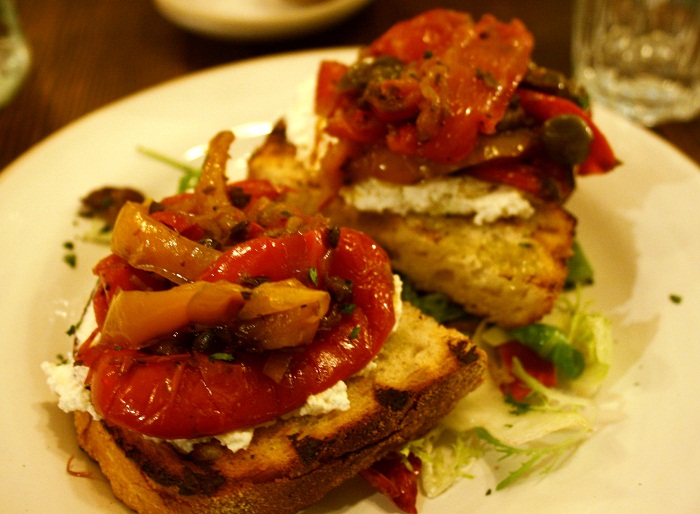 For the main course, I ordered the Polpette with creamy polenta and salsa pomodoro (£9).  The four substantial meatballs were tender and well-seasoned, while the polenta was thick, smooth and slightly creamy.  The salsa pomodoro was rich, garlicky and full of flavour – just like a home-made Italian tomato sauce should be.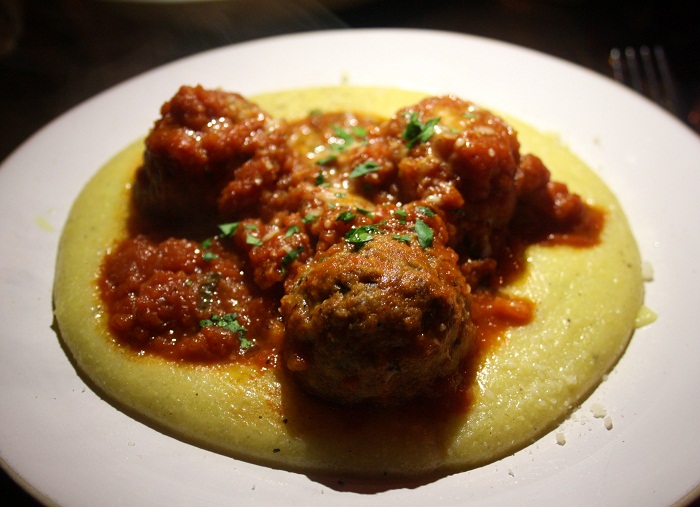 Steven's Roasted pork belly with cabbage and apple (£11) was exceptionally tasty.  The melt-in-the-mouth, slow-roasted pork was smokey and succulent, served with wilted cabbage coated in a meaty jus.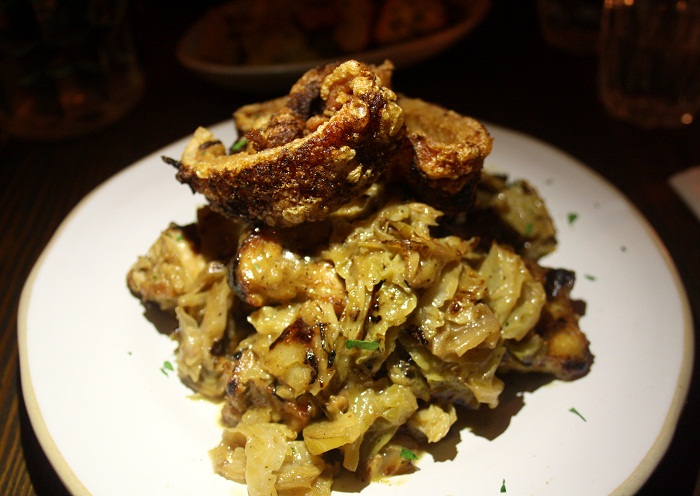 We shared a side of Potato and pancetta contadina (£4) – a delicious mix of roast potatoes, smokey pancetta, golden breadcrumbs and fresh herbs.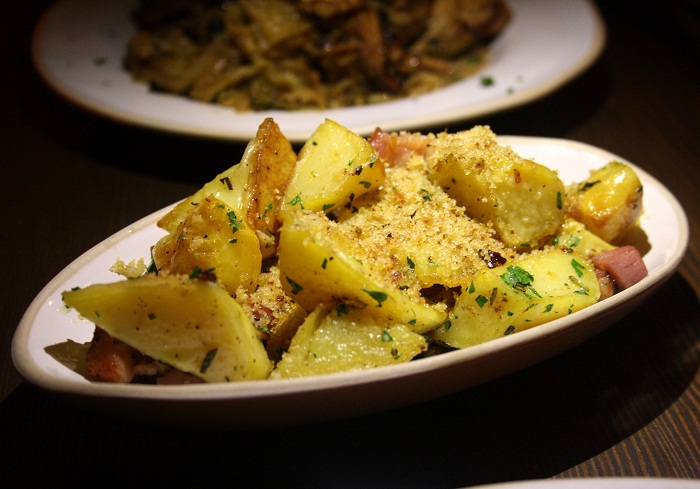 While the chocolate fondant was tempting, and came highly recommended by the staff, I went for a lighter end to the meal – Biscotto and Vin Santo.  The sweet, dry Vin Santo was served in a small tumbler and accompanied by two different kinds of Italian biscuits – one flaky and thin and the other thick and crunchy, both infused with fragrant orange and almond.  The dessert wine and biscotto complemented each other perfectly and were typically Italian.
Steven's Tiramisu was rich and creamy, layered with potent, espresso-soaked sponge and topped with crumbled biscotto.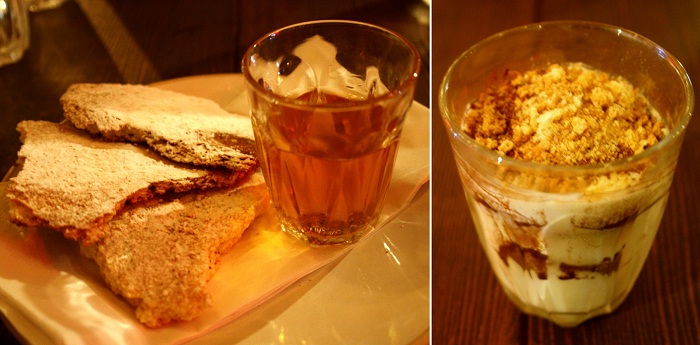 Paesan does rustic Italian food exceptionally well, with high quality ingredient, generous portion sizes and very reasonable prices.  With a downstairs cocktail bar and lively atmosphere, it's an ideal place to spend a fun evening out and worth travelling across town for.
Chérie City was a guest of Paesan London
Photos by Chérie City and Paesan London