Whyte & Brown brings a unique concept to central London, focusing only on free-range chicken and eggs (not even a sliver of red meat to be found).  The two-floor restaurant is nestled in the increasingly food-orientated Kingly Court, just a few steps from Soho, Carnaby Street and Liberty.
It could easily be an overly twee concept, however Whyte and Brown keeps it grown up with slick design and an interesting menu of comfort dishes with a twist.  In fact, with so many different ways of serving chicken and eggs, it doesn't feel as though choice is limited.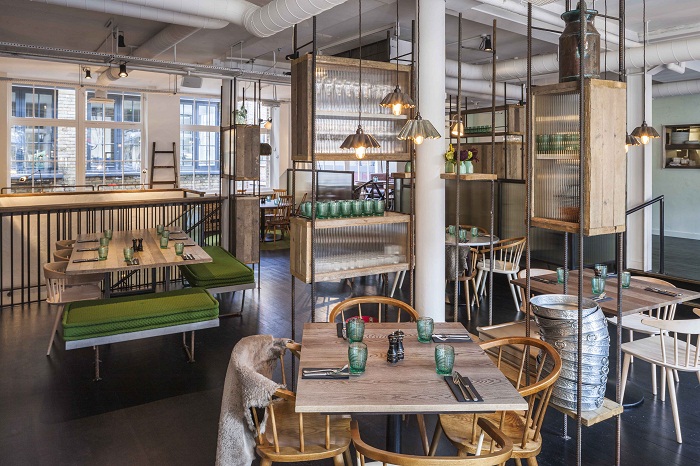 When we arrived on an early Friday evening, the bar was already busy and we were seated in a cosy spot in the upstairs restaurant.  The atmosphere is more lively than romantic and there were notably a few large groups, who were perhaps attracted because of the central location, informal vibe and menu of universal crowd-pleasers.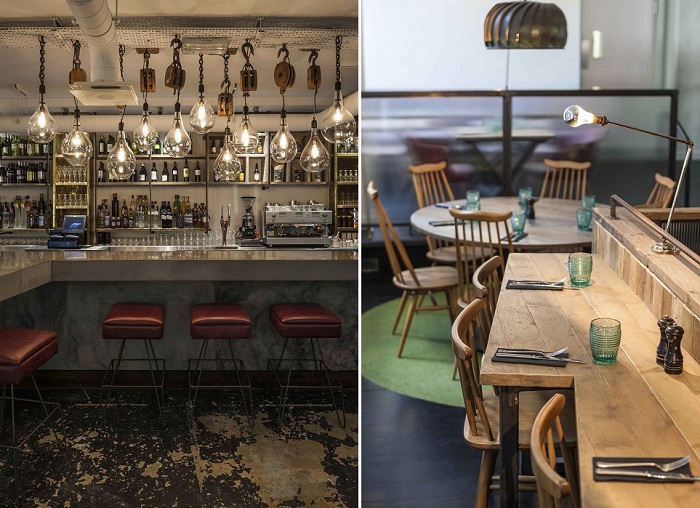 Our friendly waiter made some good recommendations and quickly brought us a Fentiman's Rose Lemonade while we decided what to order.
We started with some delicious Polenta-crumb chicken strips (£5.25) to share.  The long, succulent strips of high quality chicken breast were coated in a crunchy, subtly seasoned polenta-crumb, mixed with plenty of fresh rosemary.  The garlic mayonnaise dip was smooth and potent, adding a punchy flavour to the chicken.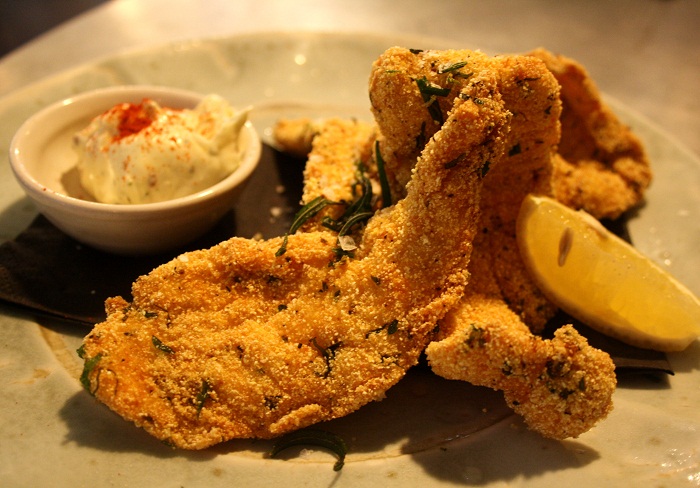 As the chicken starters were so tempting, we also tried the Half a dozen croquette balls (£5.45).  The generous amount of golden, crispy balls were served piping hot and were filled with shredded chicken and pancetta, chives, lemon and gooey bechamel.  The croquette balls were rich, flavoursome and satisfying, with a delicious smoky tomato sauce for dipping.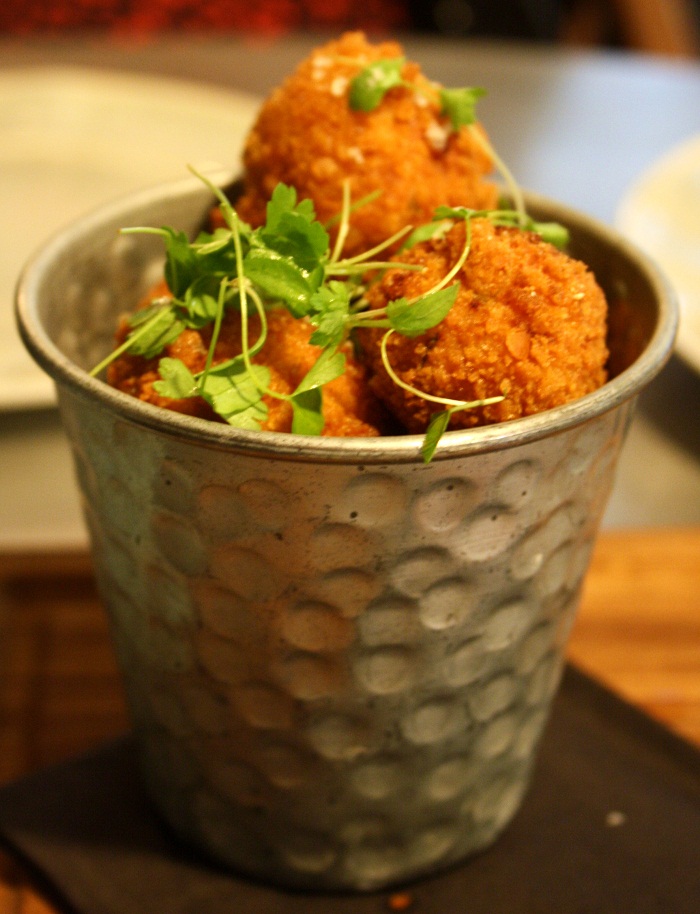 I couldn't resist following with more chicken and ordered the Pulled chicken bap (£9.75). The tender, juicy pulled chicken was piled into a soft, fluffy, toasted bun with tossed confit white onions and served with a tasty Asian-style house slaw with a light sesame dressing (happily no mayonnaise).
The chicken itself was perfect, however the smoky barbecue sauce was a little sweet and overpowering – perhaps serving it on the side or using less sauce might be better.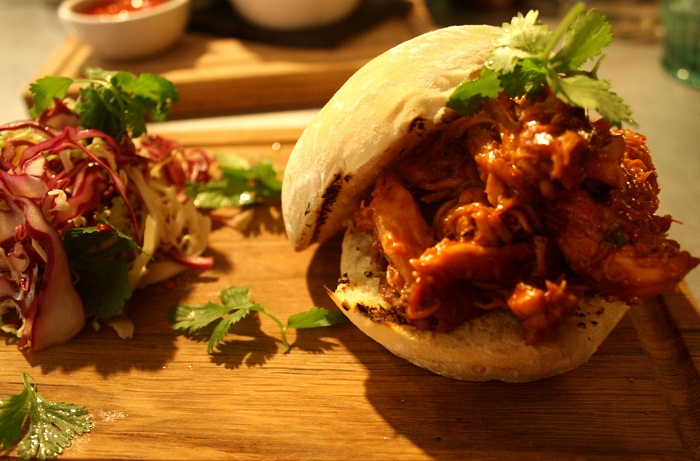 Steven's Brick chicken (£12.95) was the star dish and something we would go back again and again for.  The half chicken was covered in W&B signature seasoning and steeped in fresh lemon, thyme, garlic and olive oil, then served three ways.  The marinated breast was roast-grilled under a brick and accompanied by a 24-hour slow-cooked thigh confit and 12-hour slow-cooked wing.
The moist, juicy chicken had a delicious smoky and charred taste and the skin was perfectly crispy and moreish.  It was served simply with a jug of natural home-made gravy, fresh thyme and half a lemon.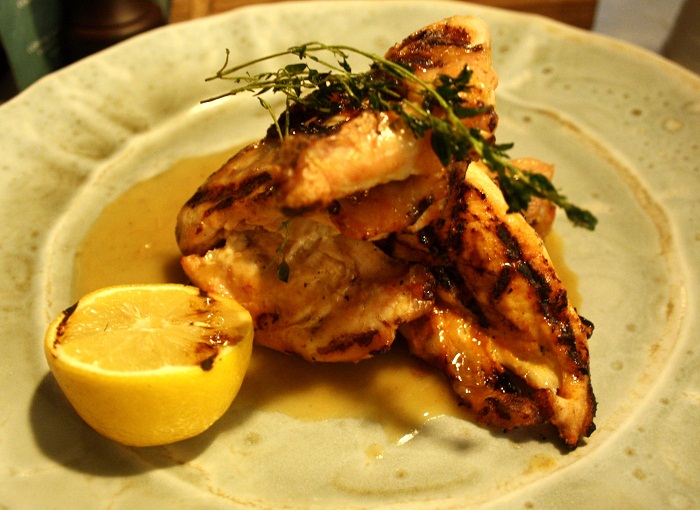 We accompanied our chicken dishes with a couple of sides.  Rustic chips (£3.25) were twice-cooked, thin and crispy, if a little dry.  Mini Mac Cheese (£3.95) was oven-baked and topped with crunchy breadcrumbs with plenty of cream but no distinguishable cheese flavour.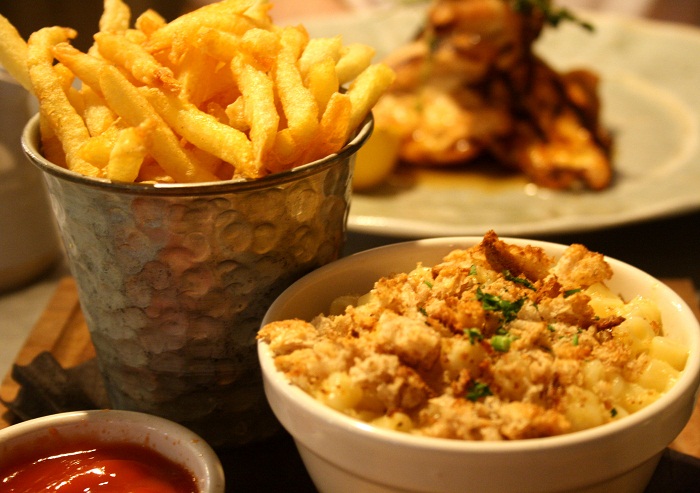 I accompanied my meal with a Peachelada (£6.95), which was refreshing but a little too malty and lacking in sweetness, while Steven's Four Saints (£7.45) was strong and fragrant but very sour.  Next time, I would go for one of the interesting craft beers, a Devon Red cider or an elderflower soda.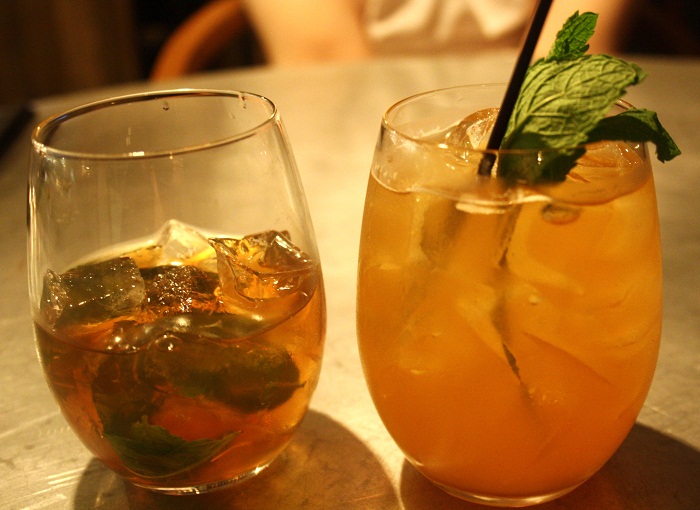 For dessert, I was drawn to the Proper ice cream with jug of chocolate sauce (£4.95 for 3 scoops).  I was particularly excited by the chocolate orange flavour and also added a scoop of vanilla bean and my favourite flavour, hazelnut.  The ice cream is pure perfection – creamy and smooth with natural, luxurious flavours.
The chocolate sauce resembles the high quality, bittersweet hot chocolate that you'd find in France rather than the thick, fudgy sauces that are usually served.  Ice cream is rarely the highlight of a dessert menu, but Whyte & Brown's ice cream is sophisticated and ever so decadent.  I really think in the summer months they should park up a mini ice cream van by the outdoor seating – it would be a big hit.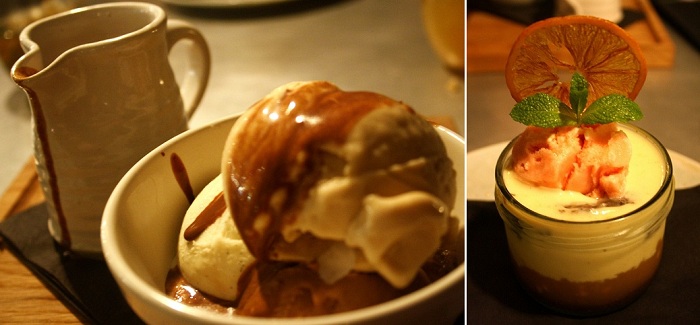 Steven went for another dessert classic, Tipsy trifle (£5.75).  Served in a glass pot, the scrumptious trifle was packed with layers of rich chocolate sponge and silky Catalan custard.  It was given a zesty, juicy sweetness with orange served four ways: Cointreau, jelly, crispettes and fresh fruit.
Whyte & Brown is a great place to indulge in some delicious comfort food, particularly when you're in the mood for some tasty chicken.  I can't help thinking Whyte & Brown would make a great high end chain of restaurants and wouldn't be surprised if more London outlets open in the next few years.  The spot on branding, quirky concept and excellent food all make for a very promising restaurant.
For more information and booking, visit: ww.whyteandbrown.com
Chérie City was a guest of Whyte & Brown
Photos by Chérie City and Whyte & Brown