Rocket is a boutique group of restaurants in London and Nottingham that specialises in gourmet pizza and salads.
Tempted by the idea of a fresh, tasty salad, I recently visited Rocket Bishopsgate, which is located just moments from bustling Shoreditch, Spitalfields and Liverpool Street.
Whenever I have passed on my way home, Rocket has always been filled with the City after-work crowd enjoying cocktails and bites, however when we dined on the Tuesday after a bank holiday, it was understandably very, very quiet.  This didn't bother us though, as it meant each course was perfectly timed and we could relax and hear ourselves speak (I'm not sure if it would be my scene on a boisterous Friday night).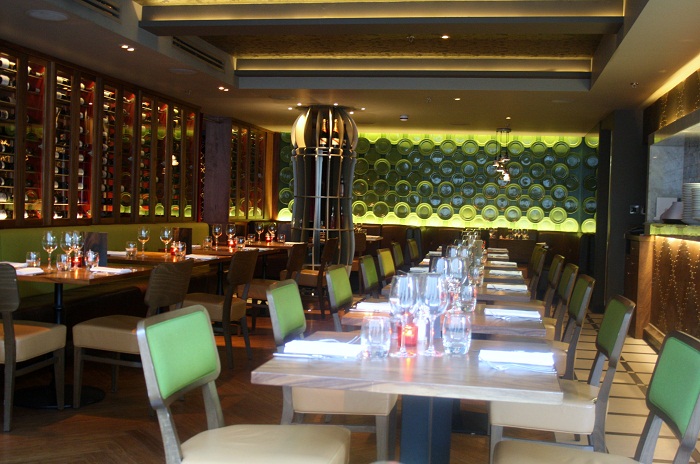 The menu at Rocket is contemporary Mediterranean with Asian and American influences.  We started with a few cocktails while deciding what to order.  I chose a humorously-named Passionate Pigeon – Pink Pigeon rum, lychee juice, passion fruit syrup and fresh lime juice, shaken and topped up with ginger beer (£8.20).  It was sweet, strong, juicy and nicely presented with a fresh half passion fruit.
Steven tried a classic Dark 'n Stormy – Mount Gay rum, lime juice and Agnostura bitters, topped up with ginger beer – which was punchy, zesty and refreshing.  Rocket runs a happy hour on classic cocktails during weekdays, making them a real steal for London.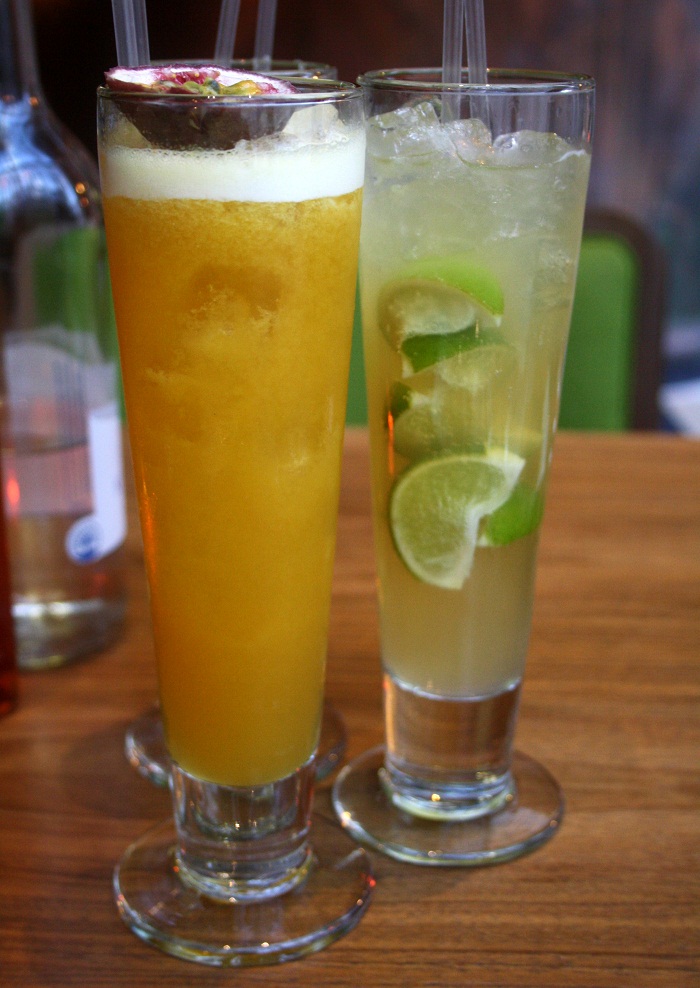 I started with the Scallop and prawn brochette, flavoured with ginger and lime leaf, served with an apple and celeriac remoulade and drizzled with a chili syprup (£7.50).
The scallops and prawns were plump, fresh and nicely golden on the outside.  I loved the aromatic flavours from the lime and ginger and the chili syrup was sweet, punchy and tasted home-made.  I wasn't so keen on the apple and celeriac remoulade, as it didn't seem to go well and there was a lot of it on the plate.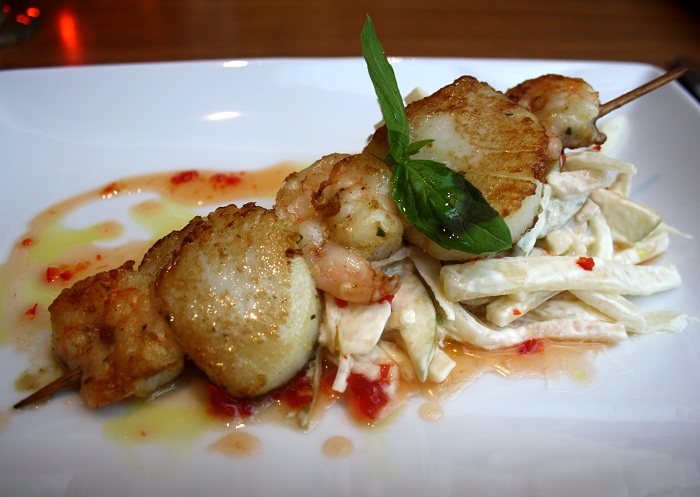 Steven went for the Asian spiced chicken and lychee salad in a Thai spiced vinaigrette with crispy wontons (£6.50).  The chilled chicken was juicy and tender and mixed with colourful ribbons of carrot, cabbage and red chili, garnished with torn mint and coriander.  It was deliciously fresh and uplifting and the wontons, though a little oily, added an extra crunch.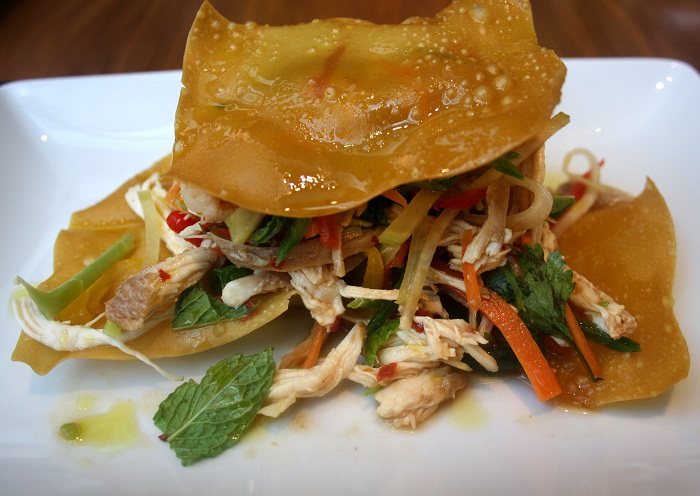 For my main course, I opted for the Chicken Milanese served with a rocket, Parmigiano Reggiano cheese and cherry tomato salad drizzled with a preserved lemon, capers and chili dressing (£13.75).  The large fillet of high quality chicken breast was flattened and coated in light and crispy golden breadcrumbs and seasoned well.
It was topped with peppery rocket, halved cherry tomatoes and a generous amount of tasty shaved Parmigiano Reggiano.  The highlight of the dish was the scrumptious preserved lemon, capers and chili dressing, which gave a rich, strong touch of zest.  The portion size was very large, but I somehow managed to finish it, as every mouthful was just heavenly.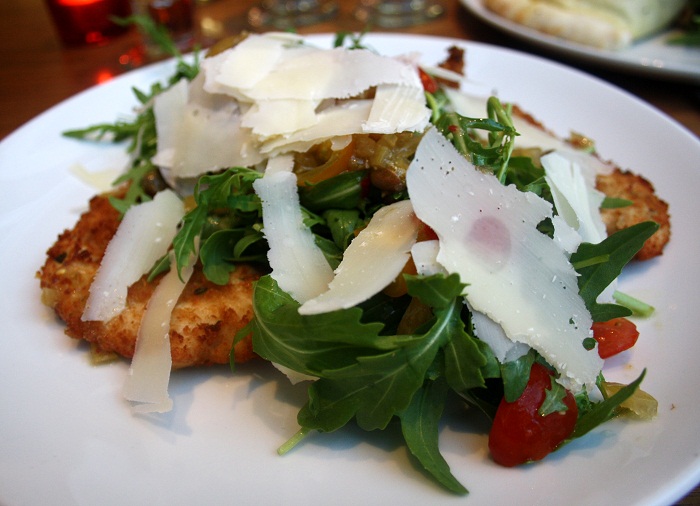 Steven tried the Calzone filled with chorizo sausage, prawns, roasted tomatoes, olives, red onion, jalapeños, parsley, tomatoes and mozzarella (£13.50).  The calzone certainly looked the part when it arrived at the table – it was enormous and baked golden brown.
The fluffy, chewy dough was packed full of succulent chorizo sausage and prawns, a light tomato sauce and gooey mozzarella.  It had a very spicy kick from the jalapeños and was served with fresh rocket covered in a balsamic glaze.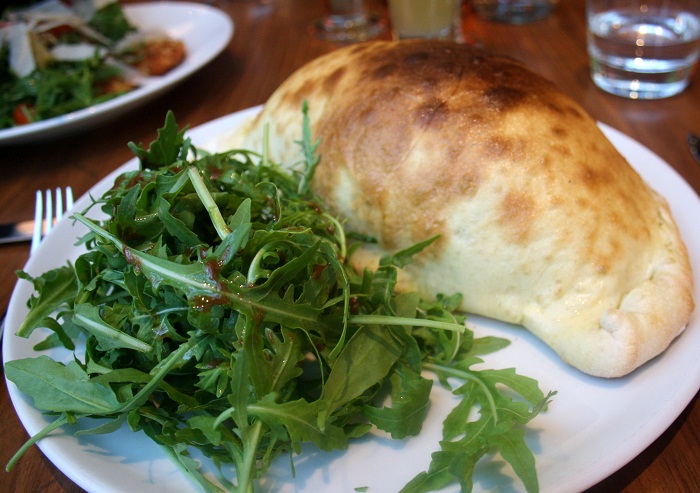 I somehow found room for dessert and went for the Chocolate Brownie served with vanilla ice cream and chocolate sauce (£5.50).  The rich, moist brownie was incredibly luxurious and tasty, filled with chocolate chunks and topped with fine, creamy vanilla ice cream and a drizzle of chocolate sauce.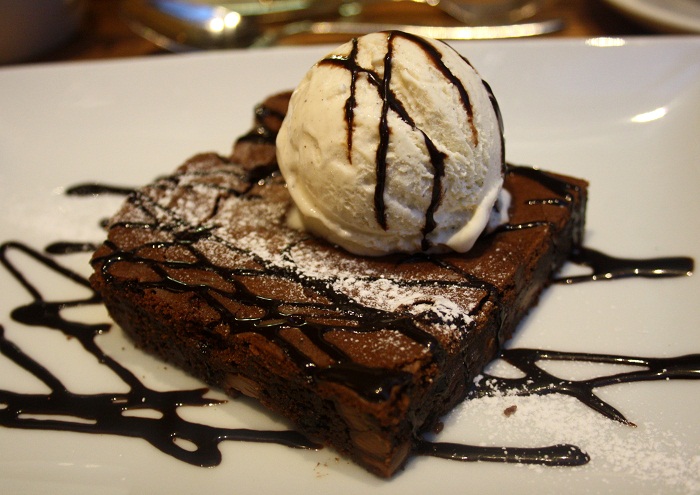 Steven went for a classic Sticky toffee pudding with a salted caramel ice cream (£5.50).  The dense, springy sponge was drenched in a sweet, buttery toffee sauce and finished with a biscuit crisp and high quality ice cream laced with liquid salted caramel.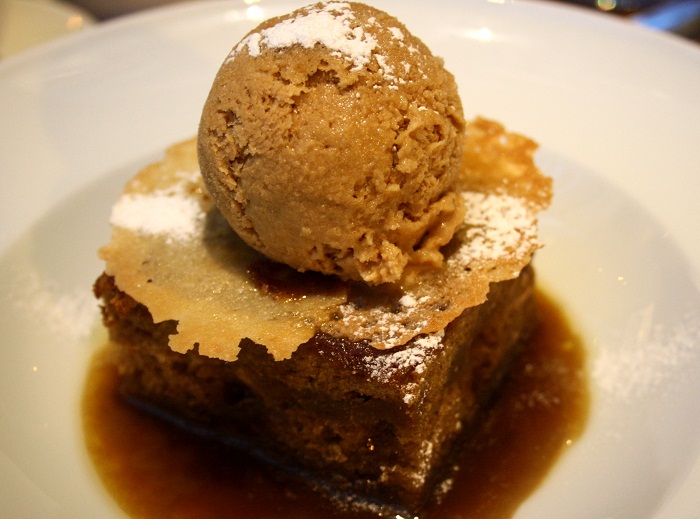 Rocket is a great place for some tasty, well-executed comfort food and the salads are more indulgent than simply a diet option.  The location is convenient and I would definitely return to try the pizzas and the interesting-sounding Fish and chip salad.
For more information and booking, visit: www.rocketrestaurants.co.uk
Chérie City was a guest of Rocket Bishopsgate
Photos by Chérie City