Hong Kong's dining scene is a truly thrilling part of any visit, from endless baskets of mouth-watering Dim Sum to innovative modern Chinese cuisine and starry celebrity chef restaurants.  Here are some fabulous places to eat in Hong Kong…
Nanhai No. 1 – Tsim Sha Tsui, Kowloon
Nanhai No.1 is a contemporary Chinese restaurant that boasts one Michelin star and impressive panoramas over Victoria Harbour, particularly from the Eye Bar outdoor deck. Located on the 30th floor of Tsim Tsa Tsui's bright and shiny entertainment complex iSQUARE, Nanhai No.1 attracts a well-heeled crowd of locals and in-the-know tourists.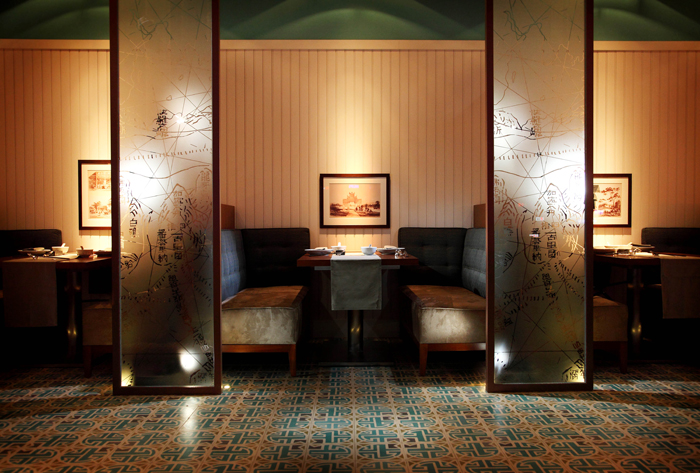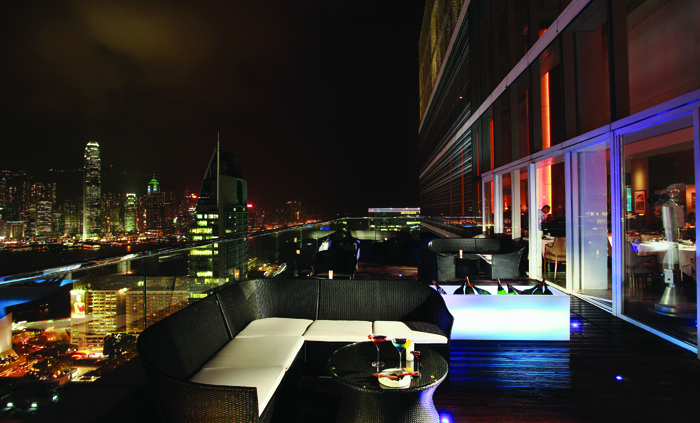 Interestingly, Nanhai No.1 is named after the Chinese naval explorer Zheng He's 15th-century treasure ship and references his exploration of the South China sea region.  The slick design of the restaurant is appropriately punctuated with maritime artefacts and the staff even wear cool nautical striped jersey tops and designer jeans.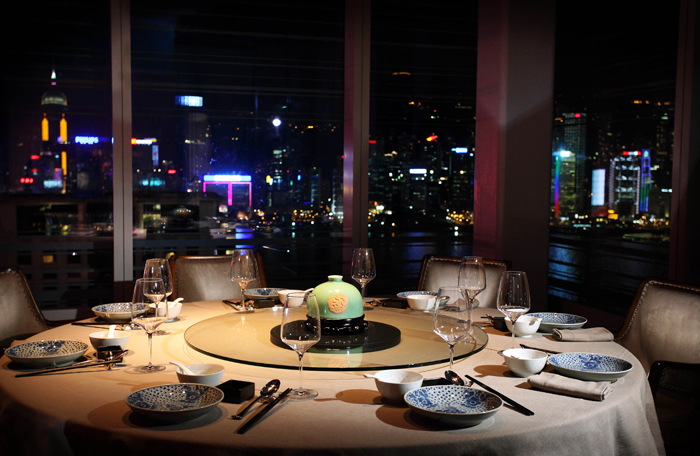 Executive Chef Tsang Wai Kiu's menu offers classic Chinese dishes with a modern, inventive twist.  Unlike some high end Hong Kong restaurants who try to impress by importing much of their produce, the fresh daily catch at Nanhai No.1 is sourced from local waters.
We enjoyed a steady succession of mouth-watering dishes such as Crispy Shredded Yam, Marinated Yam, Deep-Fried Crispy Squid, Corn and Fresh Crab Meat Soup and Jasmine Tea Smoked Chicken.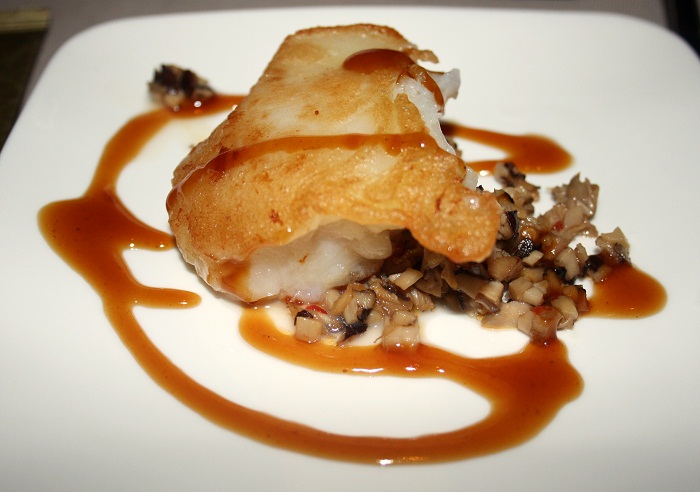 I was particularly impressed with the enormous Pan-Fried Giant Scallop, the spicy and fragrant King Prawn in Bang Sauce with Fried Mantou and the restaurant's famous Crispy and Steamed Rice served in Lobster Consommé.  Many of the dishes we tried were fried or very rich, so be prepared to indulge – you can make up for it with a lighter, steamed Dim Sum or Wonton Soup lunch the next day.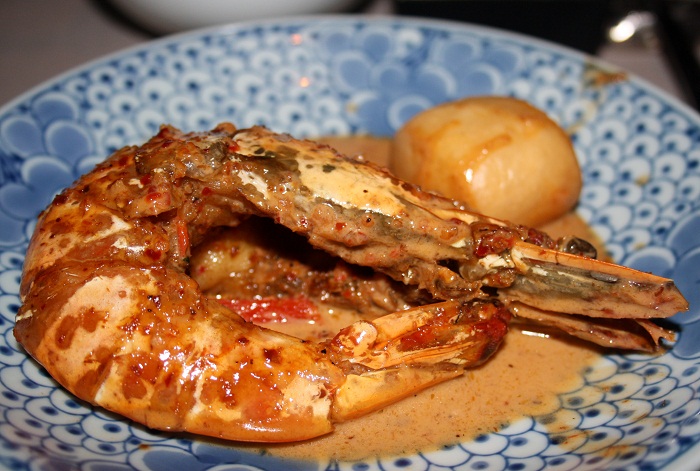 Service was well-timed and discreet, with a member of staff always on hand to top up our cups of Oolong tea and pull out our chairs after getting up to watch the Symphony of Lights from the outdoor terrace like unashamed tourists.
I would recommend Nanhai No.1 as a perfect first dinner in Hong Kong to start your trip in style and marvel at the harbour's light show, or on your last evening as a memorable farewell.
Duddell's – Central, Hong Kong Island
Duddell's is Hong Kong's first restaurant within a gallery, located on the upper floors of Central's luxurious, marble-covered Shanghai Tang Mansion.
Named after the street on which it resides, Duddell's serves an exceptional Dim Sum and innovative Cantonese menu, created by Executive Chef Siu Hin Chi (former Michelin star chef at The Langham's T'ang Court) in its elegant dining room and upstairs salon with a charming outdoor terrace.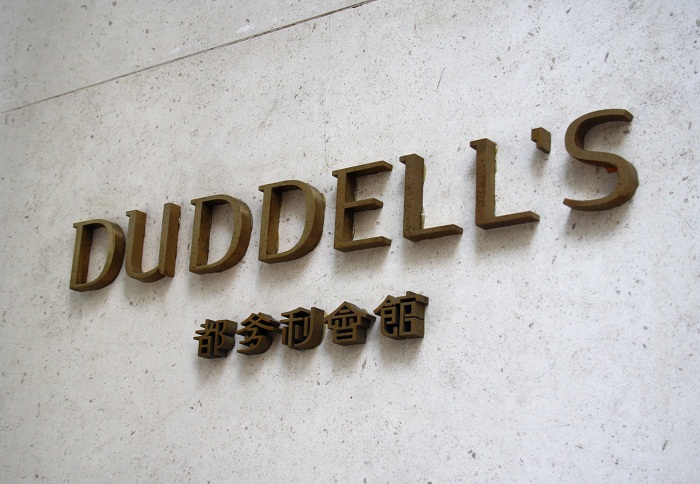 Behind Duddell's is a trio of Hong Kong's young hospitality elite – Alan Lo, Yenn Wong and Paulo Pong, whose combined ventures include The Press Room, The Pawn, JIA boutique hotels, 208 Duecento Otto and Jason Atherton's 22 Ships.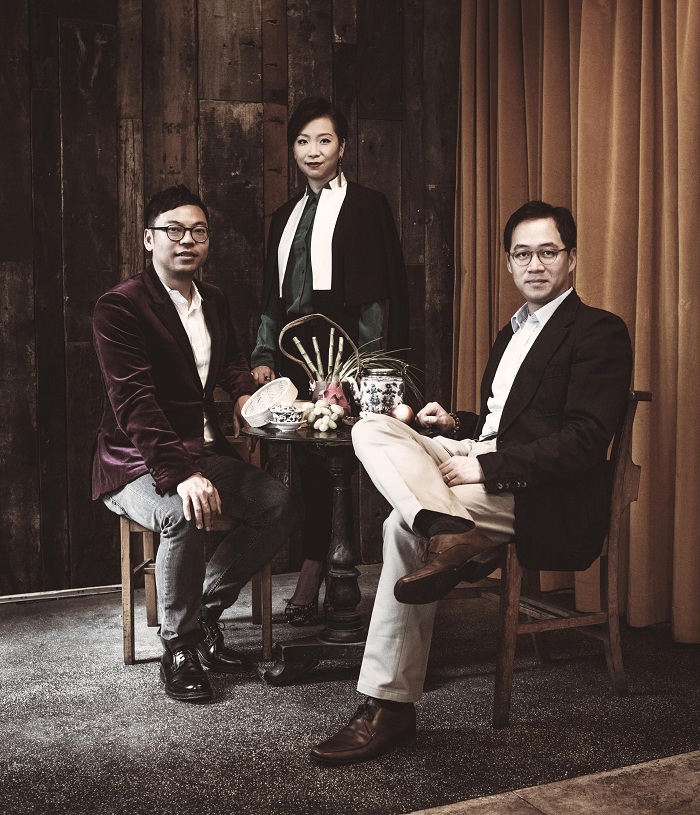 Designed by Ilse Crawford (Soho House NY, Cecconi's and Babington House), it has the exclusive feel of a private member's club and is unmistakably high end, but in fact the only member's space is the library.
The cultural programme at Duddell's features well-curated Asian and international art exhibitions, alongside talks, performances and film screenings.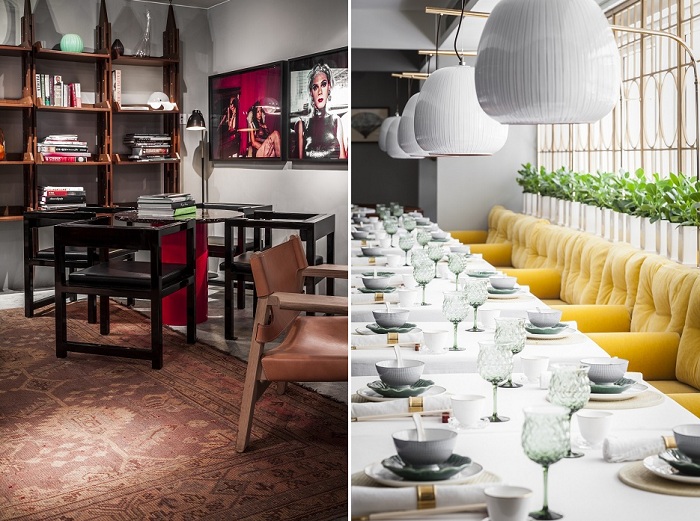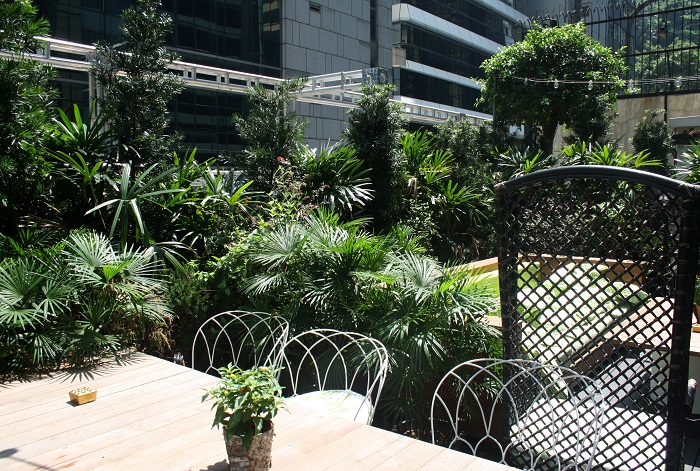 The main restaurant serves Cantonese dishes featuring delicacies such as abalone, lobster, goose liver and sea cucumber while the salon's Dim Sum selection focuses on classics done well.
We were treated to a Dim Sum lunch of Steamed Kurobuta Pork Dumplings with Crab Roe, Steamed Shrimp Dumpling with Bird's Nest, Steamed Barbecue Pork Bun, Shrimp Spring Roll with Garlic and Crispy Noodles with Prawn.
Desserts were a surprisingly delicious Avocado and Chocolate Sago Cream and Osmanthus and Red Bean Jelly.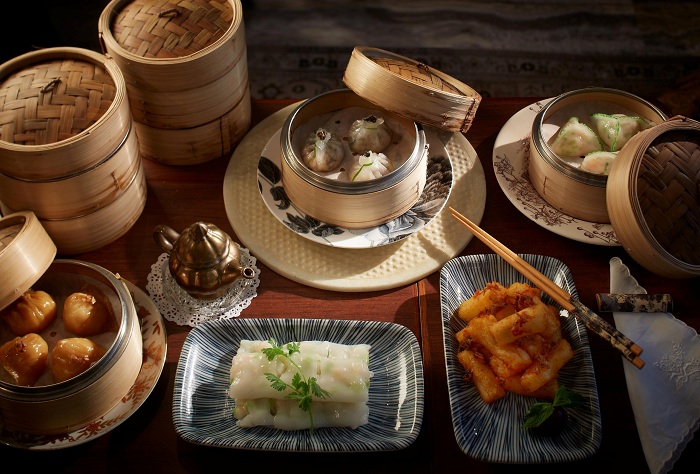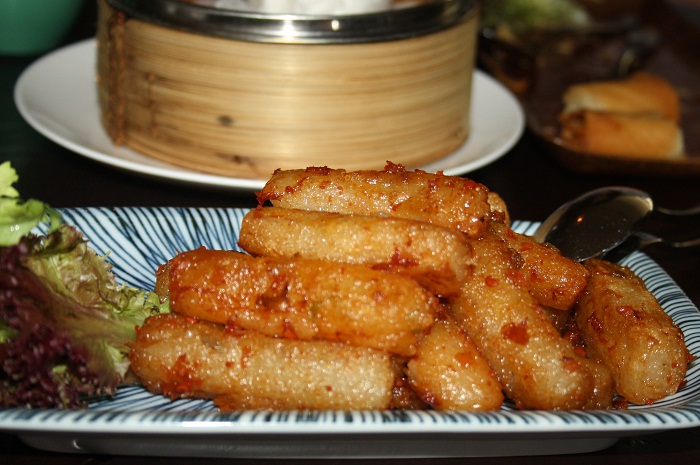 The tea menu at Duddell's is a tassophile's dream with an impressive selection of rare and aged teas – the most expensive is the Yunnan Pu-Erh tea, priced at 120HK$ (approximately £9.60).  Our small cups of strong Pu-Erh tea were constantly refilled and my fresh mint tea was served in a stunning blue and white pot.
The artisan Asian-influenced cocktails by award-winning mixologist Alexandre Chattéand are beautifully-presented and definitely worth trying.  Signature drinks include the Gong Bi Mary, Dr. Sun Yat-Sen Reviver and the 5 Spice Margarita.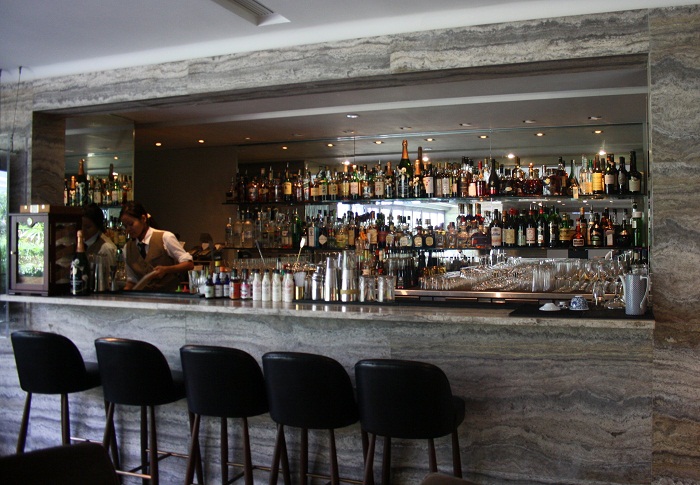 Duddell's has recently launched its tempting Saturday Salon Brunch with unlimited Dim Sum and Cantonese dishes and free-flowing soft drinks or Perrier-Jouet Grand Brut Champagne, served in the salon and garden terrace.
I can't think of a better way to spend a lazy Saturday in Hong Kong than discovering new Cantonese dishes with a stylish brunch, followed by a spot of shopping in the Central district.
Above & Beyond – Tsim Sha Tsui, Kowloon
While staying at the innovative, design-led Hotel ICON for the duration of our Hong Kong vist, I was delighted that we had the chance to try its fine dining restaurant, Above & Beyond.
Designed by Conran and Partners, Above & Beyond matches slick design with a calm, refined atmosphere and stunning floor to ceiling views from the 28th floor.  At the helm is Executive Chef Joseph Tse (formerly Chef de Cuisine at Mandarin Oriental Hong Kong and The Aberdeen Marina Club's Horizon), whose classic Chinese dishes from a variety of regions are simply exquisite.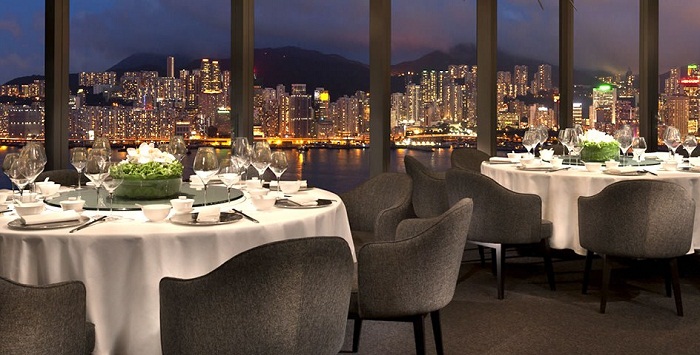 We relaxed over a traditional Dim Sum lunch including Pan-fried Lobster with Egg White and Black Truffles, Steamed Shrimp Dumplings, Shrimp Siu Mai, BBQ Kagoshima Pork, Crispy Taro Cake with Whole Abalone and my favourite Shanghai-style Xiao Long Bao dumplings (filled with pork and a light broth).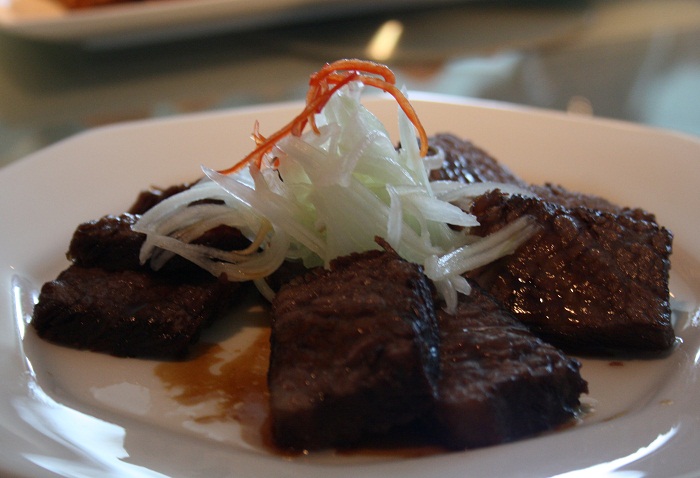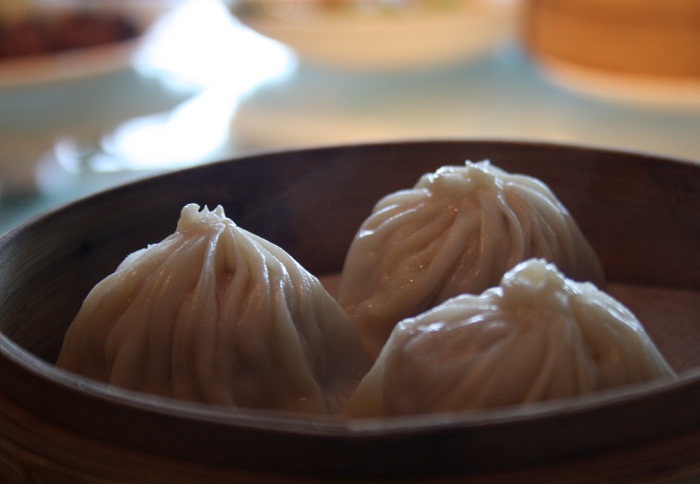 We just about managed to leave some room after the Dim Sum for the magnificent Beijing BBQ Duck served with light, airy pancakes, spring onion, cucumber and hoi sin sauce.  Everything was down with the restaurant's signature Summer Iced Tea and copious cups of Oolong tea.  We then had to chance to watch Chef Joseph Tse at work in the kitchen.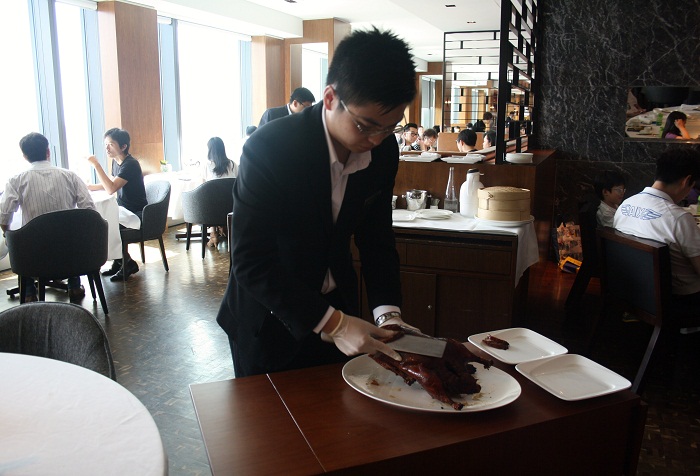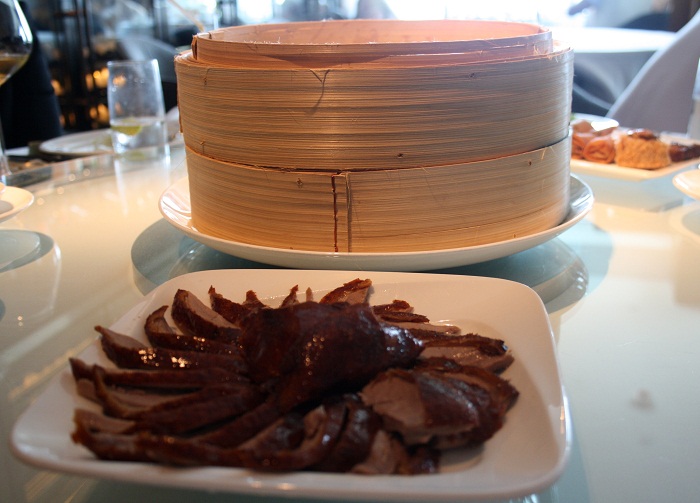 A Chinese kitchen appears much more intense than kitchens I've visited in the UK, with billowing steam and roaring fire stoves, but the atmosphere was very calm and free from yelling.
Chef Joseph demonstrated how to prepare Pork in a Sweet and Sour Sauce, talking us through each stage.  The meticulously finished dish not only looked tempting, but the crispy, tender texture was excellent and the rolled presentation was a unique way of serving a classic dish.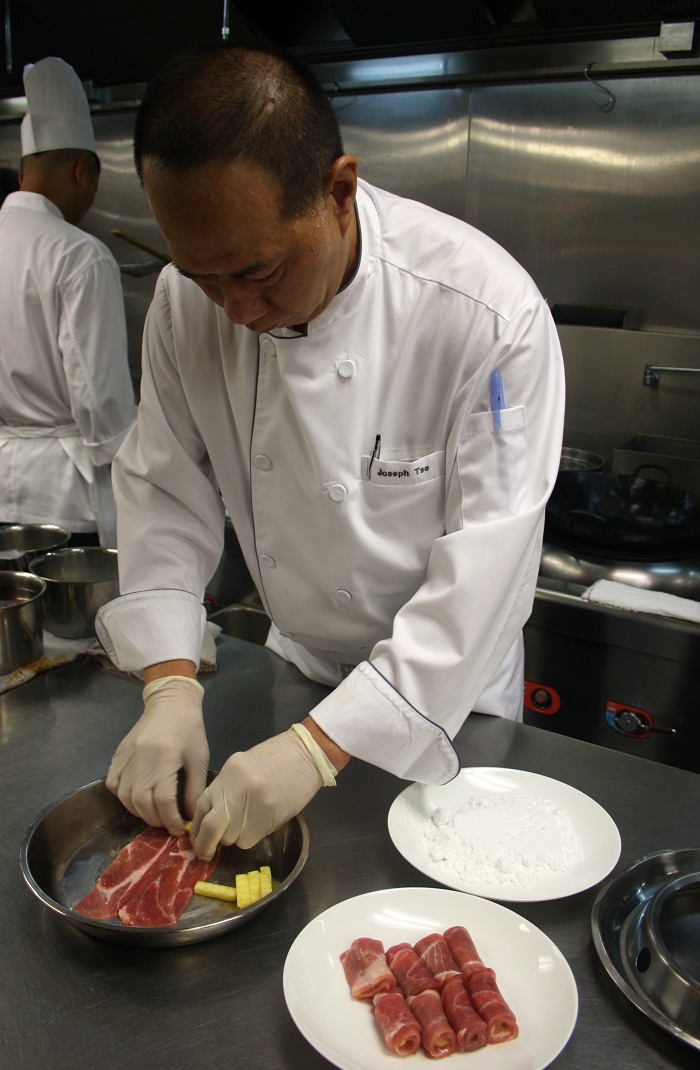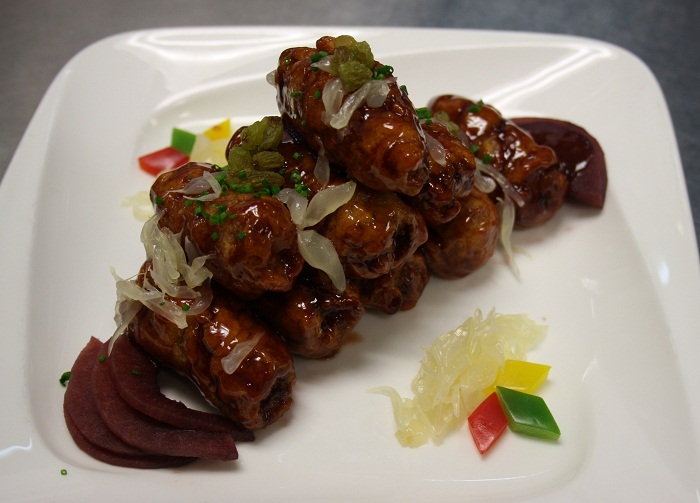 Xi Yan Sweets – Wan Chai, Hong Kong Island
Xi Yan Sweets is the petite contemporary Chinese restaurant of celebrity chef Jacky Yu.  Making his name with the immensely popular Xi Yan private kitchen restaurant, Jacky Yu now has Xi Yan restaurants in Hong Kong and one in Singapore.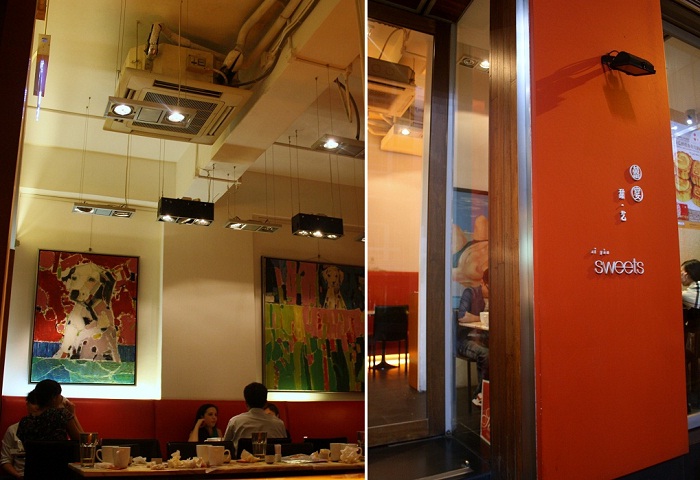 Based in Wan Chai's  Starstreet cultural complex, Xi Yan Sweets is small and intimate, with bright red walls, light wood furniture and artwork adorning the walls.
The menu features an interesting selection of Chinese fusion dishes such as Shaoxing Wine Marinated Chicken Wings with Sour Plum, shredded jelly fish and cucumber in wasabi sesame sauce, greenhouse tomatoes in wasabi sesame sauce, Cold Tofu and Pickled Sauce, Sichuan Spicy Chicken and Grandma's Braised Beef.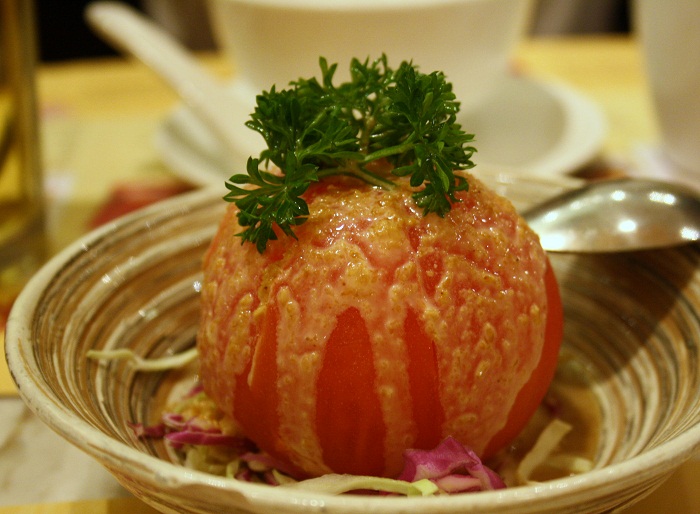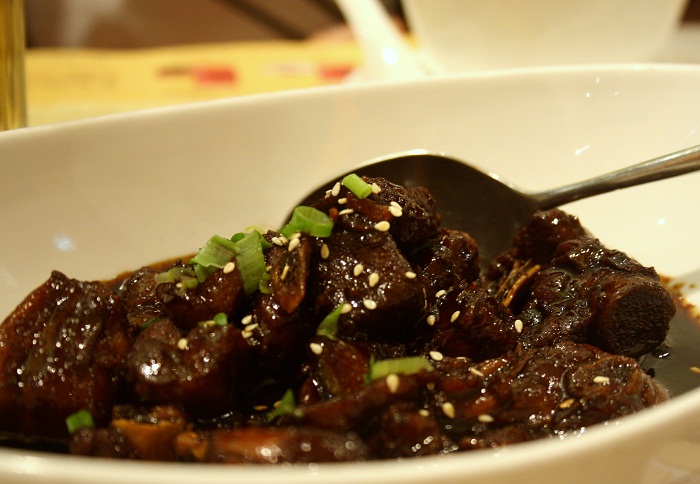 The dishes at Xi Yan Sweets taste quite healthy and light, however a few of the cold dishes failed to excite.  It's worth visiting if you're a fan of Jacky Yu, or have a sweet tooth for the extensive dessert menu.
agnès b. cafe l.p.g – Sheung Wan, Hong Kong Island
Fashion lovers will be delighted to discover the immense popularity of French fashion and lifestyle brand agnès b in Hong Kong.  The agnès b. brand includes the chic French restaurant agnès b. le pain grillé, the more casual agnès b. cafe l.p.g and agnès b. branded cake shops, high end florists and art galleries.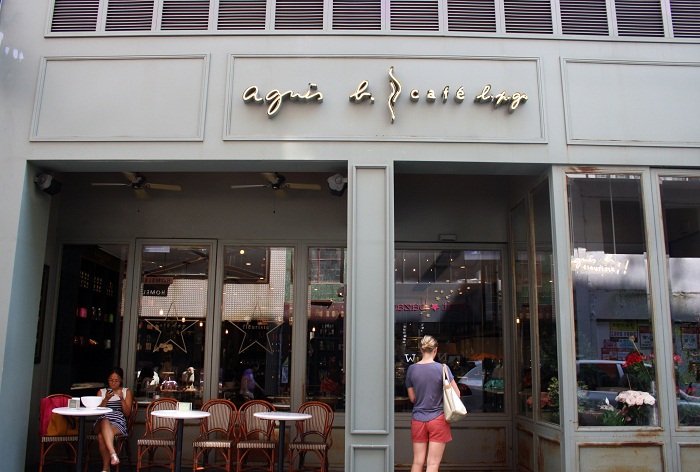 After a long weekend of indulgent, rich food, I stopped by for a simple bowl of French Onion Soup and an Iced Tea at the beautifully-designed agnès b. cafe l.p.g tucked away on Gough Street in hipsterville Sheung Wan.
The soup was well-seasoned and comforting with a tasty Gruyère crouton and happily not too much oil.  My Mariage Frères Iced Tea was served in a take-out clear cup and I was given a bottle of gomme syrup to sweeten.
Service at the cafe was swift and the staff were so friendly that I took the opportunity to ask for map directions.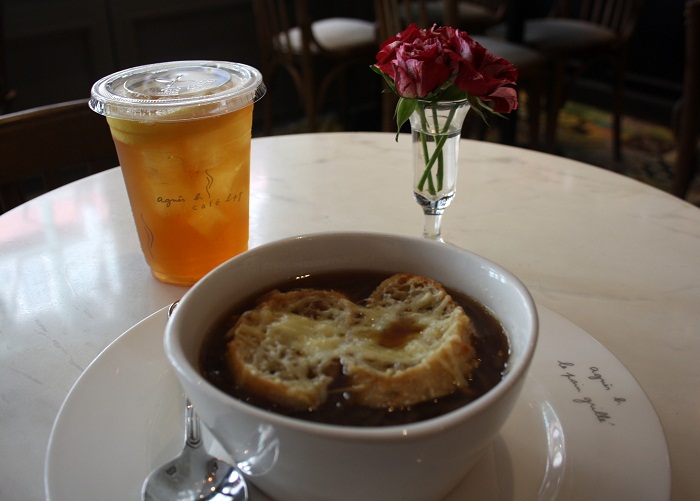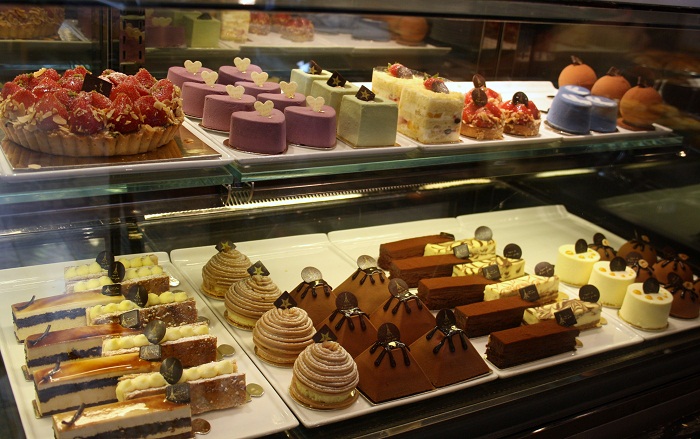 The filled baguettes and large salads looked tempting and I regret delaying my sugar fix and not trying one of the pretty little cakes.  I also loved the in-store florist filled with stunning roses and wish there could be an agnès b. cafe and florist closer to home.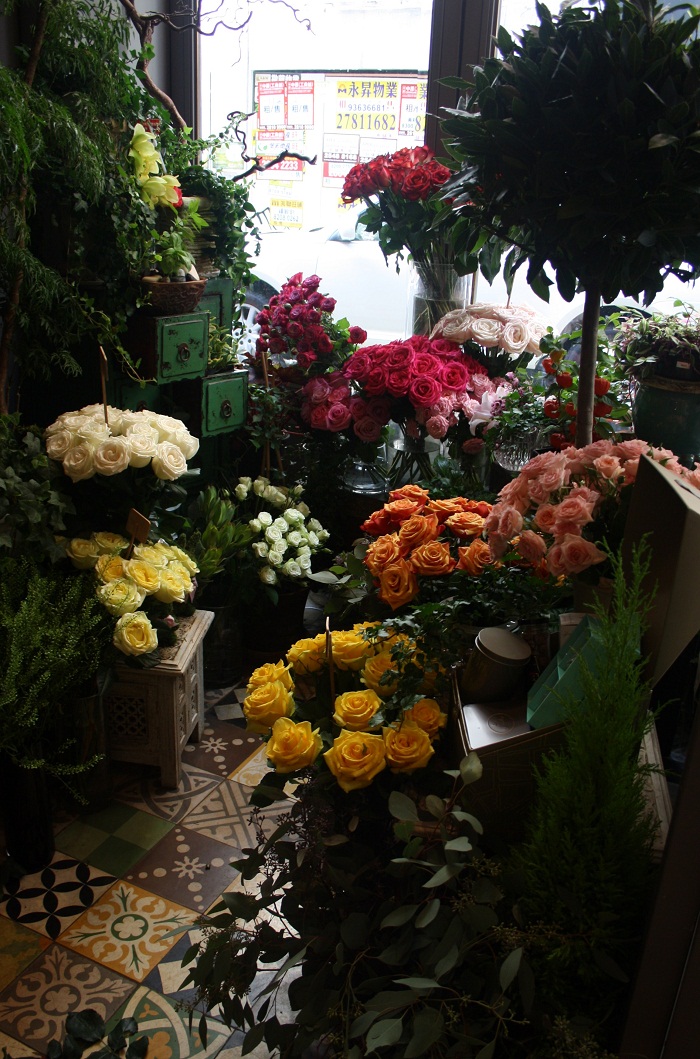 For more exciting dining experiences in Hong Kong, look out for the Hong Kong Wine & Dine Festival, from 31 October to 3 November.
Chérie City was a guest of Hong Kong Tourism Board.
Photos by Chérie City (except interior shots by Nanhai No.1, Duddells and Above & Beyond).