Four Seasons London at Canary Wharf is a luxury, five star hotel that boasts impressive view of the River Thames.
While riverside central London hotels feature panoramas of well-known city landmarks such as Big Ben, Houses of Parliament and the London Eye, Four Seasons London at Canary Wharf offers a different perspective.
Located in the city's corporate, financial hub, the hotel is a favourite among the business crowd, however its stylish design and easy links to central and fashionable east London make it perfect for a weekend getaway.  Canary Wharf is even getting more exciting as a destination with designer stores moving in and buzzing new restaurants such as Tom's Kitchen, The Pearson Room and Camino.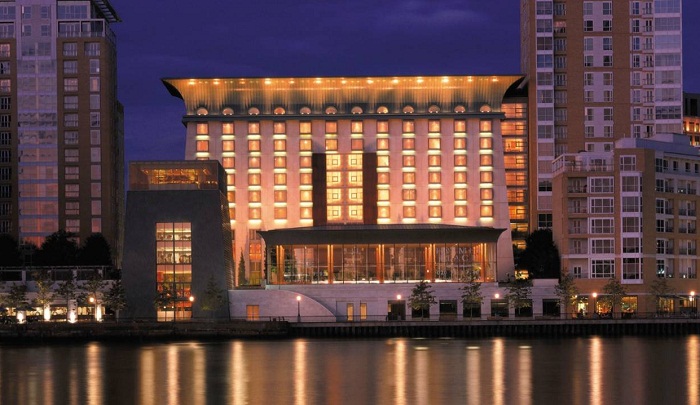 Already an east London resident, I visited Four Seasons London at Canary Wharf for a relaxing overnight staycation and got to know Canary Wharf a little better.  We were checked-in swiftly by the friendly, professional staff and were offered a refreshing glass of Prosecco, orange juice or mineral water as a welcome drink.
The 142 guest rooms are set across floors two to eight and all feature either enhanced city or river views.  Our Premier River View Room was generously-sized and designed in a neutral colour palette of white and grey with American black-walnut furnishings.
Room features include a large LCD TV with in-room movies, DVD player, iPod docking station, executive writing desk, minibar, iron and ironing board and tea and coffee making facilities (on request).  There are also complimentary facilities such as free wifi, complimentary overnight shoe shine and use of a laptop and PlayStation on request.  A Nespresso machine is available for a fee, however, guests are welcome to use the Nespresso machine in the Lobby for free.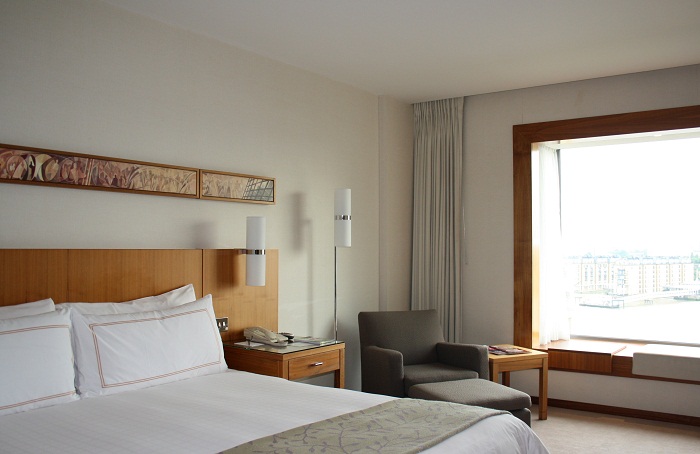 The sophisticated, unfussy design of the room lends well to framing the stunning views of the River Thames.  It's fun and calming to spend a while perched on the window seat, watching the movements of the water and the boats go by.  The view is even better at night, as the lights from the surrounding buildings give it a warm glow.
The king-size bed is extremely comfortable and covered in plush embroidered linen, encouraging a great night's sleep.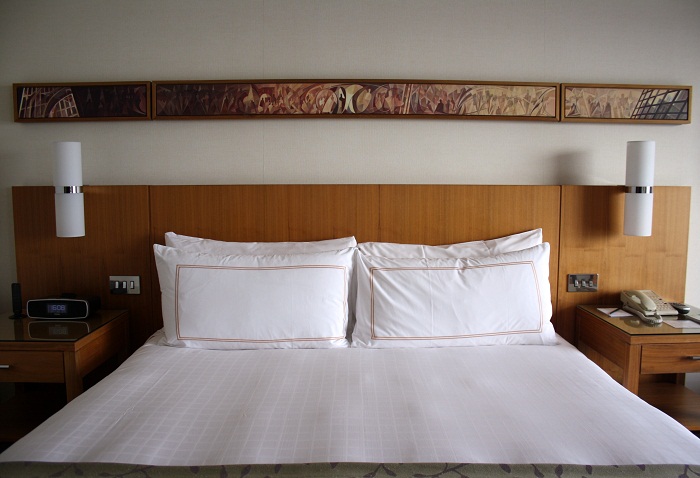 I was really impressed with the creative and thoughtful welcome amenity created by the Pastry Chef – a fabulous clear sugar plaque printed with my blog logo and surrounded by delicious hand-made chocolates and sugar crystals.  We were also brought a large bottle of Four Seasons branded mineral water and a plate of fresh fruits and the water was replenised at turndown.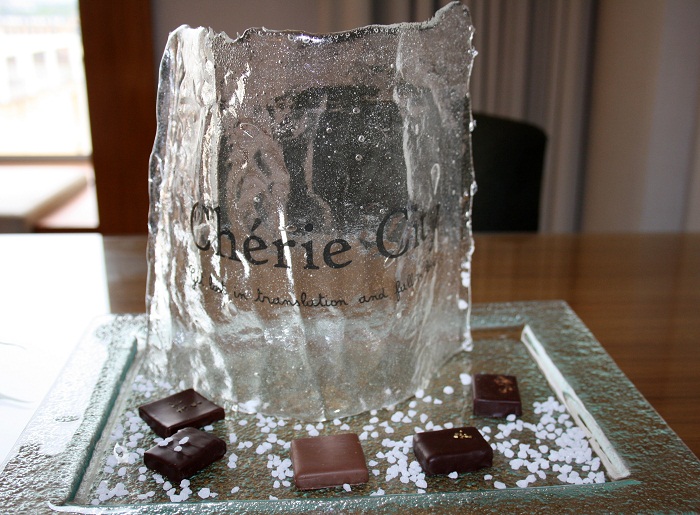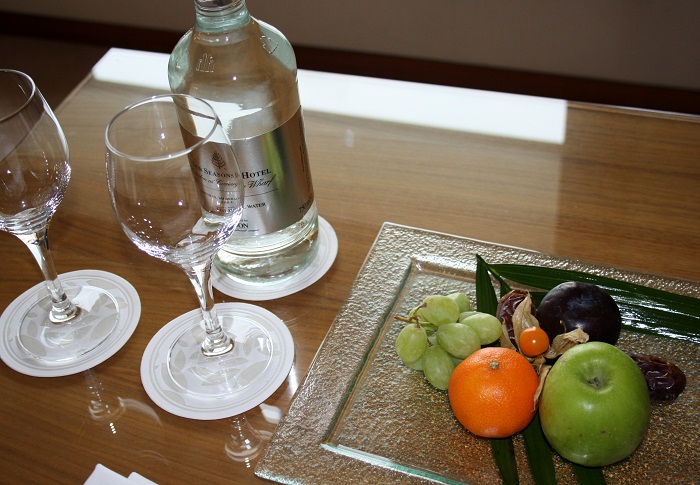 The spacious, neutrally-toned limestone bathroom features a separate bathtub and powerful rainfall shower, terrycloth bathrobes, magnifying mirror, bathroom essentials such as cotton wool and a full set of L'Occitane bathroom amenities.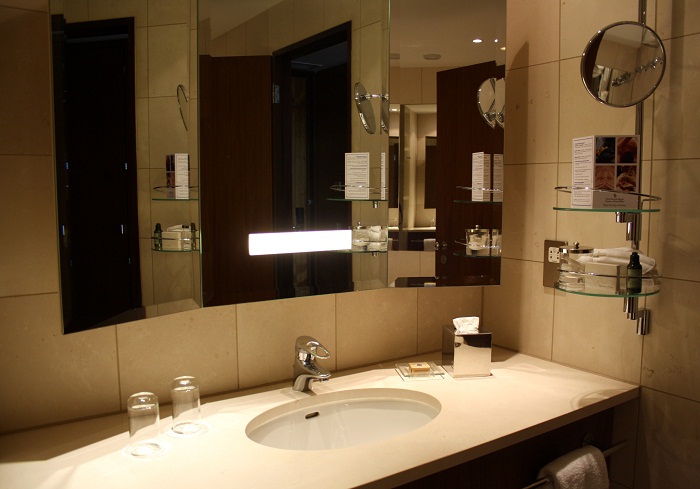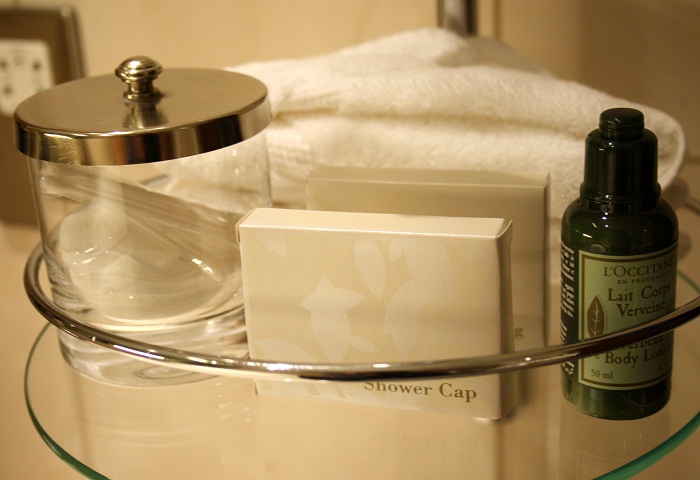 A perk of staying at Four Seasons Canary Wharf is complimentary access to the luxurious Virgin Active Health Club within the complex.  The stunning infinity pool stretches out towards the river, while the lower level hydro spa features three pools with different jet massage experiences.  There is also a high-tech gym and v-cycle studio for a more invigorating work-out.
It would be easy to spend hours enjoying the facilities at this particularly high end, design-led Virgin Active Health Club, however as it is shared by members it can get busy during peak times.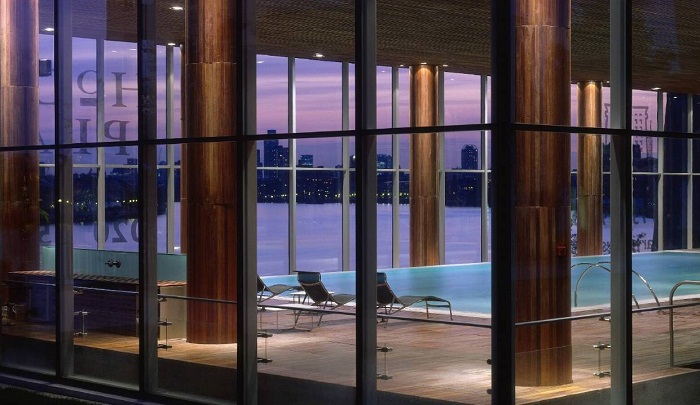 After an invigorating swim, we dressed and headed down for dinner to the hotel's stylish Quadrato Restaurant to try its rustic Northern Italy delights.  The restaurant was peaceful and relaxed when we arrived and as the evening went on, it was buzzing with a warm, convivial atmosphere.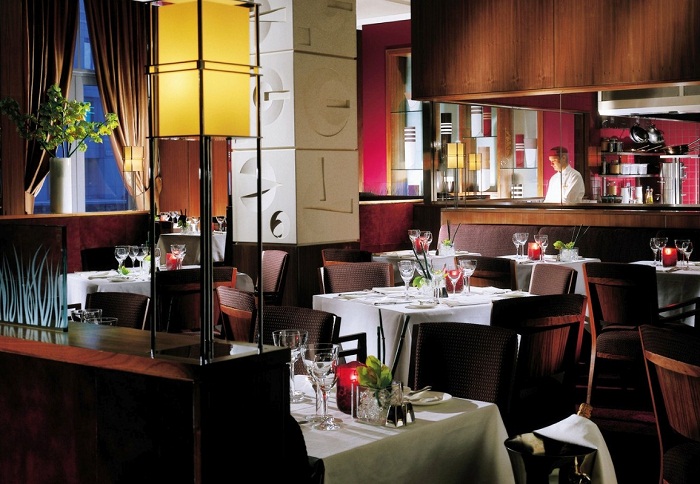 We started with some expertly mixed cocktails – a delicious Whiskey Sour and a suitably Italian Negroni.  While scanning the menu, we were brought a duo of focaccia – garlic and herb and pomodoro, served with high quality olive oil and balsamic vinegar.
I always try to pace myself with pre-dinner bread, particularly when ordering pasta, however this focaccia was too exquisite to resist.  The light bread was moist, springy and not at all oily, topped with the most heavenly roasted tomato sauce.  When we were kindly offered another plate to graze on, it was impossible to refuse.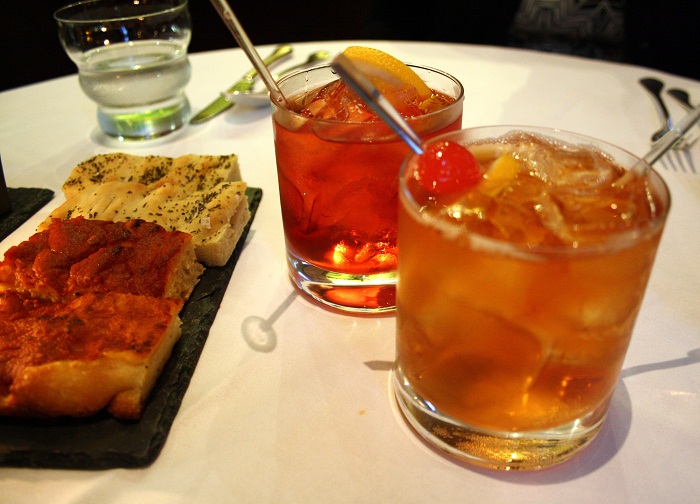 To go with our cocktails, we ordered Sicilian Arancini with Spicy Tomato Sauce from the Italian-style tapas menu.  The golden crispy balls were filled with hot, gooey rice and cheese and they worked perfectly with the rich tomato sauce that had a strong chili kick.
I started with the Scallops Wrapped in Pancetta – with Crushed Cauliflower and Muscovado Reduction.  The scallops were plump, succulent and nicely browned on the outside.  They went well with the creamy cauliflower and the muscovado reduction added a touch of syrupy sweetness.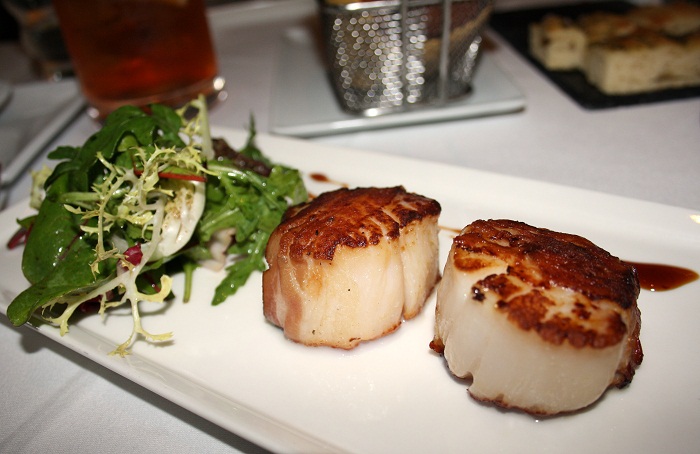 Steven ordered the Tomato and Mozzarella with a Balsamic Reduction, which came served on toasted sourdough and with a mixed leaf salad.  The tomatoes were juicy and sweet while the mozzarella was cool and fresh – the balsamic vinegar completed the typically Italian dish.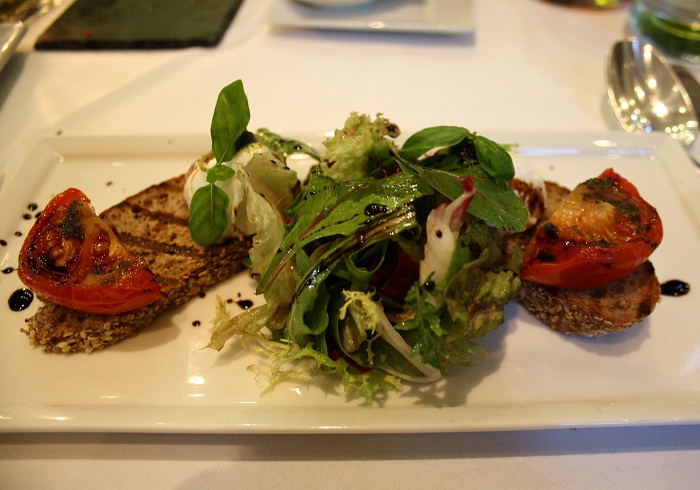 I followed the scallops with  Cavatelli with Devon Crab – flavoured with Lemon Zest, available in both starter and main course size.  Of course I went for the main course portion and it was like a bottom-less bowl of pasta – absolutely enormous.  The thick al dente pasta was smothered in a rich, creamy sauce with a hint of tomato, lots of tender, flaky crab meat, fresh herbs and shaved Parmesan.
It was Italian comfort food at its very best and every mouthful was a delight (even if I should have opted for the starter size).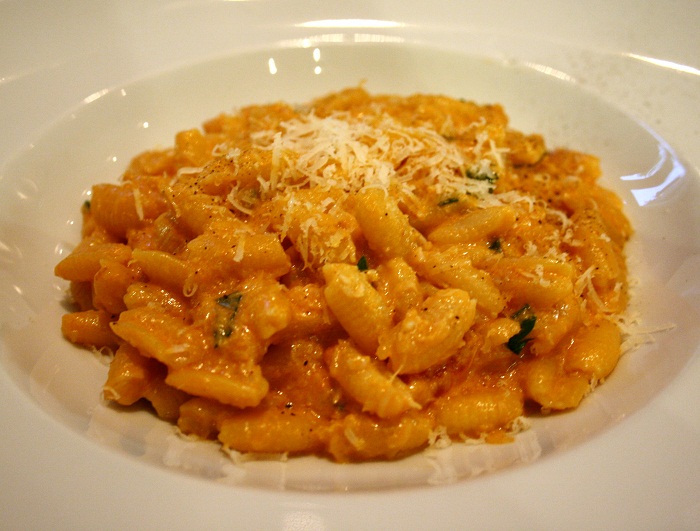 Steven's Traditional Lasagne – with Parmesan Fondue was another hearty Italian delight.  The two slices of slow-cooked, rustic Lasagne were exceptionally tasty and the Parmesan Fondue was more like a smooth bechamel than oozing melted cheese, as initially expected.  The dish was finished with a Parmesan Crisp, roasted cherry tomato and a drizzle of balsamic vinegar.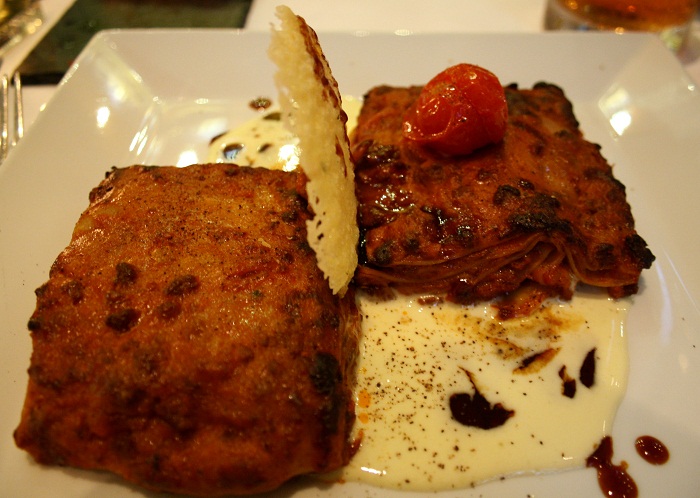 My Banana and White Chocolate Mousse with Cocoa Nib and Almond Streusel and Passionfruit Sorbet was a delightful end to the meal.  Served in a martini glass, the banana and chocolate mousse was deliciously silky and the streusel was a crunchy, oaty contrast.  I also liked the addition of luscious passionfruit sorbet to lighten the sweet flavours with some bold fruitiness.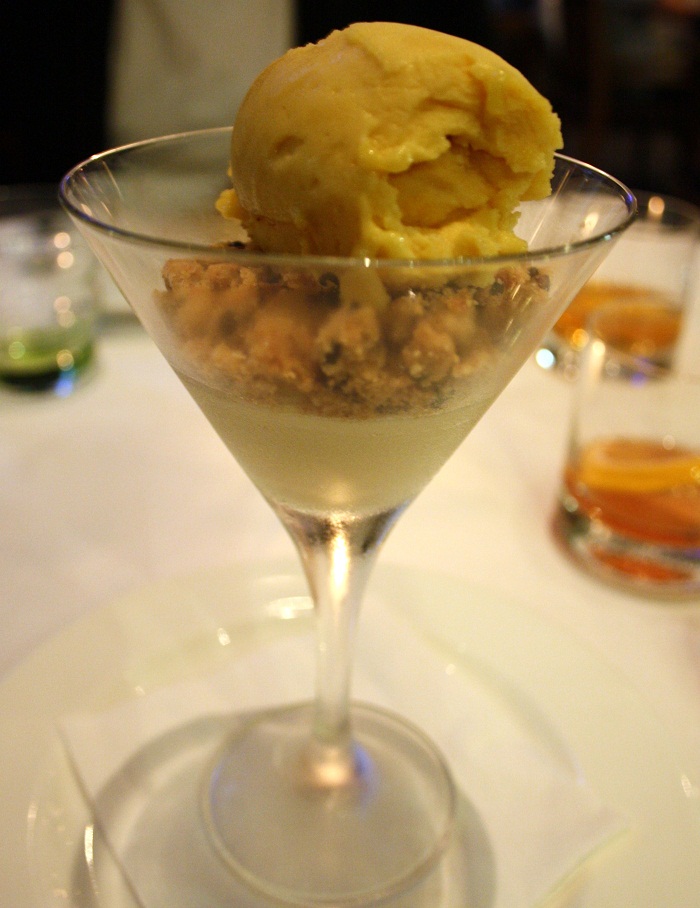 Steven's Tiramisu with Coffee Crumble and Amaretto Gelée not only looked fantastic but was just as the classic dessert should be (with a strong dose of espresso).  The curled chocolate tuile on top and the subtle, glossy Amaretto gelée gave it a high end touch.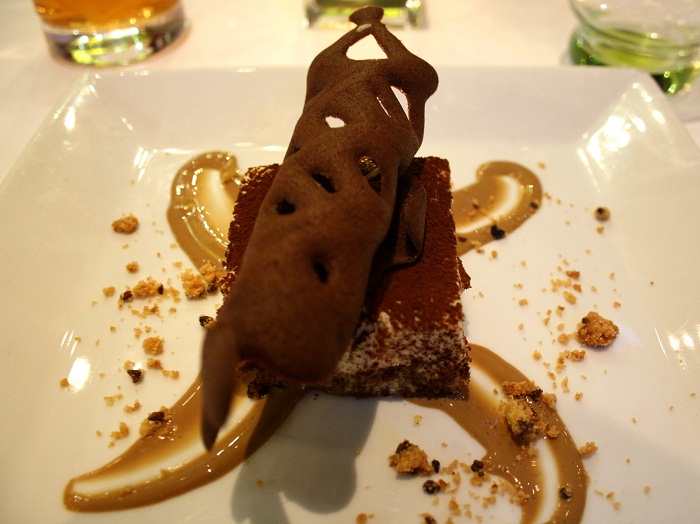 We finished with a pot of fresh mint tea and retired to our room to enjoy the evening view of the river, ending with watching Amelie from the DVD Library with hot chocolate.
After a long, peaceful night's sleep  it was back down to Quadrato Restaurant for breakfast.  The excellent buffet offers a selection of hot dishes, mini pastries, cereal, yoghurt and fruits.  My Eggs Benedict were exemplary, with fluffy toasted English muffins, griddled ham, perfect poached eggs and a generous drizzle of hollandaise sauce.  They were washed down with a pot of English breakfast tea and excellent freshly-squeezed orange juice.  We were even offered a magazine or newspaper to read as we walked in – Quadrato really knows how to do breakfast.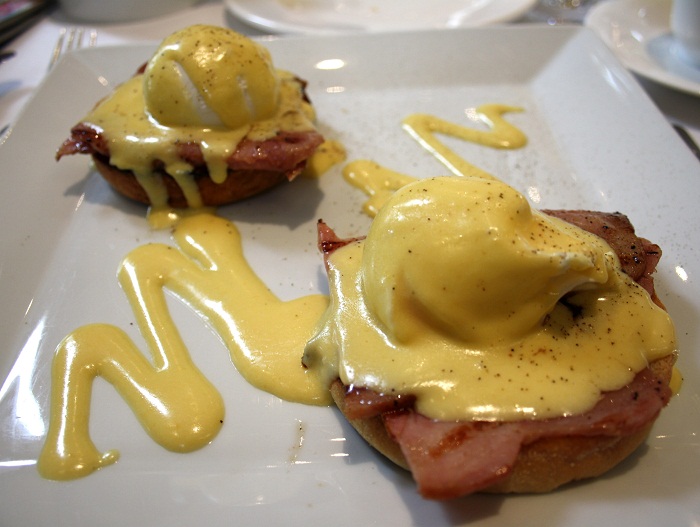 Four Seasons London at Canary Wharf is a fantastic place to stay if you a comfortable, tranquil hotel with Four Seasons' signature service and high standards.  The food at Quadrato Restaurant is a real highlight and easy links to east and central London make Four Seasons London at Canary Wharf a tempting choice for a weekend in London.
Rates start from £315 per room per night on a B&B basis.  For more information and booking, visit: www.fourseasons.com/canarywharf/
Chérie City was a guest of Four Seasons London at Canary Wharf
Photos by Chérie City and Four Seasons London at Canary Wharf