Baileys today launches Baileys Chocolat Luxe, a new liqueur that fuses real Belgian chocolate with alcohol for the very first time.  It's a molten chocolate experience, made with rich Irish cream, fine whisky, Madagascan vanilla and over 30g of Belgian milk chocolate per bottle.
For a special preview, Baileys teamed up with culinary alchemists Bompas & Parr to create a multi-sensory tasting event at Dennis Severs House in Spitalfields.  The historic Grade II listed Georgian terraced house dates from approximately 1724 and was lovingly restored as a 'still life drama' of centuries past by American in London, Dennis Severs.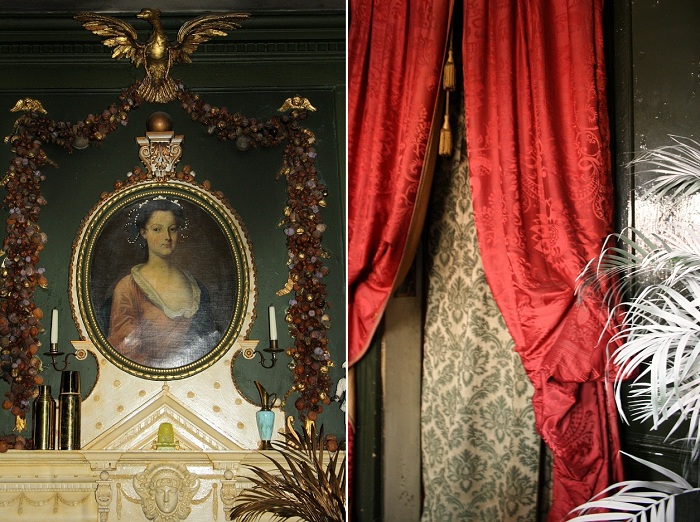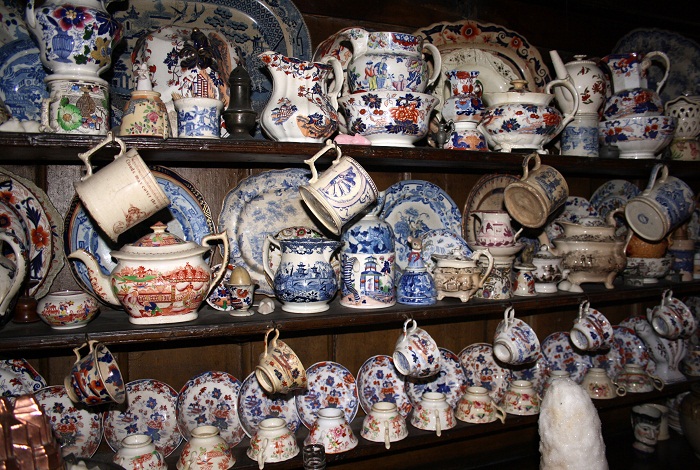 As we wandered through the dark, atmospheric rooms, we were introduced to the concept of this world first in liqueurs by Harry Parr, while Anthony J Wilson, Diageo's Principle Liquid Developer at Diageo, talked us through the scientific process behind it.
During the three years that it took to create Chocolat Luxe, Anthony tasted over 200 varieties of chocolate, travelled across three continents and experimented with no less than 840 recipes.  Interestingly, Anthony's father Steve Wilson led the team behind Baileys Original Irish Cream back in the 1970s, making Bailey's a real family success story.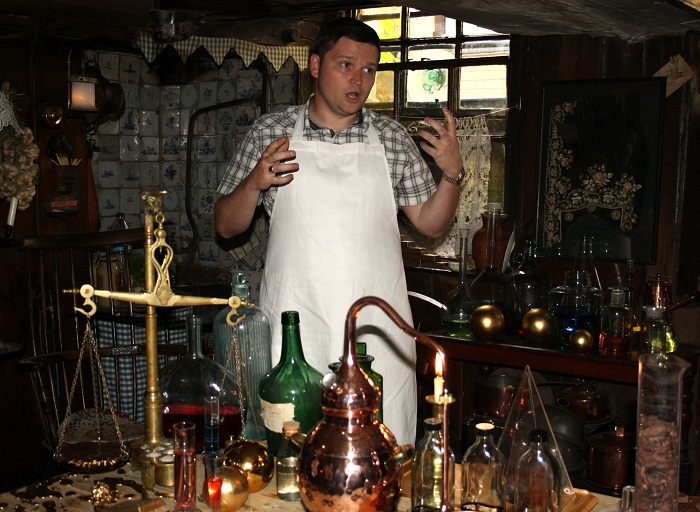 At the end of our tour, it was time to reveal the mystery liqueur, accompanied by a sumptuous afternoon tea.
Sam Bompas suggested that we taste the Baileys Chocolat Luxe with a specially-designed ritual. Inspired by Marie-Antoinette, The Rococo Serve involves Baileys Chocolat Luxe poured over ice in a long-stem glass and garnished with a raspberry threaded onto a pearl-topped attelet.  Adding gold leaf to the lips before drinking is optional.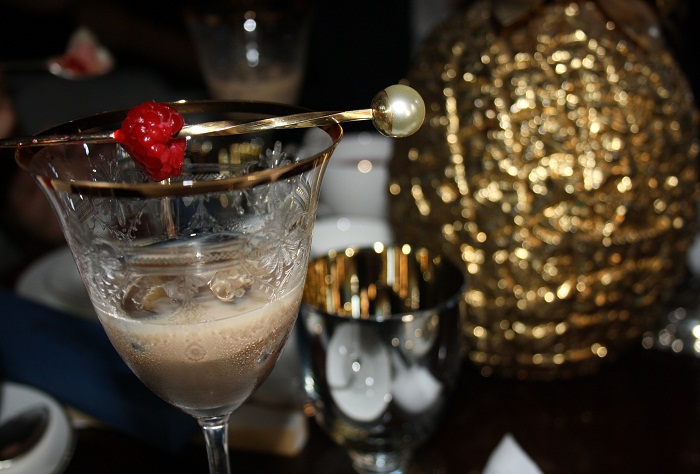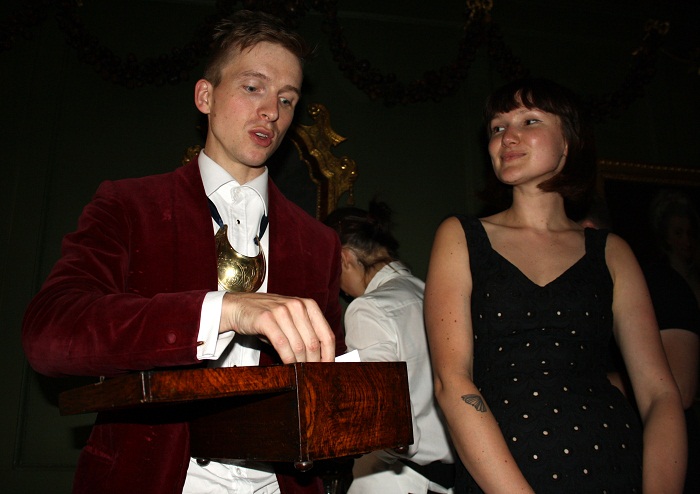 East London baker Lily Vanilli created a stunning afternoon tea of marbled food including pastel finger sandwiches on marbled breads, rose and coconut friands, pistachio cakes, luxe marble cake and rococo jelly.  The decadent, mouth-watering cakes were served with Baileys Chocolat Luxe and berry iced tea in teacups.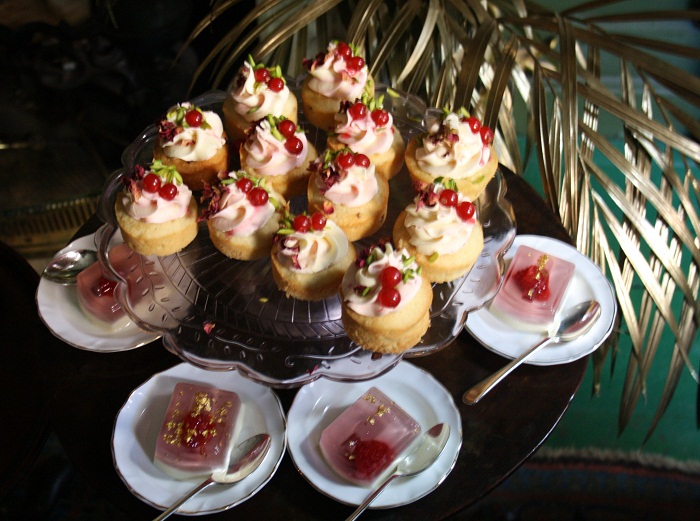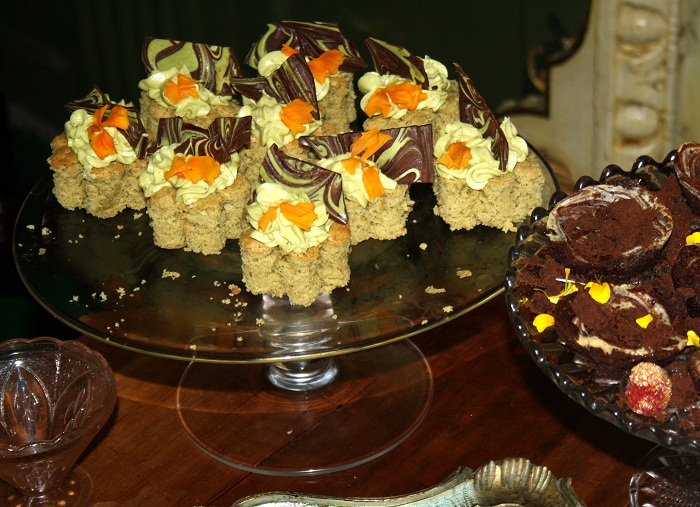 As a special treat, Lily has shared the recipe for her amazing Marbled Vanilla & Chocolate Flourless Cake, perfectly paired with a glass of Baileys Chocolat Luxe….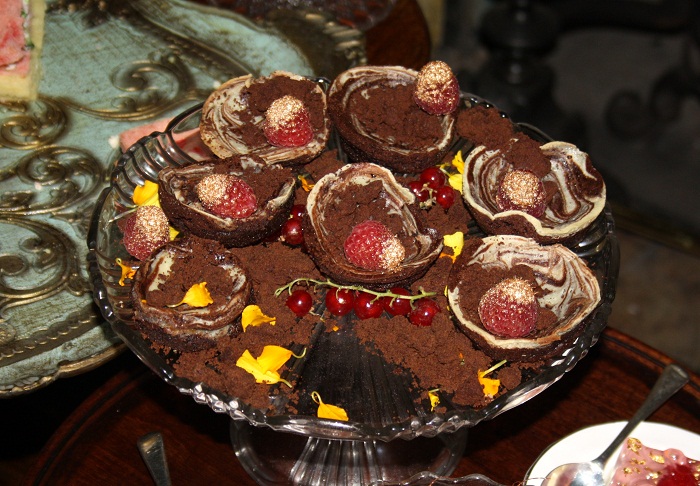 Marbled Vanilla & Chocolate Flourless Cake
Ingredients:
For the vanilla swirl:
225g soft (room temperature) cream cheese
130g granulated sugar
1 large egg
1/2 tsp pure vanilla extract
For the flourless chocolate cake:
280g best quality dark chocolate
140g soft unsalted butter
3 medium eggs
70g granulated sugar
1 tbsp brewed and cooled espresso
1 tsp vanilla extract
Good pinch of Malden/sea salt
Directions:
Preheat oven to 150 DC
Grease a 9″ round cake pan with butter and line the bottom with parchment.
Vanilla batter:
Beat the cream cheese with an electric mixer until smooth.  Add the sugar and continue beating until well blended and smooth again.  Add the egg and vanilla and beat just until blended.  Set this aside for now.
Chocolate batter:
Chop chocolate and butter into small pieces and melt in a bain-marie.  Use a whisk to combine into a smooth batter and set aside to cool.  Using an electric mixer to beat the eggs, sugar, espresso, vanilla and salt on a medium high speed for approx 4 mins (until pale and thick).  Turn the mixer onto a low speed and gradually pour in the chocolate mixture and continue beating until well blended.
Make the Marble Cake:
Spread about half of the chocolate batter (judge it by eye) in the bottom of the pan.  Then add a scoop of the vanilla to the centre of the pan, then more of the chocolate and keep alternating, each time adding it to the centre.
Use a knife or a toothpick to gently swirl the two batters together so they're mixed but not completely blended.  Rap the pan against the countertop several times to settle the batters.
Bake for around 40 mins or until a pick inserted about 2 inches from the edge comes out gooey but not liquid.  Be sure not to over-bake.  Let it cool in the pan – it will sink as it cools.
Store in the fridge for up to 3 days.  Serve chilled or at room temperature with a glass of Baileys Chocolat Luxe.
Baileys Chocolate Luxe is available exclusively at Harvey Nichols now, before general release in October, with an RRP of £16.99 for 50cl.
For more information, visit: www.baileys.com