Megaro Bar is a real hidden gem in Kings Cross, with artisan cocktails in a cool, vintage setting.
The atmospheric bar is tucked away below Karpo restaurant in the colourful, design-led Megaro Hotel.  It's conveniently just opposite Kings Cross and St Pancras stations and a short walk away from hip Kings Cross restaurants Grain Store and Shrimpy's.
Megaro Bar was relaunched just last month with a brand new look and bar concept by the team behind the fabulous Zetter Townhouse, overseen by Bar Manager Ben Clark.  Their creative approach to heritage cocktails and inventive small plates is evident at Megaro Bar and equally as exciting.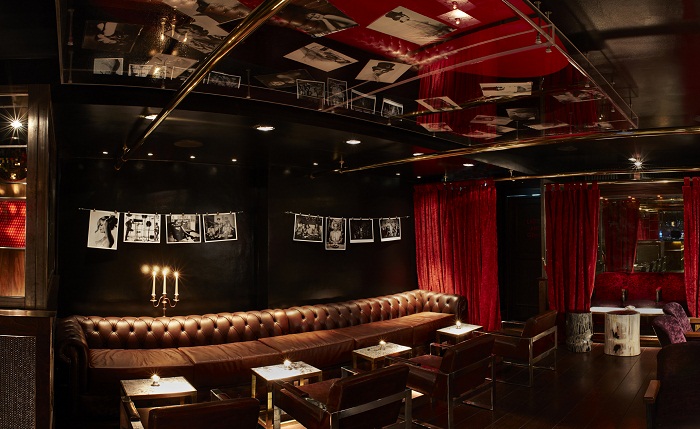 The design and ambiance of the bar evokes a bygone era of glamorous movie stars, decadent London nights and moody speakeasies.  The dimly-lit, subterranean room is split into two separate spaces, bridged by the spectacular bar.
The Picture Room is inspired by a classic film set with vintage tripod stands, a wall of framed photographs and leather director chairs.  The Dark Room is a more sultry affair with black and white photographs hung with pegs, low tables, heavy red velvet drapes referencing photo booths the red hues of a photography dark room.
It was a sweltering hot summer's day when we visited and happily Megaro Bar has some powerful air-conditioning.  It was a refreshing change from trying to work through the stifling heat and humidity on an outdoor terrace.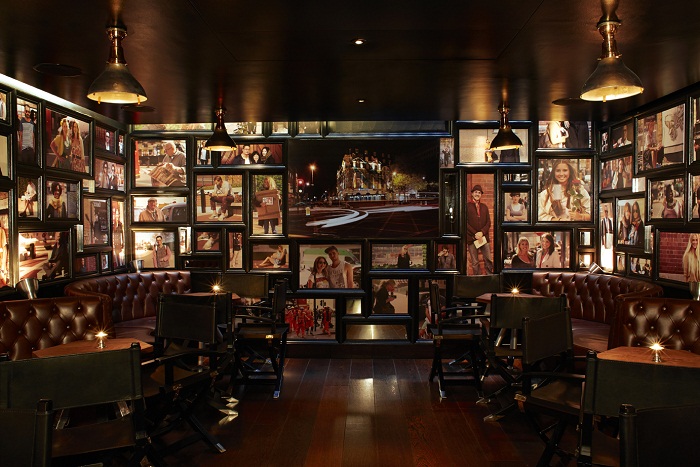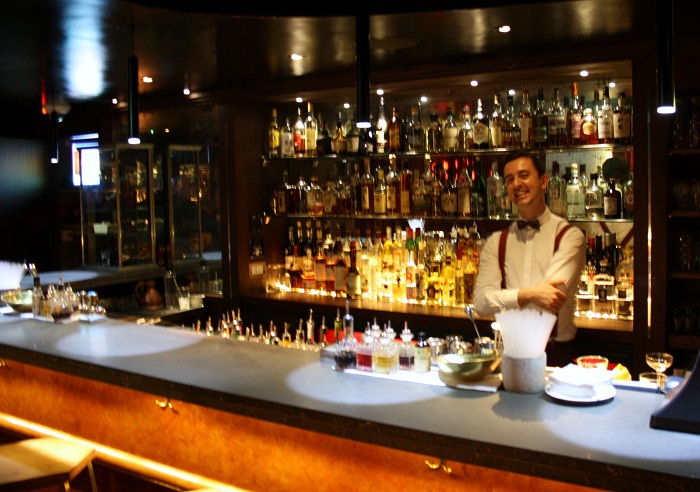 The menu is a well-edited selection of ten tempting cocktails and six chefs plates, matched to compliment a specific drink.  The cocktails are made with premium, lesser-known spirits from around the world (I admit to not knowing a few of them) and home-made cordials and syrups.
I started with a Machaska Daisy – Pisco 1615, Merlet Creme de Poire, lime, sugar and Amargo Chuncho.  The drink had a sweet and sour taste and was very easy to drink.  Steven ordered a Whisky Row – Four Roses Single Barrel, Amaro Averna and chamomile syrup.  Served in a vintage-style Champagne coupe, the Whisky Row was very strong and dry with a slightly herbal taste from the chamomile syrup.
Our charming, attentive waitress also brough us some little glasses of iced water and a bowl of edamame beans covered in smoked salt to graze on.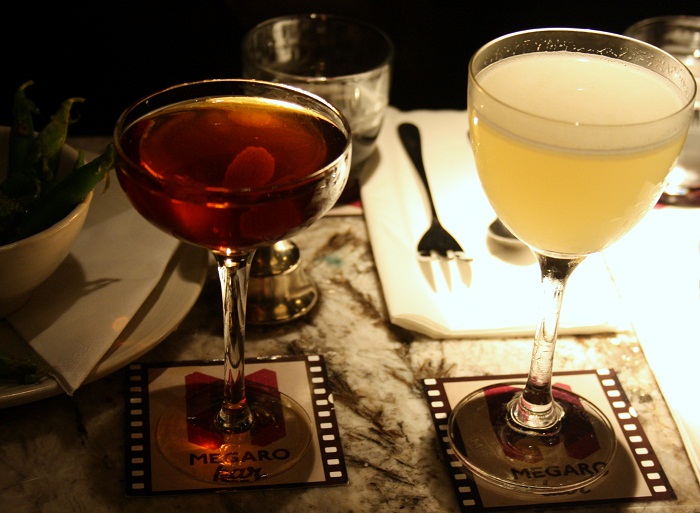 Scallop ceviche with green strawberry and almonds served in a pretty shell was a truly inventive dish and I was surprised by how much I enjoyed it.  The chopped scallops were fresh, plump and well-cured in a light, tangy sauce.  The pickled green strawberries added a fruity sharpness and went perfectly with the generous portion of scallops.  The bright green juice looked a little questionable, until I was assured it was natural chive oil rather than food colouring.
I'm not exactly sure which cocktails and chefs plates were supposed to be paired together, but the scallop ceviche went perfectly with the sweet and sour Machaska Daisy.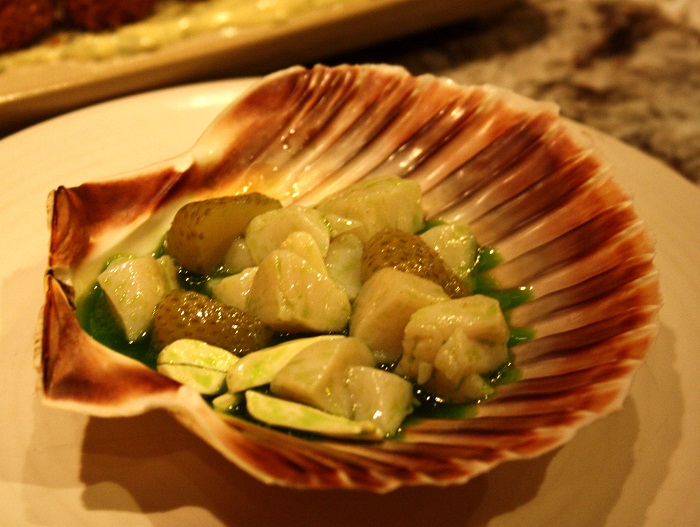 Crispy veal cheek and tartare sauce was a delicious, comforting dish.  Five bite-size pieces of slow-roasted, flaky veal cheek were covered in the crispiest golden breadcrumbs and surrounded by a creamy, bold tartare sauce.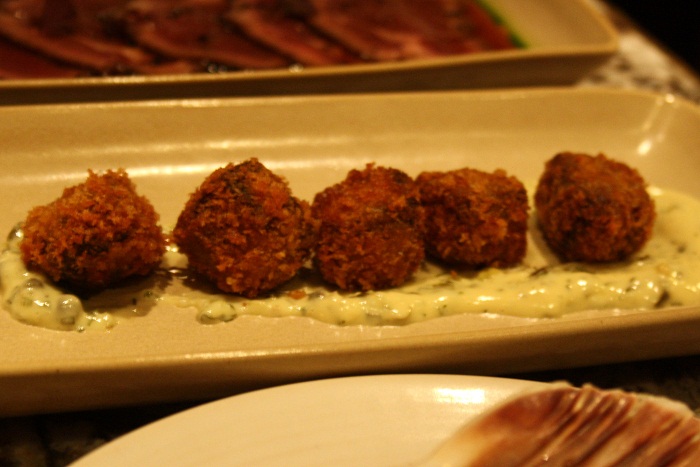 Another highlight was the Rump carpaccio with black sesame and soy.  The slices of flavoursome, juicy beef carpaccio were cured in a light Asian-style soy and ginger sauce with a slight vinegar tang and topped with crunchy black sesame seeds.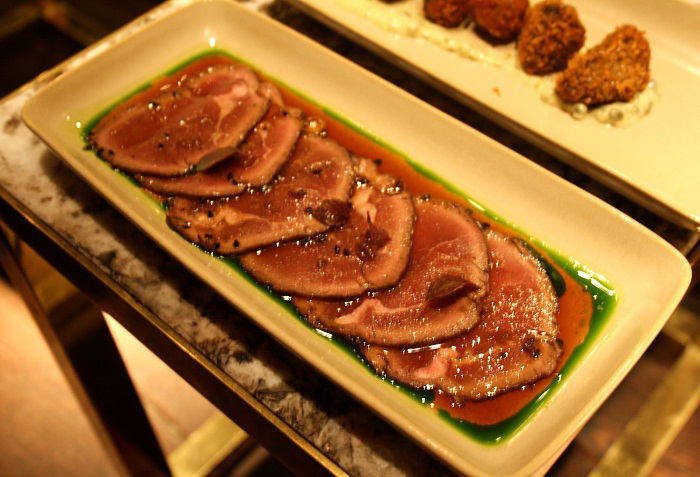 We finished with another round of cocktails and some heavenly Dark chocolate honeycomb.  The three large chunks of crunchy, chewy, home-made honeycomb were smothered in high quality dark chocolate –  we had to devour them quickly before they melted.
I tried the Land of Grace – Diplomatico Reserva Exclusiva, 10 year white Port and clover honey.  It was a rich, full-bodied, sweet drink that was a perfect match for the dark chocolate honeycomb.  Steven enjoyed a Hokkaido Collins – Nikka Pure Malt Black, lemon, yuzu, barley water syrup and soda.  This long drink was subtle and refreshing, with a delicate citrus zing from the yuzu.
Megaro Bar is a great spot for an intimate, expertly-mixed drink and mouth-watering bar plates.  Everything feels effortless chic yet carefully-considered, from the dedicated table service and bar accessories to the cool soundtrack of jazz and loungey electronic music.  For those who like the 'secret' feel of Lounge Bohemia, Callooh Callay and Mayor of Scaredy Cat Town, Megaro Bar is an absolute must.
For more information and booking, visit: www.megarobar.co.uk
Chérie City was a guest of Megaro Bar
Photos by Chérie City and Megaro Bar