'Canteen chic' can describe a number of east London restaurants, but Monikers Hoxton Square goes one step further with its homage to school classroom design.  Surely there's no other restaurants in the city where you can dine (rather than illicitly smoke and stick gum on the seats) on the top deck of a vintage bus.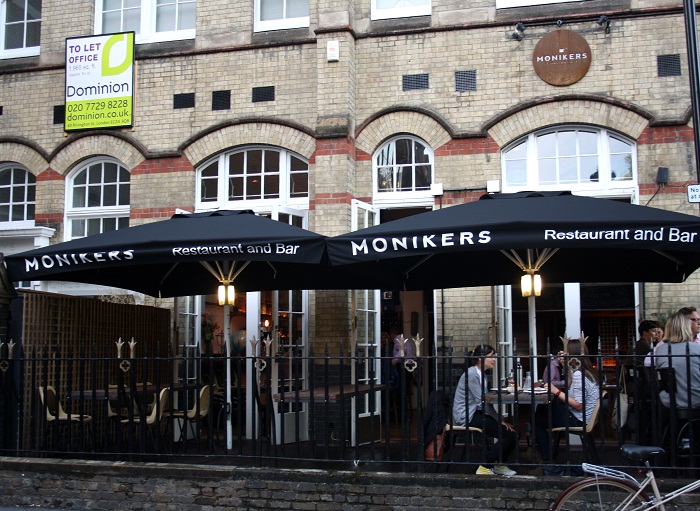 The playfully-named Monikers opened this year on the site of the former Hoxton Apprentice and is housed in an old school gym.  The restaurant is bright and airy, with an outdoor terrace and intimate corners to play hooky from the office.
There's something very nostalgic about Monikers, with its retro bus seats, menus printed in exercise books and chalk boards noting the daily specials.  However, be rest assured that the food at Monikers bears little resemblance to stodgy school dinners (apart from a few luxe versions of childhood dishes).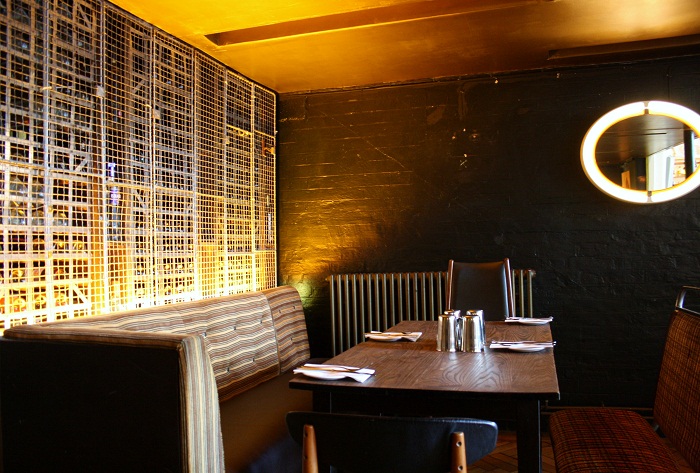 On arrival, we were given a choice of tables and were swiftly brought a conical flask of chilled water.  We didn't realise at the time, but you can actually dine at the top of the bus.  It would definitely make an amazing private party venue.
Monikers offers a menu of snacks, small plates and large plates, which can be ordered to share or following the usual three courses.  The charming staff were attentive and friendly, offering personal recommendations and pointing out drinks that we might like to try.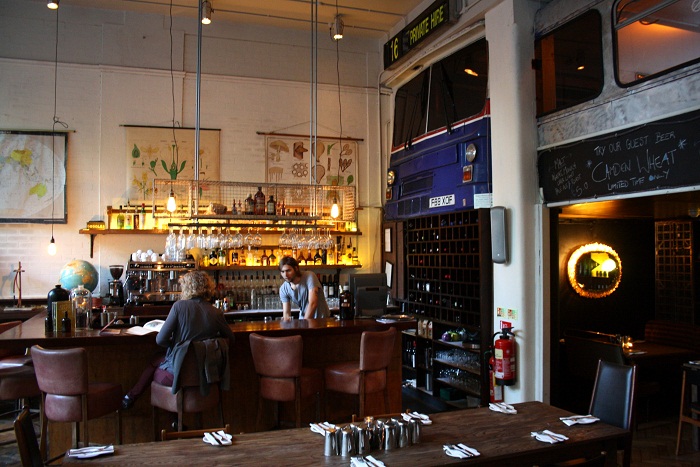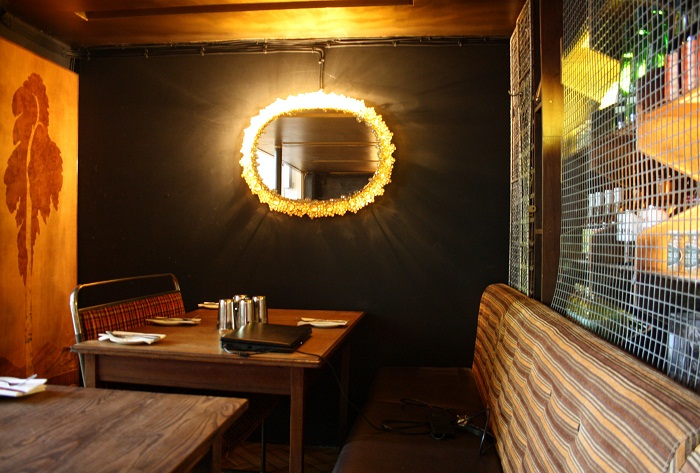 Cocktails are a must at Monikers and the menu is full of tempting concoctions.  I started with Jack's Uncle is an Earl (£7.50) – Laird Applejack, lemon, Earl Grey tea, sugar, Angostura Bitters.  It's a tall, refreshing, sweet and sour drink with a hint of fragrant Earl Grey tea.
Steven tried the Pitfield Slippers (£8.50) – Diplomatico Rum, cinnamon syrup, maple syrup, Agnostura Bitters.  Served short over ice, Pitfield Slippers is strong and smooth with a rich syrupy taste.
We accompanied the cocktails with Mini chorizo with honey (£3.50) from the snack menu.  The four plump mini chorizo were meaty, well-seasoned and spicy with with a subtle honey glaze.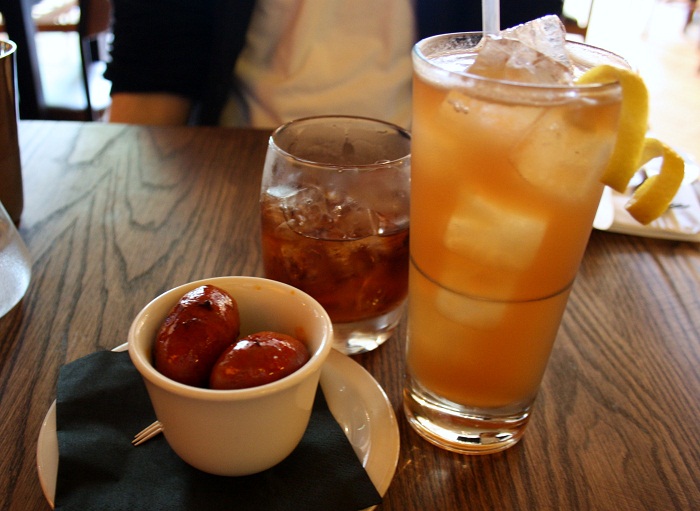 I started with the Sweetcorn fritters with creme fraiche (£6.50).  The two large fritters were golden brown and soft on the inside, filled with fresh sweetcorn and fine herbs.  The texture was excellent, however they were extremely salty, as though they had been seasoned twice.  Luckily, the generous side of creme fraiche helped neutralise the salt slightly.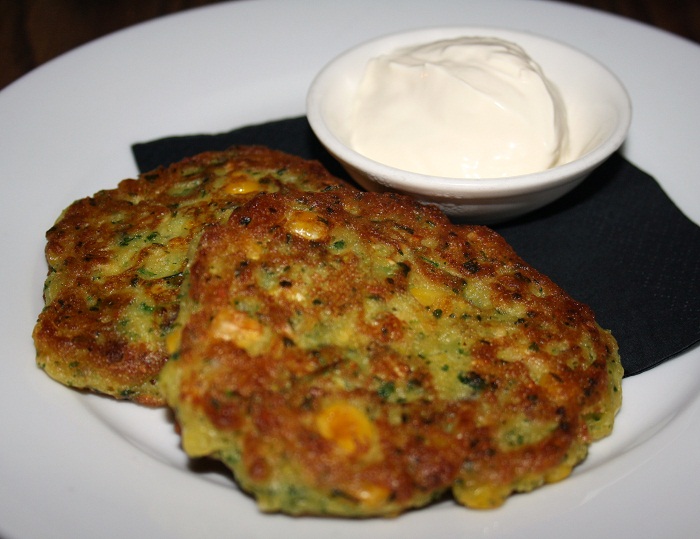 Steven's Rare grilled skirt steak salad with radish, pea shoots and crispy shallots (£8) was a deliciously light and summery starter.  The thin slices of rare steak were juicy, lean and very lightly charred on the edges.  The crispy shallots complimented the steak well and the French dressing was tangy yet not overpowering.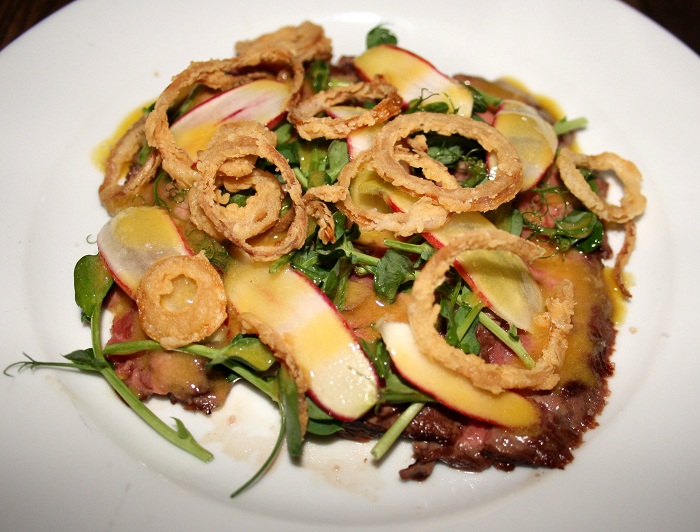 For the main course, I ordered the Goosnargh crispy duck leg with white radish and ginger salad (£12.50).  The duck leg was tender and flaky with the most perfect crispy skin.  I loved the fresh, aromatic salad of julienne white radish, carrot, fresh ginger and torn coriander, marinated in a light sesame soy dressing.  The Asian style salad was a refreshing change from lentil and potato accompaniments that duck is usually served with  – perfect for the warmer weather.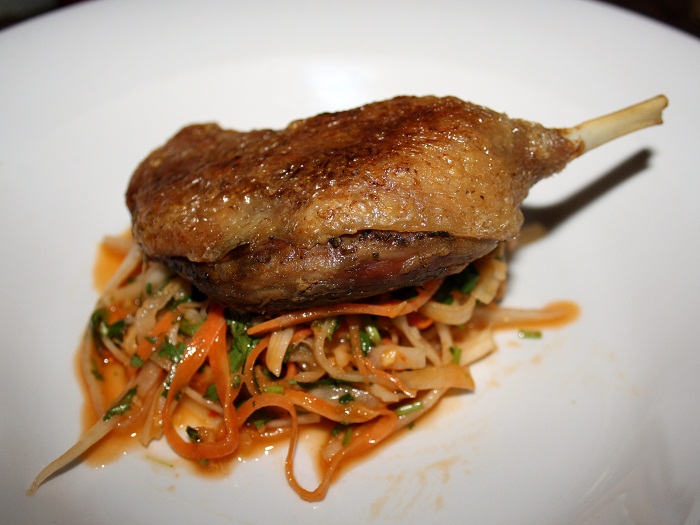 Steven went for Pollack fish fingers, pea puree, tartare sauce and chips (£14.50).  The pollack goujons were very fresh and succulent with a fine golden breadcrumb coating, served on a bed of flavoursome pea puree with creamy caper-filled tartare sauce and a wedge of lemon.  The generously sized portion of home-made chips were crispy, well-seasoned and full of flavour.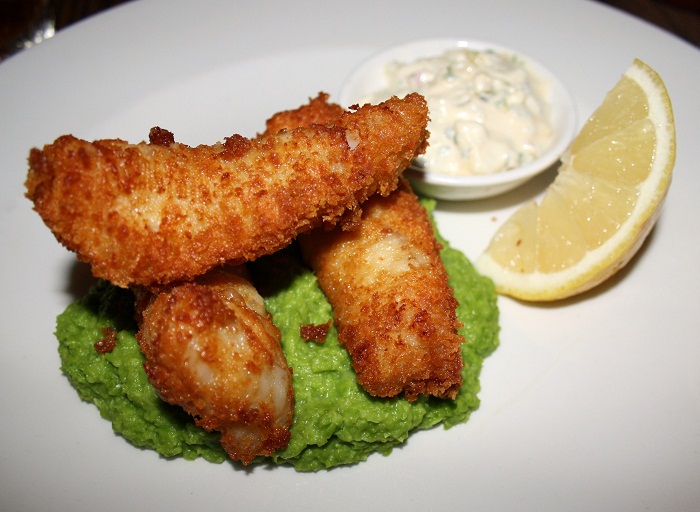 For dessert, I was tempted by the Dark chocolate mousse and honeycomb (£5).  Served in a glass beaker, the heavenly chocolate mousse was luxuriously rich, thick and smooth, topped with crumbled honeycomb.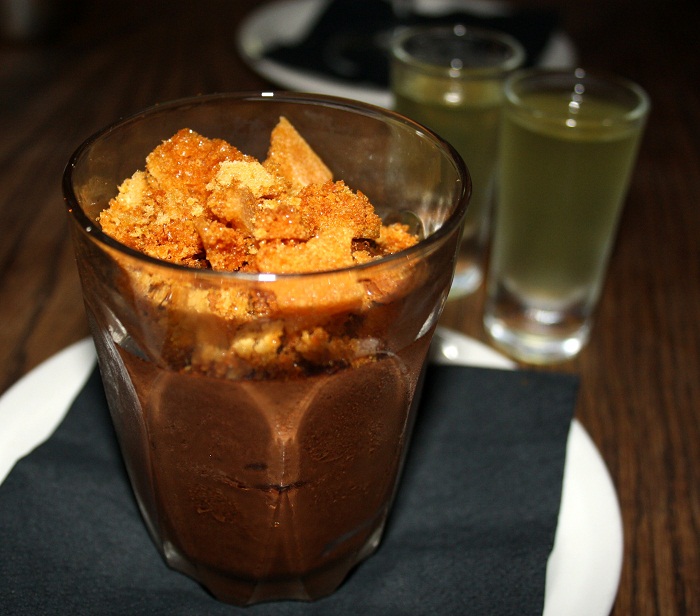 Steven went for the classic Oakchurch farm raspberry Eton Mess (£5).  Juicy raspberries were mixed up with crushed meringue and sweet vanilla-infused cream – simple yet delicious.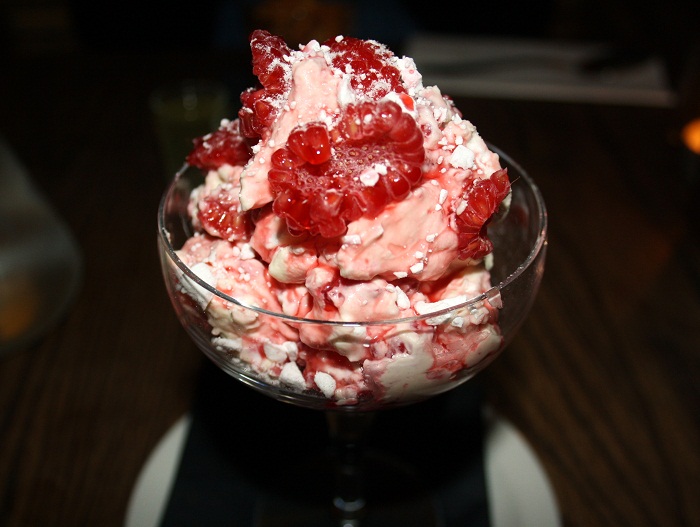 Monikers is in a great position for people-watching on Hoxton Square and its tasty, seasonal dishes are surprisingly light and thoughtfully prepared.  Be sure to try a cocktail or two and look out for the monthly 'Sunday Drunch'.
Chérie City was a guest of Monikers
All photos by Chérie City