Bouchon Fourchette is a delightful Hackney restaurant that brings traditional French food to Mare Street.
There are plenty of restaurants and street food stalls in the area that have French influences, but Bouchon Fourchette is one of the only places to come for classic French comfort dishes such as raclette, hachis Parmentier, Croque Madame, Coq au Vin and chocolat liégeois.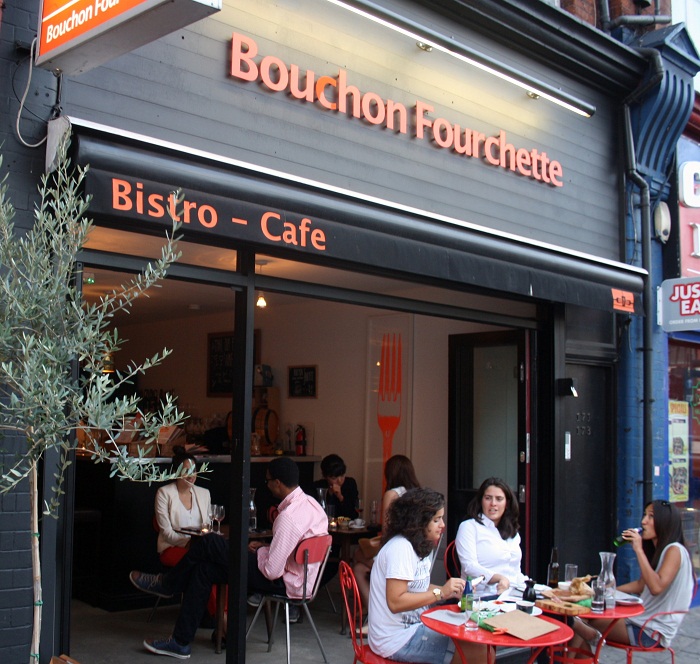 Bouchon Fourchette is owned by Nantes-born Hackney local Dorothee Gaschignard, whose experience in the hospitality industry includes managerial positions at Côte Restaurants and Gaucho Grill.  Presiding over the stove is Chef Jeremy Huguet who trained and worked in the kitchens of Alain Ducasse and Pierre Gagnaire restaurants, including Spoon in St Tropez and Les Airelles in Courchevel.
Bouchon Fourchette really stands out on this stretch of Mare Street with its black and orange exterior and scattering of terrace tables.  Inside, the restaurant has a cavernous feel with concrete floor and exposed brick walls, furnished simply with retro wood and metal chairs and tables and a the daily specials written on chalk boards.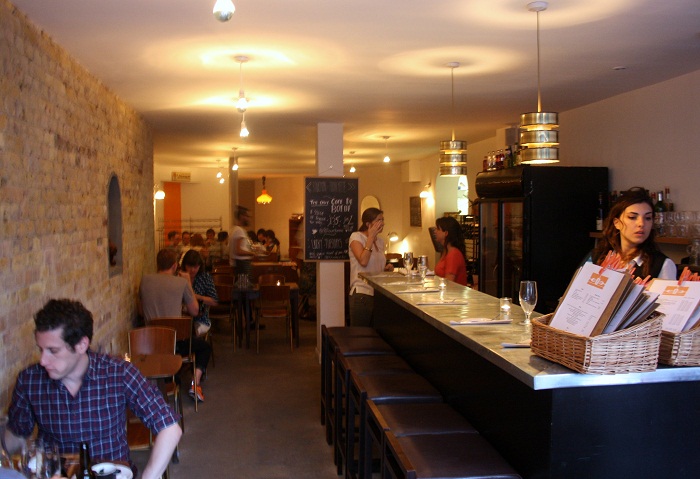 The friendly, mostly French staff all greeted us as we arrived (sans reservations) and seated us at a nice table across from the semi-open kitchen.  As we were visiting for a light evening bite, we skipped starters and desserts and went for just a main dish.
Steven and I both couldn't resist the Duck confit with puy lentils (£11).  The plump leg of duck was exceptionally tasty, with tender, flaky meat infused with the flavours of fresh thyme and perfectly crispy skin.
The lentils were rather under-seasoned, even with thinly sliced lardons, but the bold richness of the duck balanced the dish and prevented it from becoming too salty.  It was a deliciously hearty, comforting and generously sized dish that I would definitely order again.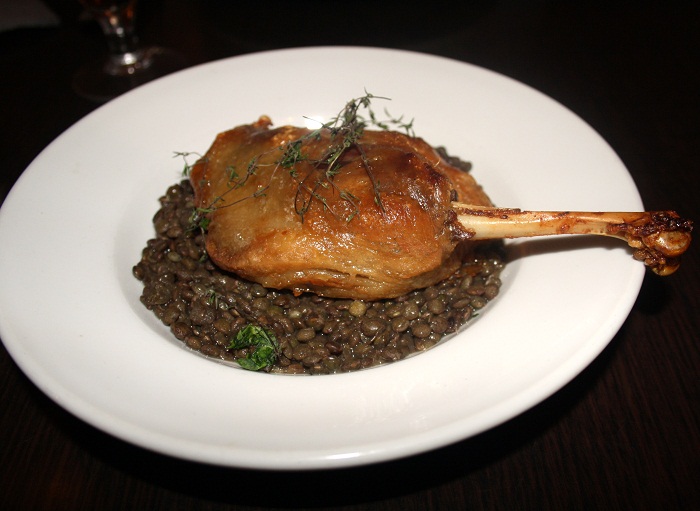 My mum went for the Potato and Gruyère omelette (£8) with a side of frites (£3) served in a brown paper bag.  The large omelette was rich, buttery and filled with halved new potatoes and oozing Gruyère, garnished with fresh herbs.
The omelette was well-seasoned and full of flavour, while the side salad was drizzled with a tangy, peppery French dressing.  The frites were a little bland, so next time we would try a side of potato purée instead.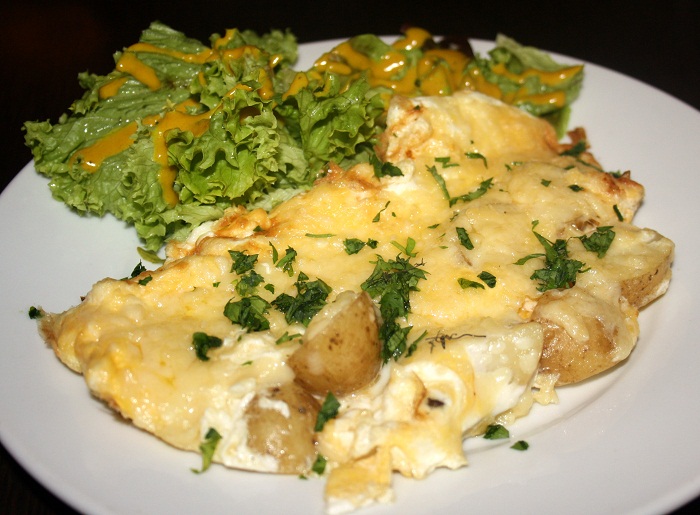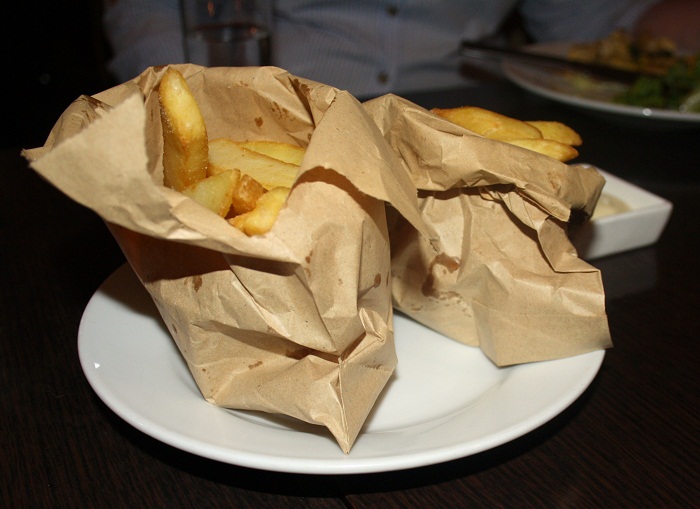 We didn't stay for dessert on this occasion, as a tray of my mum's home-baked chocolate brownies with cherries and hazelnuts awaited.  However, the poached pear in red wine, crème caramel and chocolat liégeois décadence to share sounded tempting.
Bouchon Fourchette is a charming, relaxed neighbourhood restaurant that is a little corner of Lyon in Hackney.  Prices are very reasonable and it has a lovely, unpretentious atmosphere.  We will definitely return soon to try a Croque Madame, an evening charcuterie board or the Eggs Benedict at brunch.
For more information and booking, visit: www.bouchonfourchette.co.uk