The Pearson Room is a fabulous new addition to Canary Wharf's Canada Square, bringing the style of a private member's club with a lighter atmosphere.
Appropriately named after the Canadian Nobel Prize winning Prime Minister, Lester B. Pearson, the restaurant and bar is packed neatly on the second floor of 16-19 Canada Square, between Plateau and the enormous Waitrose.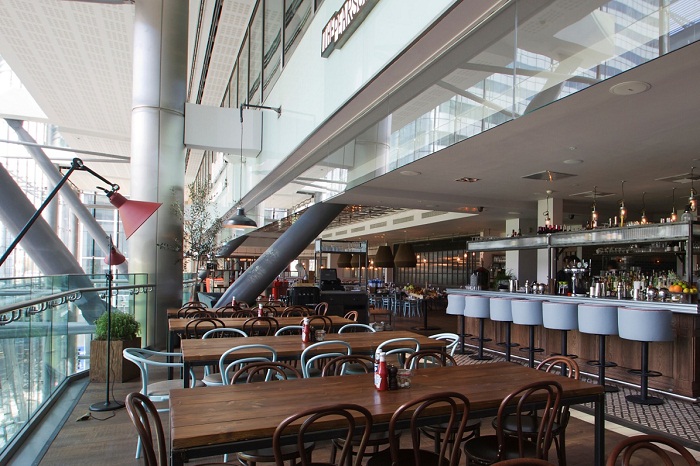 The Pearson Room is a slick operation, managed by a front of house team who arrived from Shoreditch House, Cecconi's and The Swan at Chapel Down.
Bar Manager Victor Matos runs the bar in collaboration with the team behind Purl and Worship Street Whistling Shop and fine wines are selected and recommended by Sunaina Sethi, award-winning former sommelier at Trisha.  B3 Designers (Bubbledogs, Le Gavroche, Aubaine and ROKA) are behind the cool foundry and 1950s Hitchcock-inspired design.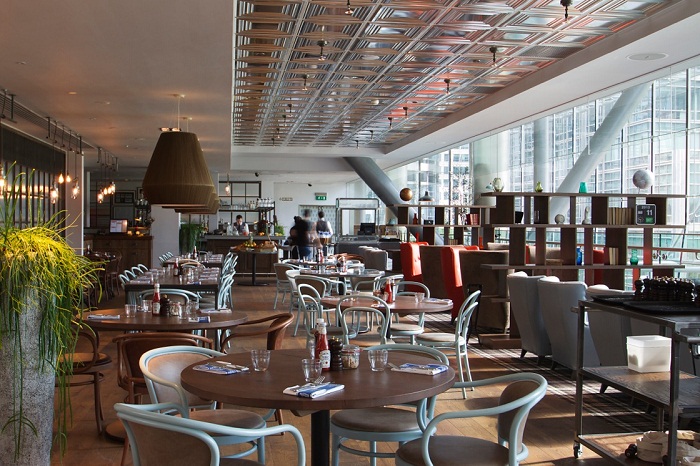 The main dining room has a casual-luxury bistro feel with wooden tables, classic bentwood chairs, leather banquettes, distressed mirrors, low-hanging lighting, a dark timber floor and pressed tin ceiling tiles.  There is also a chic zinc bar with high stools and a communal table tucked away close to the window, which can be used for semi-private dining.  The interior design of The Pearson Room is certainly a striking contrast to the modern glass and metal structure of the building.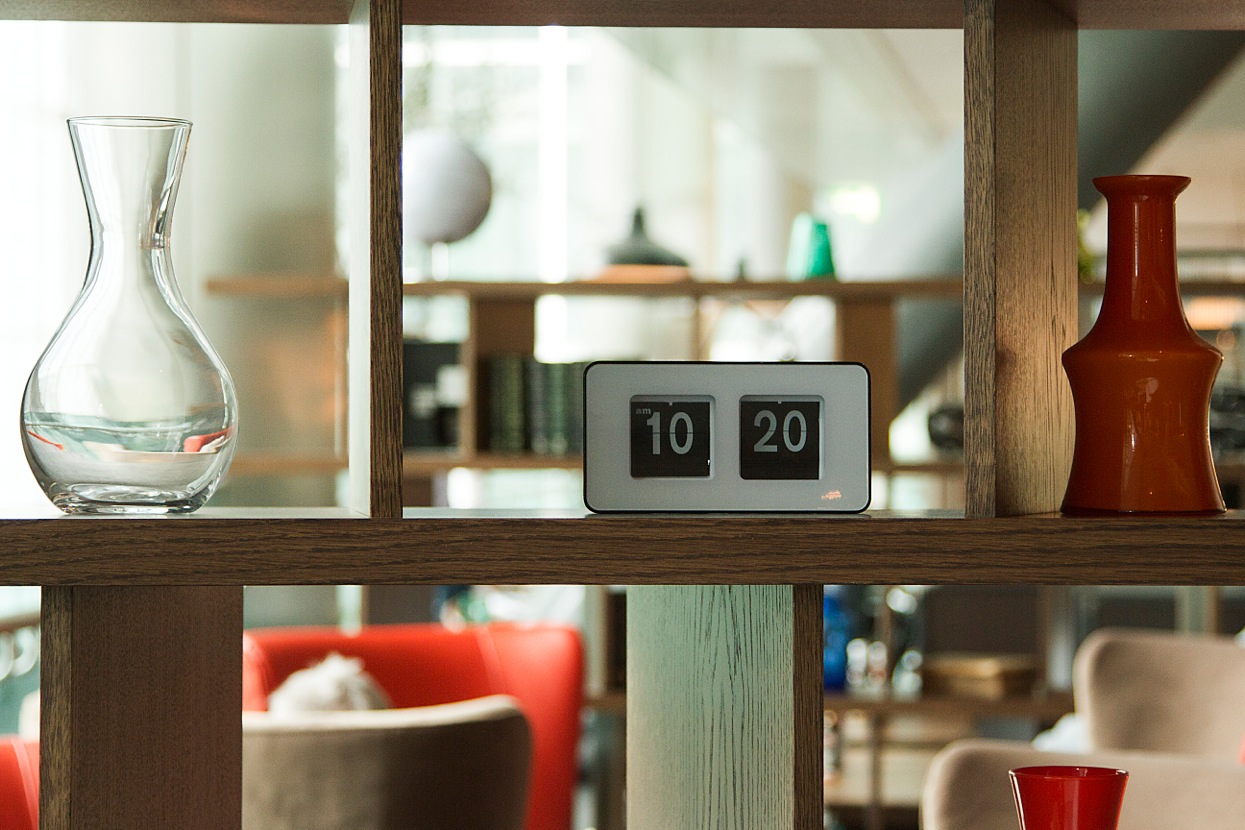 We sat at a table close to the window that offered lots of natural light, sunset views and plenty of people-watching opportunities.  Head Chef Vagner Matos' all-day dining menu has a modern European feel with some innovative bistro dishes and comforting British (and American) classics.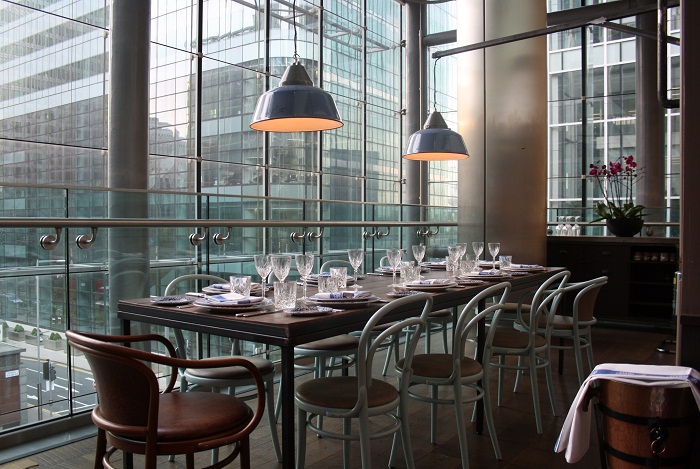 Our charming Italian waiter Antero made some great menu recommendations and swiftly brought us some freshly-baked bread served with olive oil and balsamic vinegar.  Staff at The Pearson Room strike the perfect balance between professional and friendly and their knowledge of the dishes – how they are cooked and where the ingredients are sourced from – is impressive.
We started with a few cocktails from the extensive list of classics and Pearson signature cocktails.  I tried The Drink That Satisfies – Bombay Sapphire, muddled blueberries, lavender syrup and lychee juice (£8).  Served in a Champagne coupe with a sprig of lavender, the dainty cocktail had a delicate, fragrant taste and was a pretty shade of dusky pink.
Steven's Whisky Sour (£8) came in a crystal-cut glass and had an attractive cloudy orange colour from the egg white.  It was more subtle and well-rounded than the classic version and was very easy to drink.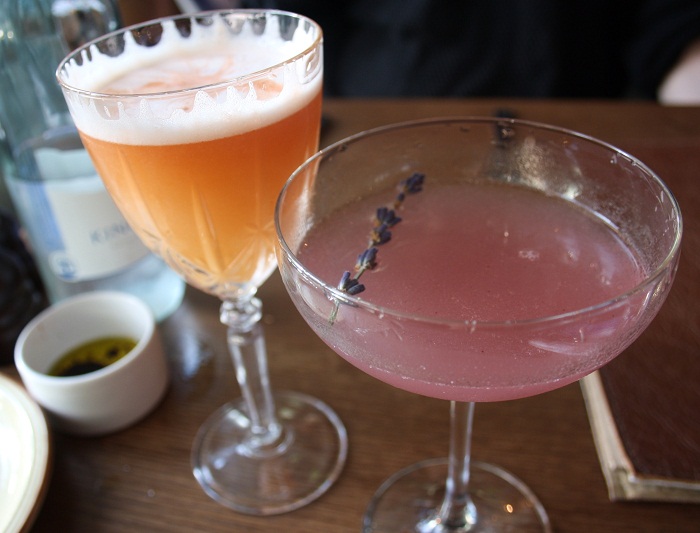 To start, I ordered the Diver Scallops with Nduja, Jerusalem artichoke puree and gremolata (£9).  The two diver scallops were plump, soft and nicely seared on the outside.  They were covered in a crunchy gremolata breadcrumb crust and served on a smooth and creamy puree of Jerusalem artichoke.  The oily, intensely hot njuda had a fiery kick and perfectly complimented the fresh taste of the scallops.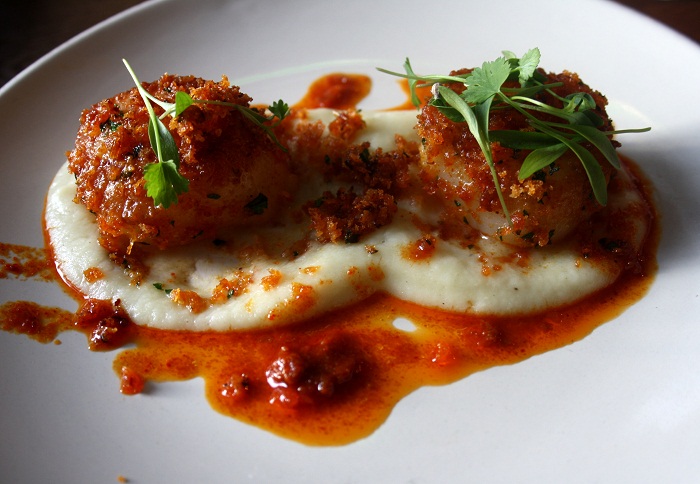 Steven's Adobo Chicken Wings (£8.50) were extremely good – literally the best we've ever tasted.  The Portuguese-style wings were marinated for hours in chilli, soy and spices so that they had a deliciously rich, seasoned taste all the way through.  They were garnished Japanese style with pickled ginger, sesame seeds, grilled spring onions and plenty of fresh coriander.
The meat was juicy and tender while the skin was blackened and crispy.  I highly recommend ordering the Adobo Chicken Wings as a starter or to share, as you really don't want to miss out on those incredible flavours.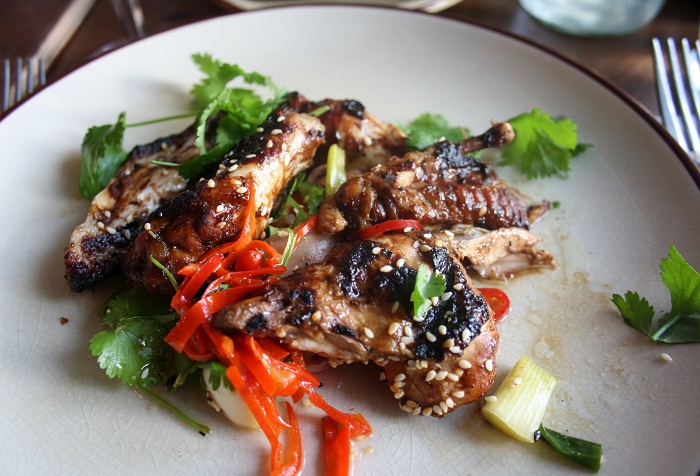 For my main course, I'd set my heart on the Lobster Club Sandwich, but when I spotted the Pearson Cheese Burger (£15) delivered to another table, I was instantly swayed.  A deluxe take on the American classic (and not too posh for its own good), The Pearson Cheese Burger is seriously moreish and addictive.
The superior flame-grilled patty is made purely from freshly-ground rib-eye steak sourced from Kent.  It is packed into a lightly toasted sesame bun with a gooey American slice, baby gem lettuce, beef tomato, flavoursome smoked bacon, tangy burger sauce and thinly-sliced gherkin.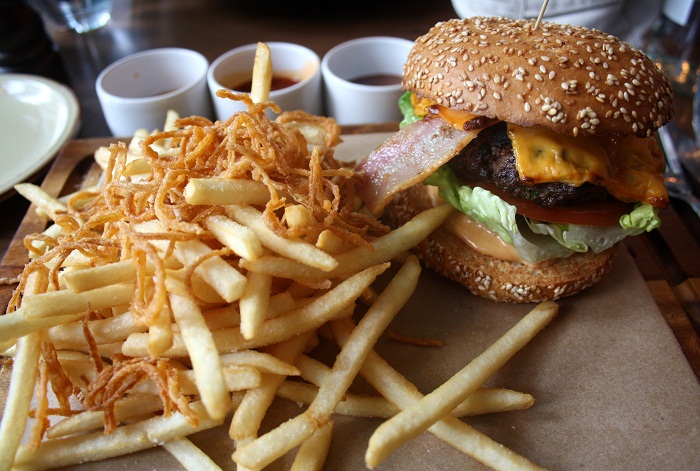 My burger was cooked perfectly medium as requested and it was juicy without being sloppy.  I loved that the burger was served with salty french fries, as tradition dictates, and the addition of the crispy tobacco onions was a real triumph.  I would go so far as to say that this is the best, most joyful burger being served in London right now.
The selection of dipping sauces is an extra treat and as there were so many to choose from, our waiter brought three little pots of tasty tamarind ketchup, chipotle aioli and smoked chilli sauce.
Steven went for the Dingley Dell pork belly with braised puy lentils, caramelised baby onions and port jus (£19.75).  The slice of pork belly was enormous and beautifully-cooked with tender, juicy meat, a layer of melt-in-the-mouth fat and crunchy crackling.
The puy lentils were slow-cooked and absorbed the flavours of the rich port jus while the caramelised baby onions added a sweet, perky flavour.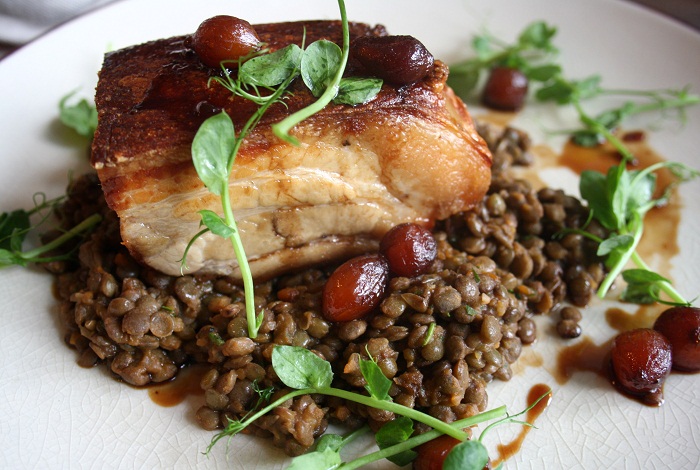 As expected, my Hot Valrhona Chocolate Fondant with peanut butter ice cream (£6) was perfect – a soft cake filled with oozing, molten chocolate of the finest quality.  It was accompanied by a smooth dulce de leche, creamy and grainy peanut butter ice cream and the most delicious candied peanuts.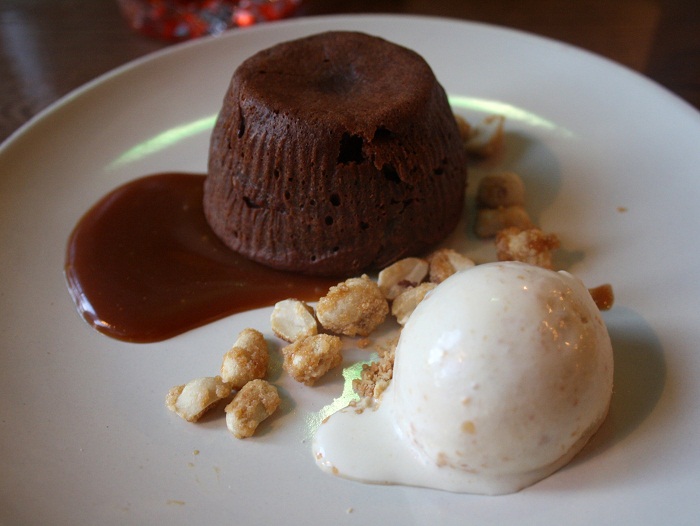 Steven's tried the summery Kirsch Cherry Sundae – kirsch cherry, vanilla and cherry ice cream (£6).  The large sundae glass was filled with layers of vanilla ice cream, refreshing cherry sorbet, cherry compote and juicy whole cherries soaked in kirsch, finished with a flaky pastry twist.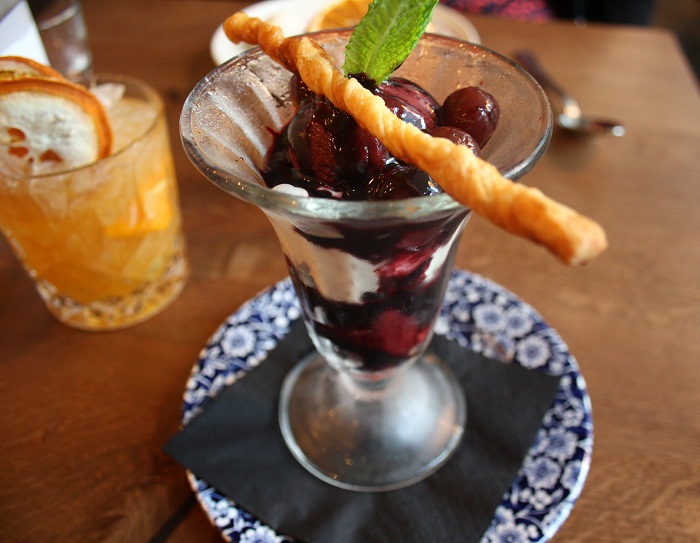 We finished our meal with a Negroni Antica Formula (£8) and a Canadian Maple Leaf (£8.50).  The Negroni was expertly-mixed and the Canadian Maple Leaf was a mouth-watering blend of Canadian Club, maple syrup and an orange slice.
Both drinks were garnished with orange slices that have been soaked in Campari and dried, giving a fragrant touch to the drinks.  We were invited to finish our drinks on the leather sofas in the cool, retro lounge area, which was a nice touch.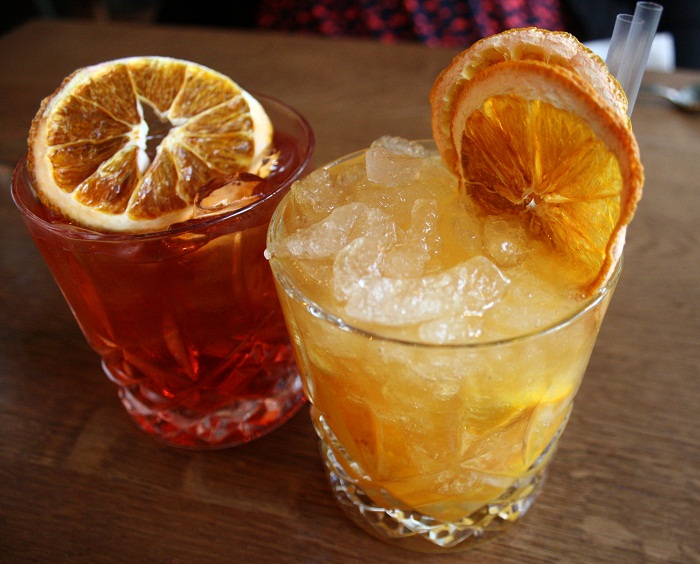 The Pearson Room is a real treat for the Canary Wharf crowd to have on their doorstep and it's definitely worth travelling east for.  Not only are the food and cocktails exceptionally good, but the relaxed atmosphere and wonderful staff make it perfect for a sociable night out.
For more information and booking, visit: www.thepearsonroom.co.uk
Chérie City was a guest of The Pearson Room
Photos by Chérie City