While in New York, I was determined to find a great place to eat lobster rolls.  Our first attempt at visiting Luke's Lobster in the East Village was ill-fated, as the tiny bar was packed full (it only seats 8!) and it was too chilly for take-out.
Luckily, we stumbled upon Luke's Lobster again in one of my favourite NYC foodie haunts, The Plaza Foodhall, after a long trek around Central Park.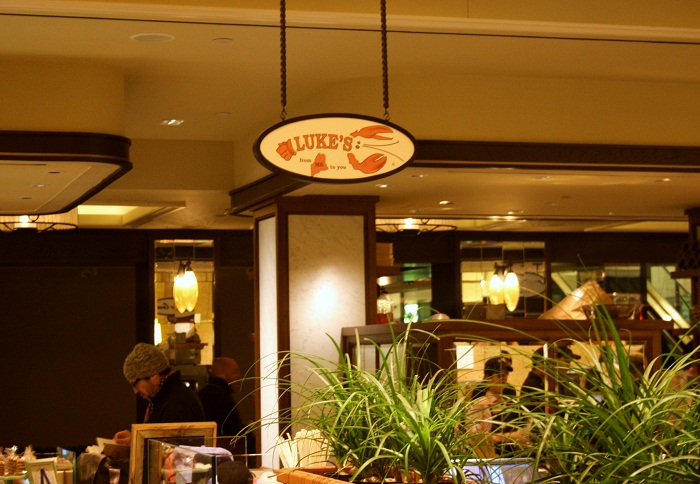 Lobster rolls may sound like an extravagant indulgence, but a lobster glut on the East Coast last year means that prices have been driven down and happily lots of affordable seafood joints have recently popped up in New York.  Luke's Lobster now has ten locations and has expanded to Washington DC and Philadelphia's well-heeled Rittenhouse Square.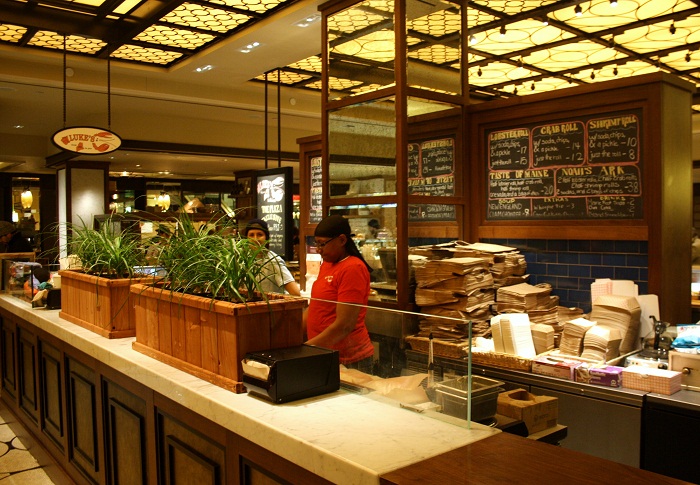 We ordered a Lobster Roll with soda, chips and a pickle ($17) and a Crab Roll – just the roll ($12) to share.  The Maine style lobster roll was substantial with a quarter-pound of plump, chilled lobster meat atop a split toasted and buttered roll spread with mayonnaise, a drizzle of warm lemon butter and scattered 'secret herbs'.
The lobster was incredibly fresh and succulent and was perfectly complemented by the oozing butter sauce and the 'secret' ground herbs (I detected a bit of paprika and oregano).    The lobster roll came with a choice of Cape Cod potato chips and a glass bottle of Maine Root Mexicane Cola.
The crab roll was also delicious with a flaky texture and a clean, subtle taste.  Both were extremely tasty, but the lobster roll had the slight edge as the lobster meat was more flavoursome.  If you're really peckish, try the Taste of Maine – half lobster roll, half crab roll and half shrimp roll with a soda, chips and a pickle ($20).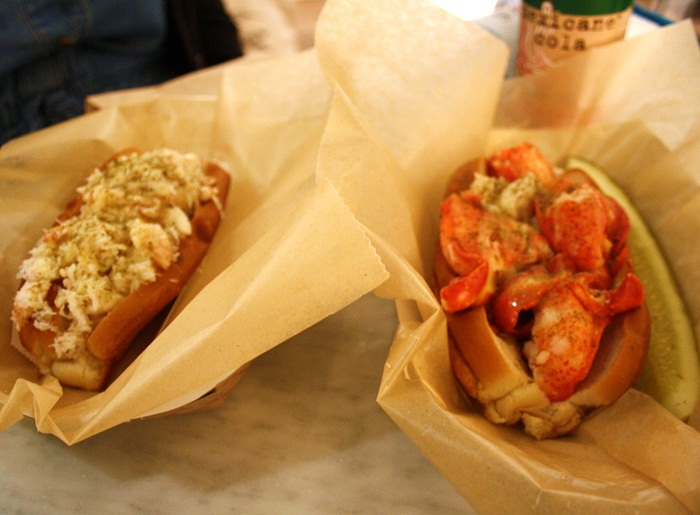 Unlike other lobster shacks in NYC, Luke's Lobster rolls are simply packed full of seafood rather than bulked up with lots of mayo and celery – they're probably the best value for money too.
Many of the outlets can be small and hard to find a seat when it's busy, but The Plaza Food Hall has plenty of seated eating areas.  In the warmer months, grab a few rolls and head to Central Park for a posh picnic – what could be better!
For more information and locations, visit: www.lukeslobster.com