Cucina Asellina on Aldwych brings Italian feasting to London with its indulgent Tavolata Brunch.
Based on the popular Ristorante Asellina in New York, Cucina Asellina is contemporary with an industrial-luxe feel, designed in warm, earthy colours with white and chocolate brown leather seating and clever lighting.  Given the location and the slick interiors, you might expect overly sophisticated dishes, but Cucina Asellina is all about rustic, authentic Italian home cooking at its very best.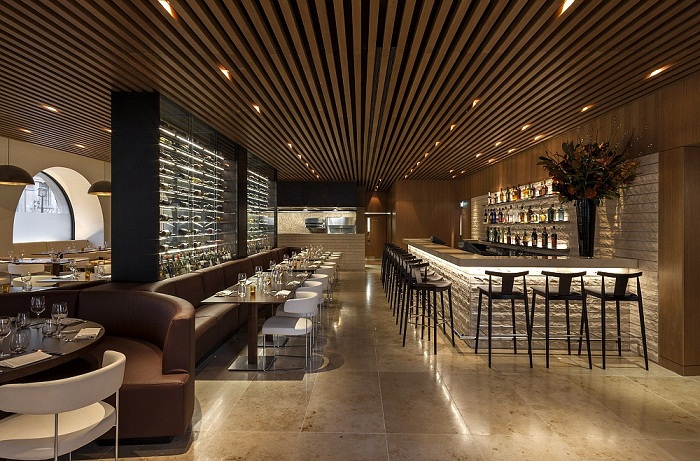 At the weekend, the menu features brunch classics with an Italian twist but also tavolata sharing plates served between 2 and 8 people.  Inspiration comes from convivial Italian family meals where the table is filled with large dishes and everyone serves each other.  There were a few large parties doing exactly that when we visited, alongside couples enjoying one big sharing dish.
When we were seated, our friendly, charming waiter explained the tavolata menu and made personal recommendations, all of which we ordered.
We began brunch with a short, strong and expertly-mixed Negroni (£9).  This was followed by a wooden board of artisan breads – Italian crisp bread, grissini and freshly-baked foccaccia that was springy and salty yet not too oily.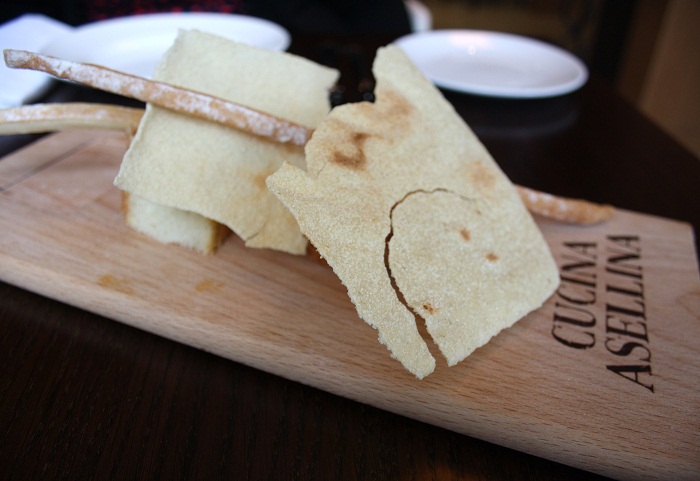 To start, we tried the Square spaghetti, pomodoro, fresh basil and olive oil (£9).  The perfectly al dente medium-thick spaghetti was smothered in an excellent home-made sauce – richly roasted with a clean basil taste – and topped with freshly-shaven Parmesan.  It was an Italian classic done extremely well and the portion size was very generous – in fact, it could have easily been a main course.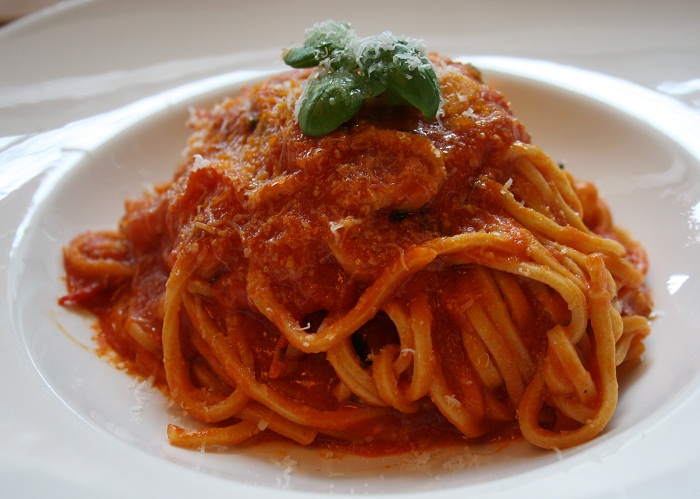 We also tried the Oven baked eggs, pane Carasau, tomato, Pecorino cheese (£8).  This was almost like a lasagne with torn pieces of Sardinian bread that asorbed the tangy tomato sauce.  The eggs were cooked with the yolks quite well done and the Pecorino added an intense, salty kick – definitely a unique dish worth ordering.
After a short rest, we were brought an enormous sharing platter of Lemon and rosemary organic chicken, truffle crushed potatoes, pancetta and braised cabbage (£17 per person).  I would find it hard not to rave about this chicken, as it really was heaven on a plate.
The whole chicken was deconstructed into four sections and roasted until golden brown and crispy, with large wedges of lemon and torn rosemary.  The meat was tender and juicy while the skin was covered in a zesty, sticky glaze.
The accompaniments are what elevated the chicken from tasty to incredible.  The crushed potatoes were soft and herby with a scattering of black truffles and truffle oil.  The braised cabbage was buttery and flavoursome, mixed with meaty and authentic pancetta.  The dark, rich and slightly sharp jus really added the final tasty touch.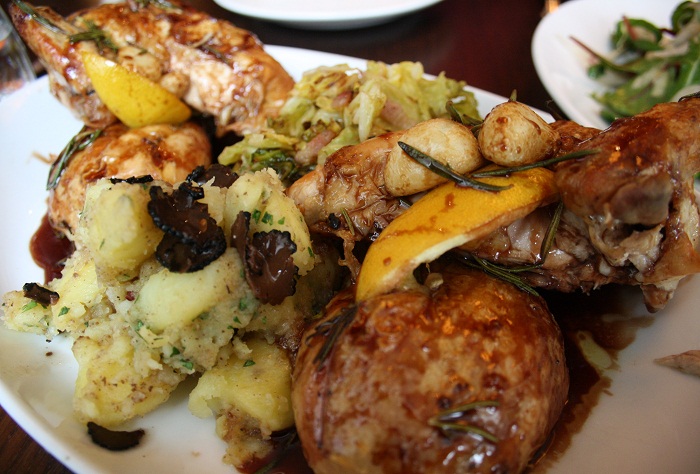 Each tavolata sharing dish comes with the scrumptious house bread and a large bowl of fresh salad.  The Italian manager encouraged us to tuck into more of the bread, so there's really no possibility of leaving brunch feeling peckish.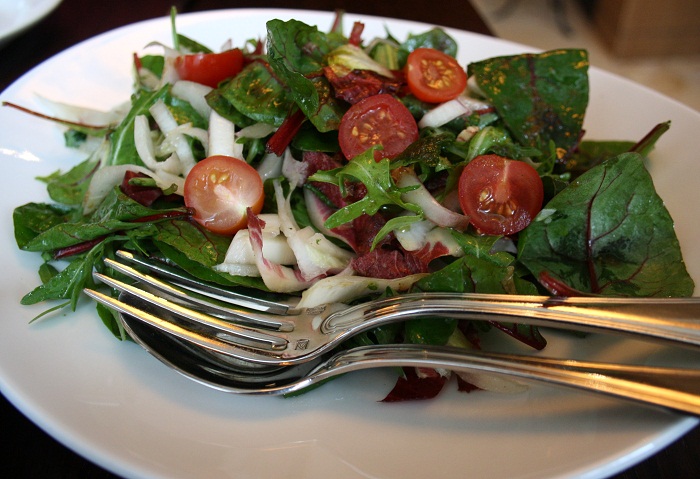 For dessert, we went with another of the waiter's suggestions, as he'd led us to some good choices already – the Gianduja Semifreddo (£6).  The luxurious hazelnut frozen cream was rich and smooth and topped with gianduja curls, strawberry sauce and crunchy candied hazelnuts.  These crunchy pieces of caramel and hazelnut were scattered throughout the semifreddo – a lovely surprise and very indulgent.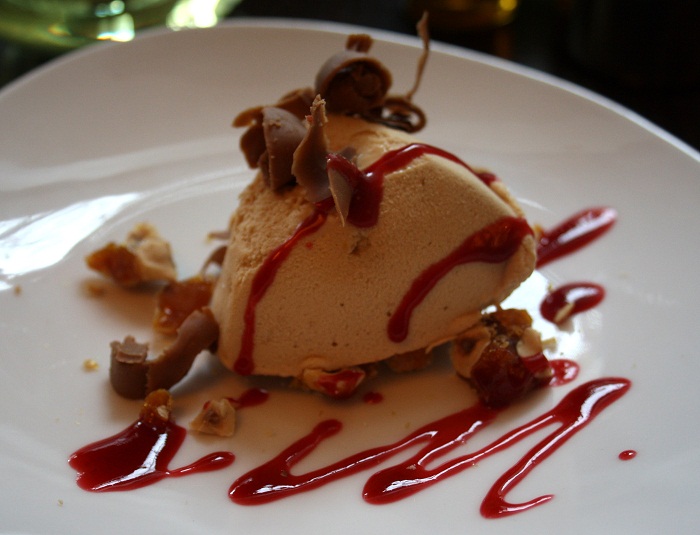 We also shared a much lighter Sambuca Panna Cotta and Balsamic strawberries (£6).  It quite didn't have the wow factor of the Gianduja Semifreddo, but the panna cotta was cool and creamy with just a hint of anise and the juicy strawberries went well with the balsamic vinegar and fresh mint.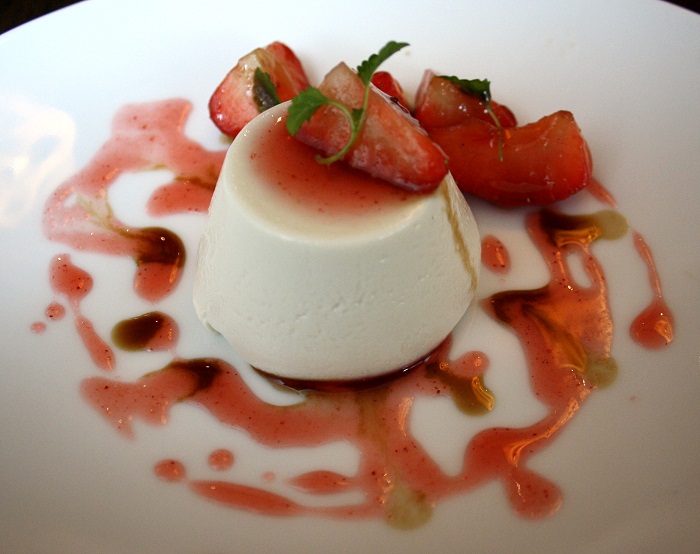 The rich coffee aromas from other tables were tempting, but we both ordered the Fresh Mint Tea (£3.50), which came served in elegant glass teapots with a pot of honey to sweeten.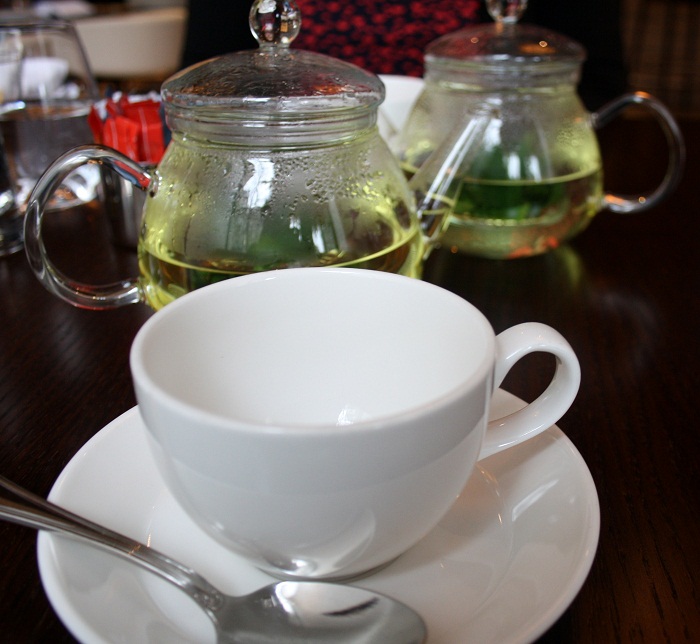 Cucina Asellina is perfect if you want a sociable, relaxing Mediterranean brunch where you can indulge in exquisite food at surprisingly reasonable prices.  For the melt-in-the-mouth lemon and rosemary roast chicken alone, it's an absolute must!
For more info and booking, visit: www.togrp.com
Chérie City was a guest of Cucina Asellina
Photos by Chérie City and Cucina Asellina