Weekend brunches seem to have replaced Sunday roasts as my new favourite London dining habit.  Really, what could be better than a lazy Sunday afternoon filled with delicious dim sum, exotic cocktails and a live Cuban band?
Sunday Dim Sum Brunch at Asia de Cuba, St Martins Lane Hotel, is fun and sociable with baskets of steamed or fried treats to share.  I adore the design of Asia de Cuba – it's bright and airy and has the atmosphere of an art gallery, with black and white photographs adorning the walls and plush booth seating.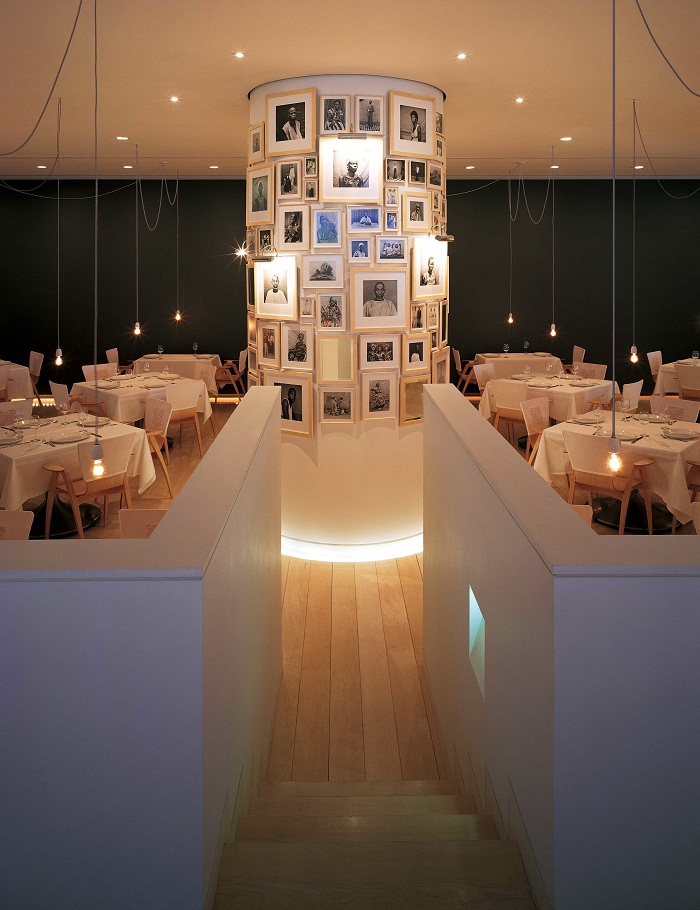 We started with cocktails and ordered a Dragon's Twist – Aba Pisco shaken with fresh lychees, dragon fruit & elderflower liqueur, finished with a dash of ginger beer (£12.50).  This juicy cocktail was very easy to drink and had lots of tiny crunchy black seeds from the the dragon fruit – for an alcoholic drink, it tasted rather healthy.
We liked it so much that we went for the same again, but another signature brunch cocktail is the Spiced Mango – Chinese pear infused Sake shaken with fresh mango, home-made chilli, basil sugar & a hint of lime (£12.50).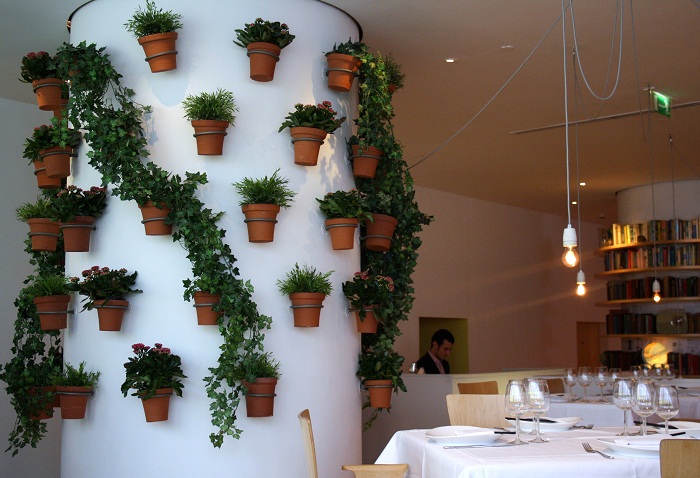 I'm not a huge fan of ceviche, but if you want to start with something light, the Ceviche Tasting (four for £28) looked colourful, fresh well-presented.  Instead, we saved room  for basket after basket of scrumptious dim sum served in threes.
My favourites were the Chicken, Spring Onion & Ginger Wontons (£5.50), Pot Roast Pork Belly Buns (£5), Lobster Chive & Coriander Shu Mai (£6.50) and Tiger Prawn Potstickers (£6).  The moreish little parcels were packed full of succulent meat and seafood and weren't at all greasy or heavy like dim sum can sometimes be.  They were served with a trio of mouthwatering dipping sauces that complemented the flavours.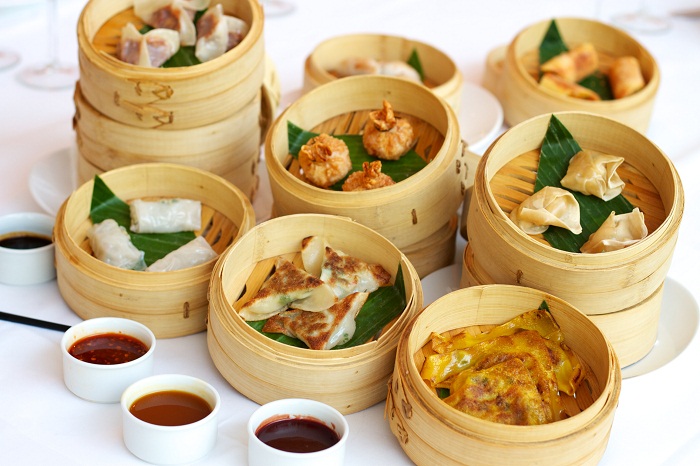 Another highlight were the plump and crispy Crab Croquetas with jicama, mango and mirin infused slaw and roasted red pepper rémoulade (a slightly pricey £19).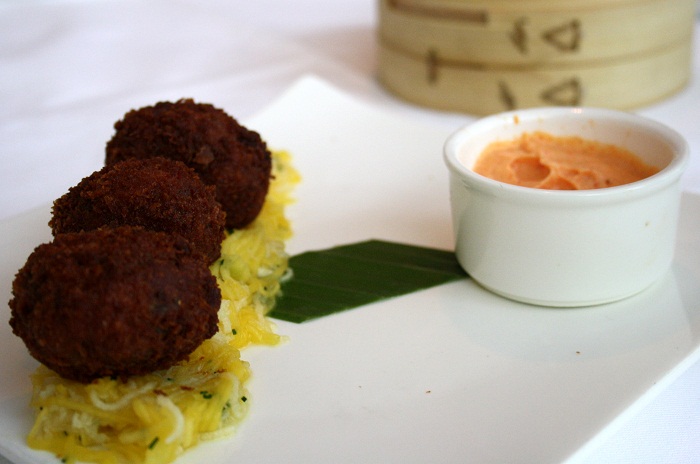 We also enjoyed the Miso Black Cod & Snow Pea Spring Rolls (£6.50) and Shanghai Vegetable Spring Rolls (£5) – they were light and crunchy with a nice grainy coating.  I wasn't so keen on the texture of the Steamed Oxtail & Kimchee Dumplings (£6.50) and found the Bok Choi, Bamboo Shoot & Chilli Potstickers (£5) overwhelmingly aromatic, but I loved all of the other dishes that I tried.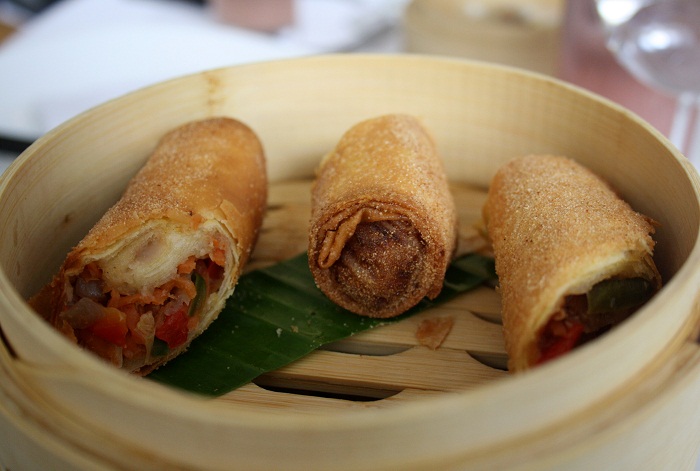 It's essential to leave some room for dessert – you wouldn't want to miss the heavenly Mexican Doughnuts – sweet brioche donuts rolled in cinnamon sugar filled with butterscotch sauce (£6.50).
The light and fluffy bite-size doughnuts were filled with oozing, warm butterscotch sauce – a light and satisfying treat to end the meal.  Having an allergy to coffee, I could only stare longingly at the Cuba Coffee Brownie with fudge sauce, Kahlua glaze and fudge brownie ice cream (£6.50) –  it looked wickedly good.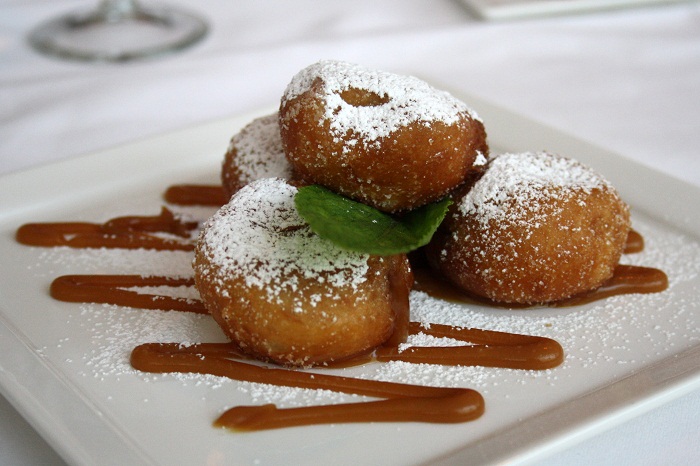 Dim Sum Brunch at Asia de Cuba is perfect if you like to graze leisurely on small dishes and indulge in some expertly-mixed cocktails.  The dim sum are so tempting that you could easily keeping ordering more and more to try them all and revisit favourites.  The sunny sounds of live Cuban jazz trio Son Yambu bring a touch of Havana to London, delaying that Sunday 'end of the weekend' feeling a little longer.
Dim Sum Brunch take places at Asia de Cuba every Sunday from 12pm-5pm.  For more information and booking, visit: www.stmartinslane.com
Chérie City was a guest of Asia de Cuba
Photos by Chérie City and Asia de Cuba