Pulino's is the more low-key, downtown sister of Keith McNally's Pastis and Balthazar – it's certainly more affordable too.  Located on the Bowery and just a short stroll from our hotel, Thompson LES, we decided to have a leisurely breakfast there to set us up for the day.
The interiors resemble many of the other restaurants in the group with high ceilings, checkered floors, booth tables and brasserie-style wooden furniture.  The walls are lined with hundreds of spirit bottles and there are baskets of Balthazar bread to tempt you as you walk in, as well as a rack of magazines and newspapers to catch up on some reading.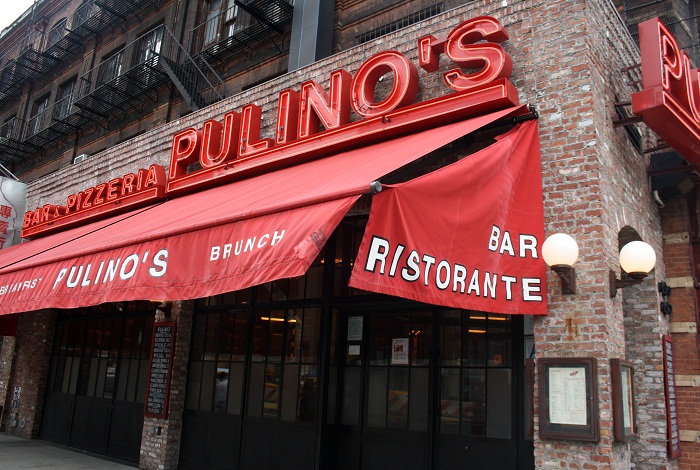 The restaurant was quiet when we arrived, with just a few other tables finishing their morning meetings.  We both went for the very reasonably priced Breakfast Special ($10) – two eggs any style, potatoes, choice of white or wheat toast, a freshly-squeezed orange juice and a cappuccino.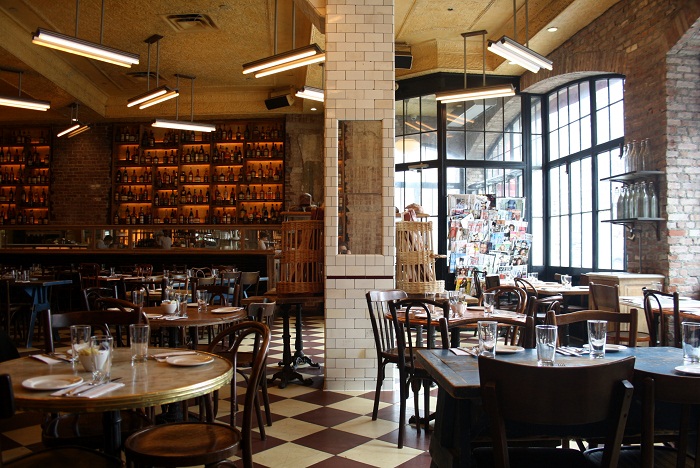 It took a long, long time for the breakfasts to arrive, but when we eventually got to eat, they were delicious.  The scrambled eggs were creamy and plentiful while the flavoursome potatoes were sauteed in sweet onion, chilli, spinach and garlic.  The only thing I didn't like was the thick white toast that tasted like the long-life bread that you might find in a supermarket.  It was disappointing for a restaurant that uses Balthazar bread, which I hesitate to say that it was.
The English Breakfast Tea (Twinings) was served piping hot in a tea pot, however we weren't given any milk or even lemon and Steven was also brought tea, despite ordering a cup of Stumptown Coffee Co. Balthazar Blend.  The orange juice was very good and high quality, although it didn't appear to be freshly-squeezed in the restaurant.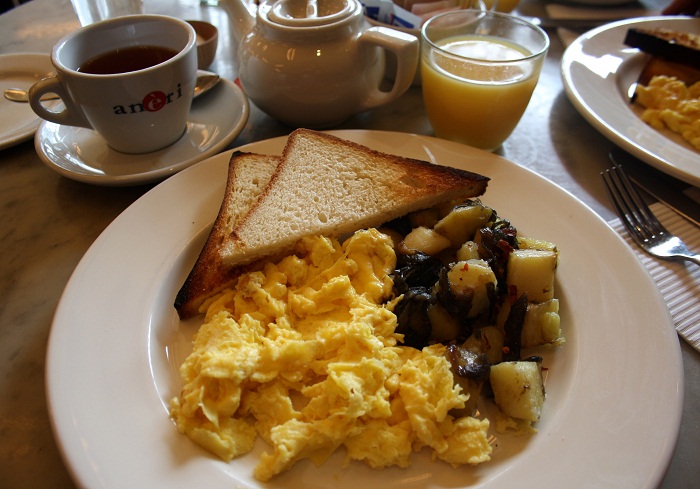 On the whole I liked Pulino's and enjoyed our breakfast, but there were a few annoyances.  The waiting time to receive our food was far too long, considering there were only two other tables present and preparing scrambled eggs is far from time-consuming.
Our first waitress was fine, but another member of staff managed to serve us without saying one word throughout.  I'm a regular at Balthazar Bakery in London for a pastry fix and always find the staff charming, chatty and helpful – I didn't experience this at Pulino's.  It was also noted that this was the only restaurant we visited in New York where our tip was counted out in front of us before we left the table.
I would go back to Pulino's to try the pizza at dinner when the restaurant is busier, with more atmosphere and a better standard of service (hopefully).  I want to like Pulino's, so I'll give it another shot.
All photos by Chérie City