YOTEL New York is one of the city's most forward-thinking design hotels, combining cutting edge technology with home comforts.
Following the success of YO SUSHI's airport pod hotels, the group launched YOTEL New York, its first city hotel.  Inspiration for this innovative, minimalist hotel came from the luxury of first class airline travel and micro-living Japanese capsule hotel rooms.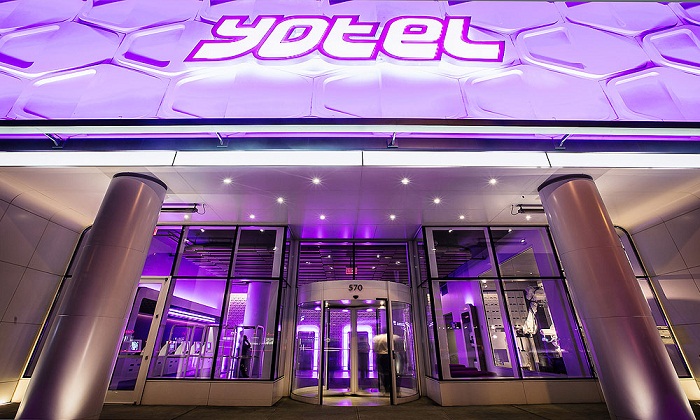 The hotel is located in a quiet, regenerated part of Hell's Kitchen, just a few blocks from Times Square and close to arty Chelsea.  It's impossible to miss the shiny, glowing white and purple exterior and vertiginous glass tower.
The 'airport chic' entrance is lined with automated check-in computers for a hassle-free check-in.  It is there that you will meet YOBOT, the world's first luggage robot who stores guests bags in different sized compartment draws.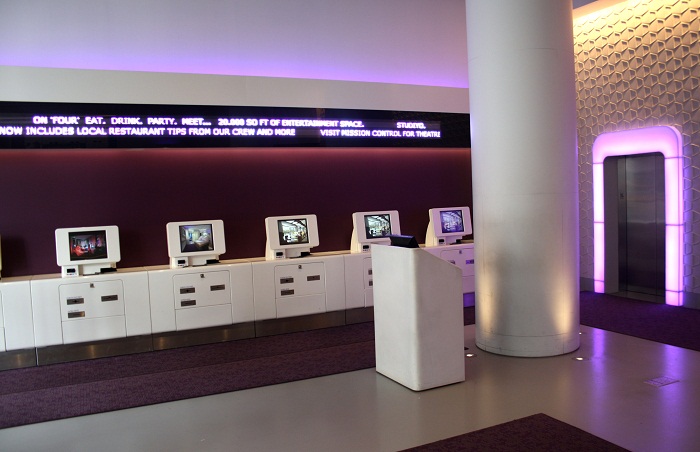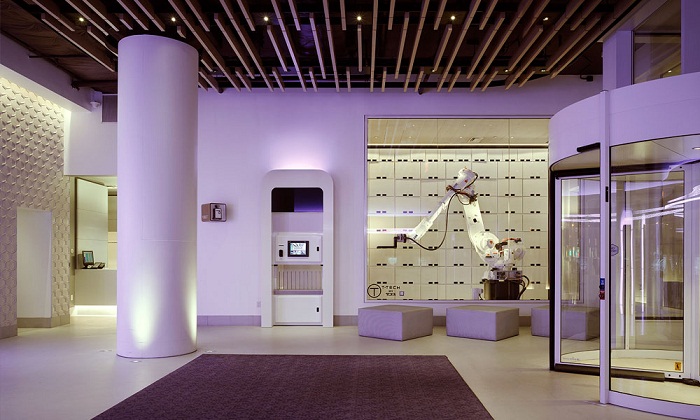 YOTEL New York is a large-scale operation with 669 over 27 floors, from the very affordable Premium Queen Cabins through to the impressive VIP Suites.  Our Premium Queen Cabin was slick, stylish and just the right size for a short stay.
Designed simply in white, beige and purple with light wood highlights, the cabin features a techno wall with flat screen TV, a work desk with iPod connectivity and multi power point sockets, open hanging space and a motorised queen bed that transforms into a sofa.  The bed was slightly harder than I'd expected once it was flat – perhaps due to its mechanical features – but the linen was crisp and high quality.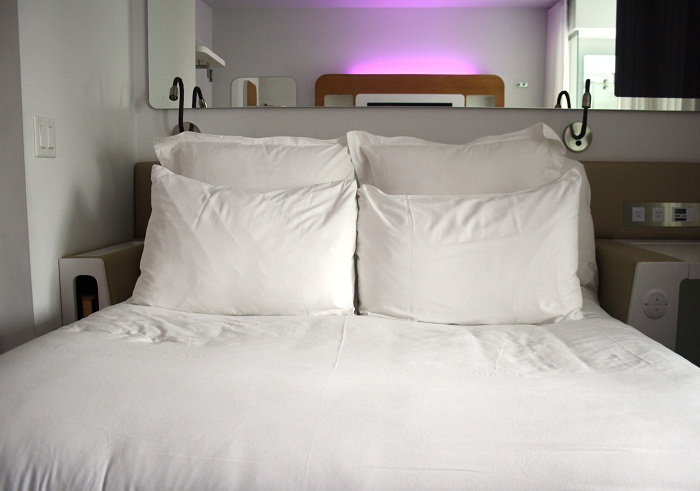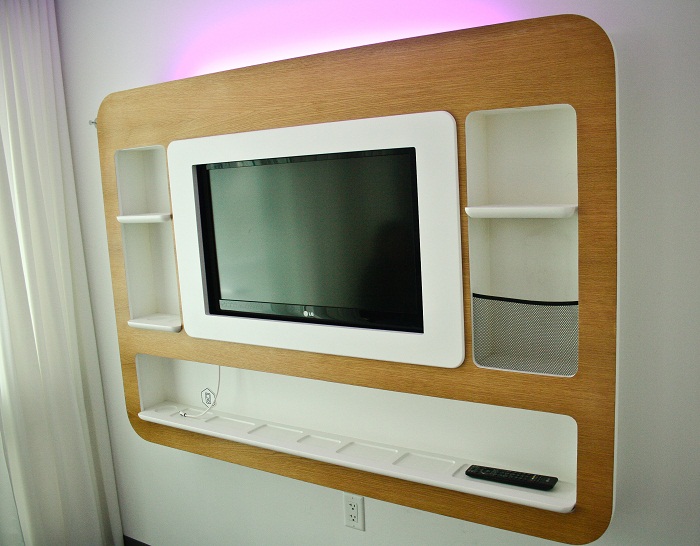 Space is used intelligently, with secret storage spots and cup holders around the room, and never once does the room feel too small or claustrophobic.  Thoughtful touches such as complimentary wifi, free calls within the US, an iron and ironing board, a good hairdryer and YOTEL-branded pocket tissues made all the difference.
We found the open-plan bathroom quite spacious, boasting floor to ceiling views of the Manhattan skyline.  It features a walk-in monsoon shower, large white towels and face cloths, heated towel rail and YOTEL's own brand of rather nice rejuvenating and relaxing aromatic body wash/shampoo (no conditioner or body lotion, so plan ahead).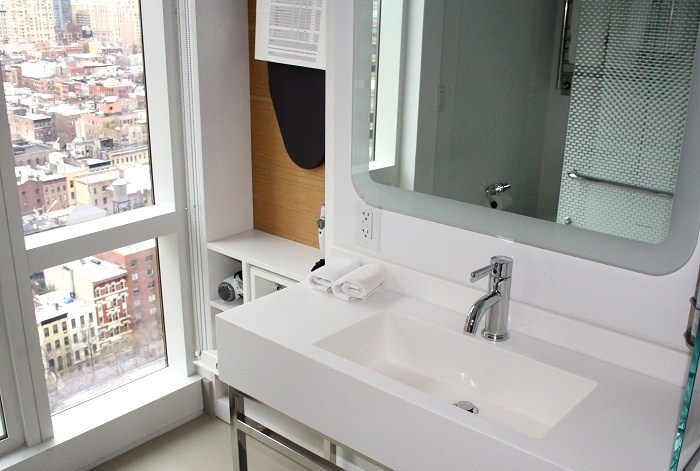 For longer stays, try the more spacious First King Cabin (some feature a spacious terrace and outdoor soaking tub) or the indulgent yet competitively priced VIP Suite.  This plush pad features 180-degree views of the city, a terrace with outdoor soaking tub, Apple Mac, Bower & Wilkins sound system, a dining table that converts into a billiards table, kitchenette with Lavazza coffee machine and fridge freezer, rotating king bed, luxurious bathroom and a separate room with a queen sofa bed.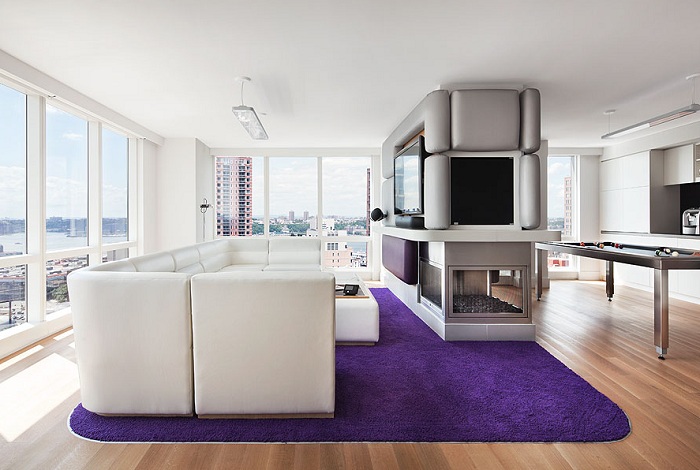 At YOTEL New York, there are a number of complimentary treats that give it that extra edge.  Each floor has a self-service galley with purified water, ice and a Lavazza espresso capsule machine offering cappucinos, lattes, mochas and hot chocolate for the room or to take out.  Tea lovers are also taken care of with hot water and boxes of Celestial English Breakfast Tea and Chai.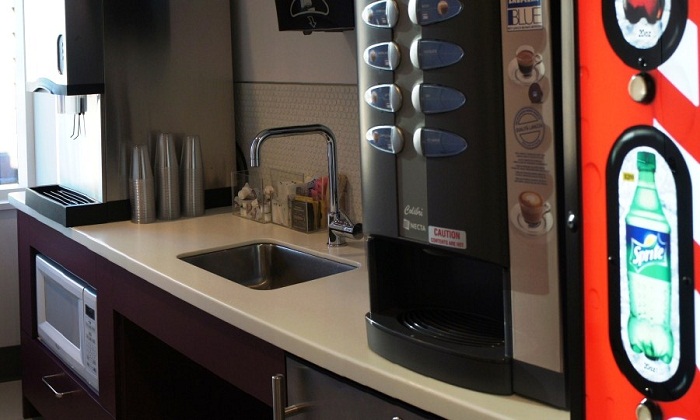 The galleys were immaculately clean and well-stocked throughout our stay and we loved being able to grab a hot drink whenever we wished.  What could feel more homely and comforting than cosying up in bed with an indulgent hot chocolate?
YOTEL also serves a complimentary light breakfast of delicious home-made muffins in different flavours with tea and coffee on FOUR (the public floor for socialising and eating).  We found the muffins more than sufficient to start the day, but for something more indulgent, DohYO offers well-priced cooked breakfasts.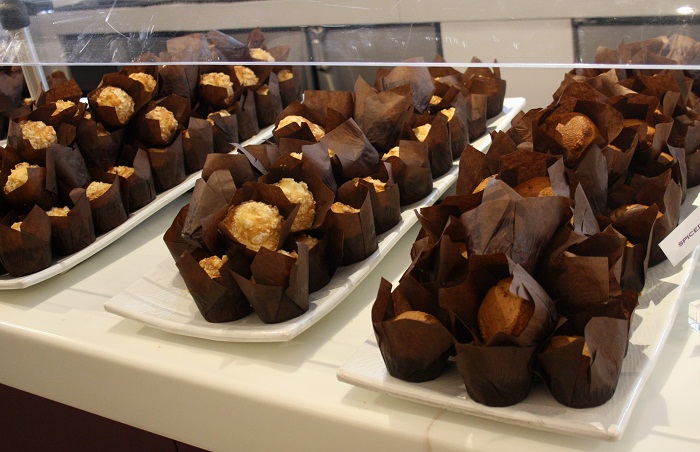 YOTEL New York also offers a gym, Apple Mac computers for guests to use and Mission Control one-to-one concierge on FOUR.  The high tech Club Cabins are great for business meetings and the expansive Studiyo features a boardroom and cinema screening space.
After a long day of walking around the city, we came back to our room to relax and then downstairs for dinner at YOTEL's restaurant DohYO (translated as 'sumo').  The colourful, buzzing restaurant features a Latin Asian tapas menu by Richard Sandoval. The room is lined with intimate booths, but we chose to sit at the centre Japanese-style tables.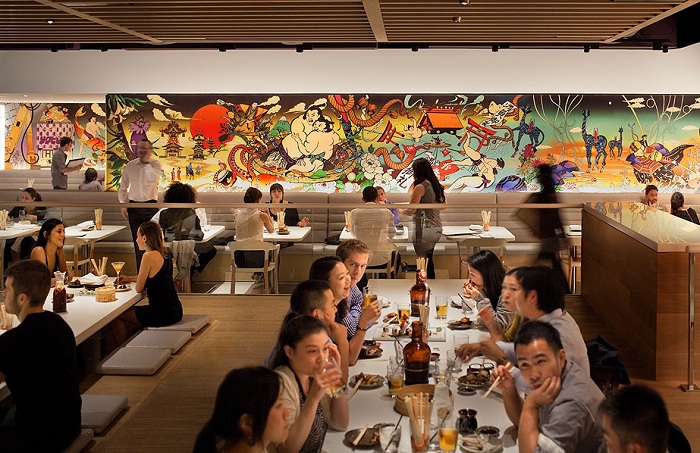 DohYO's sharing dishes are perfect for a lighter supper, however the food is so delicious that it's easy to keep ordering.  We loved the Crunchy Shrimp ($10) with lemon sake aioli, sesame, scallion and masago, and the deliciously sticky teriyaki marinated Crispy Chicken Wings ($9).

The House Ground Beef Sliders ($9) with lemon sake aioli were succulent and nicely charred and the Shrimp & Chicken Fried Rice ($8) was plentiful with a zesty kimchee flavour.  Also worth ordering is the tasty and generously sized Wok Seared Cauliflower ($5) with ginger, garlic, Thai chili and black vinegar.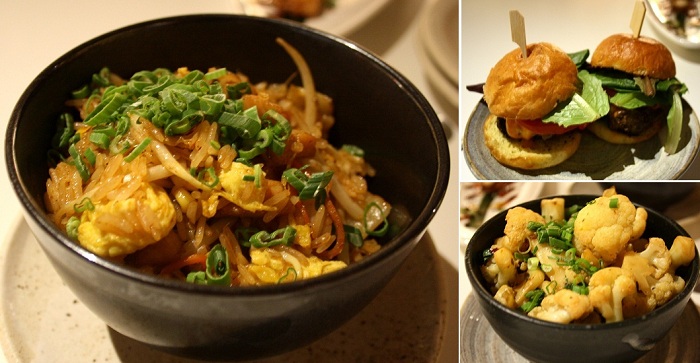 After dinner, the Japanese-style tables are lowered and it becomes a cocktail bar.  The lounge on FOUR is another sociable evening spot and in the warmer months, the expansive outdoor terrace is undoubtedly popular for sundowner drinks.
Every Sunday, DohYO hosts the YO! Brunch with free-flowing cocktails and small plates ($40 per guest) and music from New York DJs including Roxy Cottontail, Uri Dalal and Andrew Andrew (the suited and booted iPod DJs in that episode of Girls).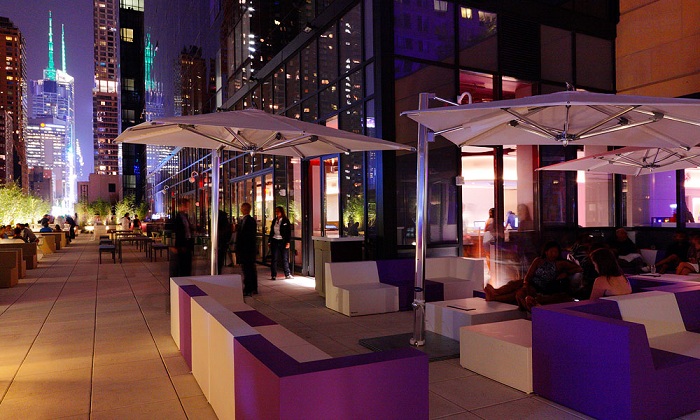 YOTEL New York is a fun, inspiring place to stay with a sociable atmosphere, slick design and homely comforts that no other budget-luxe hotel in the city could possibly offer at such a competitive price.  While cosy in the winter, I would be tempted to stay in the summer to enjoy the outdoor terrace and have a long, lazy weekend brunch in the sun.
For more information and booking, visit: www.yotelnewyork.com
Cherie City was a guest of YOTEL New York on a room only basis.
Photos by Cherie City and YOTEL New York