The Meatball Shop is a perfect spot for a bit of tasty, low-key comfort food in a rustic New York-Italian diner.
Established by Daniel Holzman and Michael Chernow, it's quite the New York success story, starting from just one small restaurant on the Lower East Side and quickly expanding to Brooklyn, West Village and Chelsea.
The concept is simple yet clever, focusing purely on five meatballs that you can customise with different sauce, breads and sides.  It's made even easier by just marking down your order with a felt tip pen on a laminated menu.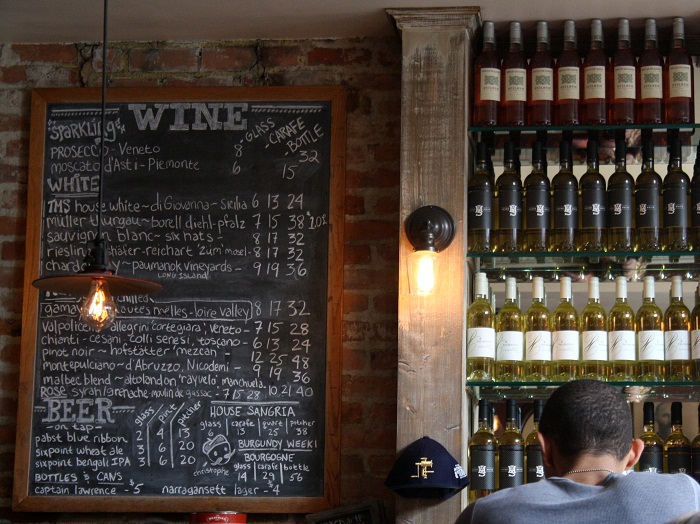 For the first lunch of our trip, The Meatball Shop was the winning choice – not only were we in the mood for meatballs, but it was conveniently just around the corner from our hotel, Thompson LES.
There can often be a long waiting time for a table at The Meatball Shop (they don't take reservations and it's a very popular place), but for a Wednesday late lunch, we were through the door and seated right away.  Our fun, charming waiter explained the menu well and made personal recommendations for pairing the balls with sauces.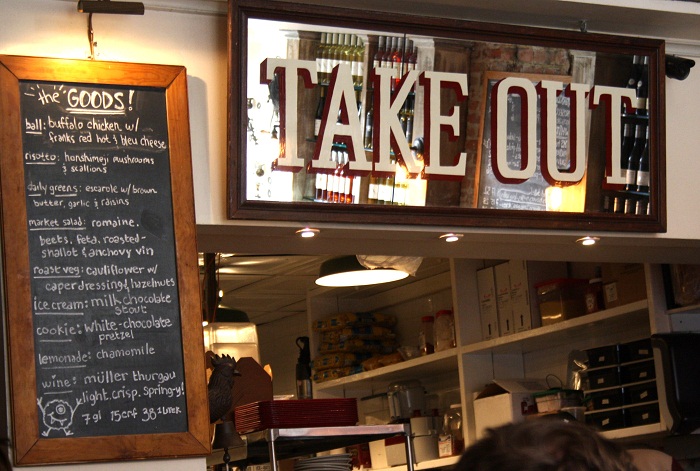 It would be easy to order lots of sharing dishes, but with dinner plans later that day, we tried to go easy and both ordered a Meatball Smash ($9) with different balls and sauces and split them.  The two smashed classic beef meatballs were plump, well-seasoned and hearty, with fresh herbs and breadcrumbs.  They went perfectly with the sweet, rich roasted classic tomato sauce and creamy mozzarella.
The large brioche bun was fluffy and glazed yet not too sweet and we enjoyed the simple green salad with a light olive oil vinaigrette dressing, fresh herbs and slices of tart green apple.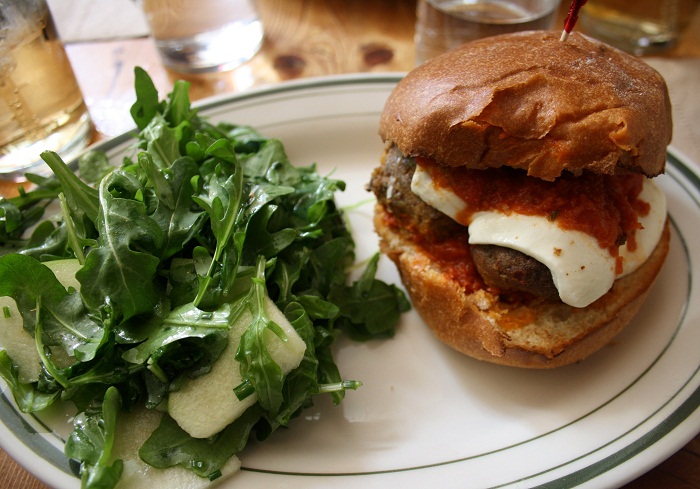 The spicy pork balls had a very meaty taste with a touch of fennel and were complemented by the deliciously thick and garlicky Parmesan cream sauce – almost like a bechamel.  Both types of meatballs were high quality and very natural-tasting, but didn't have the same juiciness as others I've tried.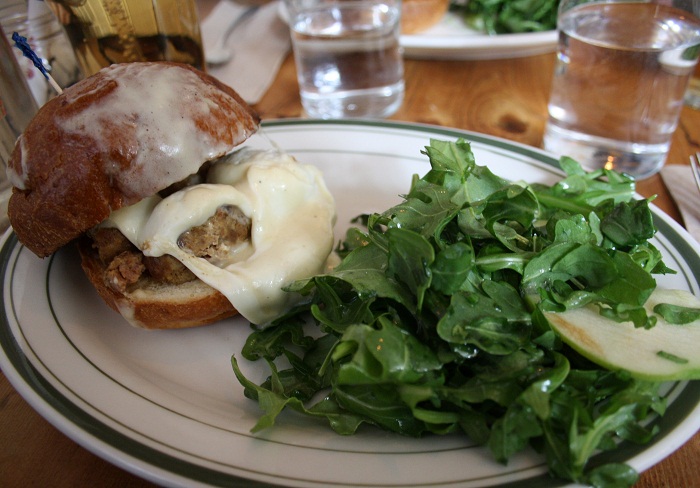 We couldn't resist ordering the only dessert on the menu – an Ice Cream Sandwich ($5 each).  My giant scoop of house-made chocolate ice cream was rich and dark while Steven's vanilla ice cream had a strong natural vanilla flavour and was as decadent as you'd expect.
The freshly-baked Snickerdoodle cookie was soft and laced with cinnamon while the Ginger Snap cookie was chewy and sweet with a potent ginger kick.  No matter how filling the meatballs may be, you don't want to miss out on these simple yet scrumptious treats!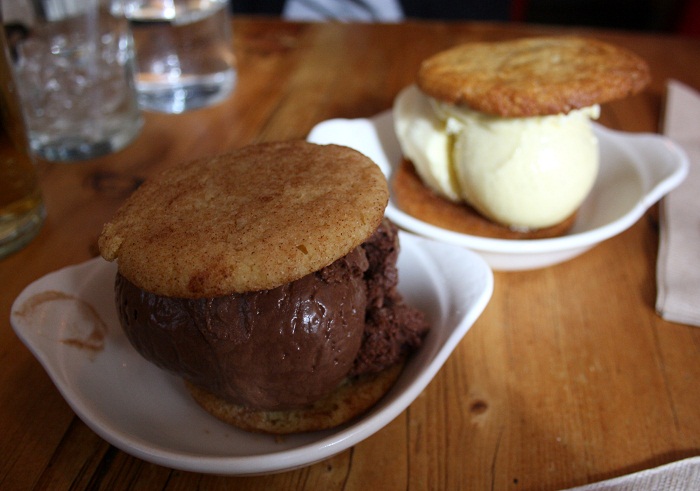 If you want to take a bit of The Meatball Shop home, they have collaborated with brands such as SHUT, Vans and Carhartt on merchandise including a skateboard deck, hi tops and a beanie.
While New York is full of delis serving up meatball parm sandwiches, The Meatball Shop is fun, sociable and better suited to a leisurely lunch or dinner – plus you can drink wine.  Prices are reasonable, staff are great and while becoming a small chain, it has personality.  I'd definitely go back, but this time for dinner and add some sliders and sides.
For more info and menus, visit: www.themeatballshop.com