Cafeteria is a Chelsea institution, much loved for its tempting comfort food and upbeat atmosphere.  For the past 15 years, Cafeteria has been open 24-hours a day, making it a favourite among New Yorkers for a lazy weekend brunch, people spotting over lunch on the terrace or after work cocktails.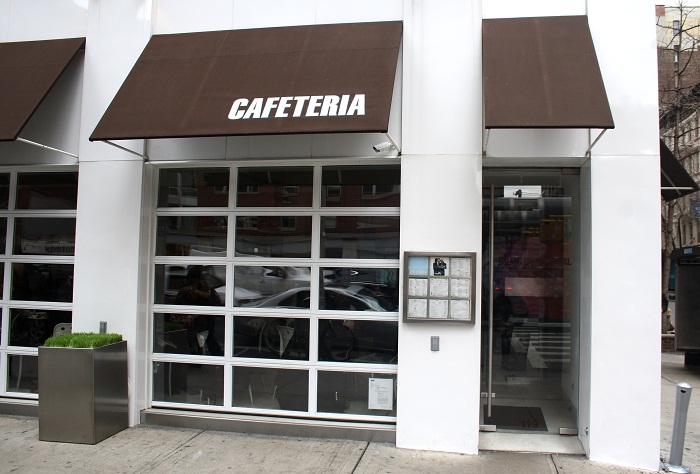 Looks familiar?  Cafeteria is the stylish backdrop for a number scenes in Sex and the City.  As if that wasn't enough to lure you in, Cafeteria has possibly the coolest branding, with a campaign and menu featuring portraits of Amanda Lepore, Shontelle, Ladyfag, Carson Kressley, Little Miss Sunshine actress Georgi James and other well-known New York creatives.
We visited on a busy Friday afternoon without a reservation and managed to get a table within 20 minutes.  Cafeteria is a slick operation with a speedy, good-looking, mostly male team commanding the room.  Unsurprisingly for the Chelsea location, the crowd was mostly made up of music industry types, gallerists, PR gals and a scattering of tourists.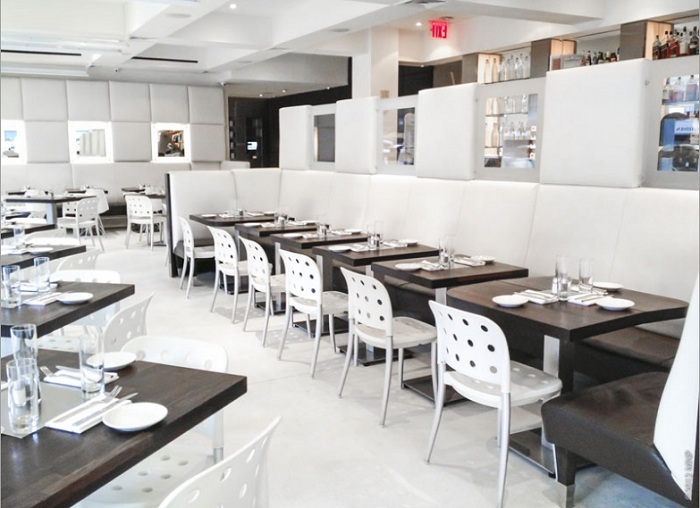 After half a week of over-indulgence in the city, we both tried to go lighter with the Soup & a Sammie ($9) – Cup of Soup, 1/2 Cheddar Grilled Cheese Sandwich with Smoked Bacon, Thick Cut Tomato, Homemade Potato Chips.
The piping hot tomato soup, served in a mug, was rich, thick and topped with a large crouton, fresh basil pesto and a dollop of cream.  The 'half' grilled sandwich was enormous and packed full of oozing melted Cheddar and at least three rashers of high quality crispy smoked bacon.  As if that wasn't filling enough for lunch, the soup came with a little silver pot of crunchy, well-seasoned potato chips.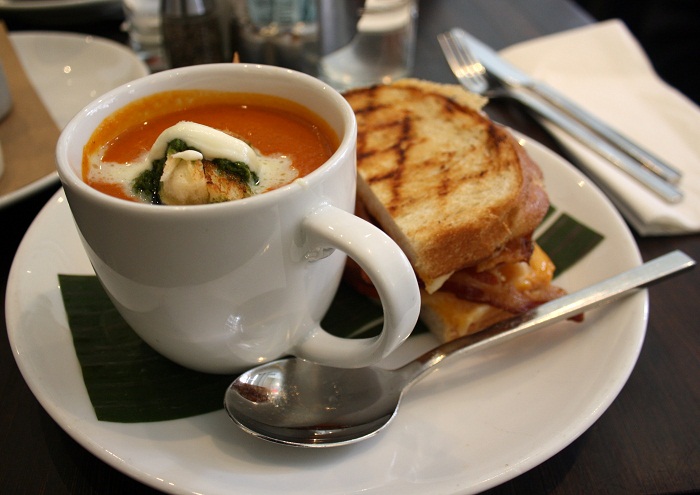 We couldn't resist also sharing a side of Truffle Parmesan Fries ($6).  The excellent home-made skin-on fries were topped with lots of shaved Parmesan, fresh herbs and a drizzle of truffle oil.  They were a decadent alternative to regular fries and the truffle oil made all the difference.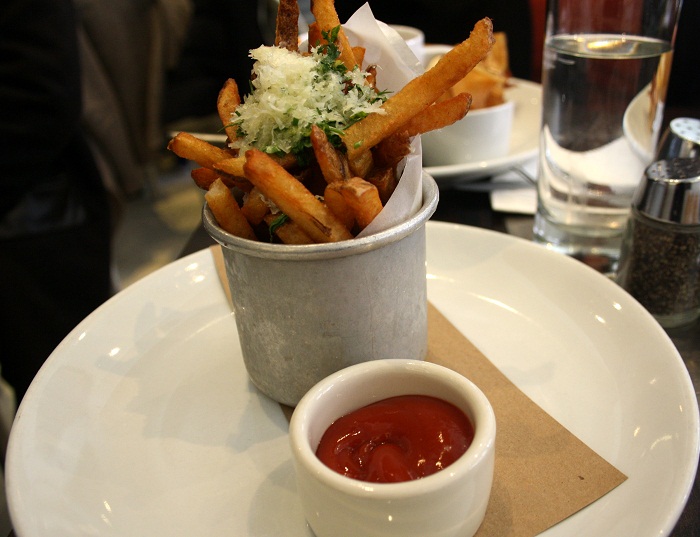 During lunch, we saw massive portions of fried chicken and waffles, sliders, stacks of pancakes and gourmet salads being served.  One of the most popular dishes was the indulgent Mac Attack ($12) – a tasting trio of macaroni and cheese dishes, which we are determined to try on our next visit to New York.
The music is super loud, so it's not exactly the place to come to relax, but it does add to the buzz of the place.  For something a little more intimate and luxurious, you can book (PDR), the special private dining space for 24 guests, designed in collaboration with Nema Workshop.
Prices at Cafeteria are very reasonable, especially considering the generous portion sizes, quality of food and the location – you can eat really well for under $15 each.  It's perfect for a fun, uplifting lunch and in the summer, the terrace is sure to be the place to see and be seen in Chelsea.
For more info and menus, visit: www.cafeteriagroup.com
Photos by Chérie City (dining room by Cafeteria)