New York is full of high end, glossy cupcake boutiques but Sweet Revenge on Carmine Street in the West Village offers something a little different.  As the name suggests, Sweet Revenge is purely for grown-ups and serves inventive cupcakes paired with wines and beers.
Established by former city slicker Marlo Scott in 2008, Sweet Revenge is a totally unique concept – how many cupcake shops in New York even have a liquor license?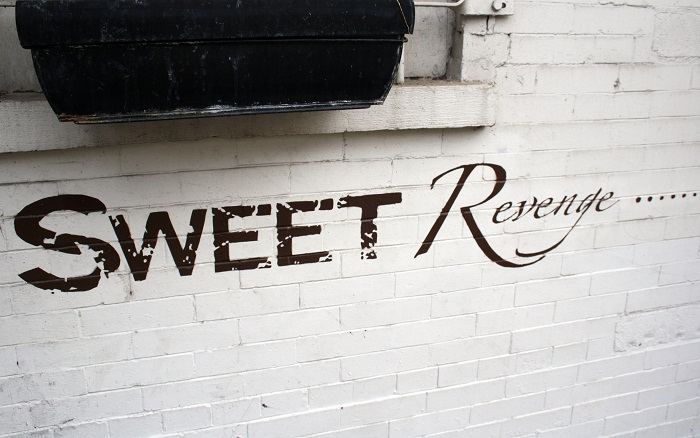 It has a low-key bistro feel with distressed wood chairs, white tiles and a well-stocked bar with glass domes of baked goods displayed between the bottles.  When we visited, there were the four signature cupcakes available as well as a selection of artisan flavours, cookies and two savoury cakes – Croque Monsieur and Jamaican Curry.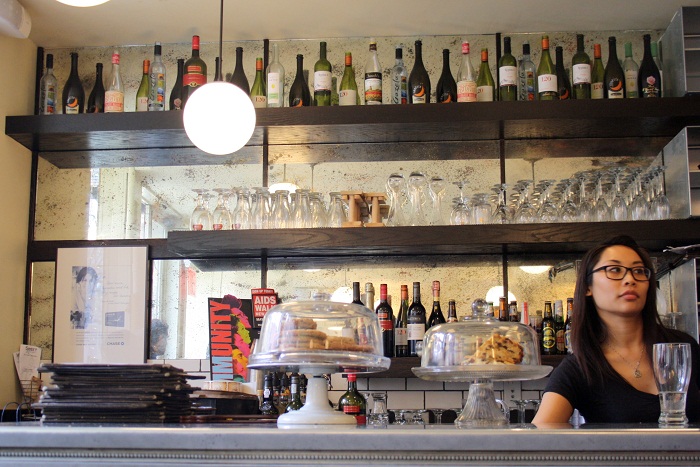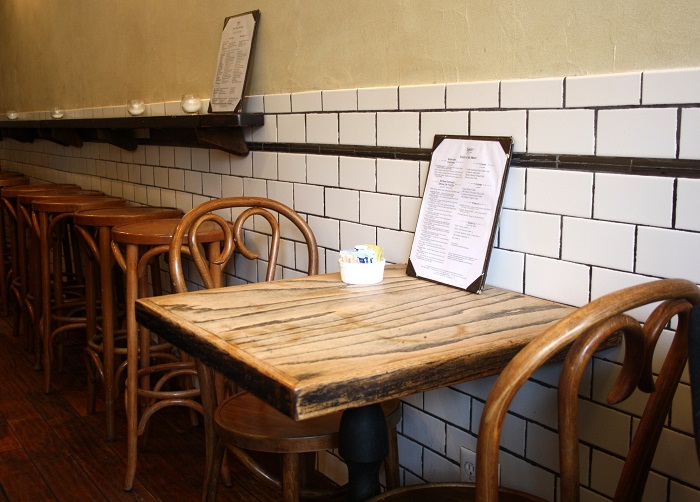 The artisan flavours are particularly sophisticated with gourmet flavours including Armenian Flower, Spice Islands Carrot, Fleur de Sel, Mayan Chocolate and German Colada.
For a late-afternoon treat, we ordered two signature cupcakes ($3.50 each) to share.  The Sweet Revenge® cupcake is the house special, consisting of a dense and moist peanut butter cake, a dark chocolate ganache centre and thick peanut butter fudge frosting.  It was sweet and rich without being sickly and the chocolate ganache was a delicious touch.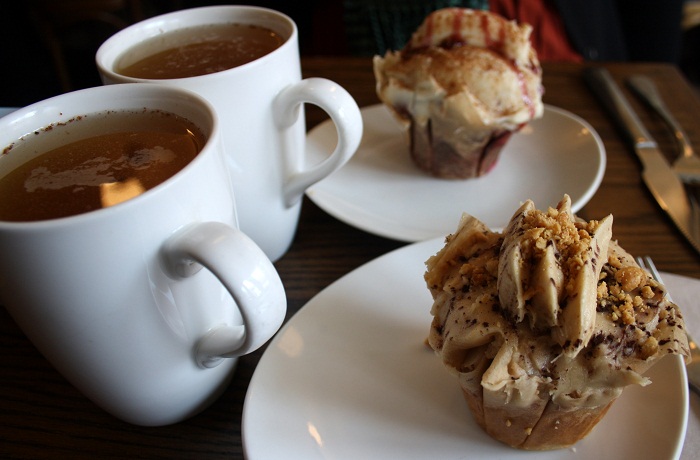 The Crimson & Cream flavour was a new take on the classic red velvet cake with the addition of fresh raspberries and raspberry sauce atop the cream cheese frosting.  The Crimson & Cream cupcake was less sweet than the Sweet Revenge flavour, so it's ideal for those who prefer something a little less sugary.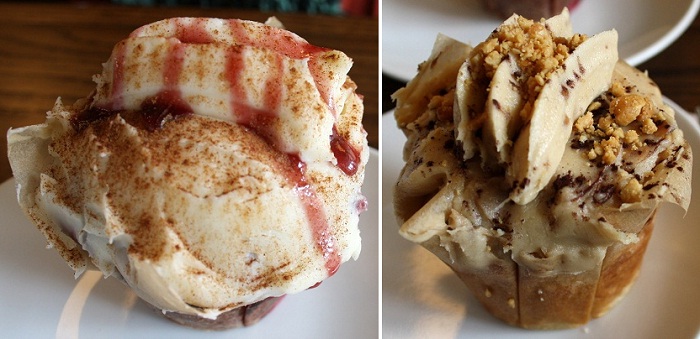 To pair our cupcakes with wine, Sweet Revenge suggests a Spanish Malbec and a Raspberry Bellini, however, on a sunny yet crisp day, we couldn't resist trying the Spiked Spiced Cider ($12).  The comforting drink came in a large mug and was fruity, potent and packed full of cinnamon and winter spices.  The beer cocktails were also tempting, with different types of Shandy including Monaco, Caribbean, South African, American and Italian.
If you're in the neighbourhood between 4 and 8pm, don't miss the Happy Hour for the special glass of Sangria, Pinot Noir or House Chardonnay and a cupcake for just $10.  Sweet Revenge also serves a tasty-sounding lunch and brunch, but be sure to leave some room for a cupcake dessert – they're a real must!
For more information and menus, visit: www.sweetrevengenyc.com
Photos by Chérie City