SUDA Thai Cafe Restaurant is a perfect spot for classic Thai dishes in a stylish yet casual setting.  It's the sister restaurant of my favourite Thai fine dining restaurant Patara,  but with a more informal atmosphere, simpler menu and lower price point.
Tucked away in St Martin's Courtyard, it's conveniently located for a break from shopping in Covent Garden or a delicious after-work dinner with friends.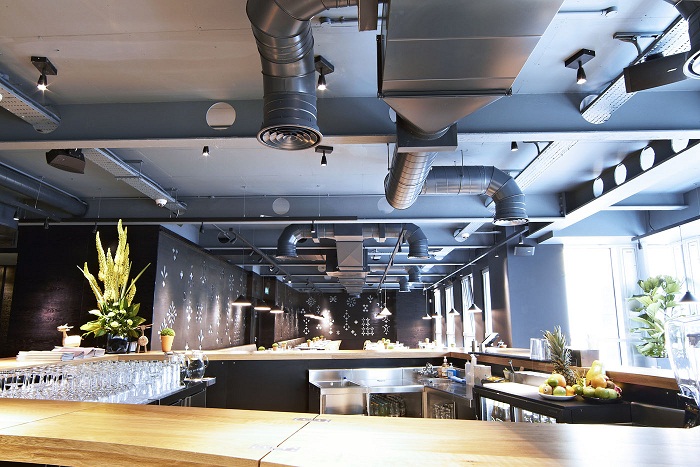 Suda is set over two floors, balancing industrial-chic black and silver design and cool photography with quirky touches such as carved wood donkeys and miniature plants.  It also features a small market offering authentic Thai ingredients and fresh spices.
We sat on the ground floor at a rather large table for two, which worked well for sharing dishes easily.  The non-alcoholic cocktails sounded healthy and delicious, so I tried the Lemongrass and ginger ice tea (£4.50) – fresh lemongrass shaken with ginger, lemon juice, sugar and topped with Thai tea.  The ice tea was subtle and slightly sweet, however the glass was filled with so much ice that the drink was finished a little too quickly.
A more zingy choice was the Apple Press (£4.50) – fresh apple pressed with mint, ginger and honey.  The drink was fresh, tart and not overly sweet, with a torn mint leaf foam.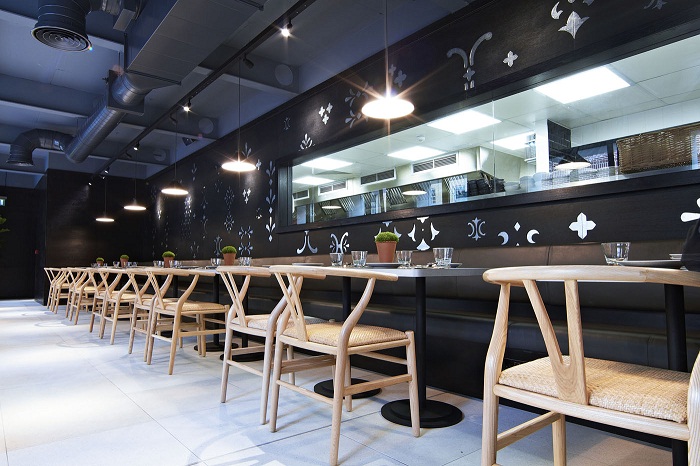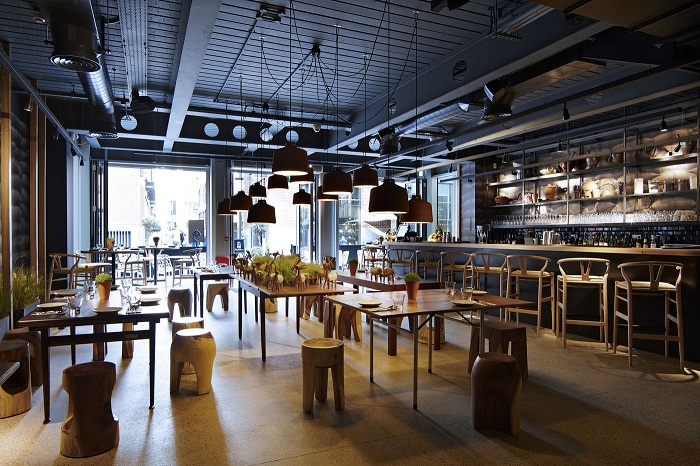 We ordered a selection of starters to share, as they looked so tempting.  Pratad Pu Cha (£6.95) – Suda crab and chicken firecrackers were long, thin filled wontons, tied with a string of seaweed and served in glasses with a sweet chili dipping sauce.  The chicken and crab fillings were succulent and well-seasoned – a delicious contrast to the crunchiness of the wonton.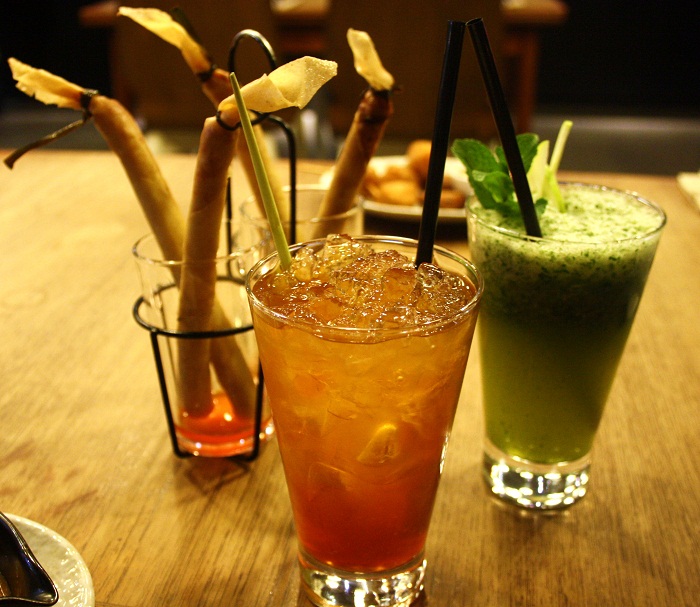 Also worth trying is the Satay Gai (£5.25) – chicken satay sticks with peanut sauce. The succulent skewers of chicken were lightly spiced and chargrilled while the peanut dipping sauce was full of flavour yet very mild.
Another fun and tasty starter was Tod Mun Pla Goong (£5.95) – Thai fish and prawn lollipops.  The prawn lollipop was like a plump fritter and the fish lollipop was covered in a crispy batter – both were fresh, piping hot and very tasty.  These little bites would be perfect for a party or as a bar snack with a cocktail.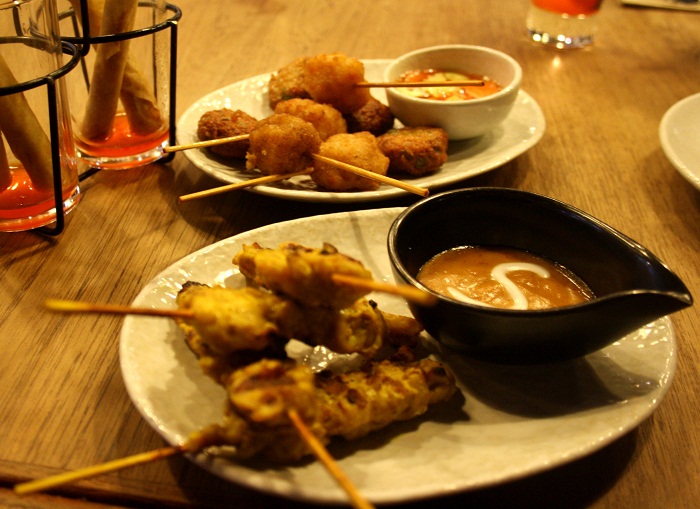 For the main course, I was tempted by Pad Thai Goong (£9.50) with rice noodles.  The noodles were cooked perfectly with beansprouts and finely sliced red pepper and were dressed in a light crushed peanut and lime sauce.
The Pad Thai Goong is usually served with prawns but Suda kindly offered it with chicken instead when I asked.  The portion size was generous and there was plenty of meat, however the chicken was a little dry and didn't absorb the flavours of the dish.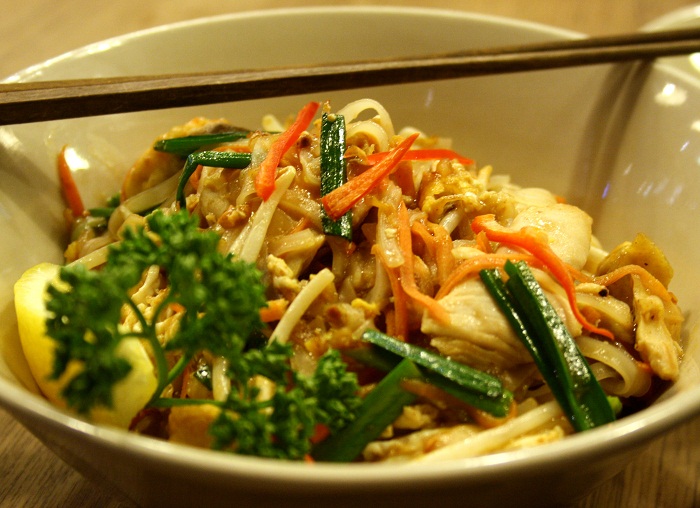 Steven ordered Gaeng Phed Ped Yang (£10.50) – roast duck red curry.  The medium-hot curry was rich, fragrant and aromatic with a generous amount of thinly-sliced duck, cherry tomatoes, red peppers and grapes.  The curry sauce was so tasty and addictive, with slow-cooked flavours of coconut, lemongrass and turmeric.  Luckily there was so much sauce that I was able to sneak a few spoonfuls to dress my last few bites of Pad Thai Goong.
The Kao Phad Kai (£2.75) – wok-fried rice with eggs was a perfect accompaniment – much lighter and less greasy than any fried rice I've tried.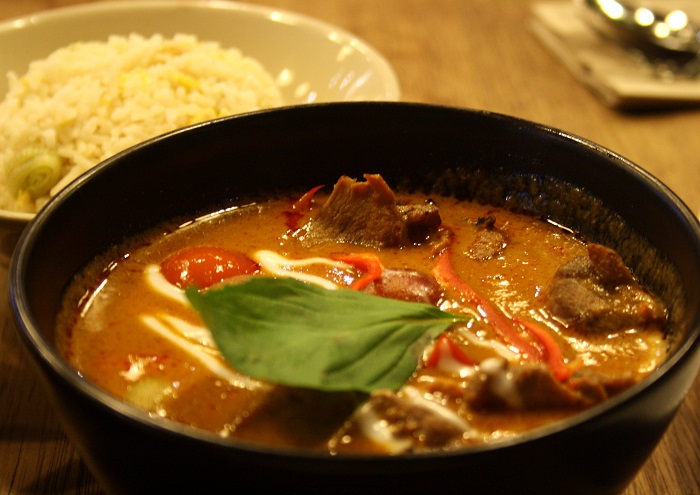 For dessert, I was intrigued by Kao Tum Mud Sai Chocolate (£4.95) – sticky rice roll with bitter chocolate filling.  The warm rice, served on top of a banana leaf, was infused with jasmine and the strands stuck lightly together without being gooey.  The rich, thick, slightly sharp chocolate sauce and the smooth vanilla ice cream added flavour to the nicely textured rice.
Steven tried Gluay Hom Tod (£4.95) – golden banana fritters with honey and sesame served with vanilla ice cream.  The bananas were soft and naturally sweet, covered in a light, crispy batter with little golden pieces of puffed rice and a drizzle of honey and scattered sesame seeds.
We finished with a Fresh Mint Tea and a Fresh Ginger Tea – both were potent, calming and completely natural.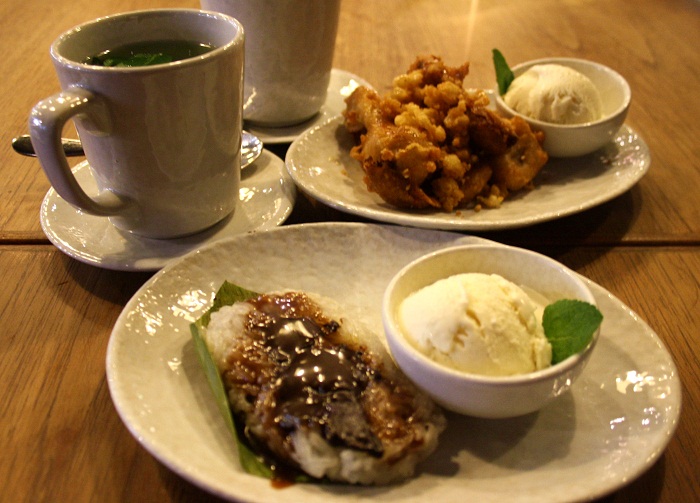 Suda is a great destination restaurant, but like its older sibling Patara, it has the potential to become a boutique chain of eateries.  Staff are friendly and polite and service is efficient yet subtle.  It's the kind of place that lets you get on with your meal without interruption.
Prices are reasonable considering the food quality and generous portion sizes, bridging the gap between Thai 'cheap eats' and fine dining.  The lunch set menu is particularly good value, offering a selection of popular main dishes with fish and prawn lollipops for under £10.  I will definitely go back to Suda to try more of the delicious curries and noodles.
For more information and booking, visit: www.suda-thai.com
Chérie City was a guest of Suda
Photos by Chérie City and Suda