Leicester Square is possibly the last place I'd come to find excellent food in London, however Heliot at The Hippodrome is quite an unexpected gem.
Since opening in 1900, The Hippodrome has been a theatre, circus, music hall and nightclub.  Most notably, Charlie Chaplin made his stage debut there.  The venue closed for almost two years for extensive renovation and reopened last year as The Hippodrome Casino.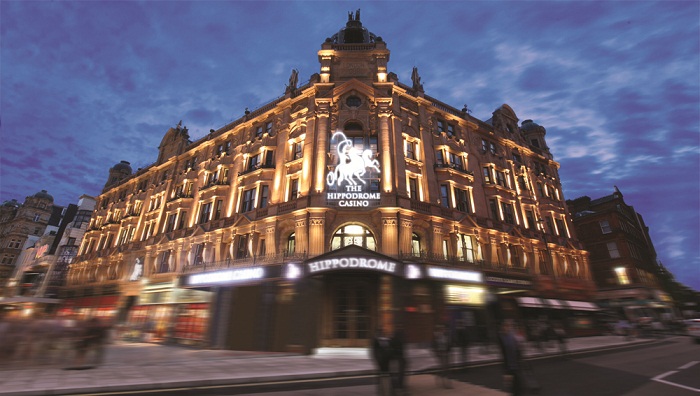 My first and only casino experience was at a soulless member's only joint with mugshots at the door with heavy surveillance inside.  My French friend declared, 'ugh, it is not like the casino in Monaco' and we both left feeling decidedly unimpressed.  I had higher hopes for The Hippodrome and while it obviously doesn't attract the glamorous crowd of the South of France gambling institutions, the building is quite spectacular and it buzzes quietly with the sound of fortunes being made (and broken).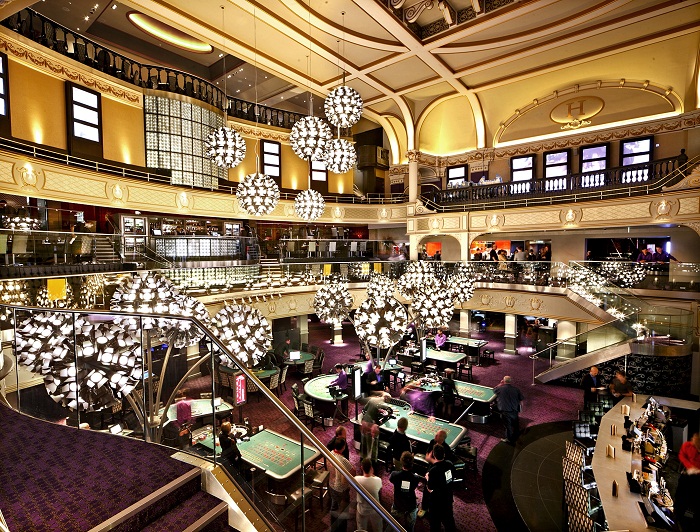 Heliot takes its name from the formidale lion tamer Claire Heliot, who was known to feed raw meat to big cats on stage.  The bar and a few tables overlook the casino floor, but the main part of Heliot is tucked cosily behind a tier of seats.
The sleek restaurant is all black and red leather with rows of theatrical bright lights.  It feels cosy, intimate and private and the clientele ranges from the more well-heeled gamblers and businessmen to a teenage couple presumably on their first date.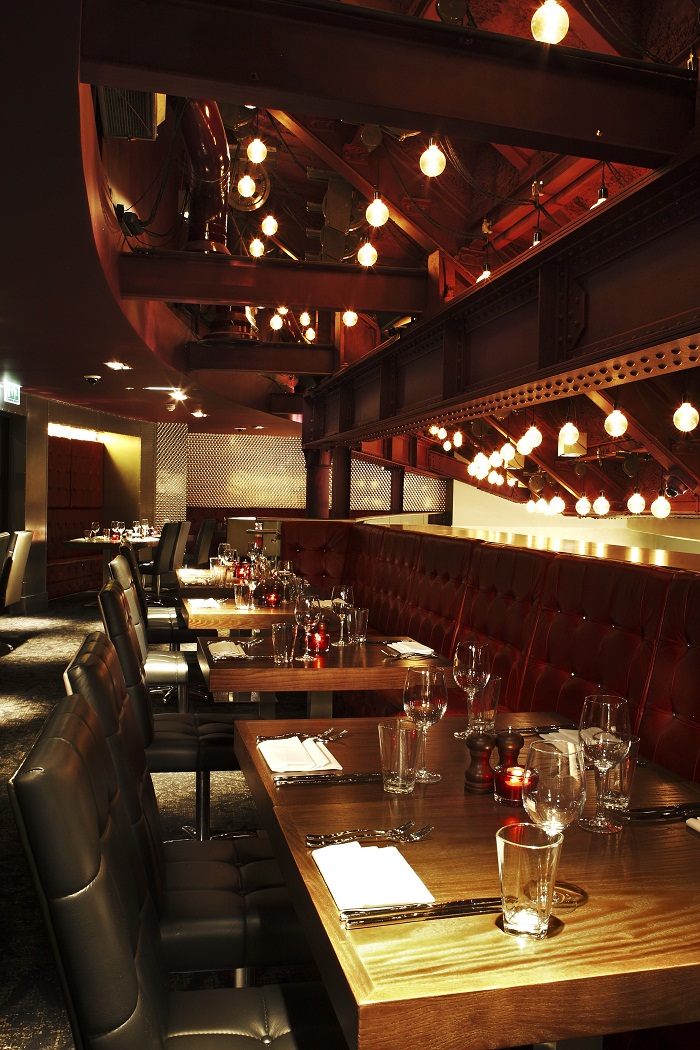 Executive Chef Barry Vera's menu is a mix of brasserie classics and 'bling comfort food'.  After ordering, we were offered an basket of deliciously warm, freshly-baked bread rolls and a pot of fine butter.
With a nod to Heliot's Chinatown location, I started with the Peking Duck Consommé and wontons (£9).  The rich yet light broth, poured into my bowl from a large teapot, was meaty and full of character, with a plum and hoisin flavour.  It was filled with plenty of enokitake mushrooms and fresh herbs, but the main feature was a large raviolo packed full of well-seasoned, lean, flaky (not minced) duck breast.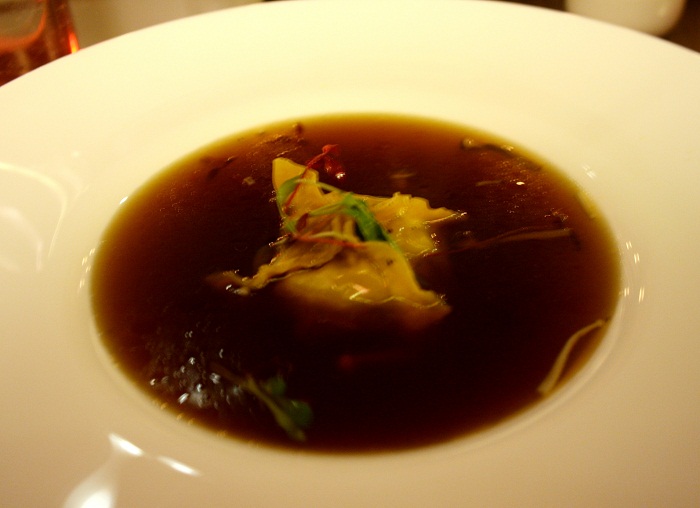 Steven's French Onion Soup with Gruyère (£8) was a real winner.  It was the darkest, thickest onion soup we've ever seen, packed full of caramelised onions with a brick of Gruyère atop a toasted crouton.  The flavours were intense and rich and the soup had just the right amount of oiliness to feel comforting – quite a meal in itself.  It came served with a  thin slice of rye toast with an unusually brown-coloured covering, which we determined to be grilled cheese.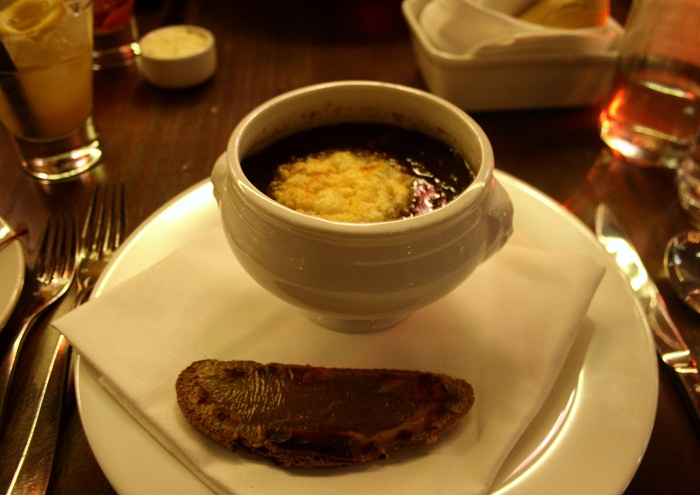 Heliot's signature dish is Millionaires Mac & Cheese (£28, serves 2) with Gruyère and shaved black truffle.  To avoid ordering the same dish, I went for the equally high-rolling Lobster Fish Fingers, triple cooked chips and wasabi mayonnaise (£19).
The dish was larger than I expected, with three plump goujons of fresh, succulent lobster enrobed in crispy, golden panko-style breadcrumbs.  The triple cooked chunky chips were flavoursome, perfectly seasoned and meticulously presented, alongside a crunchy salad of julienne red, orange and yellow peppers in a light vinaigrette dressing and a deliciously punchy wasabi mayonnaise.
I loved how simple yet decadent this dish was and am confident I'll be drawn back to Heliot for lobster fish finger cravings.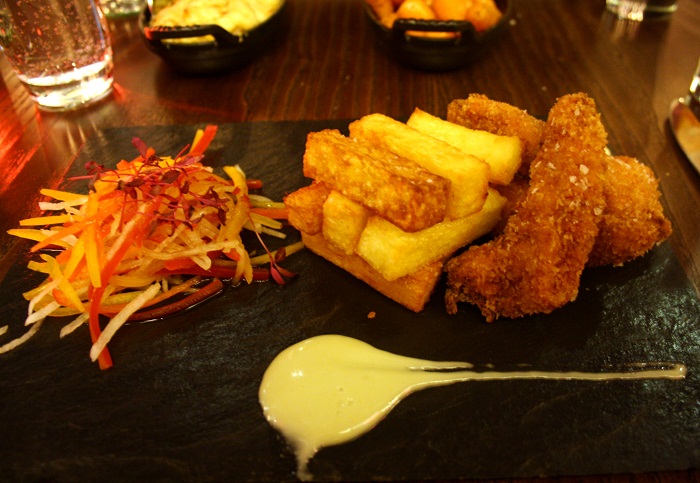 Steven tried the Twice Cooked Pork Belly with puy lentils and calvados sauce (£16.50).  The huge slab of belly was tender and juicy with a layer of soft fat and crispy crackling.  It was served with lightly braised puy lentils, a dash of smooth potato puree, a stick of crunchy crackling and a scrumptious calvados and meat juice sauce.
We accompanied our mains with side dishes of Glazed Chantenay Carrots (£3.50) and Cauliflower Gratin (£3.50).  I liked the fragrant flavour and the glaze of the carrots, but they were a little too raw and crunchy to enjoy fully.  The cauliflower gratin however, was baked to perfection, with a moreish cheese and cream sauce.  If the cauliflower gratin was this good, I can just imagine how decadent the Millionaire's Mac & Cheese would be!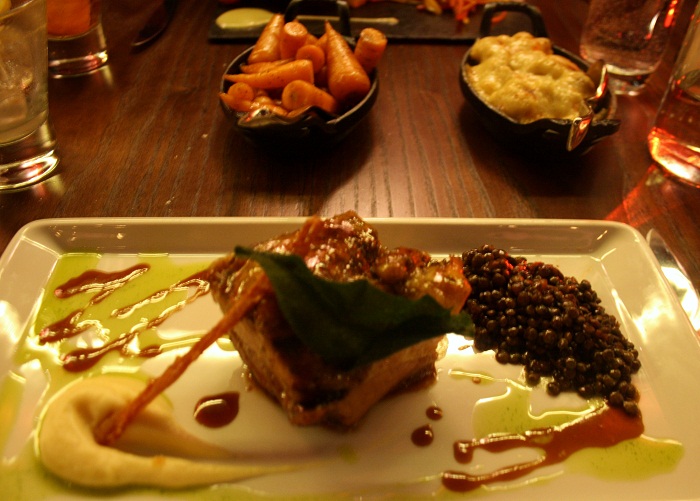 To finish, I was tempted by the Chocolate Mousse, brownie and crème fraiche sorbet (£7.25).  The thick slice of silky, thick chocolate mousse (can we really call it a mousse?) had a soft, moist brownie base and was topped with a row of home-made toffee popcorn.  The crème fraiche sorbet was a refreshing accompaniment and a welcome surprise was fresh blackberries and sticky blackberry coulis dotted around the plate.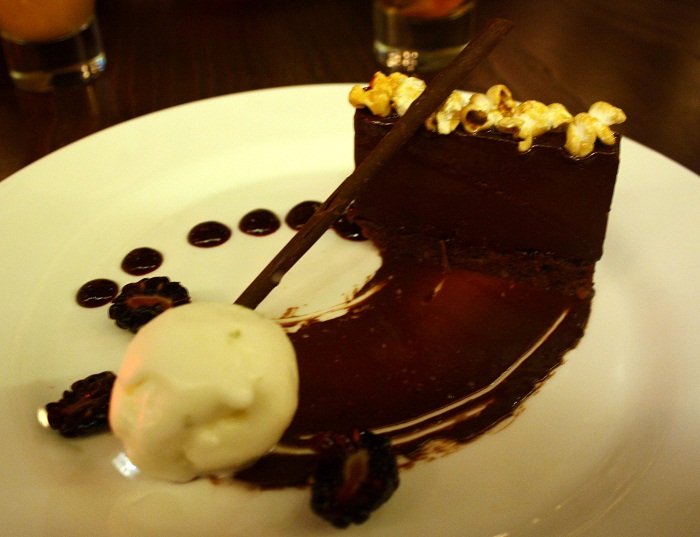 Steven's classic Sticky Toffee Pudding (£6.25) was dense, gooey and infused with a buttery toffee sauce.  Both desserts were deliciously decadent and a perfect end to the meal.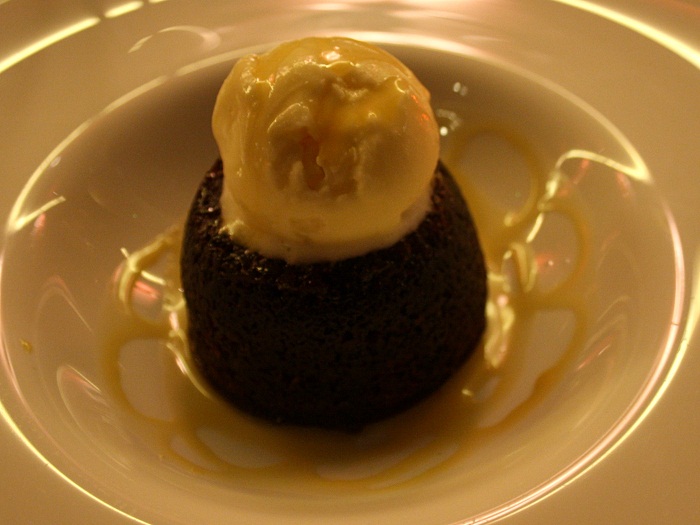 We ordered classic cocktails with dinner – I went for a Negroni (£9) and an Old Fashioned (£9) while Steven tried a Whisky Sour (£9) or two.  The cocktails were expertly-mixed and just the right strength.
After dinner, we moved on, with cocktails in hand, to The Matcham Room to end the night with a little live jazz by Jay Phelps Quartet.  The purpose-built venue has a capacity of 180, yet that evening it was set up as an intimate club with great acoustics and lighting, plus seamless table service.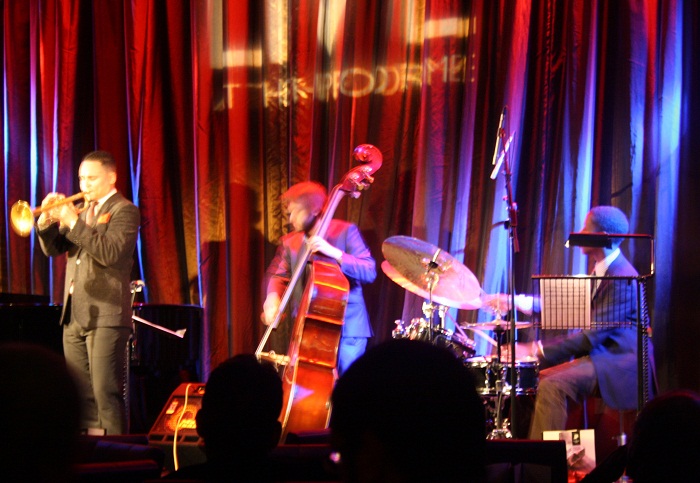 Vancouver-born trumpeter Jay Phelps and his ultra cool band played two sets of pieces by jazz legends and compositions from Jay's debut album.  Not only is Jay an incredible musician but he looks dapper in a suit and charms the audience with stories between songs.  Now based in London, Jay also hosts the monthly Jay's Jitter Live swing night, where the venue becomes a dance hall.  The lure of live jazz and dancing, along with lobster fish fingers and Negronis is too good to resist!
Watch Jay Phelps Quartet in action…
For more information and booking, visit: www.hippodromecasino.com
Chérie City was a guest of The Hippodrome
Photos by Chérie City and The Hippodrome