When it comes to modern Indian cooking that breaks away from tradition, Chef Vivek Singh leads the way.  I've spent many a weekend wishing I could reach into my TV and feast on the mouth-watering, cross-culture dishes he creates, so dining at one of his London restaurants was a real treat.
Cinnamon Kitchen is the more casual and accessible sister restaurant to Singh's renowned Cinnamon Club in Westminster, which opened in 2001.  It captures the spirit of east London with contemporary industrial-luxe interiors and its location in a former warehouse of the East India Company.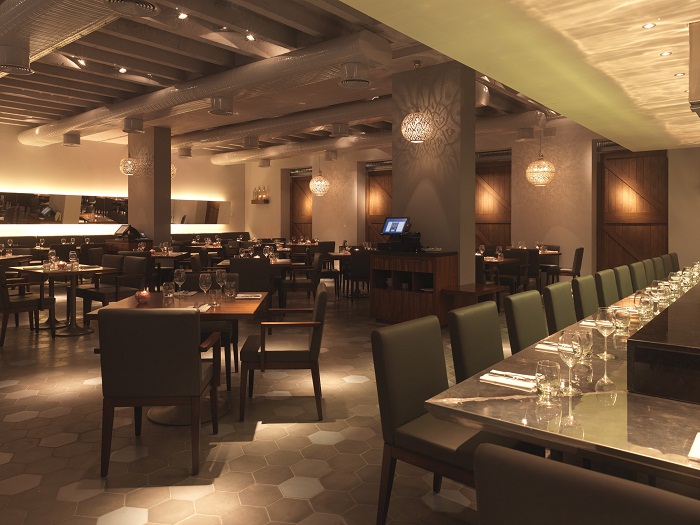 Prices are slightly more wallet-friendly, with a set menu and express lunch menu alongside à la carte.  The terrace overlooking the stylish Devonshire Square courtyard is perfect for after-work cocktails and bar plates and attracts a City/Shoreditch crowd.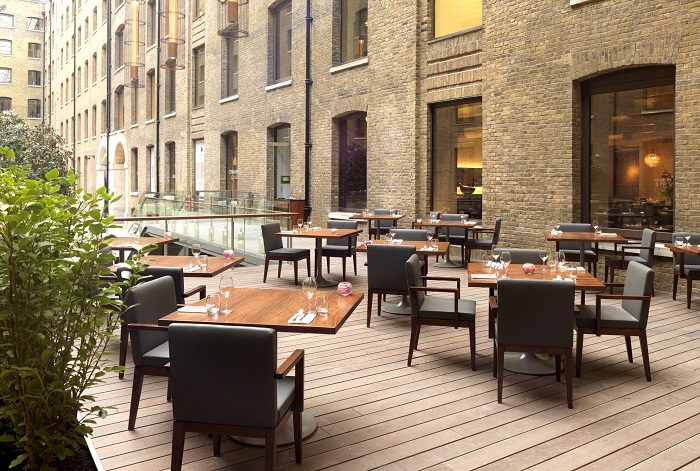 All diners are welcomed with an amuse-bouche of Potato Fritters with tamarind yoghurt and coconut cream.  These punchy little bites were crispy on the outside and packed full of spiced potato and onion.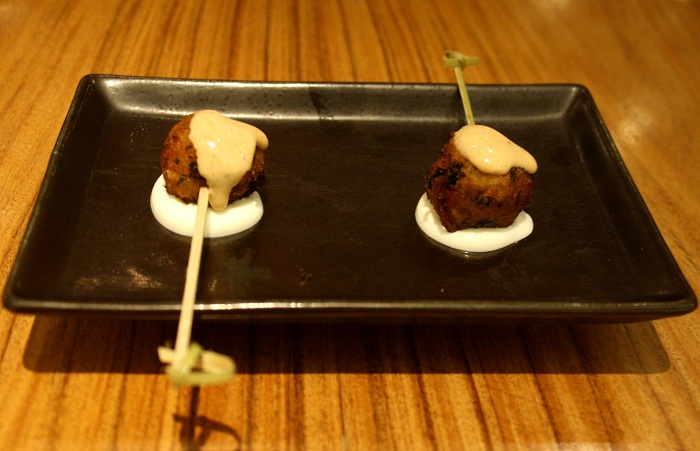 Before our starters, we grazed on a delicious Bread Selection (£5) and Chutneys (£3).  The bread was so incredibly tasty that we couldn't help wolfing down the lot without a thought of the dining perils of filling up on bread.
The naan bread at Cinnamon Kitchen is more dense, buttery and flavoursome than any others I've tried and it came in three different flavours – classic, slightly sweet saffron and lightly filled with spiced potato.  We munched through more of this divine bread with our main courses, but I'd advise pacing yourself with the naan, unless you're quite happy to roll your way home after dinner!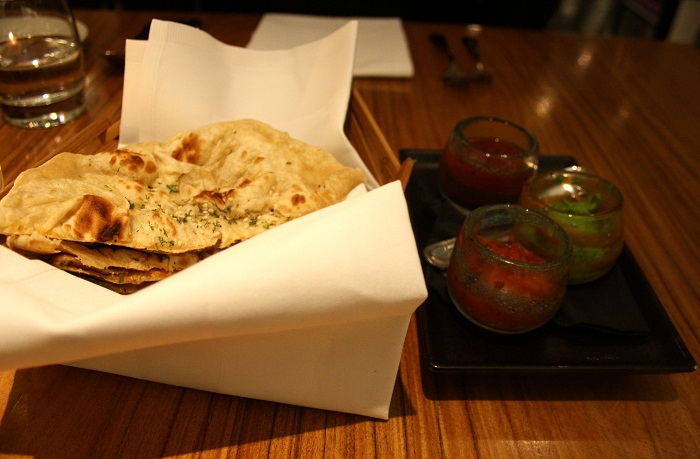 As a newly converted lobster fan, I just had to start with the 'Keralan' lobster soup, spiced lobster 'momos' (£12).  I often find Keralan dishes so hot that I'm gasping for water and this soup certainly had a powerful kick, but not so much as to be uncomfortable.
The rich soup was smooth, fragrant and had a cool coconut flavour, followed by a rush of fiery chili.  The lobster 'momos' were three steamed ravioli filled with well-seasoned minced lobster.  It was an indulgent yet light start to the meal and an interesting way to incorporate lobster into Indian cooking.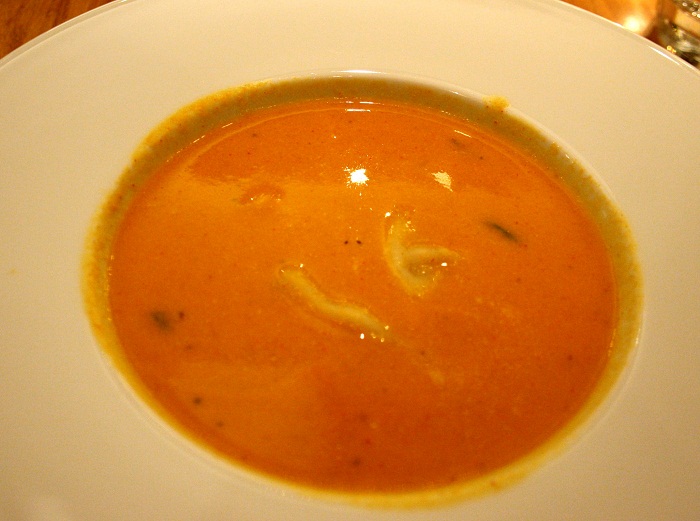 Steven went for the Tandoori Chicken with aromatic dried fenugreek (£7.50).  This was a classic done very well – tender, well-marinated chicken, nicely charred on the outside and served with a cooling raita.  Cinnamon Kitchen is also home to London's first tandoor bar and grill, where guests can watch the chefs creating flame-grilled dishes.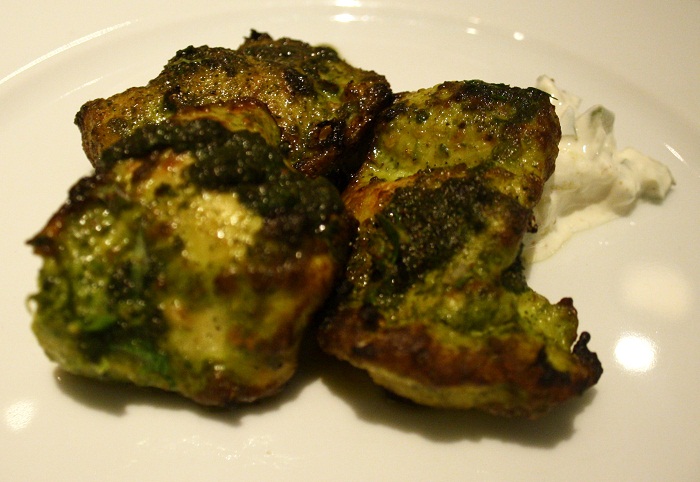 For my main course, I was tempted by the 'Murgh Korma' style tandoori free range chicken breast (£17).  The black leg chicken was succulent, plump and juicy – a refreshing change from the usual cubed pieces of chicken often served in curries.  The Murgh Korma sauce was rich and nutty with subtle spiciness and interesting flavours.
Being Persian, I am a bit of a rice perfectionist and was delighted that Cinnamon Kitchen has the same superior standards with its rice.  The perfect little dome of steamed, aromatic Basmati rice was fluffy, light and dotted with caraway seeds.  I also liked the addition of steamed wilted greens and sliced red onion to soften the flavours.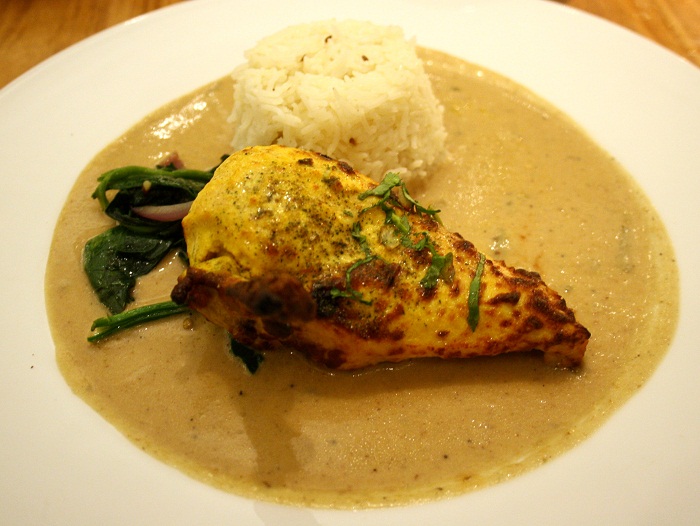 Steven tried the 'Kolhapuri' spiced saddle of Kentish lamb, pilau rice (£20).  The lamb was tender and lean and the medium-hot, tomato-based sauce had a deliciously smoky taste.  Both curry dishes were decadent yet light, without any unnecessary oiliness.  The portion sizes were also generous and filling but not overwhelming.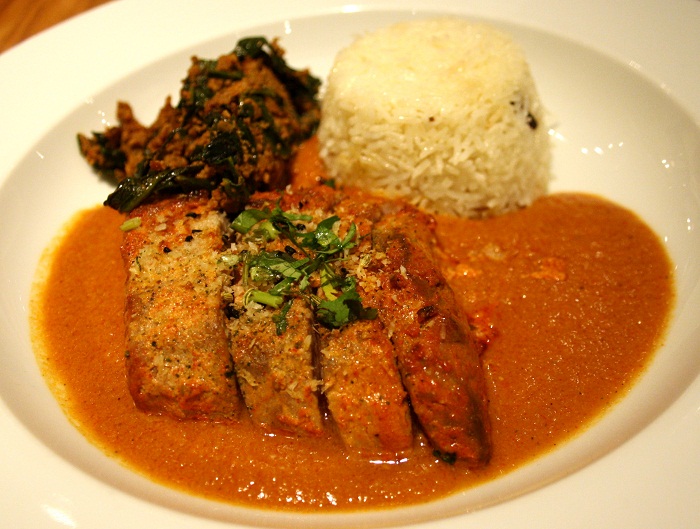 We shared a side of Black Lentils, which were perfectly cooked and smothered in a slow-cooked, medium-hot sauce.  The portion size is more than enough for two and the lentils are an excellent accompaniment to the naan bread.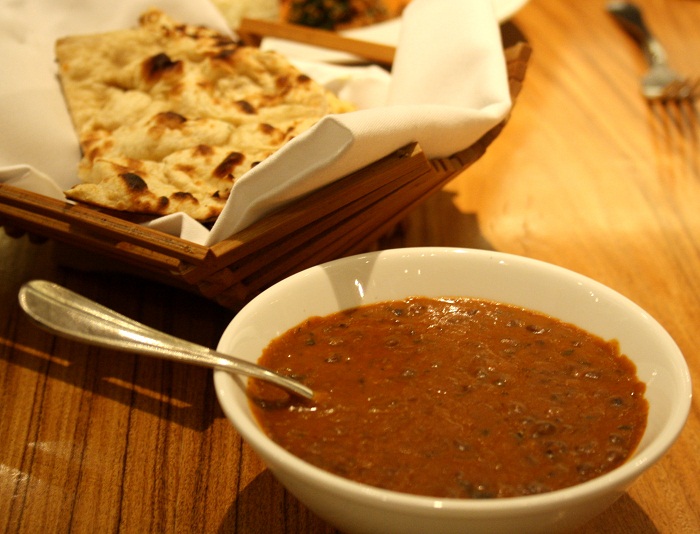 Desserts at Cinnamon Kitchen are very tempting and worth saving some room for.  My Valrhona Chocolate Fondant with nutmeg and white chocolate rice pudding was an absolute delight.  The fondant had a baked cake texture on the outside with molten oozing chocolate at the centre.  The rice pudding was fresh, cool and fragrant and I loved the pretty sugared rose petal and redcurrant decoration.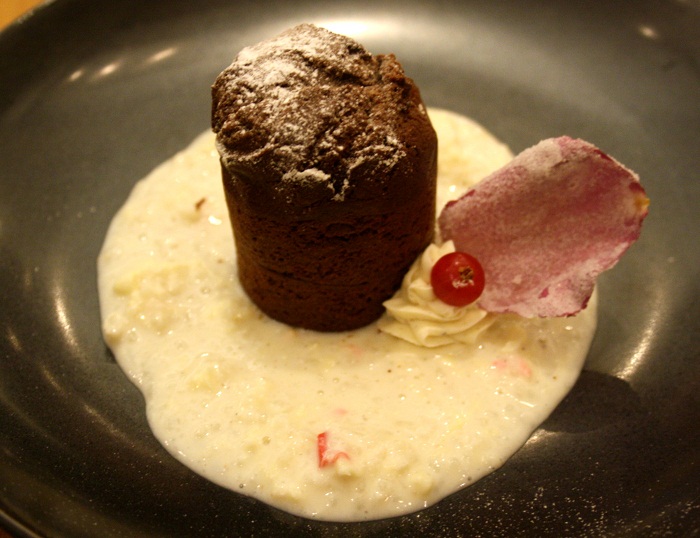 Steven tried the Apple and Almond Cake with Cardamon Ice Cream.  The delectable cake was  moist, dense, sticky, filled with caramelised apples and topped with a piece of crunchy peanut brittle.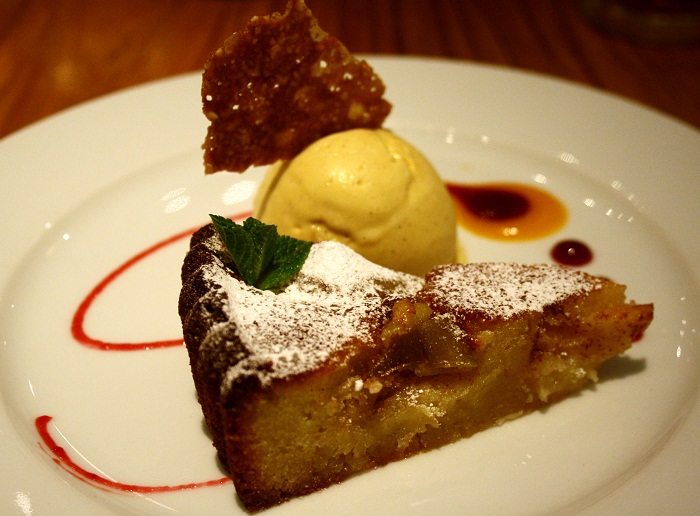 We finished with an Indian-inspired cocktail from Anise bar.  I adored the Pistachio and Almond Sour (£7.95) – Buffalo Trace bourbon, Disaronno amaretto, fresh lemon and pistachio.  It was a refreshing, fragrant take on a classic and generously, we were brought an extra for the table.  It will certainly be hard to go back to regular Whisky Sours after trying them!
Steven ordered an Old Dogs New Tricks (£8.95) – Bootlegger 'white dog' whiskey, stirred with Frangelico, caramelised sugar and bitters.  This was a much stronger, drier cocktail with an oaky, slightly nutty taste.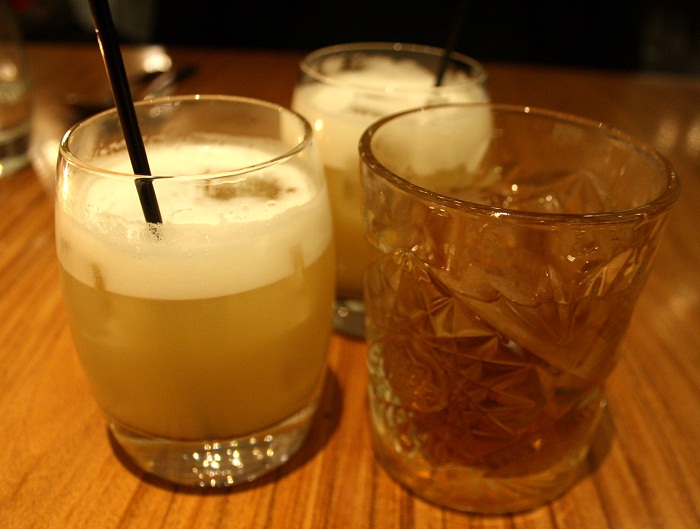 Cinnamon Kitchen is a place that I would go to again and again for interesting yet comforting Indian cooking.  The staff are so friendly and attentive, topping up our water discreetly and making menu recommendations – warm Indian hospitality at its very best.
I was pleased to find out that Cinnamon Kitchen also hosts weddings.  Couples can get married on the terrace overlooking Devonshire Square – even in the cold months by hiring an Indian-inspired tent, dubbed the 'Maharaja Marquee'.  Follow the ceremony with a Champagne and canapé ceremony, a wedding feast in the restaurant and dancing to a DJ or live band in the neon-lit cocktail bar Anise.  What could be better for a stylish, modern Indian-inspired wedding in the city!
For more information and booking, visit: www.cinnamon-kitchen.com
Chérie City was a guest of Cinnamon Kitchen
Photos by Chérie City and Cinnamon Kitchen