Since trying kanom jin noodles at Thai Vanduke, I've been looking forward to trying more authentic Thai dishes at Naamyaa Cafe, Alan Yau's new all day dining modern Bangkok cafe in Angel.  It was a chance passing on a cold night that led me to Naamyaa on its second night open and the soft opening discount of 50% off food was a welcome surprise.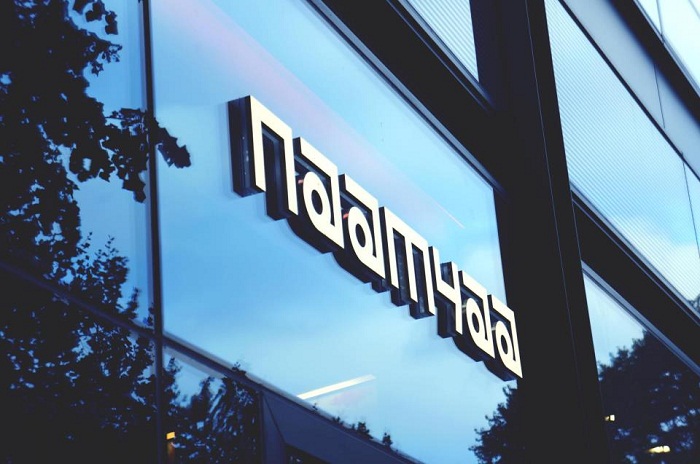 Designed by David Archer, Naamyaa Cafe is colourful, bright and expansive with three separate open-plan dining areas and a central bar with high seats.  The concept is a more accessible, day-focused sister restaurant to Busaba Eatthai, offering traditional Bangkok specialities alongside a few Western dishes.
The menu is full of tempting dishes such as their signature Naamyaa Goong, stir-fry chicken with asparagus and rice, red beef curry, prawn kanom jin noodles, Tom Yam prawn soup, green papaya salads, Thai chive cakes and some tasty-looking burgers.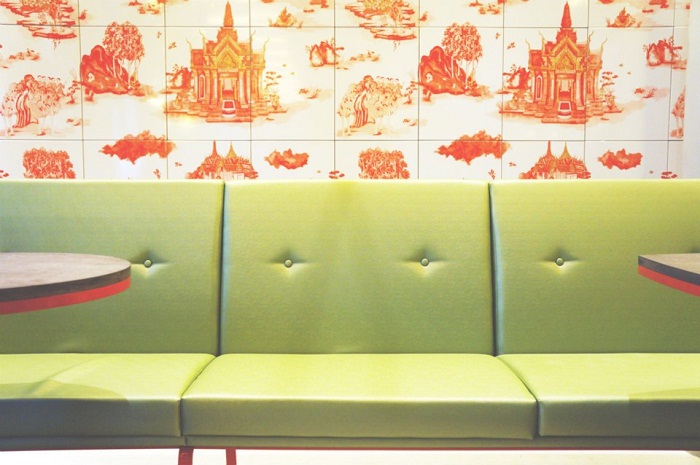 I ordered the Chicken Laksa (£8.50), which arrived at the table within five minutes or so.  The spicy soup was rich, fragrant and comforting, with plenty of crushed peanut and dried shrimp.  It came served in a big bowl with medium-thick rice noodles, large pieces of grilled chicken, bubbly tofu, half a soft boiled egg, sweet potato crisps, fresh beansprouts, crunchy pickled vegetables and lots of fresh coriander.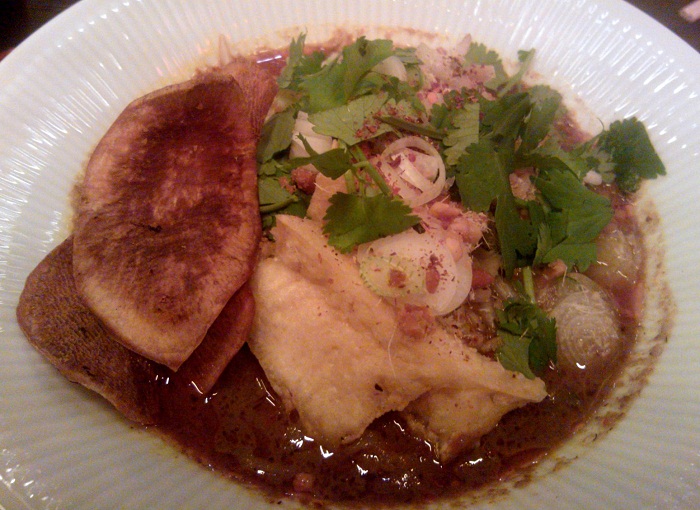 It was authentic, delicious and very, very hot – perfect for keeping away winter colds.  I particularly liked that the noodles were on the firmer side and the chicken was high quality and plentiful.  My only criticism was that I found a small chicken bone in the laksa, but understandably this was during the soft opening period and I was told that my feedback would be passed on to the chefs, to avoid in the future.
If I hadn't already started with a few canapes at an event earlier, I would have grazed on a few side dishes and brought a dining partner to try more of the menu.  My solo visit was completely unplanned, but I felt comfortable enough in Naamyaa on my own with my magazine and even had a chat with the staff and two businessmen sat next to me.
I was sat directly in front of the cakes, so of course I treated myself to a slice of Pandan Chiffon Cake (£3).  I discovered this light, heavenly cake in Singapore and brought a big box of it back home – luckily the airport has a very good, affordable cake shop before check-in.  Naamyaa's Pandan Chiffon Cake is authentic and a real treat, as I haven't come across it in many London restaurants.  My Singaporean chiffon cake was impossibly light and silky, making it hard to replicate, but Naamyaa's was excellent and well-balanced.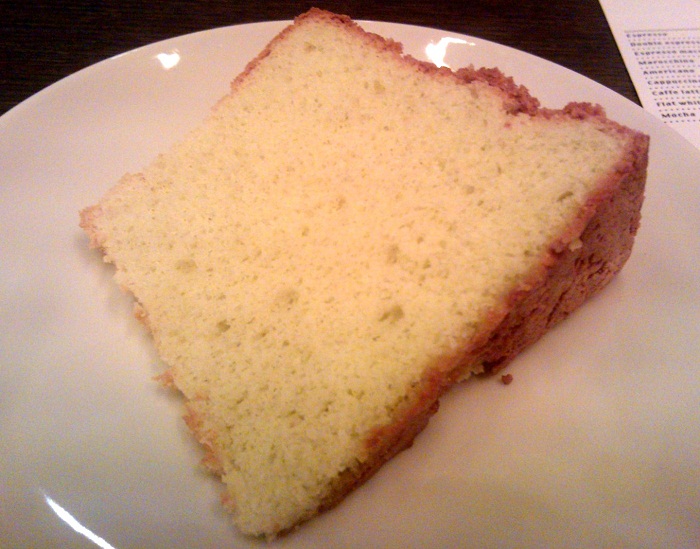 Other desserts include pandan and coconut jelly and coconut and pomegranate tapioca pudding, to be matched with some interesting and well-priced teas.
Naamyaa Cafe is a great addition to Islington and has all the makings of a popular boutique chain.  The food is excellent and reasonably priced, staff are warm and friendly and the atmosphere is buzzing yet unpretentious.  I will definitely be back when I'm feeling nostalgic for Pandan Chiffon Cake.
For more info, visit: www.naamyaa.com
Photos by Naamyaa Cafe and Chérie City