Mandarin Oriental Paris is one of the city's most exciting hotel openings over the past few years, bringing a touch of Oriental style and hospitality to Paris' first arrondissement.
Located on the prestigious rue Saint-Honore, close to Balenciaga, Colette and Chanel, Mandarin Oriental Paris perfectly reflects the luxury and elegance of  the chic shopping street.  Behind the listed 1930s Art Deco facade is a contemporary, sleek and tranquil lobby with a central courtyard.  The stunning heart of the hotel is designed with clean lines, marble walls, floor-to-ceiling windows in grey, cream and dark magenta tones.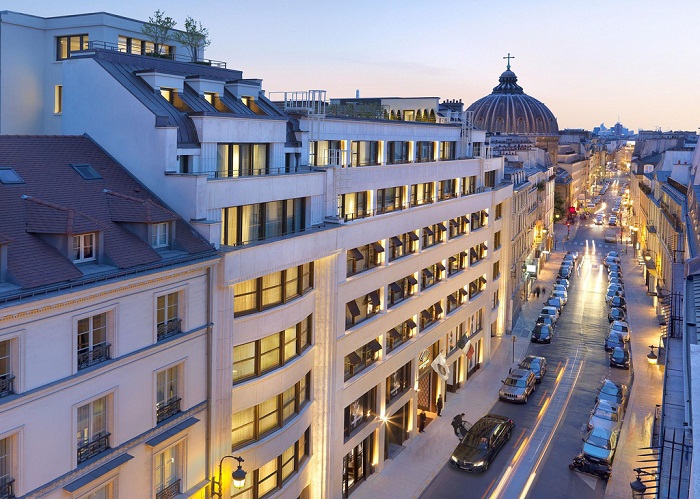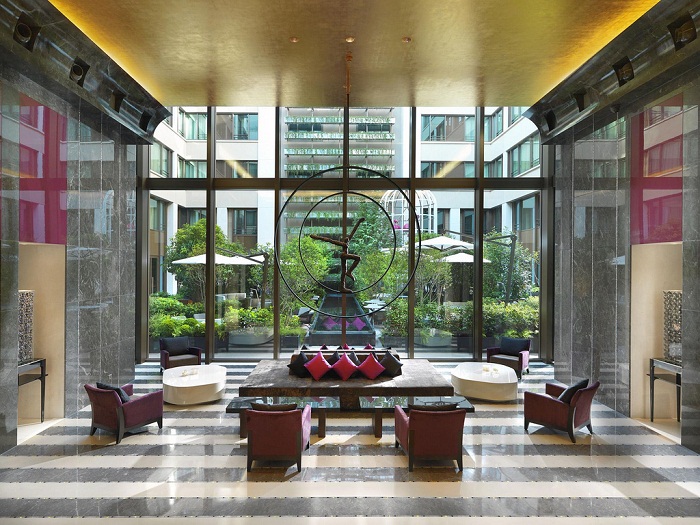 The very first thing on our Paris agenda was lunch at Camélia by renowned chef Thierry Marx, often described as the Parisian Heston Blumenthal, for his innovative molecular gastronomy.  The extent of his creativity can be experienced in his modern fine dining restaurant Sur Mesure, however, Camélia is a more relaxed affair with a lighter atmosphere and more accessible menu.
Designed by Patrick Jouin and Sanjit Manku of Jouin Manku Studio, Camélia is a beautiful all-white restaurant with curved surfaces, comfortable leather booths and giant petals adorning the walls, to give the impression of being enveloped inside a flower.  The restaurant overlooks and extends out to the tranquil camellia garden, where guests can dine in the warmer months.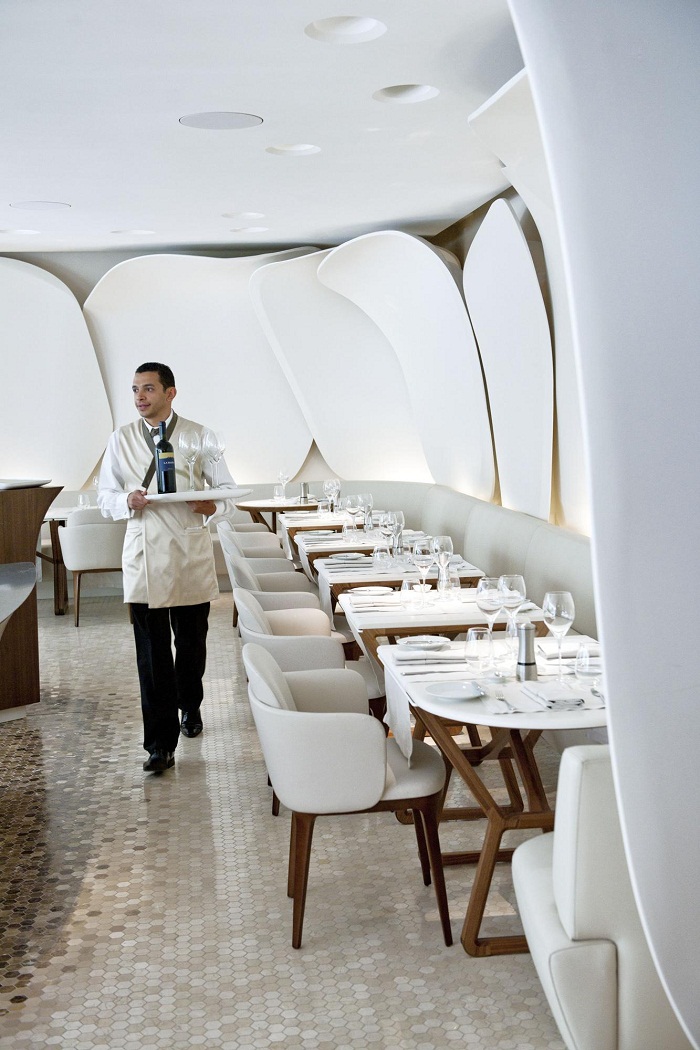 The hottest table at Camélia is the whimsical Garden Table, which seats 8 people and can be privately booked.  It reminded me of the birdcage that Vanessa Paradis swings inside for the iconic 90s Coco Chanel advert.  With the camellia as Chanel's emblem, the birdcage appears to be another fitting tribute to nearby neighbours Chanel.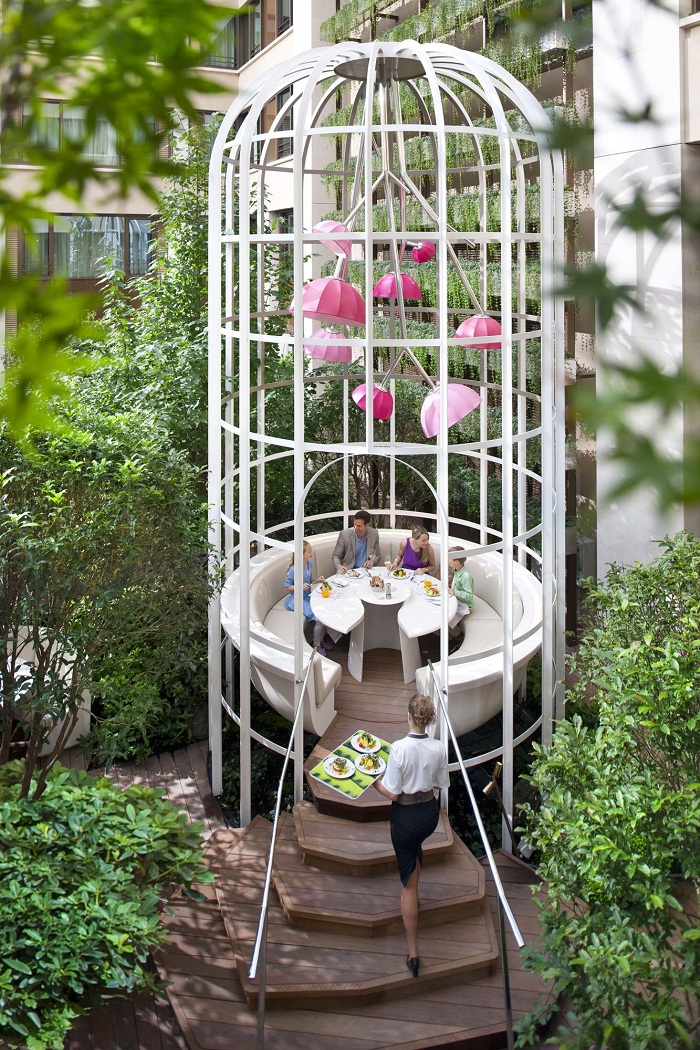 We were shown to our table by our friendly, charming waiter and were brought a bottle of still water followed by freshly-baked individual baguettes.  At lunch, Camélia is mostly made up of business clientele and the families of hotel guests, however, better weather draws a more leisurely shopping crowd to the garden.
To start, I ordered the Bigorre Ham – toast decorated with shallots and red wine (€32).  I was advised by my waiter that it is a simple dish that allows the flavours of the ham to be enjoyed on their own.  Perhaps some guests expect a more elaborate interpretation, but this dish is quite restrained and all about high quality produce.
The generous portion of ham was flavoursome with a hint of fruitiness and melted in the mouth.  The crisp slice of toast topped with red wine-infused shallots and fresh dill went exceptionally well with the ham.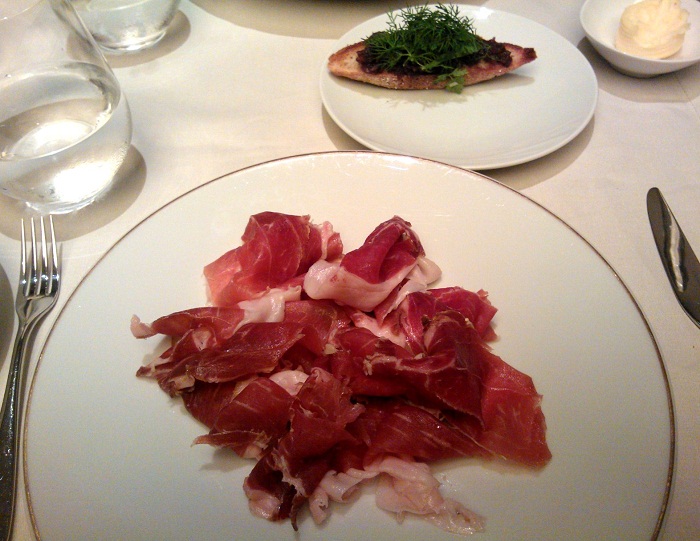 Steven went for the Crab – open ravioli, infused with yuzu (€31).  The fresh crab was tucked neatly between thin, almost transparent ravioli sheets and served cold in a creamy, fragrant sauce.  It was a light and interesting start to the meal.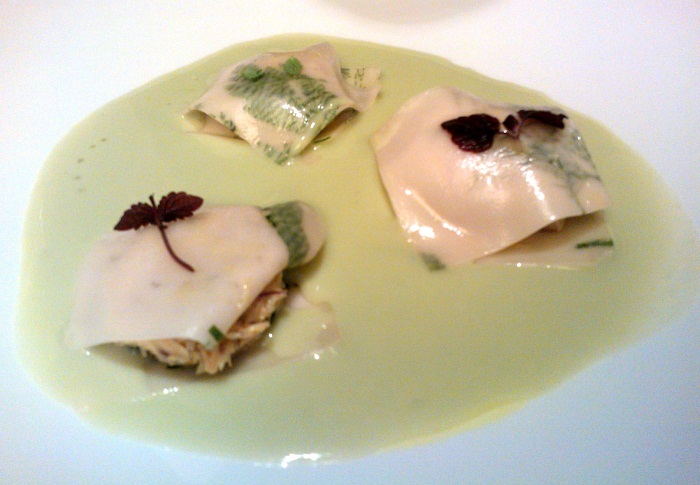 There were so many enticing choices on the menu, but I was particularly keen to try the Lobster from Brittany – bisque, gnocchi and green pea puree (€56).  The plump, succulent lobster was meaty and tender and was served with a small copper pan of rich bisque.  The gnocchi was light, buttery and nicely grilled on the outside and came with an attractive garden of pea puree, fresh peas, edamame, shallots and herbs.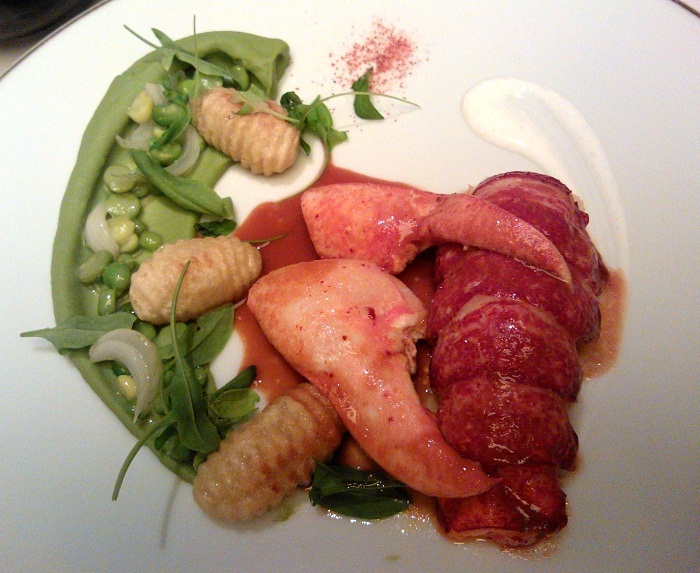 Steven tried the Hereford Beef – thinly sliced, homemade potato wafers, tartar sauce (€45).  The high quality beef was almost like a carpaccio, with a rare centre.  It was topped with a garden of crunchy greenery, fresh dill and a light covering of smooth, tangy tartar sauce.  The homemade potato wafers were crisp, golden and well-seasoned.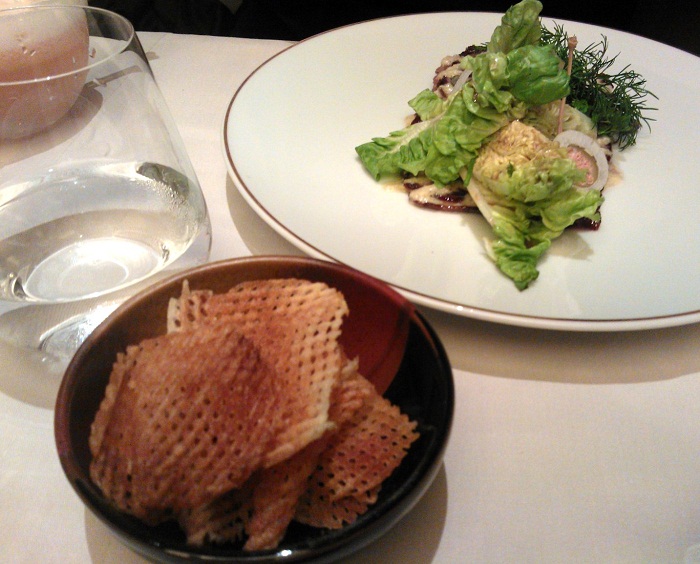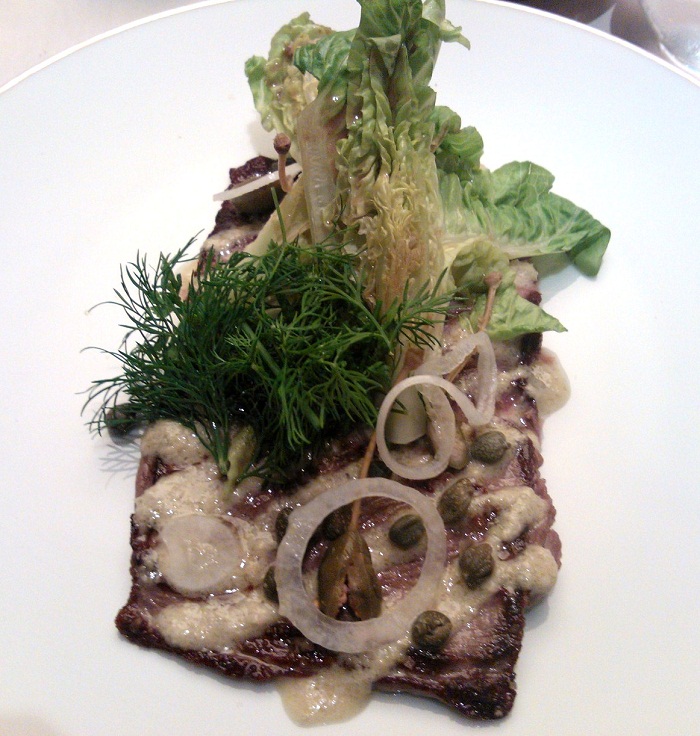 For dessert, it was difficult to choose between pastry chef Pierre Mathieu's exquisite creations, so I went to take a close up look at the cakes and pastries at the Cake Shop.  Here, hotel guests and the public can buy cakes to take away and the two favourites are Le Saint-Honoré and the hotel's signature cake Le Mandarin – 62% dark chocolate mousse, vanilla cream, variety of chocolate textures.
I was particularly drawn to the decadent looking Baiano – praline crust, variety of chocolate textures (€14).  The dense, crispy praline was enrobed in glossy dark chocolate, a lighter chocolate ganache dusted with fine cocoa, rose gold chocolate pebbles, a fleck of gold leaf and the hotel's signature 'J'aime Paris' chocolate plaque.  It was an indulgent, masterful dessert – the kind that cake lovers flock to Paris for.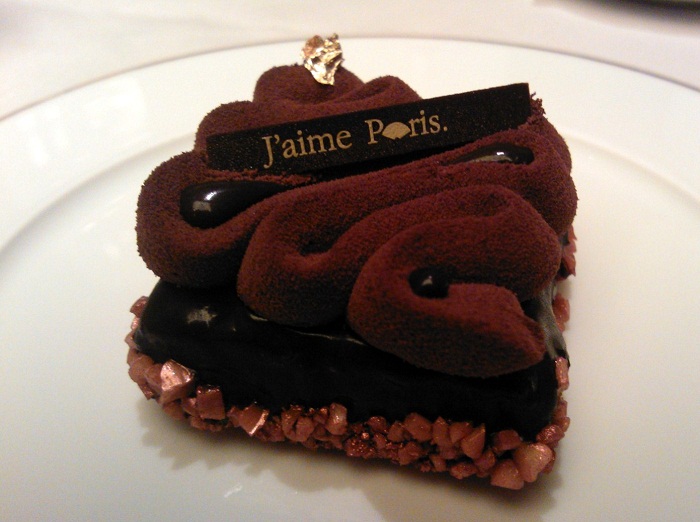 Steven ordered the Strawberry and Raspberry Sorbet (€15), which came in an adorable little Mandarin Oriental ice cream cup.  The two sorbets were fresh, sweet and bursting with fruit, topped with three dainty pastel pink meringues.  We finished with a pot of fresh mint tea.
After lunch, we were given a guided tour of the hotel, including the sumptuous spa by Guerlain and the guest rooms designed by Sybille de Margerie.  The breathtaking Cabochons Suite with its private terrace offers spectacular views of the Eiffel Tower.
Camélia is a stylish and memorable restaurant with excellent food and romantic surroundings.  Even though it attracts a business crowd, it is the perfect place for a fashionable catch up with friends, or an intimate meal.  There is a more affordable menu du jour at €55 and you can even stop by Camélia in the afternoon for tea and cake.
If you visit Camélia for dinner, be sure to start the evening with a signature J'aime Paris Champagne cocktail at Bar 8.  The impressive 9 tonne bar is carved from one piece of marble, sourced in Spain and carved in Italy.  The atmosphere is more seductive and warm, with the most exquisite Lalique coloured crystal droplets scattered across the gold walls.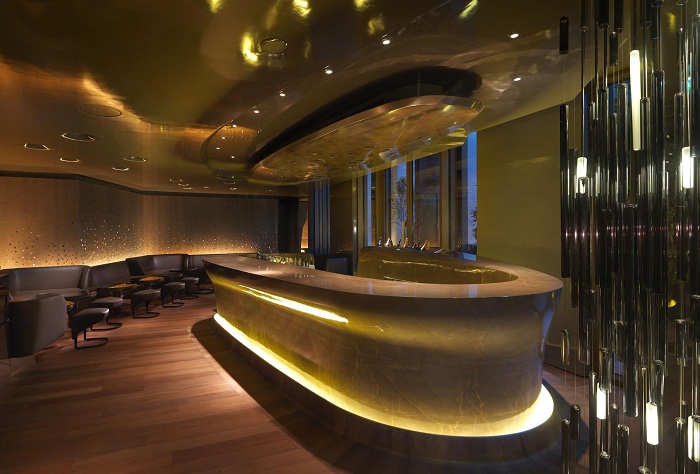 For more information and booking, visit: www.mandarinoriental.com/paris/
Chérie City was a guest of Mandarin Oriental Paris
Images by Chérie City and Mandarin Oriental Paris