Bumpkin has been offering a big slice of countryside comfort to West London for a few years now, but with the latest outpost on the opposite side of town, weary shoppers can be added to the Notting Hill 'yummy mummy' clientele.
Located on the Southern Boulevard of Westfield Stratford, opposite John Lewis, Bumpkin is one of the more high end dining options and it certainly proved to be a popular choice when we visited.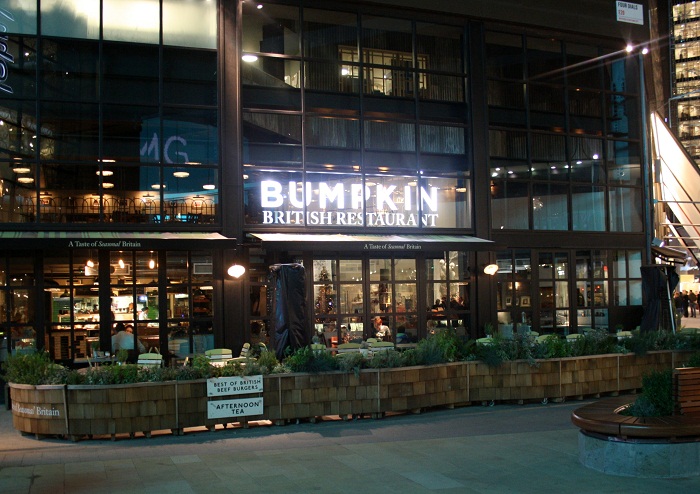 Westfield Stratford is conveniently just three overground stops from where I live and recently discovered what  an enjoyable shopping and food destination it can be (apart from crush on the last day of the Paralympic).  Westfield has been careful to create something more relevant than an identikit shopping mall in the UK, bringing in some of London's favourite restaurants, including Bumpkin.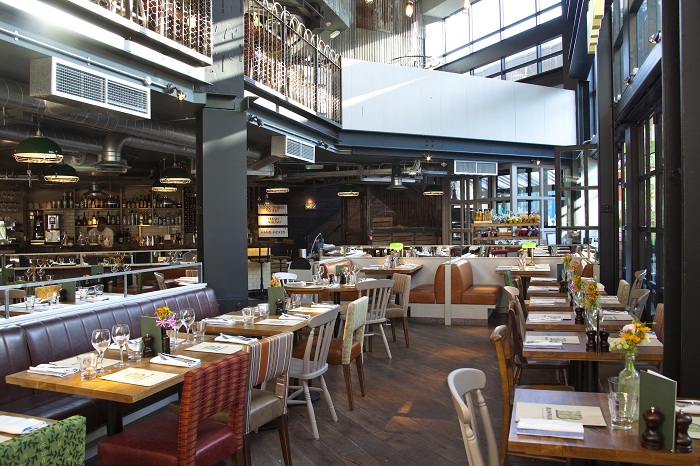 Bumpkin is all about the joys of British food, serving old favourites and classics with a modern twist.  The restaurant works closely with farmers to get the very best ethically sourced, sustainable seasonal produce.  The British heritage trend seems to be gathering steam across all industries, so I was excited to see Bumpkin's way of presenting British food.
The design of Bumpkin can only be described as 'urban rustic' or 'country meets brasserie' with an open kitchen, tan leather booths, rustic wooden chairs, a mirrored brasserie rail and glass bottles filled with sweet and simple flowers.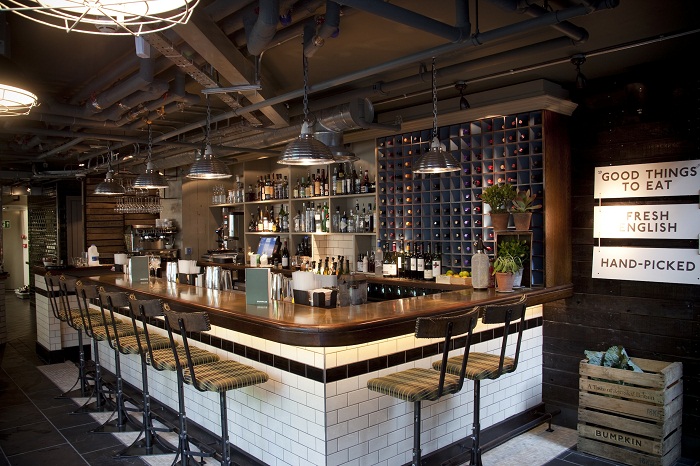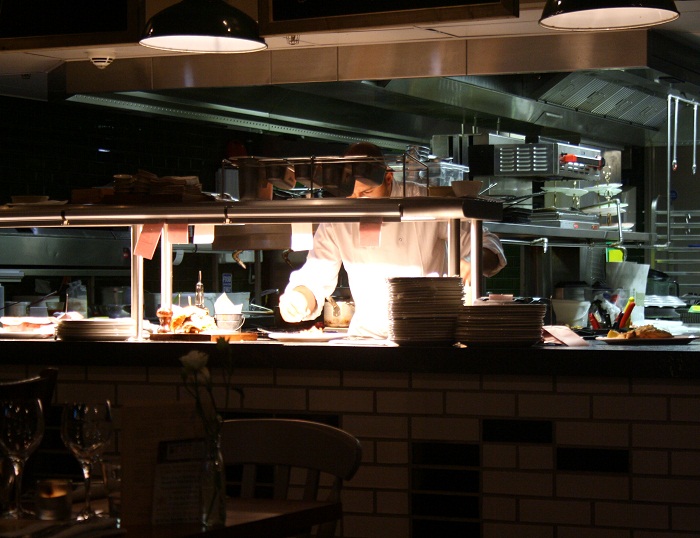 We started with a Chai Teani from the brand new collection of Winter cocktails.  The deliciously sweet and sour chai tea-based cocktail was topped with frothy whisked egg white, orange zest and whole cloves, served in a coupe.
There is also a good selection of sustainable, bio-dynamic or organic wines, Fentiman's drinks and fresh juices.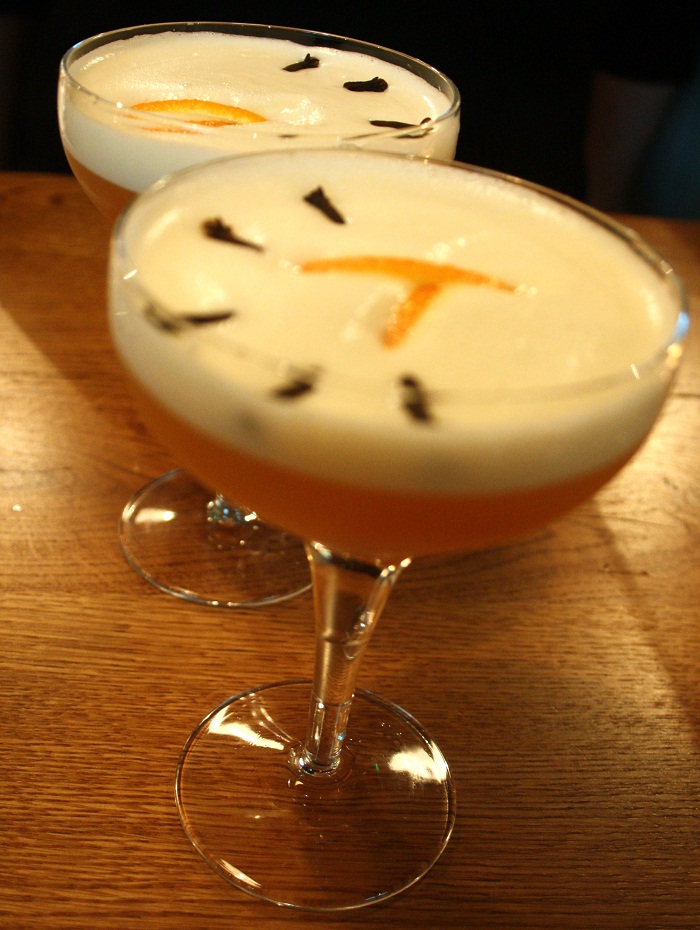 I started with one of my seasonal autumn favourites, Pan fried king scallops with crispy bacon, apple and vanilla puree (£9.95).  The three plump scallops were beautifully presented and nicely seared on the outside.  The accompaniments of sweet cured crispy bacon, delicate vanilla-infused apple puree and drizzle of British rapeseed oil went perfectly with the scallops.  I found the segments of pomelo too sharp and sour for the dish, but the watercress worked well.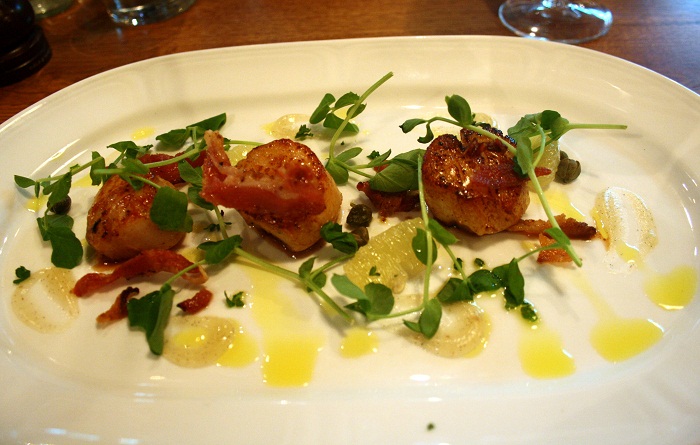 Steven went for the Dressed Cornish crab with chopped egg, crispy granary bread (£9.25). The fresh, shredded crab was mixed with a creamy sauce and served inside the shell on a bed of lettuce with a dash of cocktail sauce and triangles of white toast.  The portion size was substantial and the simple ingredients were of high quality – a classic British dish.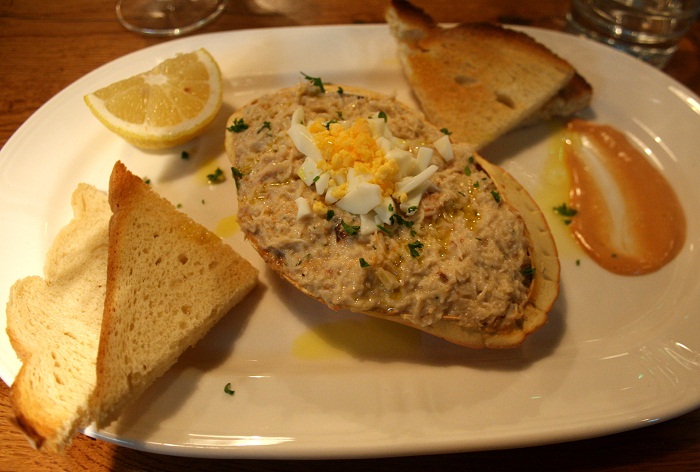 We sat close to the open kitchen and saw monster-size burgers and enormous pies making their way to the tables and were tempted to indulge.  However, I had a craving for steak and went for the 225g Sirloin with a butter glaze, peppery watercress and skin-on chips (£19.95).  The large steak was cooked medium on the charcoal grill and was covered in the most delicious butter glaze.  It was tender and juicy with a lightly charred taste and was full of flavour.  The skin-on chips were a real highlight – nicely seasoned, crisp, comforting and highly addictive.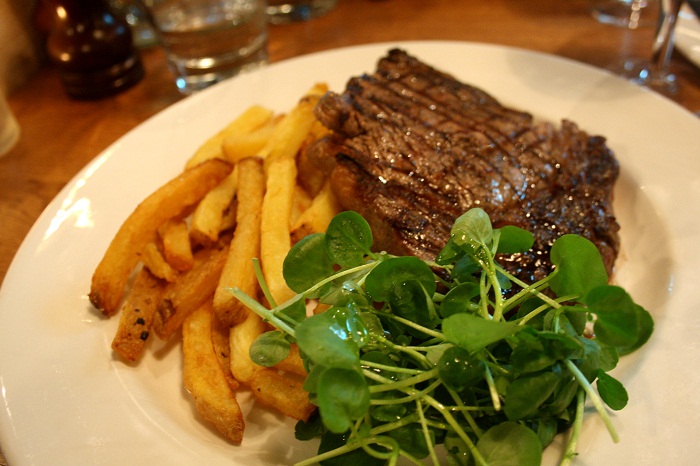 Steven's Classic fish and chips with mushy peas (£13.95) were exceptionally good – definitely the best we've tasted in London.  The sustainably caught cod was so fresh, flaky and succulent, wrapped in a light coating crispy beer batter.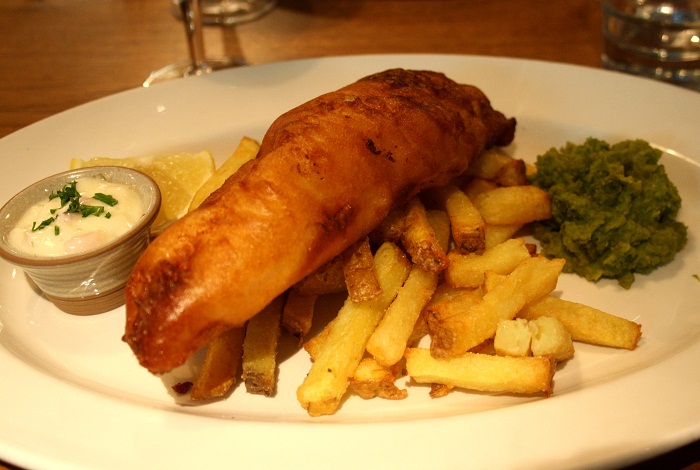 The selection of comforting desserts is hard to choose from, but I decided to go for something new and try the Queen of Puddings (£5.95).  The freshly-made dessert came piping hot straight out of the oven and was more than enough for two to share.  Underneath the cooked meringue crust was lots of gooey, frothy meringue, a layer of super sweet strawberry jam and a dense sponge base.  Some may find this a bit too sweet, as it doesn't have the citrus acidity of lemon meringue pie, but I certainly enjoyed it.  It really is a sharing dish, as I doubt that many guest are able to finish it after one or two earlier courses.
Steven's Bumpkin bitter chocolate mousse with a smooth hazelnut chocolate ganache (£5.95) was absolutely heavenly.  The thick slab of chocolate mousse was so rich, satisfying and made with very high quality chocolate.  The smooth chocolate ganache on top was filled with tiny pieces of hazelnut and made the dessert even more indulgent.  The home-baked Madeleine was a nice touch and lifted the heavy chocolate flavour.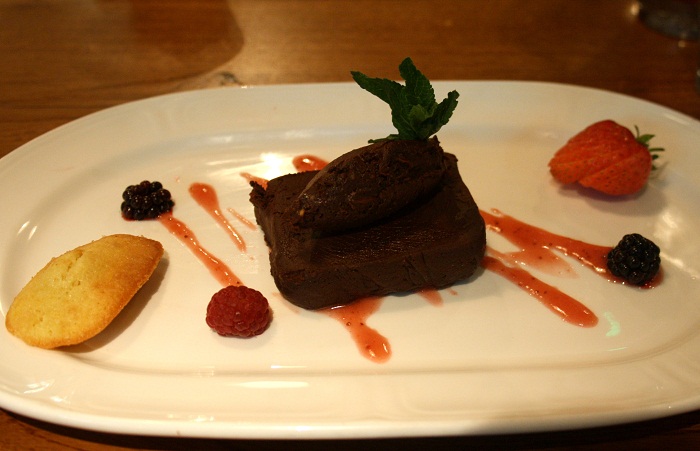 Our first round of cocktails were so good that we finished the meal with an Old Fashioned.  They were potent yet easy to drink and nicely finished with stirrers and a twist of orange.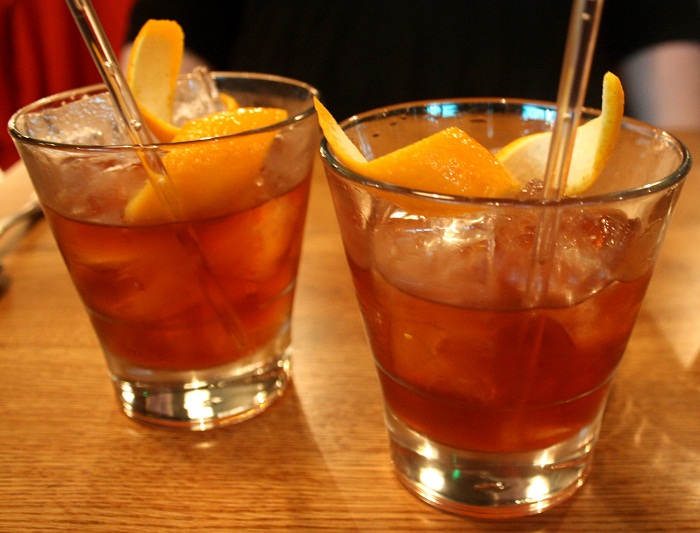 Bumpkin perfectly showcases the simplicity of seasonal British food, with top quality ingredients served at their very best.  It's the place to come if you're craving the comforting food of childhood or a hearty, classic dish done well.  It's not particularly cheap, but the excellent quality and large portion sizes offer good value.  Furthermore, the staff are also friendly and attentive and the atmosphere feels calm and homely, so it's a most enjoyable experience.
You can also extend your shopping time further, as Bumpkin has also created its own range of seasonal jams and preserves and its luxury hampers are sure to be a popular choice for Christmas.
I will definitely be going back to Bumpkin to try one of the Charter pies or the gigantic burgers.  The Christmas menus sound delicious and if anywhere can do a good roast turkey, it's got to be Bumpkin!
For more information and booking, visit: www.bumpkinuk.com
Cherie City was a guest of Bumpkin
Photos by Cherie City (interior images by Bumpkin)