As the colder weather sets in, my street food preferences tend to lean towards warming, comforting, calorific dishes such as tartiflette, burritos and any kind of substantial barbecued meat.  However, you can get a much healthier, nourishing glow of warmth from Vanduke's authentic Thai noodles.
Tucked away on the Southbank between the skateboarders and the cluster of restaurants, Vanduke is a mobile Thai street food van that specialises in Kanom Jin – fermented rice noodles with a delicious curry sauce – from the southern Bangkok region.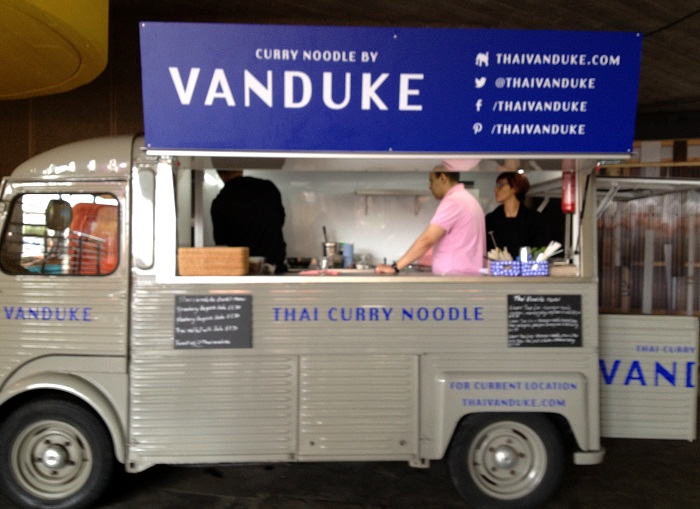 There are three very different dishes to choose from, combining fresh vegetables, fresh chili, fragrant sauces and beef, chicken or prawn.  'Naam ya' translates as 'medicine water' and it's a traditionally healthy dish that naturally restores balance to the body – perfect for preventing winter colds!
I was tempted by all, but chose the naam yaa gai – kanom jin noodle, chicken, morning glory, long bean and wild ginger sauce (£5.50).  The thin rice noodles were perfectly cooked and I loved the aromatic, slow-cooked curry with tender shredded chicken and the sweet, sharp pickled morning glory.  The noodles are garnished with bean sprouts, fresh herbs and a soft boiled egg and the proper way to eat the noodles is by mixing everything up together.
The noodles were so good that we also shared another portion of naam yaa neua – kanom jin noodle, braised beef, Thai aubergine, galangal, lemongrass and red curry (£6.50).  The curry sauce with high quality, flavoursome beef was richer than the chicken and was fragrant and creamy.  I also had a taste of naam yaa gung – kanom jin noodle, prawn, Thai lime leaf, star fruit and southern coconut curry (£5.50).  This curry was lighter in flavour, with small pieces of prawn and a slightly fruity taste from the star fruit.
The sauces are spicy and certainly warm you up, but the heat is not overly intense, so that you can enjoy the flavours.  The beef sauce is supposed to be the hottest, but I found the chicken curry noodles more piquant.  The only disadvantage of street food over a typical restaurant setting is that the cold weather cools the noodles quicker, so get stuck in and wolf them down to taste them at their best.
Wash down the noodles with a choice of three drinks – Strawberry or Blueberry Bangkok soda or Thai Red Bull with soda (all £2.50).  I haven't drunk Red Bull since the messy university days of Double Vodka Red Bulls, but I was intrigued by the kitsch, colourful little glass bottles of Thai Red Bull and ordered one.  Thai Red Bull is concentrated and then topped with soda water and plenty of ice.  It seemed less like sugary rocket fuel than the British version and had a fruity taste – a cross between cough syrup and raspberry jelly.
Vanduke is finishing its residency on the South Bank on Friday and will appear at Street Feast London night market at Hackney Downs Studios on the same day.  I can't wait to see where Vanduke parks up next!
For more information and future location, visit: www.thaivanduke.com
Cherie City was a guest of Vanduke