Boqueria tapas bar is a real hidden gem on a quiet residential street in Brixton.  However, its reputation precedes it and just as we visited a few nights ago, it was named Time Out Eating & Drinking Awards 2012 Best New Cheap Eat.
Named after the famous food market in Barcelona, Boqueria is a contemporary, stylish yet homely neighbourhood restaurant with a separate bar and dining room.  The menu is a tempting mix of traditional tapas and more innovative dishes, prices are very reasonable and the staff are warm and friendly – what could be better!
As always, the tapas arrive at the table when they are ready and the first to arrive were the Pan con ali-oli (£2.20) and Patatas Bravas (£3.90) – smoked paprika salsa brava and ali oli.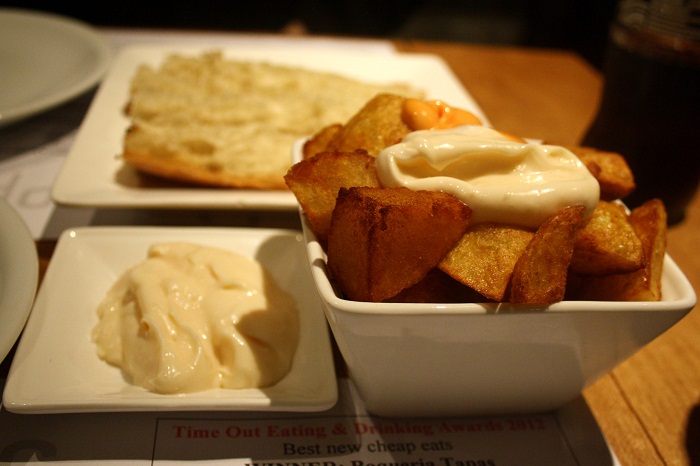 Tortilla Española (£4.90) was very authentic with thin slices of potato and caramelised onion – a tiny bit runny inside, served at room temperature.  It was perfectly accompanied with a slick of deliciously rich, spicy tomato sauce.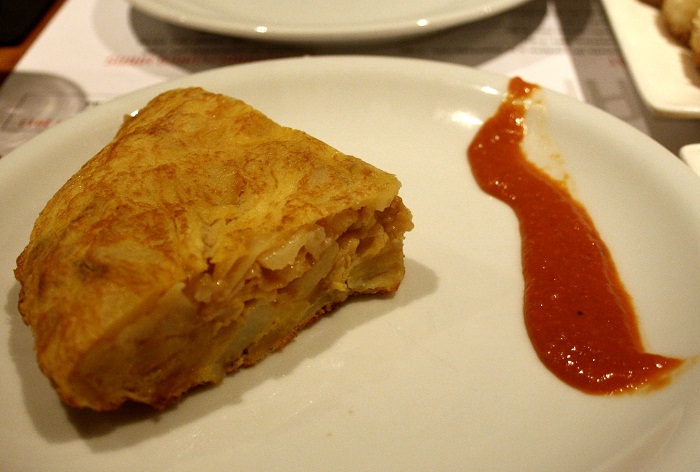 The Chorizo a la Sidra (£4.50) came served in a terracotta dish and was infused with subtle flavours of cider and served in plump chunks.  The generously sized, high quality chorizo was dense and soft, with a little bit of the melted fat still intact.  It's a tasty, comforting dish and is perfect for sharing.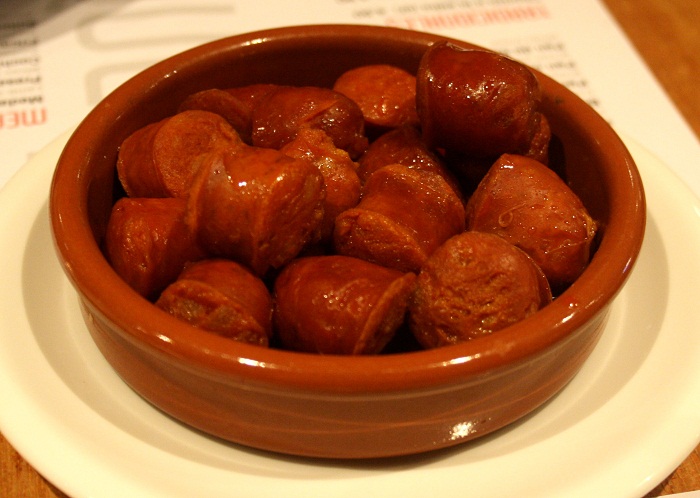 Another favourite were the mixed Croquetas (£4.75).  The long-shaped croquetas were filled with small pieces of Iberian ham and a rich, gooey cheese filling, coated in fine, golden breadcrumbs.  The round cheese croquetas had a more intense, mature taste and were equally delicious and flavoursome.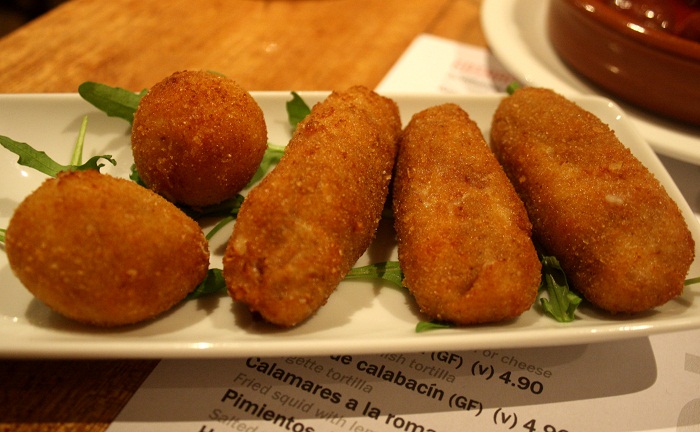 Presa Iberica con Puré de Boniato (£7.20) included thick slices of tender, juicy Iberian pork with salted Padrón peppers and matchstick fries, instead of the sweet potato purée on the menu.  The pork was simply cooked on the charcoal grill and the peppers were a great accompaniment.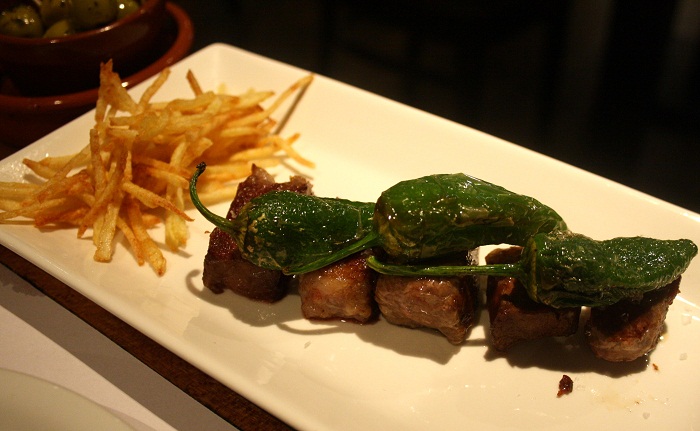 Cochinillo Asado (£8.50) – suckling pig with parsnip, sweet potato crisps, apple sauce and lemon sorbet – was the most exciting and innovative dish.  The tender, shredded pork was covered with a thick layer of crispy crackling and was served on top of thin, crunchy parsnip and sweet potato crisps.  The meat wasn't overly seasoned, so the acidic freshness of the green apple puree and lemon sorbet added an interesting flavour.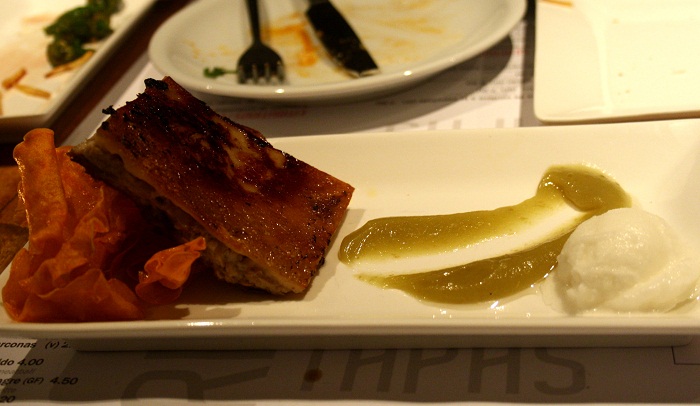 Desserts at Boqueria are exceptionally well-priced and very authentic.  The Crema Catalana (£3.50) had a satisfyingly thick, crunchy layer of burnt sugar covering a creamy, slightly warm custard.  It's big enough to share, however, you won't want to miss out on the heavenly Tarta di Santiago (£3.50).  The generous slice of cake was dense, sweet and sticky with a crumbly crust and dusted with icing sugar.
It went beautifully with my glass of Pedro Ximénez, Triana Hidalgo (£6.20) red sherry, which was sweet, syrupy and full-bodied, with notes of raisin and prune.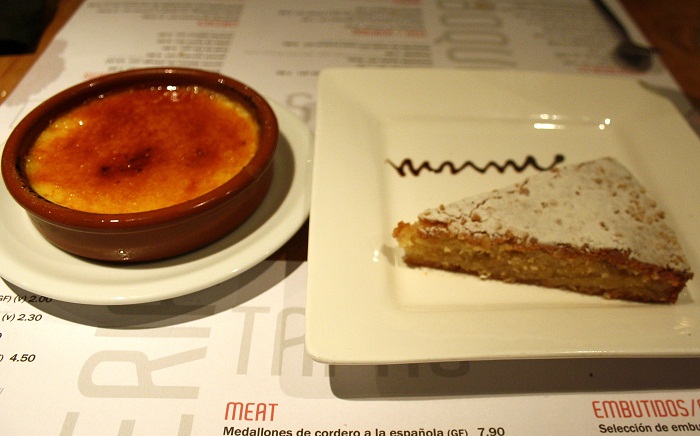 Boqueria is an absolute delight to visit, as you can eat extremely well for a modest price in a friendly, laid-back setting.  Even though it has only been open since February this year, it already seems to have a good following.  The Boqueria Cafe next door is also worth a visit for churros and melted chocolate, bocadillos, tortilla and pinchos.
Boqueria feels like a great London secret, however, this award-winning restaurant won't remain under the radar for long.
For more information and reservations, visit: www.boqueriatapas.com
Chérie City was a guest of Boqueria
Photos by Chérie City and Boqueria