Hotel O is a new boutique design hotel in Paris' first arrondissement, designed by renowned French designer Ora-ïto.  You might be most familiar with Ora-ïto's forward-thinking architecture and product design on projects such as Gucci Villa, Hi Panda shops, Lancaster stores, the Miss Pucci fragrance bottle and make-up packaging for Guerlain.
For my trip to Paris last month, I was lucky enough to get a sneak preview of Hotel O before it opened to the public.  In fact, we were the very first guests to stay in the hotel – even before the owners and the designer.  Of course, this meant that the hotel was still a 'work in progress', with some of the public areas yet to be unveiled, but it was exciting to get an insight into how a hotel develops in its final days of construction.

Hotel O is a futuristic urban retreat, designed to calm the senses with smooth lines, relaxing curves and tactile textures.  It will surely appeal to fans of Pantone, as each of the 29 rooms takes a different shade from the dominant floor colour.
There are three room types – the very cosy cOcoon room, the larger Odyssey room and the impressive galileO room with a separate lounge area. We stayed on the fifth floor and our Odyssey room had a deep purple hue, with light wood and white Corian touches.
The rooms have a slick, futuristic vibe and are designed according to the Simplexity philosophy, using wood, glass, felt and corian.  Ora-ïto makes clever use of the space and though our room was petite, the brightness prevented it from being stifling.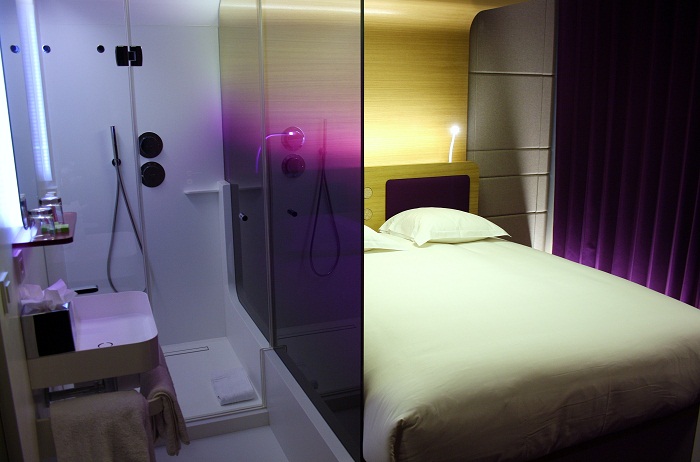 The room features are functional and of a high standard, with a flat screen TV with satellite channels, reasonable storage space, powerful air-conditioning and free wifi.  It's also possible for guests to borrow a laptop from reception and in-room massages are available to book.  I found it a little difficult not having a desk or bedside table, however, if you're a more organised traveller, this shouldn't be a problem.
The queen-size bed is very comfortable, with crisp white linen, purple felt headboards and a little space behind the bed with plenty of electric sockets – perfect if you're travelling with a phone, laptop, camera, iPad, iPod etc.  The rooms are very quiet and there is a choice of pillows (including memory foam), so everything is set up for a good night's sleep.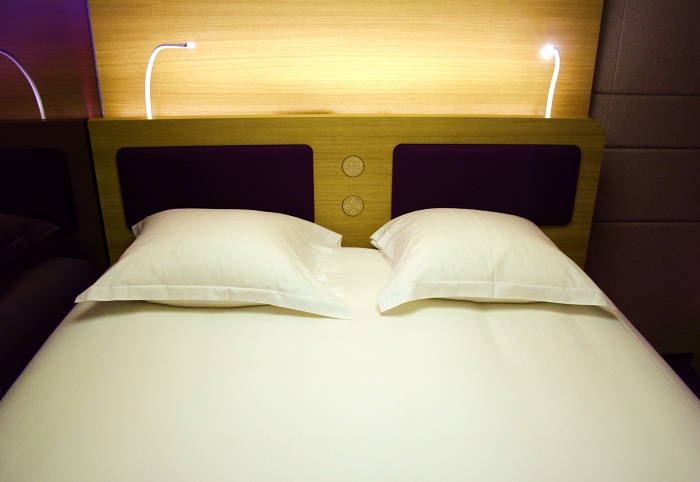 The open-plan bathroom has an excellent rainfall shower, plenty of large fluffy towels and bathroom products by Ora-ïto.  The unusual white Corian material used in the bathroom feels silky and smooth and the rectangular-shaped sink with rounded corners reminded me of an iMac.  The glass bathroom is partially covered by gradient colour for a certainly amount of privacy and there is a separate toilet.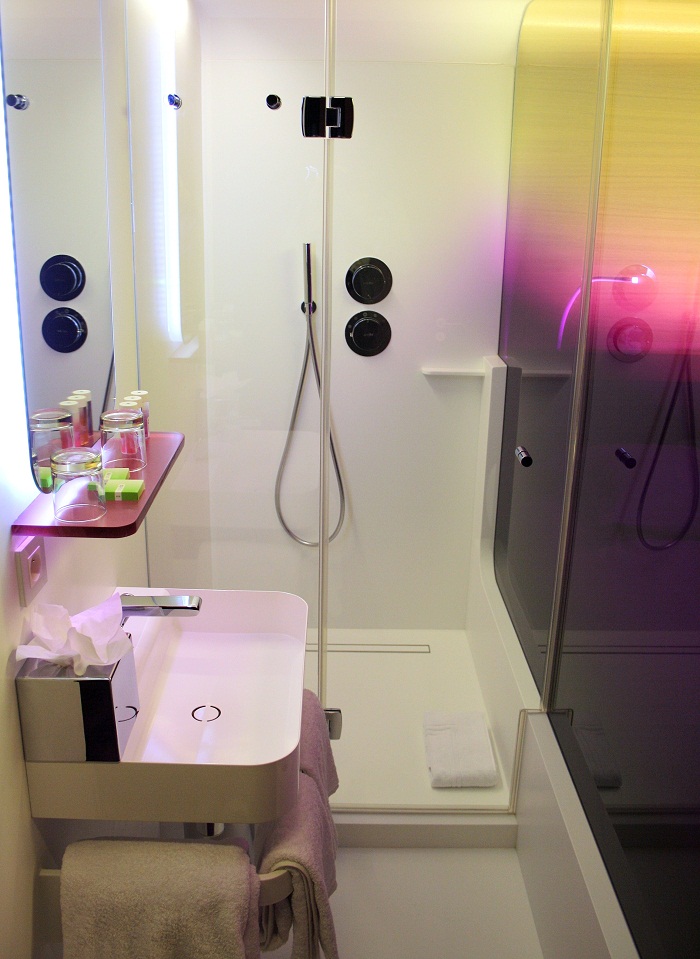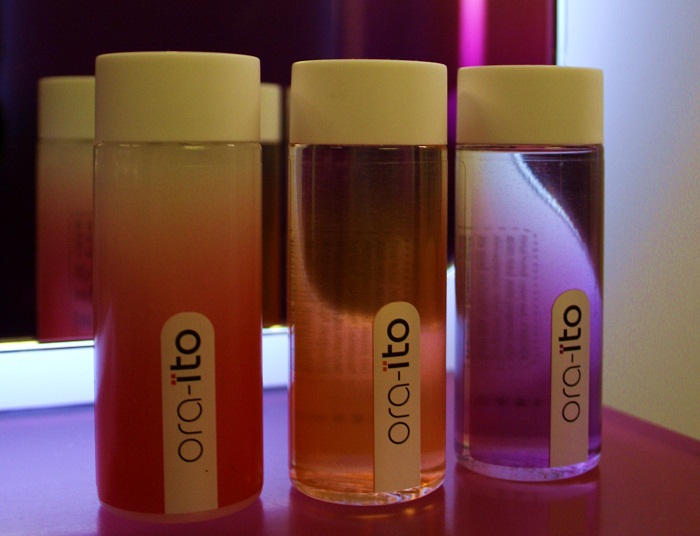 During our visit, the breakfast room and bar weren't quite ready yet, so we enjoyed a delicious breakfast at Crayon Hotel, also part of Elegancia Hotels, just around the corner on Rue du Bouloi.  Guests at Hotel O can enjoy a buffet breakfast (€16 per person per day) from 7am-11am in the beautifully-designed ground-floor breakfast room or in their room.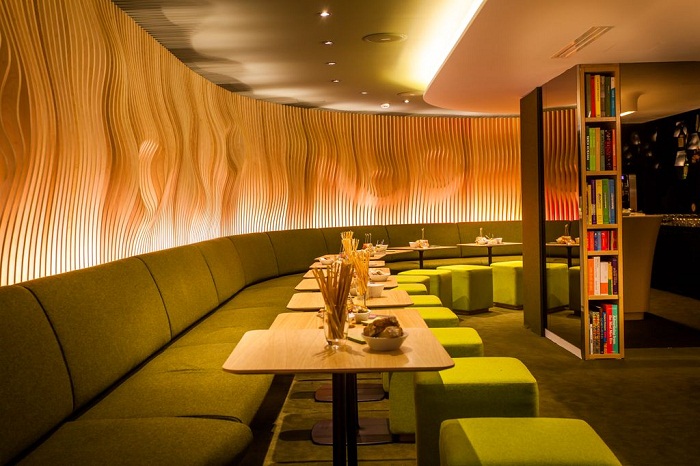 The hotel bar is tucked away and partitioned off, making it an intimate, cosy place to have a stylish aperitif or a bespoke late-night cocktail.  There is no restaurant, as it is a small boutique hotel, but guests can order room service from 5pm to 1.30am.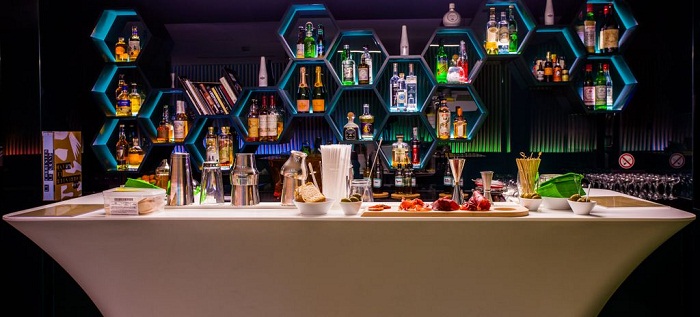 Hotel O is an ideal base for exploring Paris, offering interesting design features and a central location at a reasonable price.  The staff at Hotel O are so warm, welcoming and passionate about the hotel.  They were very enthusiastic about the opening and keen to impress, so they will surely make all stays as comfortable and enjoyable as possible.
The location is not only perfectly central but also inspiring, just a short stroll from the Palais Royal and within walking distance of the Tuileries and the Louvre.  In fact, rue Hérold is a secretly hip spot with an outpost of designer concept store L'Eclaireur, Rue Hérold fabric shop, Les Ateliers Ruby motorcycle helmet flagship store and Le Musée en Herbe art museum for children.   Walk towards the Place des Victoires and you'll find Claudie Pierlot, Zadig & Voltaire and one of the city's best fashion magazine shops – mode…information.
Rooms at Hotel O Paris start from £125 per night.  For more information, visit: www.hotel-o-paris.com
Chérie City was a guest of Hotel O
Photos by Chérie City and Hotel O