How many times I have watched Guy Fieri chomping away on some buttermilk fried chicken on the Food Network's Diners, Drive-ins and Dives, and had serious food envy.   Buttermilk fried chicken is the latest food trend that we've adopted from the US, but there are only a handful of places to get the real deal in London.
Chooks opened just last week and already the restaurant is packed full, with diners queuing at the door to get a fix.  Perhaps it's the aromas of fried chicken that's luring passersby, or word has quickly spread about the top notch comfort food – either way, Chooks is easily the most happening new restaurant in Muswell Hill.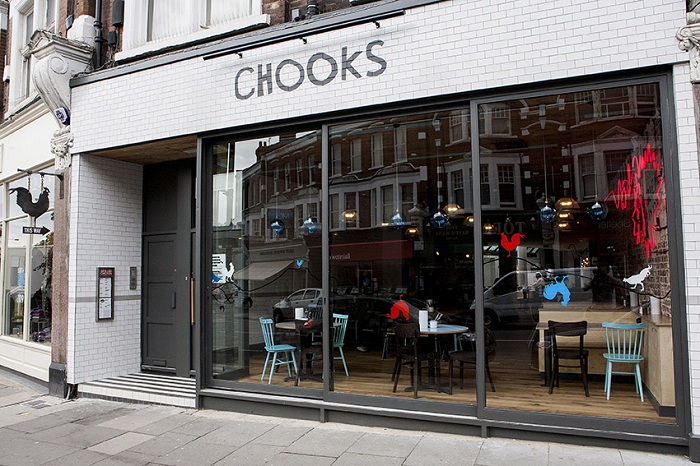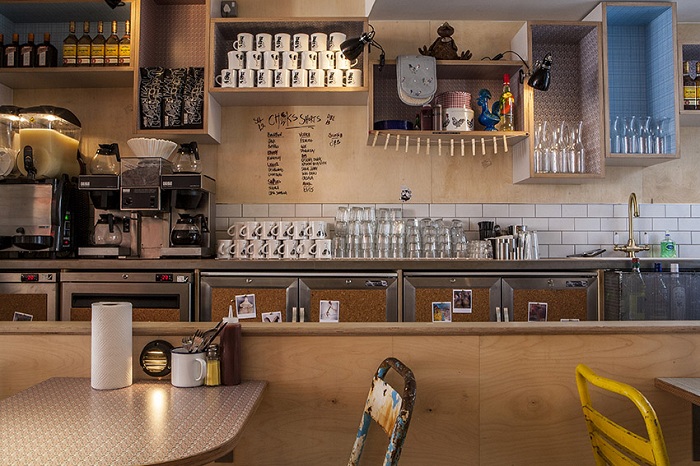 The brains behind Chooks is Gideon Joffe, the son of Juliette and Russel Joffe who founded Giraffe Restaurants, who has already opened two north London restaurants in his own right.  The cute name and family-friendly menu give the impression that you might have to endure darling little Milo and Allegra throwing around their fried chicken, however, in the evening, Chooks is anything but tame with loud Americana and rock 'n' roll, very dark red lighting and frozen margaritas flowing.
The large open-plan restaurant has a diner feel with retro tables, birch benches and lots of neon.  There were plenty of friendly, attentive staff ready for the rush of guests, so service was quick and spot on.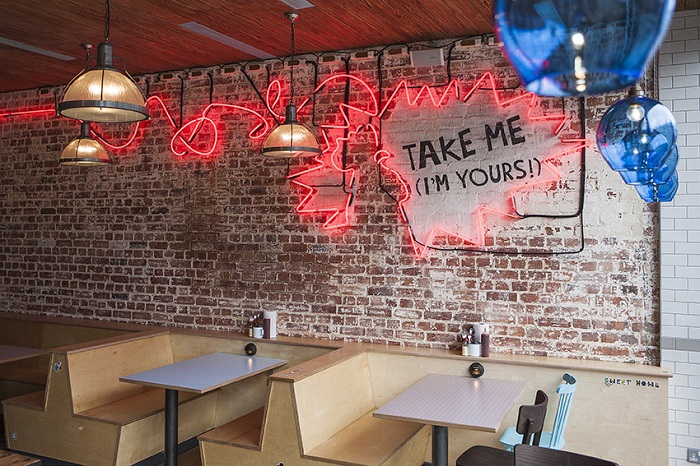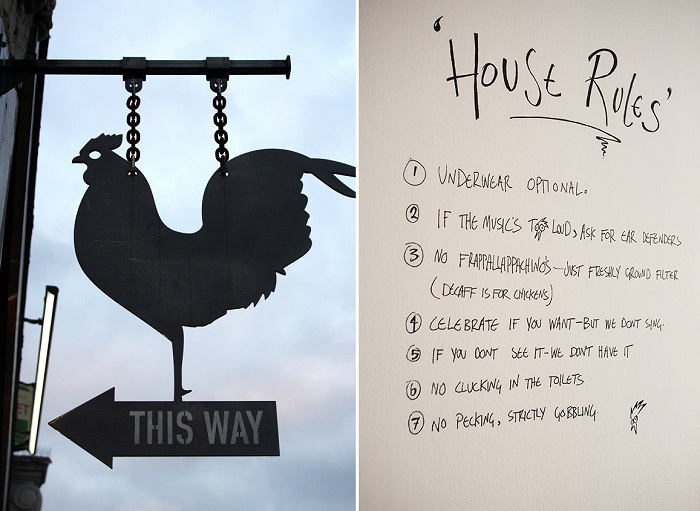 We started by sharing a plate of Loaded Nachos (£5.95) with Buffalo Chicken (add £2.50) with cheesy sauce, jalapenos, bean salsa, guacamole, sour cream and spicy sauce.  The large, crunchy nachos were lightly covered in the spicy sauces and topped with two big scoops of cool sour cream and fresh, zesty guacamole and tender shredded chicken.  It was a perfect start to the meal and big enough for two people – especially considering what was yet to come.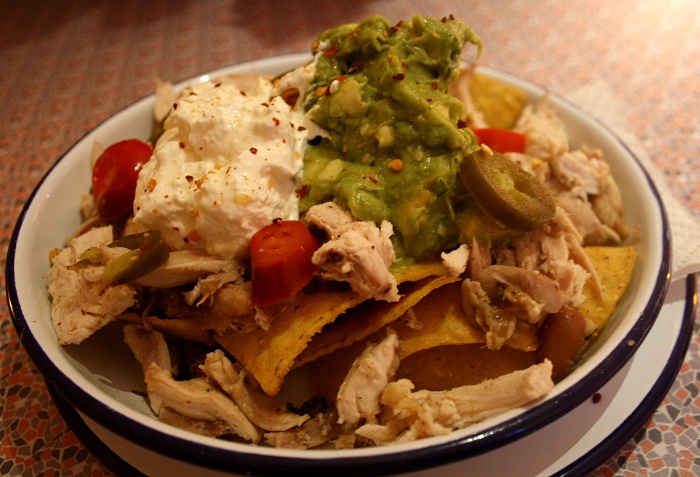 We usually try to order different main courses, but neither of us was prepared to miss out on Buttermilk Fried Chicken with Mash and Gravy (£10.95).  I wasn't expecting three enormous pieces of fried chicken – breast, wing and leg.  They sure do raise those chickens well down on the Suffolk farm!
The chicken was so tender and juicy, infused with herby flavours from the golden, crispy, well-seasoned coating.  The smooth mashed potato was a reasonable size and smothered in a rich, meaty gravy that tasted like it might have included ale.  Table accompaniments included chicken salt and a fruity, mild BBQ sauce, which perfectly complimented the chicken.
If you're not keen on all of the breading, Chooks also offers grilled chicken, from one quarter to a whole chicken, with marinades such as lemon & herb, buffalo, super spicy buffalo or all American BBQ.  Other mains include a Philly sub, a monster Whole Chicken Tray Dinner, gourmet salads and on Friday night only, BBQ Spare Ribs.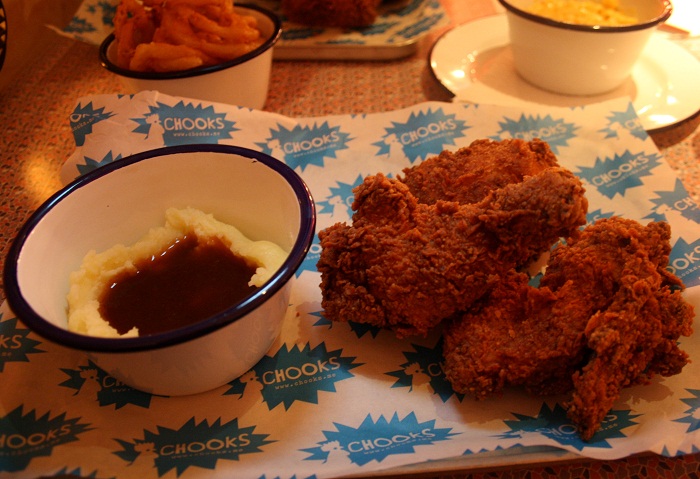 A side of Mac 'n' Cheese (£3) is an absolute must, as it is just so tasty and goes perfectly with the chicken.  The short-cut macaroni is lightly covered in stringy melted cheeses and is drier than some cream-based versions.
Onion Rings (£3) are thinly cut and covered in just enough batter to keep them crispy and the portion size was very generous – we struggled to finish them.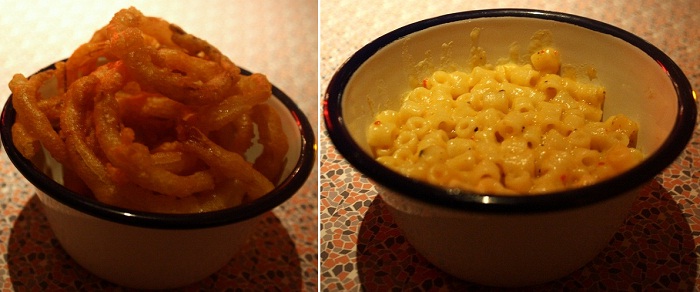 We washed down the chicken with a potent Frozen Jam Jar Margarita (£6).  These lethal blended margaritas are strong in both tequila and flavour, with an intense sweet and sour taste.  They're deliciously easy to drink yet one was enough, as they're seriously cold and strong.  Other drinks include Lilt, craft beers, a choice of three wines from Gascon in France and Chapel Down fizz.
To finish, I went for the recommended Chocolate Brownie (£4.50), which was almost the size of two desserts.  The giant brownie was home-baked with a dense, gooey centre and lighter crust.  It was drizzled with a rich melted chocolate sauce with a surprisingly smoky taste.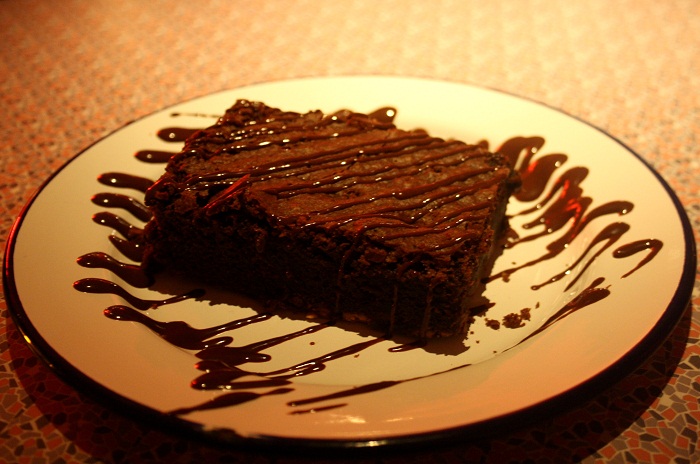 The Vanilla Cheesecake (£3.95) was dwarfed by the brownie in size, but it was equally delicious – cool and creamy with a scrumptious biscuit base and fruit coulis.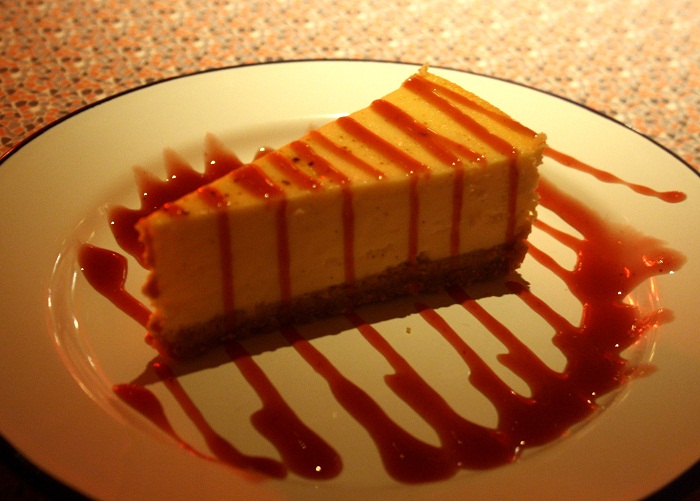 Chooks offers authentic, satisfying American and Southern-style dishes in Stateside portions and is great value for money.  The concept would work well as a boutique chain of restaurants – I can see it being a huge success in Soho.  Chooks doesn't take bookings, so turn up early and pray for a table – it's worth it!
For more info and menus, visit: www.chooks.me
Photos by Chérie City and Chooks
Chérie City was a guest of Chooks