Breast Cancer Awareness Month is a time to reflect, educate and make one big global community effort to support women, men and families whose lives have been affected by breast cancer.  Most people will know someone who has battled breast cancer and appreciate the courage, positivity and hope that is needed to fight such a debilitating disease.
Having seen the impact of breast cancer on two people close to me, I'm particularly sensitive to breast cancer awareness being treated with dignity and feeling.  While many beauty and lifestyle brands are doing what they can, however small the donation may be, I've felt uninspired this year by the number of large corporations exploitating consumer emotions with overly-branded fluff products and offering as little as 5% (shockingly even zero, in some cases).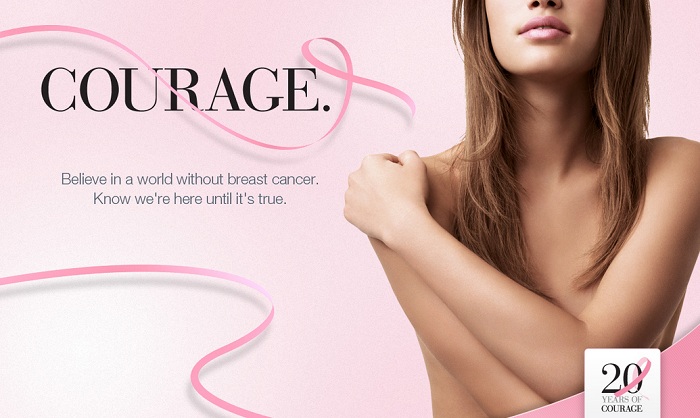 However, Estée Lauder is a leading example of how the beauty industry can support in a meaningful, significant way.  This year, the company (and its participating beauty brands) celebrates 20 years of the Estée Lauder Companies Breast Cancer Awareness Campaign.
Estée Lauder has released a stunning collection of covetable beauty products, in aid of The Breast Cancer Research Foundation.  My favourite is the Evelyn Lauder Dream Compact, as it's beautifully-made, sophisticated and subtle – a real gem for your handbag.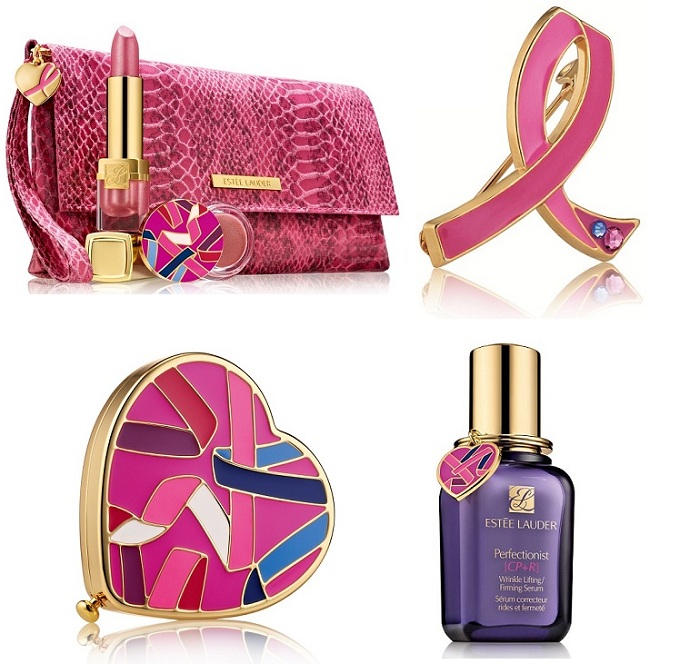 Evelyn Lauder and Elizabeth Hurley Dream Lip Collection, RRP £25
(Estée Lauder will donate £5.00 from every sale during October in the UK of the Evelyn Lauder and Elizabeth Hurley Dream Lip Collection to The Breast Cancer Research Foundation®)
Evelyn Lauder Dream Compact, RRP £55 (100% of the RRP less VAT donated)
Evelyn Lauder Dream Pin, RRP £10 (100% of the RRP less VAT donated)
New Perfectionist with charm, RRP £68 (£10 from every sale in October donated)
Also, the Evelyn Lauder Dream Pin thoughtfully contains a blue stone to represent the 1% of men diagnosed with the disease along with the men supporting loved ones battling cancer.
To mark 20 years of supporting Breast Cancer Awareness, Estee Lauder Spokesperson and Breast Cancer Awareness Ambassador, Elizabeth Hurley, will make a special meet and greet appearance at Selfridges Oxford Street from 1-2pm on Monday 8th October.
Elizabeth Hurley will also be at Selfridges Trafford Centre in Manchester to chat and sign limited edition BCA products from 1-2pm on Wednesday 11th October.  She will then make an appearance at Selfridges Exchange in Manchester and turn the exterior of the store pink.
However you choose to support Breast Cancer Awareness this month, please take some time to read a few quick facts here: www.breastcancercare.org.uk.
For more information, visit: www.esteelauder.co.uk