Staycations are my one of my favourite indulgences and Sanderson is such a fabulous destination hotel that it's easy to forget all about London and the outside world.
Sanderson is a dreamy, surreal urban resort where innovative design is matched with a cool ambiance and friendly, attentive service.  Part of the petite and perfectly hip Morgans Hotel Group, Sanderson is designed by Philippe Starck and there are a number of his witty touches to discover around the hotel.
The hotel is perfectly located in the heart of London's shopping district, just a few steps from Tottenham Court Road, however my staycation was all about pure relaxation.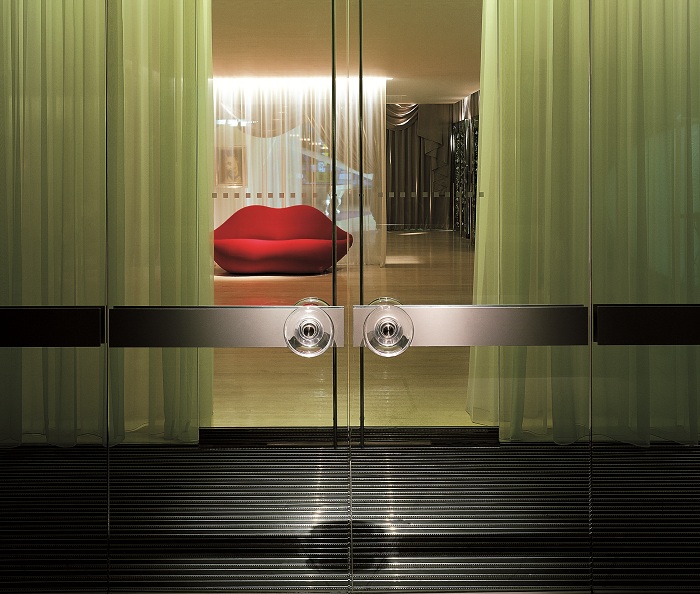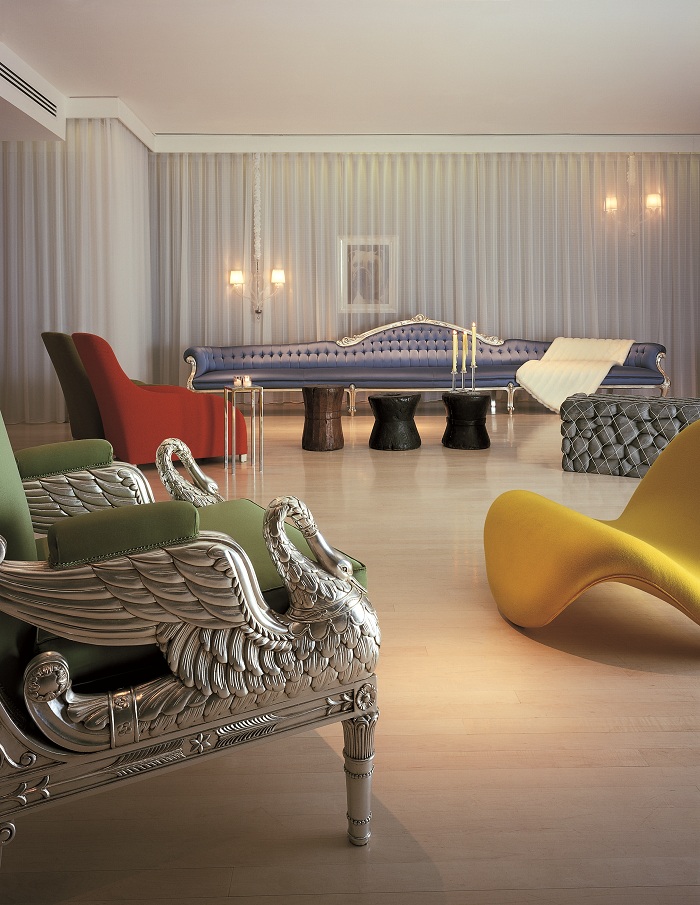 I started my visit in a blissful state with the hotel's signature Milk and Honey treatment at Agua Spa.   This heavenly 55 minute full body treatment consisted of a dry brush exfoliation, followed by hot honey lightly massaged into my skin and rinsed away with warm milk and flannels.  My therapist then slathered on fragrant rose oil to soften my skin, followed by a light head massage.  I usually go for facials or massages when visiting a spa, so it was a welcome change to try a body treatment solely to condition and moisturise my skin.
Agua Spa has a very unique design – there are no walls dividing the 14 all-white treatment rooms, only billowing white drapes.  I found the quiet hum of the therapists quite relaxing, but there are iPods available to block out any sound.  The changing rooms and elegant relaxation lounge are ever so luxurious but best of all are the private meditation pods where you can unwind and watch TV behind your own curtain.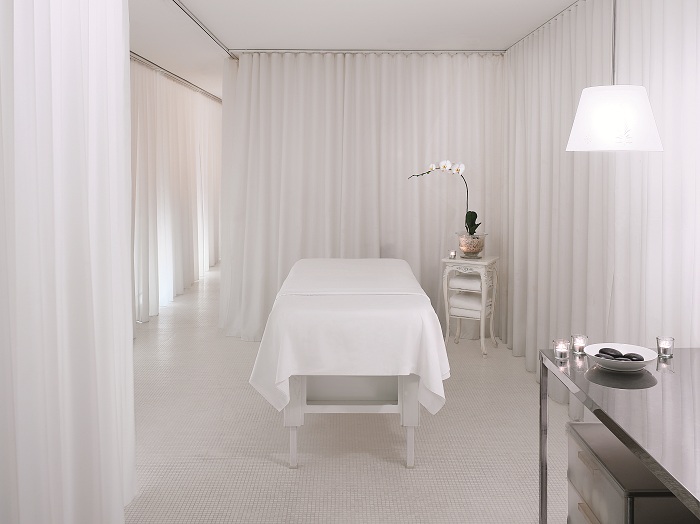 After my spa treatment, the indulgence continued with Sanderson's famous Madhatter's Tea in the tranquil Courtyard Garden.  Included in the afternoon tea is a glass of Laurent-Perrier Brut NV Champagne or one of three different cocktails.  I chose the refreshing Lucid Spark – Camomile infused Cariel vanilla vodka shaken with fresh apple juice and elderflower cordial – and ordered a pot of Earl Grey tea.
We were served a plate of dainty rainbow coloured finger sandwiches, followed by a pretty stand filled with layers of traditional scones served with Alain Milliat strawberry preserve and clotted cream and scrumptious cakes.  Sometimes afternoon teas can be too heavy on the sweets, however Sanderson offers a modest yet generously sized trio – The Queen of Hearts Strawberry and Cream Mousse, Chocolate Opera Rabbit's Clock and a three layer 'Drink Me' bottle.
The afternoon tea finishes on a fun note with a Blueberry Lollipop that turns your mouth from hot to cold and a Hazelnut Praline Ice-Cream Lollipop coated in popping candy.  The friendly staff asked on arrival if we had any food allergies and I was impressed that the pastry chef made an entirely new Chocolate Opera Cake avoiding coffee, just for me.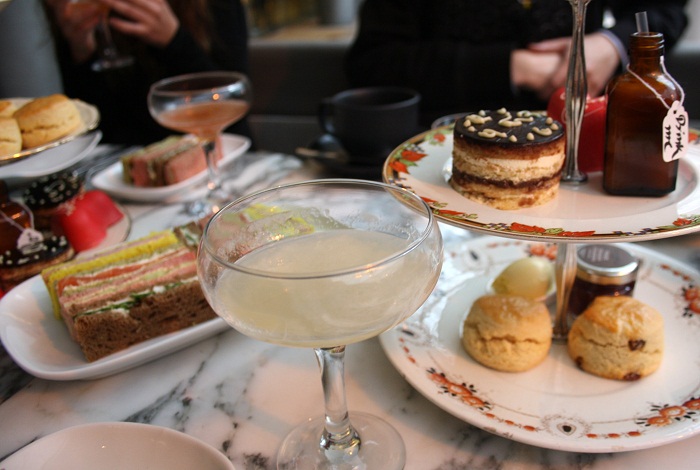 Before dinner, we had some time to get settled in to our rooms and chill out.  My Superior King Room on the fourth floor was a serene sanctuary designed entirely in white, with just a few colour highlights.  At the centre of the room is the magnificent king-size sleigh bed with adjoining work desk, on a large grey rug inspired by Voltaire's handwriting.  I meant to study the rug to see if I recognised which Voltaire novel the excerpt was taken from, but I was distracted by the bed, which was covered in the most exquisite Egyptian cotton linen and was exceptionally comfortable and inviting.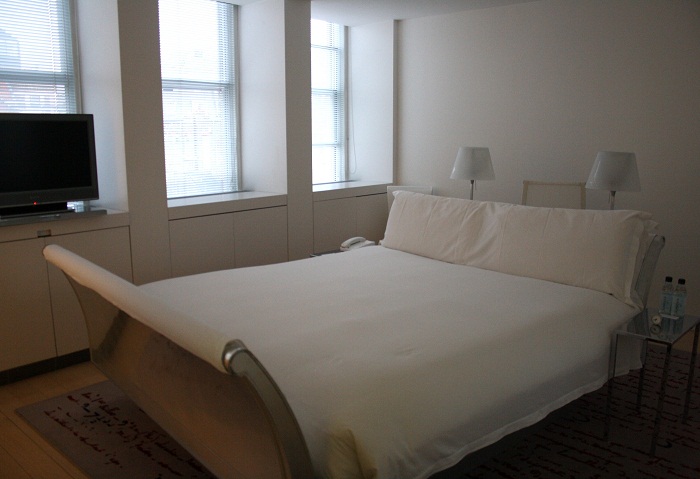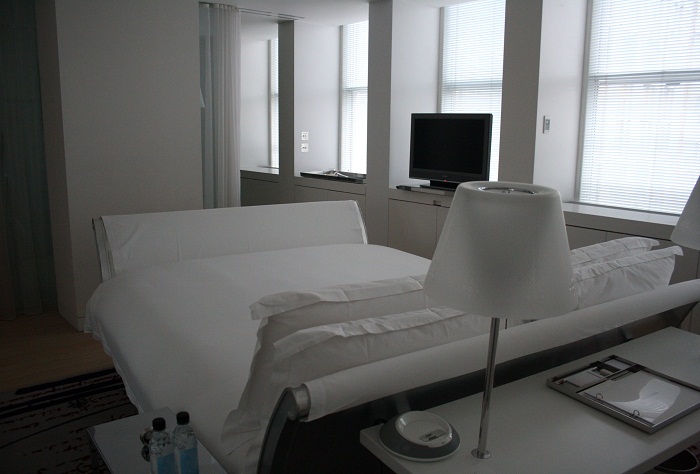 The bedroom also features a large flat screen HDTV on a sliding stand, iPod docking station, powerful air-conditioning, a full-length mirror, a well-stocked minibar, two bottles of complimentary mineral water and some cool Philippe Starck hand weights for an in-room workout (I couldn't resist trying out the weights after dinner).
The only thing missing from the beautiful room is free wifi, which you might expect as standard from a such a youthful, design-led lifestyle brand.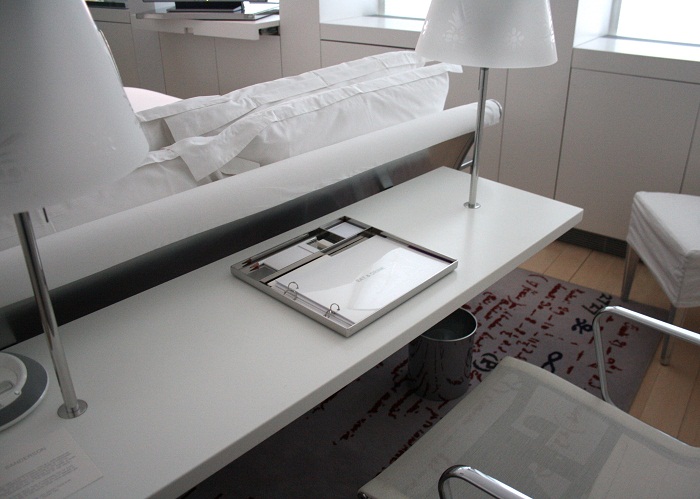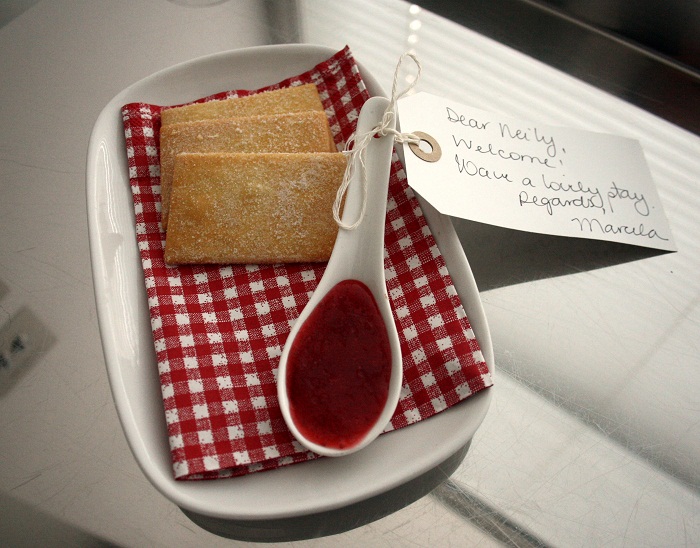 Behind the sheer white curtain is a large open-plan bathroom and dressing area with plenty wardrobe and storage space.  Instead of a bath tub, there is a slick walk-in shower, a full set of bathroom products by Malin + Goetz and bathrobes and slippers.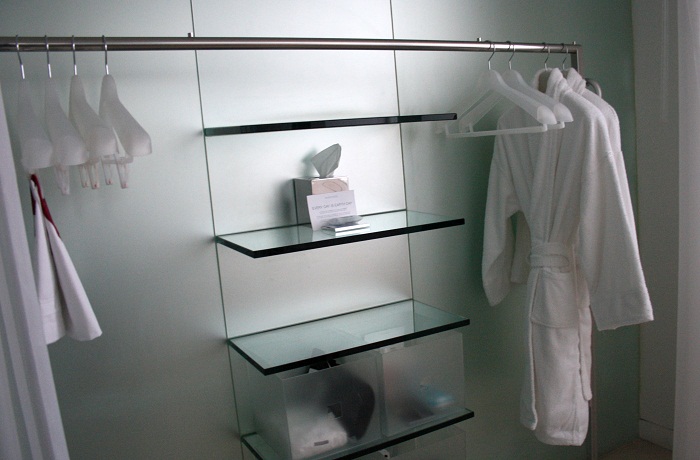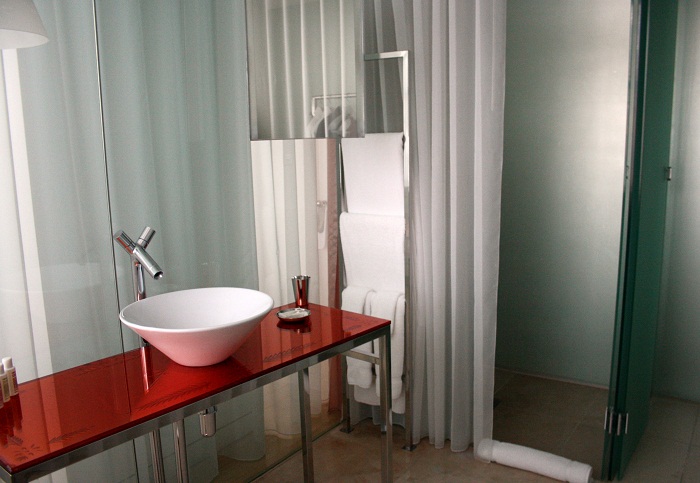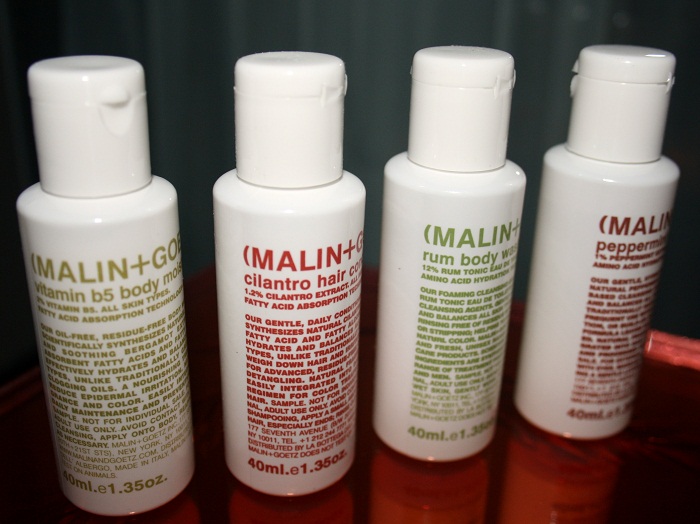 Later that evening, we returned to Suka for supper and Sanderson Sessions, featuring Swedish/Australian duo Saint Lou Lou.  Twins Miranda and Elektra Kilbey performed their stunning debut single 'Maybe You' and a few as yet unreleased songs to a full crowd.
Saint Lou Lou's sound is a mix of dreamy, panoramic synth pop and sultry, wistful vocals, but there's a real power and intensity to their performance and they have lots of stage presence.  It was exciting to see such a new band play outside of the typical gig environment and their first album, which they are currently recording in London, is sure to be on everyone's radar soon.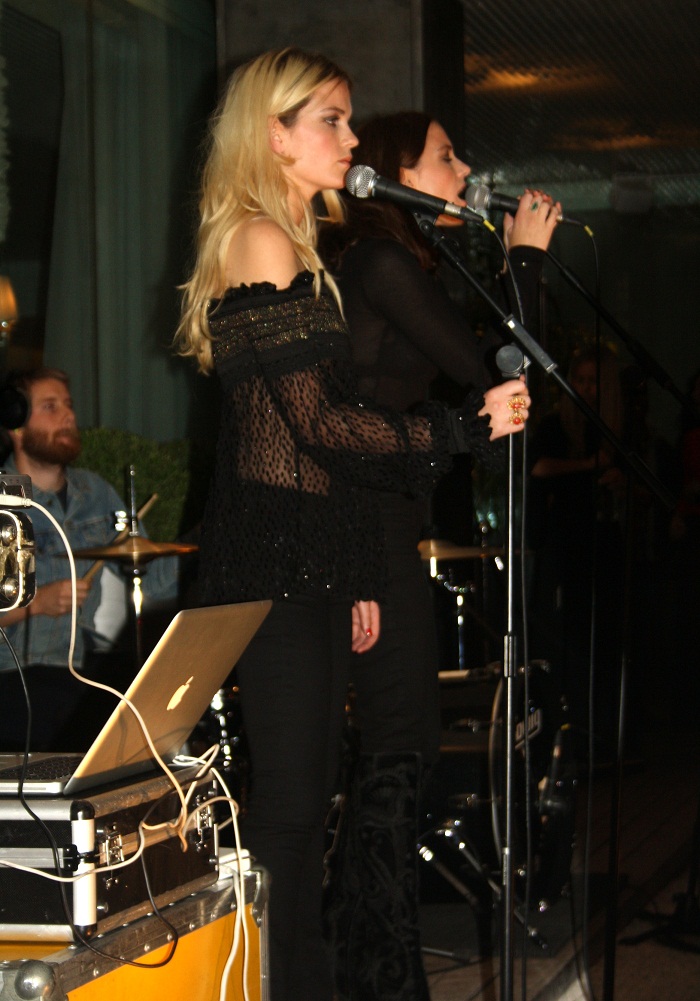 At night, the courtyard garden at Suka twinkles with tiny tea lights and there is something romantic and fun about dining outside (under the heated lamps, of course).  With the delicious Malaysian street food menu, it felt like we were transported from central London to a cool rooftop restaurant in the Far East, reminding me of my trip to Singapore earlier this year.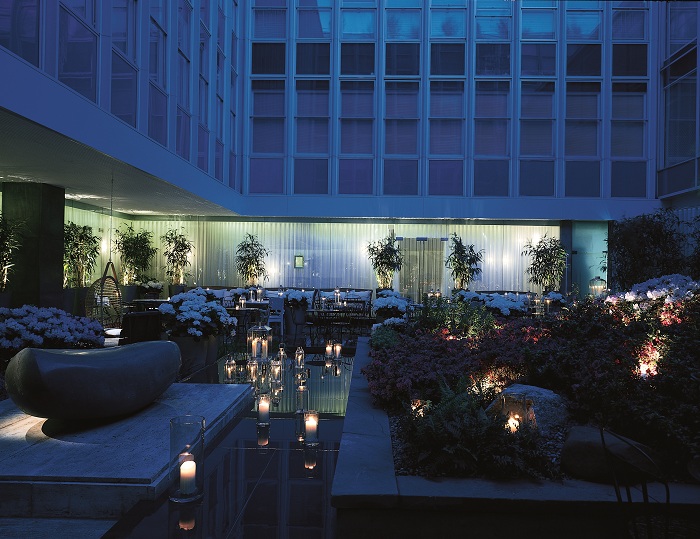 The menu at Suka is so appealing that it may be hard to choose, but the best way to experience the food is by ordering 2-3 dishes plus a sayuran (side dish) per person and then sharing.  We started with a glass of Champagne and then tucked into authentic Chicken Satay, Crispy Squid, Beef Rendang, Wok-fried Noodles with Lobster, Spring Rolls and many other dishes.  For dessert, I finished with the Berries with White Chocolate Sauce, which was a light and reasonably healthy way to end the meal.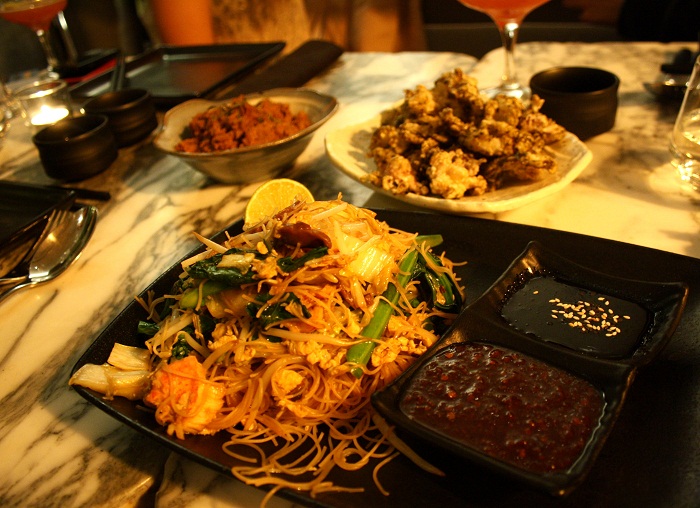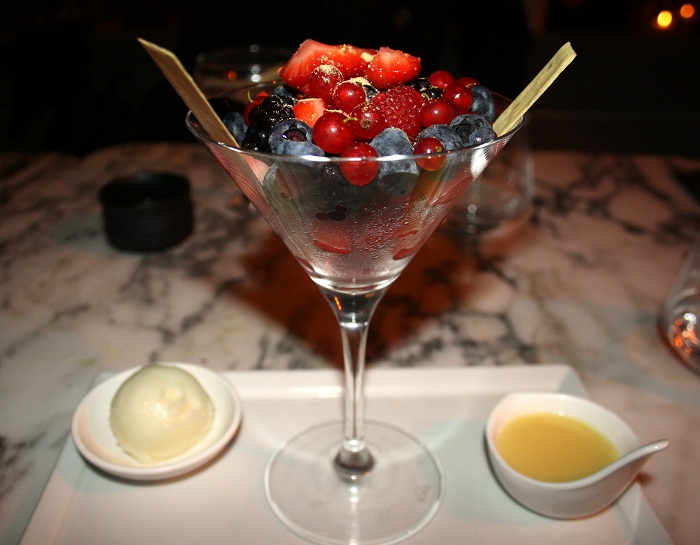 For a great cocktail to match the fragrant, aromatic dishes, I highly recommend the excellent Lychee Martini – fresh lychees shaken with Bulldog Gin, sweetened with gomme syrup.  The Long Bar gets lively and busy into the late evening, but for somewhere more intimate, try a bespoke cocktail at the residents only Purple Bar or play a game of pool in the Billiards Room.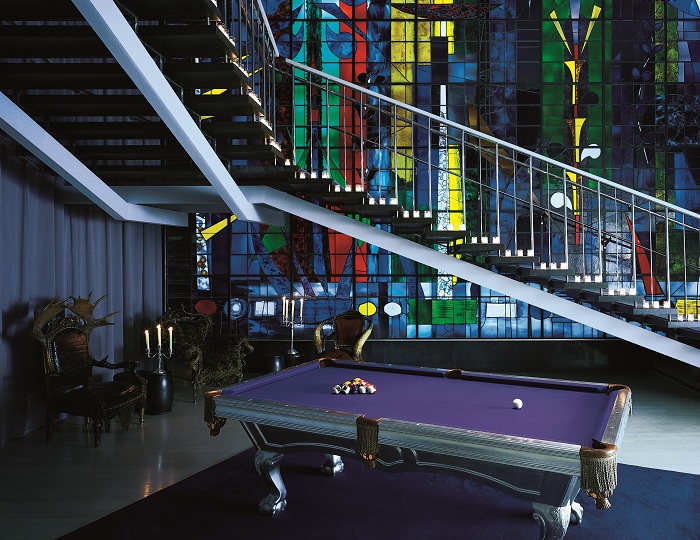 After an excellent sleep in the divine bed, we regrouped for breakfast at Suka.  I ordered  Eggs Benedict and enjoyed a few freshly-baked mini pastries from the buffet, served with English Breakfast tea and fresh apple juice.  The breakfast menu offers everything you could possibly want to start the day, whether it's a full cooked breakfast, an indulgent Champagne breakfast or a healthy option.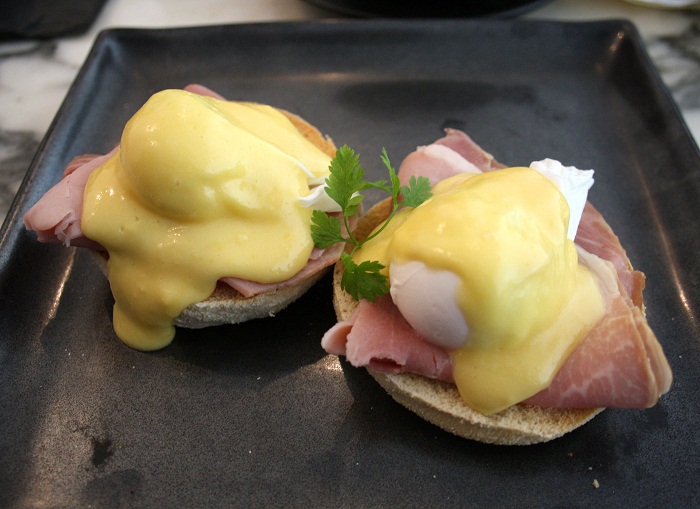 Before leaving, we visited the Lobby Shop curated by Luna & Curious, offering unique prints,  designer jewellery, homeware and quirky souvenirs – it's easily one of the coolest hotel gift shops in the world.
Sanderson is the perfect base for style-conscious travellers who appreciate exceptional hotel facilities as well as a great city to explore.  For Londoners, the Madhatter's Tea or an evening of Malaysian street food and cocktails at Sanderson Sessions are absolute musts.
For more information and booking, visit: www.morganshotelgroup.com
Chérie City was a guest of Sanderson
Photos by Chérie City and Sanderson