On my visit to Philadelphia for the opening of the Barnes Foundation this summer, I had the pleasure of spending five consecutive nights in the same glorious bed at Marriott Downtown Philadelphia.
Marriott Downtown Philadelphia is conveniently located in the Convention Center part of town, within walking distance of Museum Mile, Rittenhouse Square, the Old Town and shopping on Walnut and Chestnut Street.
The hotel is connected to the Pennsylvania Convention Center, so it attracts a large number of business guests.  However, it's also a great base for exploring the city and much less corporate than expected.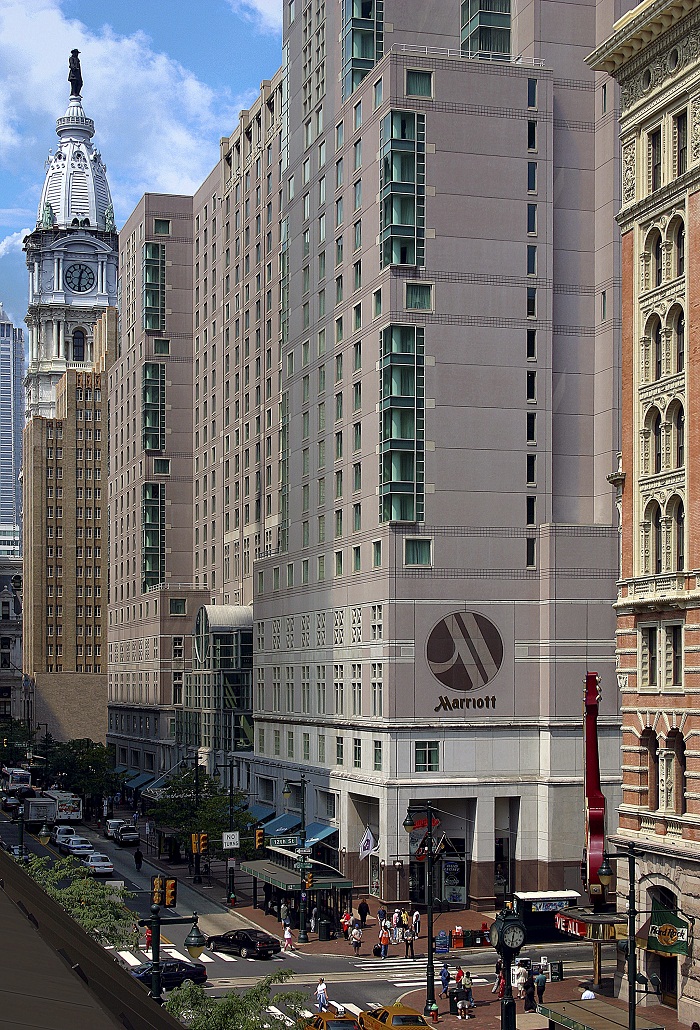 After a day of travelling (albeit very comfortably in British Airways World Traveller Plus), I was pleased to be greeted by the wonderfully efficient and welcoming staff and have a hassle-free check-in.
My Concierge level king room on the 22nd floor was spacious and appointed with enough amenities to make me feel at home.   It was designed in a contemporary style and the colour scheme of deep purple and chartreuse with highlights of warm wood and cream.
My room included large comfy armchairs, a large writing desk, plenty of wardrobe and drawer space, a tea and coffee maker, complimentary bottled water, an iron and ironing board and a very large flat screen TV positioned perfectly in front of the bed.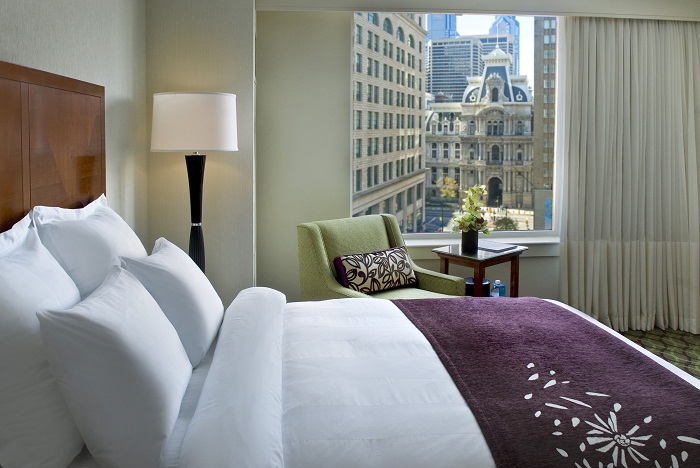 A highlight of staying at a Marriott hotel for me is always the trademark Marriott Revive bed.  These beds feature across all Marriott properties and are just so sumptuous and heavenly, like floating on a marshmallow cloud.  In the evening, my bed linen was turned down and a scattering of chocolates appeared on my pillows.
The bathtub was a decent size and featured a bath and shower, bathrobe and slippers and the most wonderful aromatherapy products by Bath & Bodyworks, which I enjoyed using during my stay and wish I'd picked up extras from the store before leaving Philadelphia.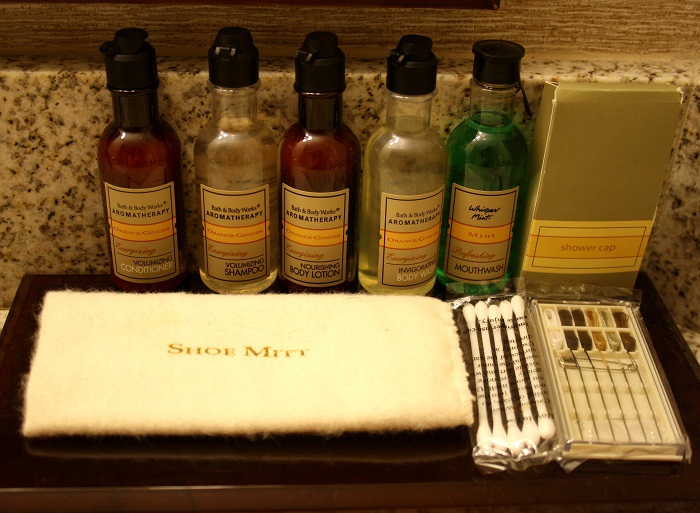 My room included access to the Concierge Lounge on the top floor, which offers a complimentary breakfast, drinks and snack throughout the day.  I had breakfast each day in the Concierge Lounge (apart from the weekend, when it's closed), which offered a tasty selection of hot breakfast items, delicious muffins and mini pastries, bagels with cream cheese and peanut butter, freshly squeezed juices, teas and coffee.
This was a much slicker and relaxing affair than 13, the expansive ground-floor restaurant, which had a larger breakfast selection, including dishes made to order, but was somewhat lacking in atmosphere.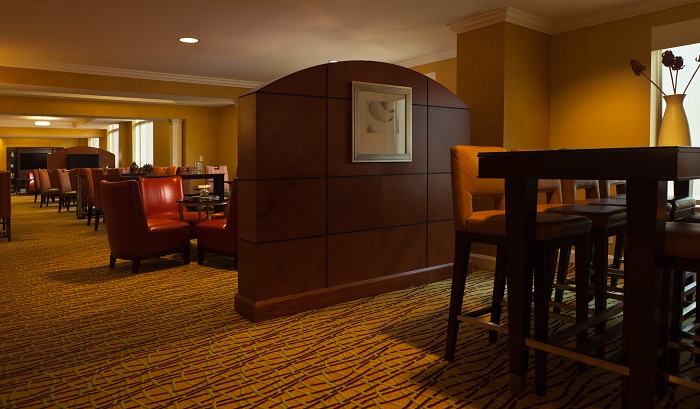 On my last morning, I enjoyed breakfast in bed – poached eggs with bacon and potato rosti with a blueberry muffin, freshly squeezed orange juice and English Breakfast Tea.  It was delicious and just what I needed before a long day of tax-free outlet and mall shopping and then a long flight back to London.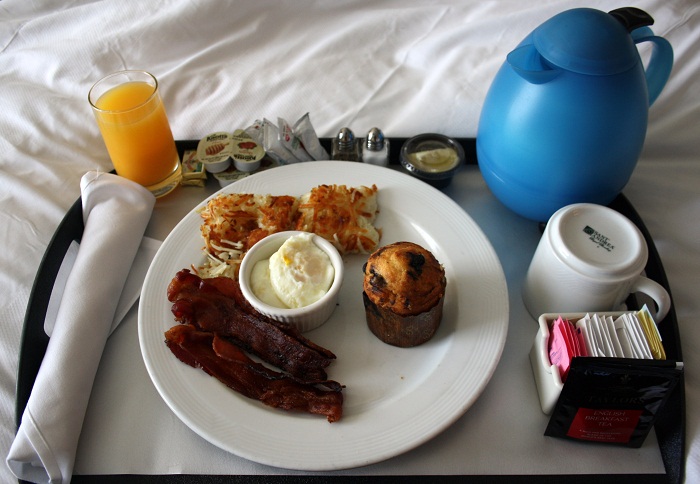 A perk of staying at Marriott Philadelphia Downtown is the indoor swimming pool and fitness room.  My itinerary was jam-packed, so I didn't have time to take a dip, however I imagine this is a perfect way to unwind after a day of exploring the city.
There are also plenty of dining options with two restaurants Circ and 13, as well as 24-hour room service and a Starbucks in the lobby, for a quick bite and morning coffee.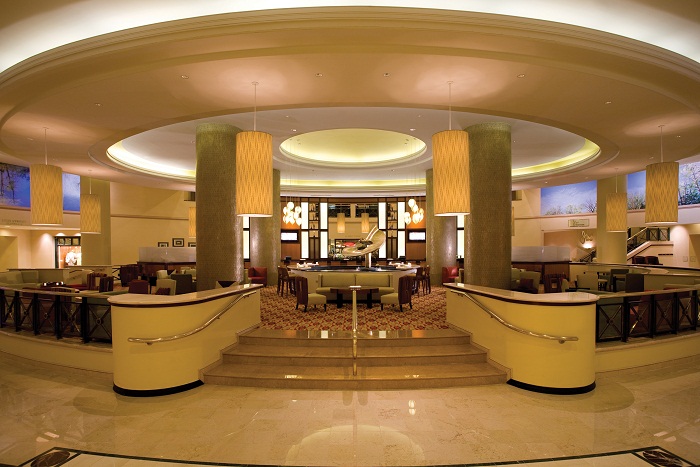 Sadly, Marriott Philadelphia Downtown charges for wifi access, which I hope it will soon reconsider, especially as a number of Marriott hotels are now offering this service complimentary to hotel guests.
My stay at Marriott Philadelphia Downtown was very comfortable and enjoyable, which was in part due to the friendly, uplifting staff.  They went out of their way to help with everything that I needed, which ranged from hunting down members of my group to providing a brand new coffee machine in my room, so I could enjoy a cup of tea without any errant traces of coffee (for allergy reasons).
There are an increasing number of independent boutique design hotels in Philadelphia, however, if you're looking for a high quality, dependable hotel in a central location with excellent service, Marriott Philadelphia Downtown is the place to stay.
British Airways offer three nights at the 4* Philadelphia Marriott Downtown, Philadelphia from £749 per person based on September 2012 departures.  Includes return British Airways flights from Heathrow and accommodation only.  For reservations visit ba.com/philadelphiaor call 0844 493 0758
Chérie City was a guest of Marriott Philadelphia Downtown.
Photos by Marriott Philadelphia Downtown and Chérie City.