Creative Director Nicolas Ghesquière made an enormous impact with debut fragrance Balenciaga Paris, reflecting the elegant, classic and intellectual side of the brand.  His second fragrance Florabotanica alludes to Balenciaga's bolder, fiercer side and is visually a world apart from the first fragrance.
Florabotanica is a real fashion fragrance, from the floral printed box to the couture bottle and vibrant campaign, featuring Kristen Stewart and shot by Steven Meisel.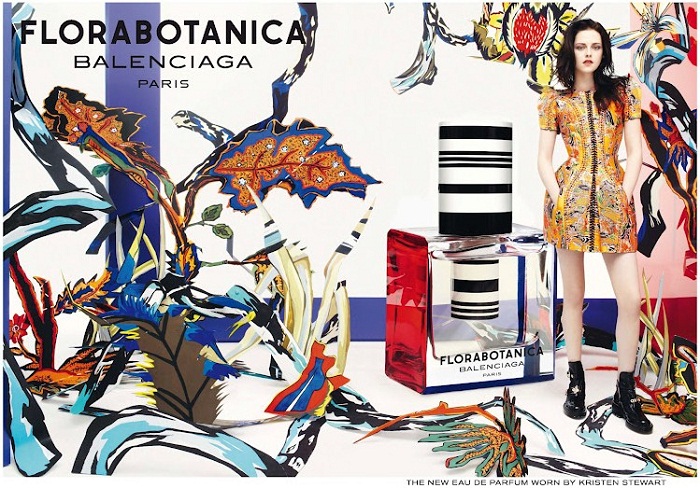 Florabotanica is a modern, edgy floral fragrance with a fresh greenness similar to Balenciaga Paris.  Renowned perfumers Olivier Polge and Jean-Christophe Hérault collaborated on the scent based on two major accords.
Notes of vetiver, amber and caladium leaf evoke mossy dark wood while rose, carnation and mint bring a sparkling floral burst.  There isn't any real sweetness to the fragrance – it's crisp, clean and spiky, with a touch of musk.  The two noses created the unique Experimental Rose specially for Balenciaga.  The composition of the new rose note is a closely guarded secret, however the brand has revealed that is has origins in Turkey.
The inspiration behind Florabotanica is 18th century botanical gardens, made up of rare and exotic plants gathered from around the world by explorers.  Florabotanica explores the duality of nature – flowers can be either innocent or poisonous.  Take note of the venus flytraps in the floral pattern on the box.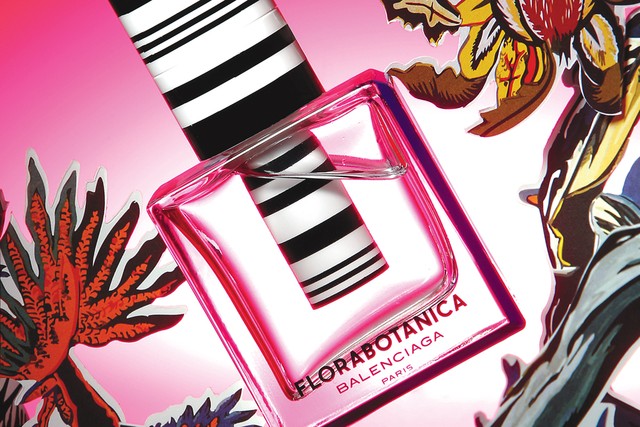 The stylish bottle reminds me of 60s pop art and the geometric works of De Stijl.  The graphic black and white stripes echo one of Cristobal Balenciaga's signature styles and the oversized tube plunges into the perfume like a laboratory test tube, referencing the scientific practice of botanists discovering new plants and flowers.
The campaign sees Kristen Stewart standing casually in Ghesquière's wild fairytale garden, next to an oversized bottle of Florabotanica.  Kristen's outfit is a blast from the past – she's wearing Balenciaga's instantly recognisable structured dresses from Nicolas Ghesquière's Spring/Summer 08 'floral collection'.  Jennifer Connelly wore the same dress with those monochrome knee-high gladiator sandals and looked every bit the fashion warror, while Kristen's take is more punky and typically nonchalant.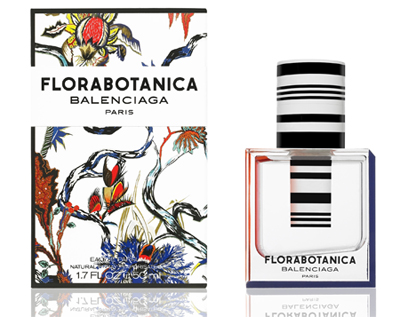 Floralbotanica is sure to appeal to a younger market with its vibrant design and Kristen Stewart as the face, however, the fragrance itself is quite sophisticated and niche.  Yet again, Balenciaga has created a fragrance that is truly unique and shows another facet of the brand.
Balenciaga Florabotanica is available now exclusively at Harvey Nichols and nationwide from 19th September 2012.  The Eau de Parfum is priced from £40 (30ml) to £75 (100ml) and there is a body lotion (£33/200ml) and shower gel (£31/200ml).
For more information, visit: www.balenciaga.co.uk
*sample