Londoners are spoilt for choice when it comes to quick lunch fixes, however, the 'healthy  options' are not always as good for you as they seem.  We've all read articles on the hidden fat and sugar in big brand sandwiches, wraps and salads and their origins are rarely questioned as they fly off the shelves.
Pure is a stylish lunch spot where all of the food is made fresh in house throughout the day.    The kitchens are opened early in the morning to prepare freshly-baked flatbread and Pure only uses ingredients with no unnecessary preservatives, additives, sugar, salt or fat.
There are already Pure stores in Soho and Fitzrovia, and now Covent Garden can enjoy tasty, healthy lunches at Pure on Shaftesbury Avenue.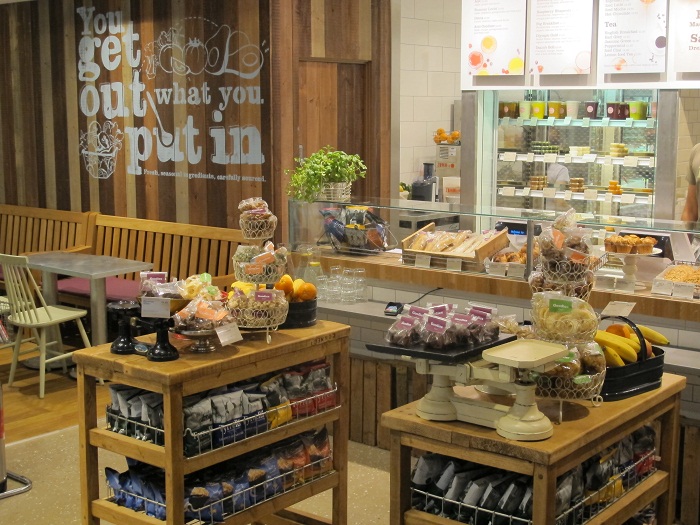 Last week, Pure kindly delivered lunch to my office in Covent Garden and now I am hooked.  It was a real treat to make my order in advance and not have to make decisions when I was hungry and ready to eat.  In one of my previous jobs, the first half of the morning was spent ruminating on where to go for lunch, so this experience was stress-free.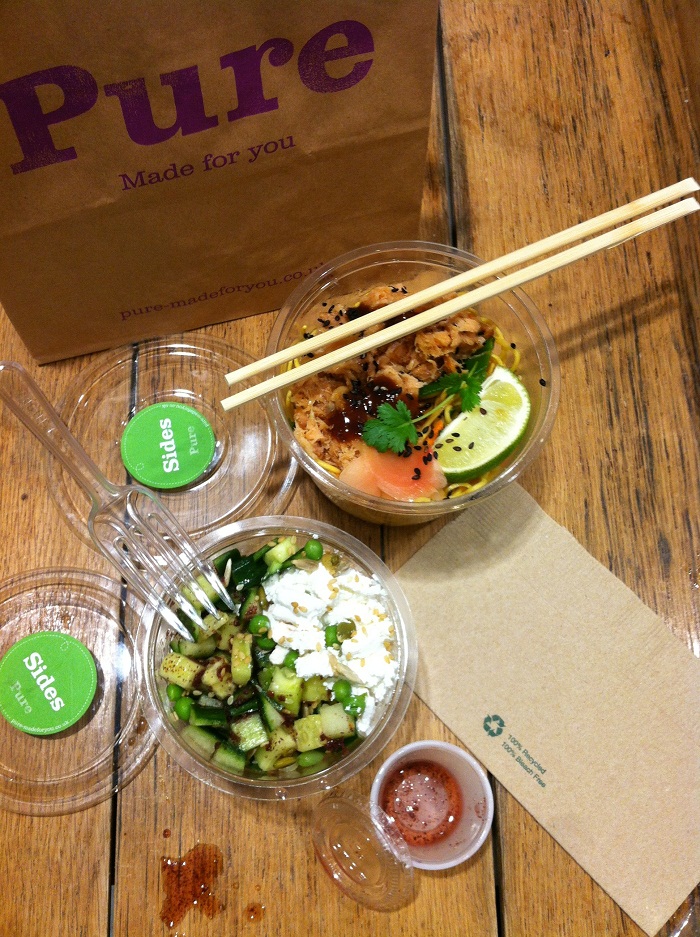 As it was a warm summer's day, I went a Pure Salad.  They all sounded tempting, but I eventually decided on the Hockingly Good (£4.95) – slow-cooked ham hock, crispy bacon, parmesan croutons, onion flakes and petit pois on crunchy Cos and baby leaf spinach.  Pure recommends one of ten home-made dressings for each of their salads, so I went with their suggestion of  Pesto Crème.
Prior to the delivery, I did wonder whether a salad would be enough to fill me for the rest of the day, but this was one giant gourmet salad!
The crisp, fresh leaves were topped with huge chunks of flaky, tender slow-cooked ham hock, thick strips of crunchy, flavoursome bacon and large parmesan croutons.  I loved the accompaniment of petit pois, which I wouldn't have imagined adding myself.
Mine was quite a decadent salad, but if you're on a real health kick, Pure offers low GI, super food and oily fish salads with low calorie/fat dressings.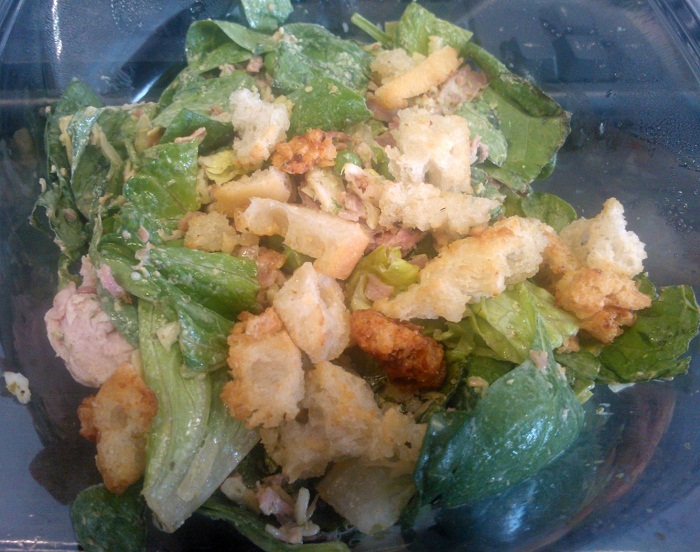 I accompanied my summery lunch with one of Pure's freshly-blended juices, Summer Lovin' (£3.95) – apple, raspberry, pomegranate and fresh mint.  The bottle was huge and lasted all afternoon.  The juice was packed with luscious fruit and was on the naturally sweet and aromatic side.  In fact, the flavours of the juice were so bold that I added a few drops of mineral water, which made it go even further (Dr Gillian would approve).
For dessert, I chose a Summer Fruit Crumble (£1.75) – stewed summer fruits and custard with cinnamon crumble topping.  The stewed fruit was juicy, soft and not overly sweet, with a vibrant purple colour from the blackberries and plums.  The cinnamon crumble topping was crunchy and golden and went well with the light, vanilla-infused custard.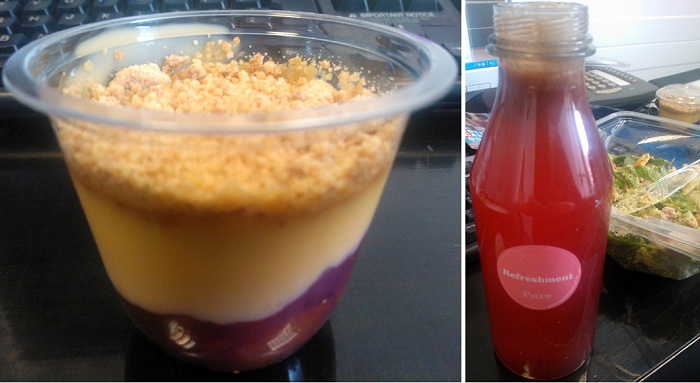 My Pure lunch was so fresh, satisfying and filling – the perfect meal to keep my energy high for the rest of the afternoon.  I will definitely be a regular at the Covent Garden store to work my way through the seasonally-changing menu.
Pure can deliver food, on orders over £30, which is a good option if ordering for a few people in your office.  Also, if you're in a rush, you can order online and pick up your lunch at the till at Pure.  What could be better than that?
For more information and online ordering, visit: www.pure-madeforyou.co.uk