The Herring at Bedruthan Steps is everything a foodie visiting Cornwall could hope for.  Inventive dishes, locally sourced ingredients, perfect sea views and a calm, stylish ambiance.
Bedruthan Steps is impressively family-focused, however its informal fine dining restaurant is solely for adults and supervised little darlings of 12 years old and older.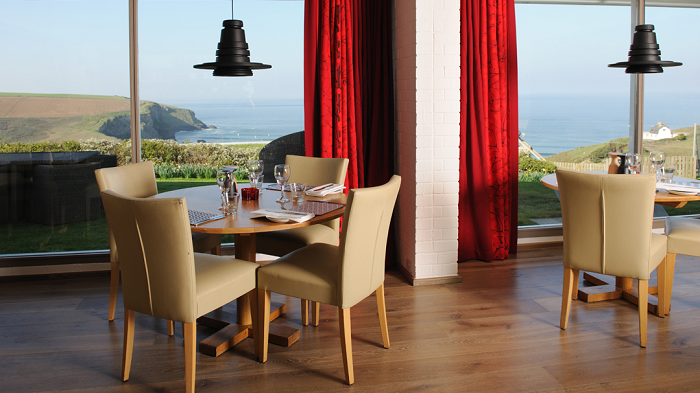 The chefs behind The Herring are Mick Smith and Ryan Venning from the renowned Porthminster Beach Cafe in St Ives.  The menu is all about Cornish seafood and locally-sourced meat with an Asian twist.  The sustainably caught fish reflects Bedruthan Steps' dedicated eco philosophy.
The light wood furnishings with highlights of red are subtle and bright and the stunning views over Mawgan Porth beach make it the perfect place to enjoy a Cornish sunset.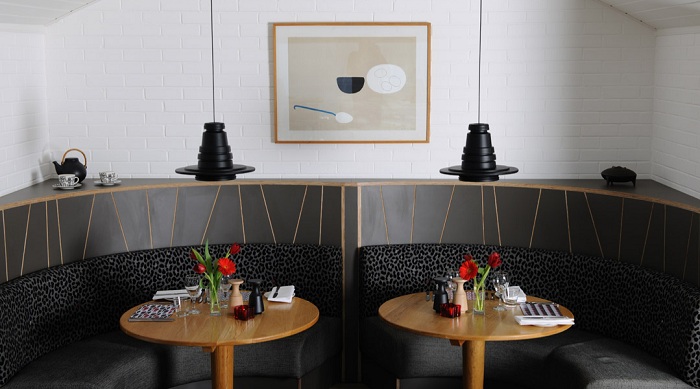 Like the restaurant at sister hotel The Scarlet, The Herring offers a choice of two or three courses (£30/£35) for dinner.  I started with Pork Cheek and Tempura Cod Cheek, pea and wasabi puree with toasted peanut, sesame dust and crispy wontons.  It was an absolute delight from start to finish, with a complex combination of Asian flavours.  The cod cheeks were exceptionally fresh and the pork cheeks were sticky, sweet and succulent.  The sesame dust was a subtle,  interesting addition and there was plenty pea and wasabi puree and crispy wontons to smother onto each bite.
Steven ordered the Confit Pork Belly, spiced honey glazed carrots and dauphinoise potato.  The pork belly was soft and moist, with a crispy top layer and pieces of crunchy crackling.  The dauphinoise potato was buttery and laced with garlic and the one solitary carrot was roasted and glazed, but not enough to balance the dish.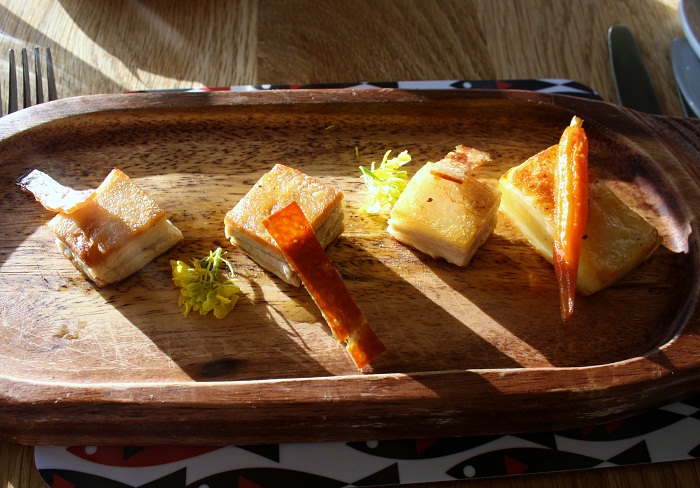 The star of the meal was my spectacular Organic Cornish Confit Duck Leg – Puy lentils, peppered spinach and roasted shallot.  The duck leg was flaky, plump and tender with a layer of crackled, crispy skin.  It came served on a bed of rich, slow-cooked lentil stew and topped with a ball of well-seasoned spinach and pretty, edible flowers.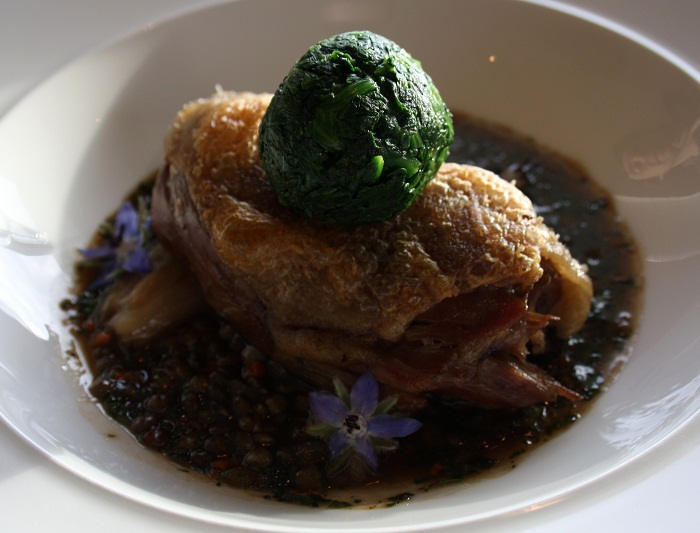 Steven tried the Slow Cooked Lamb Loin – Steamed new potatoes, caponata, broad beans and peppermint.  The lamb was very soft, succulent and flavoursome and was served with a scattering of broadbeans, rich caponata, tiny cubes of roasted potato, torn fresh peppermint and edible flowers.  This came served with buttery, creamy mashed potatoes and a rather unseasoned creamed broccoli.  There could have been more lamb offered, to be consistent with the other main of Cornish Duck.
The menu was slightly limited for vegetarians, with just one vegetable-based option per course, however for those who don't eat seafood or fish, there are plenty of meat dishes.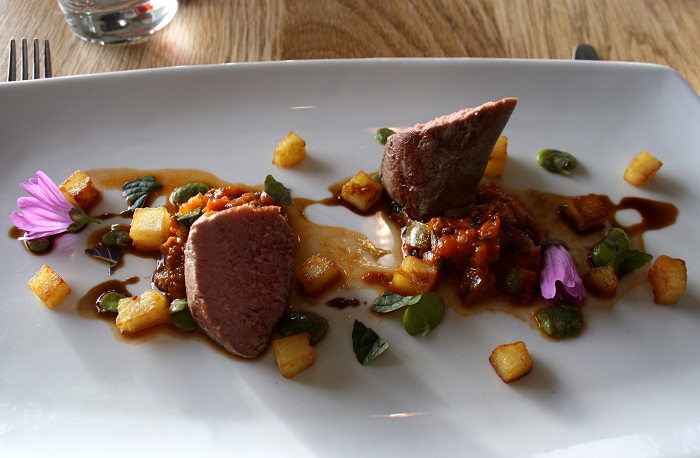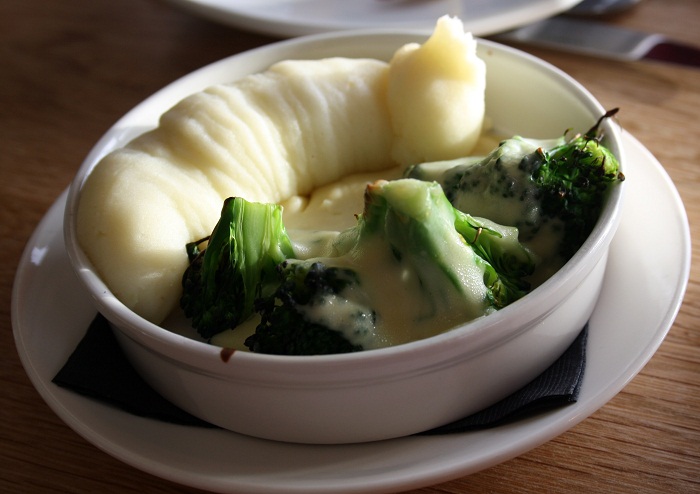 For dessert, I ordered the interesting sounding Wattle Seed Meringues, Brandy caramel sauce, caramelised banana and candied hazelnuts.  If you're not familiar with wattle seed, like me at the time, it consists of the seeds of Australian Acacia and has various health benefits.  The flavour is earthy and nutty, which made the perfectly light and chewy meringue even more interesting.
The bananas weren't quite caramelised enough, but I loved the candied hazelnuts and the brandy caramel sauce worked well with the meringue.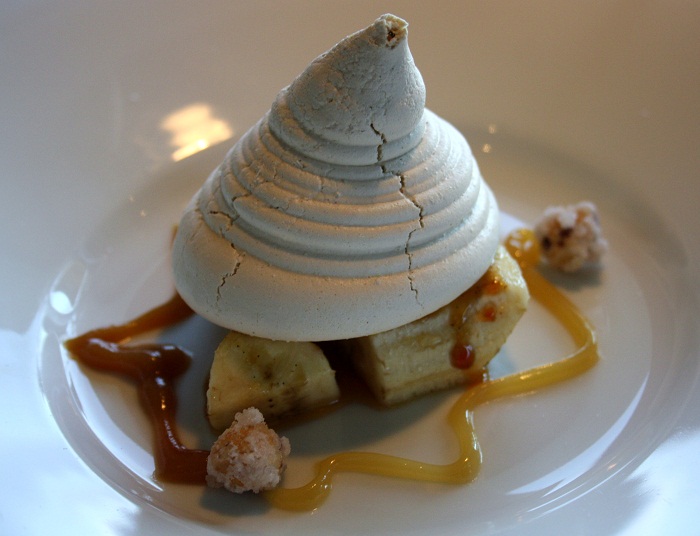 Steven's Hot Chocolate Fondant, Macaroon, coconut dust and avocado sorbet was exceptionally good.  The molten chocolate fondant was rich with a soft cake texture and topped with home-made shortbread.  The avocado ice cream was deliciously refreshing and lifted the decadent chocolate flavours.  The coconut dust finished it off perfectly and brought an Asian element to a typically French dessert.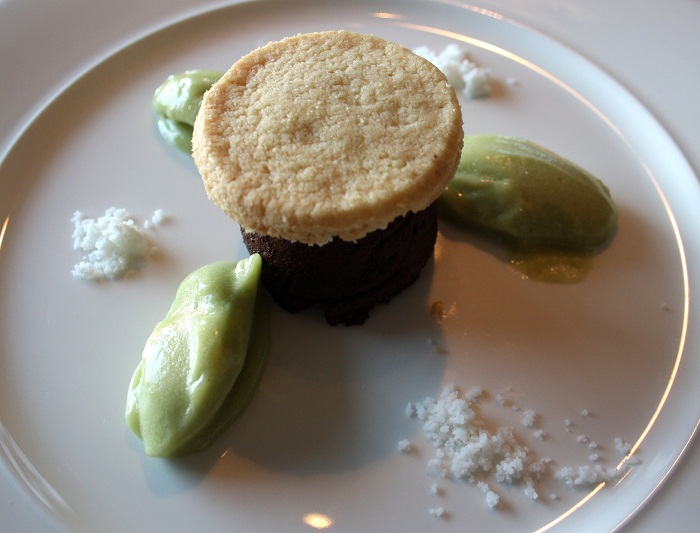 To end our meal, we shared a pot of fresh mint tea and were brought a plate of petits fours consisting of a delightful vanilla creme tasting spoon and hand-made white chocolate and pistachio Cornish fudge.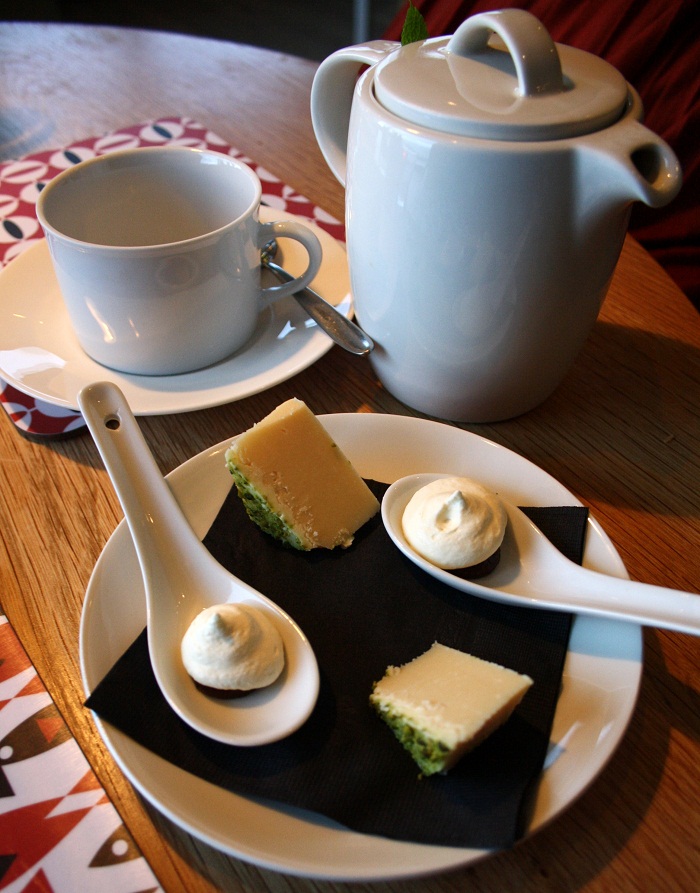 The excellent standard of food, interesting menu and friendly service makes The Herring a  must when visiting Cornwall.  Be sure to book ahead, as it's a popular choice for hotel guests and visitors in the summer.
Double rooms at Bedruthan Steps start at £140 per room per night, including breakfast.  For more information and booking, visit: www.bedruthan.com
Advance single fares from London Paddington to Newquay start at £15 one way. To qualify for the best value tickets and offers buy your ticket in advance. Here's how you can buy before you board: Online at www.firstgreatwestern.co.uk or telephone 08457 000 125
Photos by Chérie City (interior by Bedruthan Steps)
Chérie City was a guest of The Herring