Jamie Oliver's Fifteen Cornwall is the South West coast's best-known restaurant, with foodies flocking from all over the world to eat there, but it's not just another fine dining restaurant.
Opened in 2006, Fifteen Cornwall is nestled between Newquay and Padstow in North Cornwall's cool  design-led resort, Watergate Bay.  Following Fifteen restaurants in Amsterdam and the original London flagship, Fifteen Cornwall is a social enterprise that provides a brighter future for disadvantaged young people in Cornwall.
Every year, Fifteen C0rnwall takes on a group of carefully selected 16-24 year-olds to undergo rigorous apprenticeships, equipping them with the training and skills to pursue a career in catering.  The apprentices work alongside professional chefs in the open kitchen and many have gone on to work their way up the ranks of top restaurants across the UK and beyond.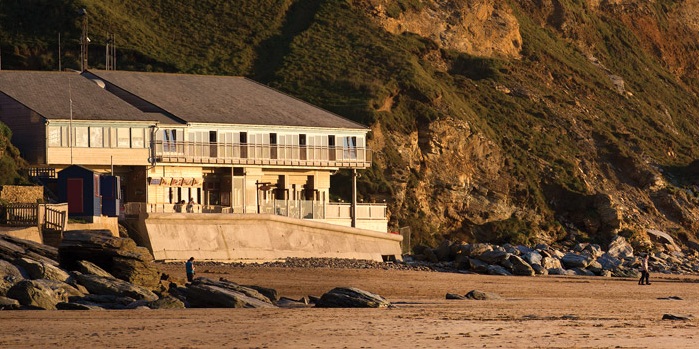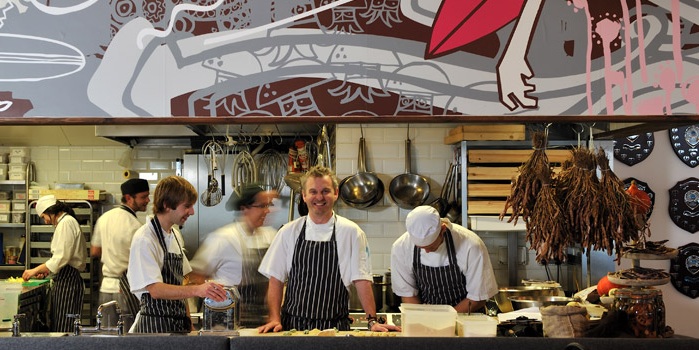 To keep the crowds coming through the door, Fifteen Cornwall runs a tight ship and there is nothing amateur or apologetic about the restaurant.  Just like Jamie, it's slick, energetic and a little bit cheeky (some of our dishes were quite rightly described as 'amazing' and 'fantastic'), but the food is taken seriously.
Each day the menu changes, based on the best local produce of the day and seasonal ingredients.  Guests can choose between the five course tasting menu at dinner (£60 per person) and a 3 course set lunch menu with three options per course (£28 per person).
The restaurant design is rustic and beachy with splashes of urban street art – very Cornwall.  It's bright, breezy, with plenty of natural daylight and gorgeous views of the beach.  We had a great table at the front of the restaurant overlooking the sea, where we watched surfers and families having a fun day out at the beach.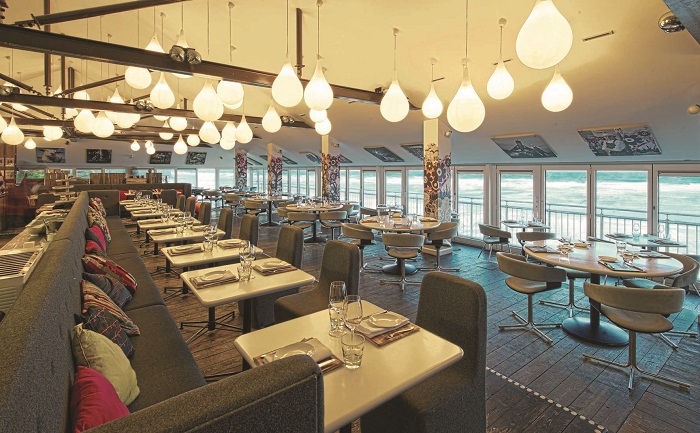 Our friendly, laid-back yet attentive waiter (as you can imagine all of Jamie's staff are) welcomed us and brought a bowl of ciabatta bread from local baker De Barra and poured some extra virgin olive oil from Chianti into a dish at the table.  The bread was good, not the best I've ever tasted, however it was a nice touch to mention the origin of the bread and oil, as much effort is taken to do this on the main menu.
Drinks are a real strength at Fifteen Cornwall.  There is a focus on Italian wines, however handpicked bottles from all over the world also feature.  The juices and non-alcoholic cocktails all sounded delicious and we loved the refreshing Watergate Cooler – fresh orange and Cornish apple juice, grenadine and homemade ginger syrup.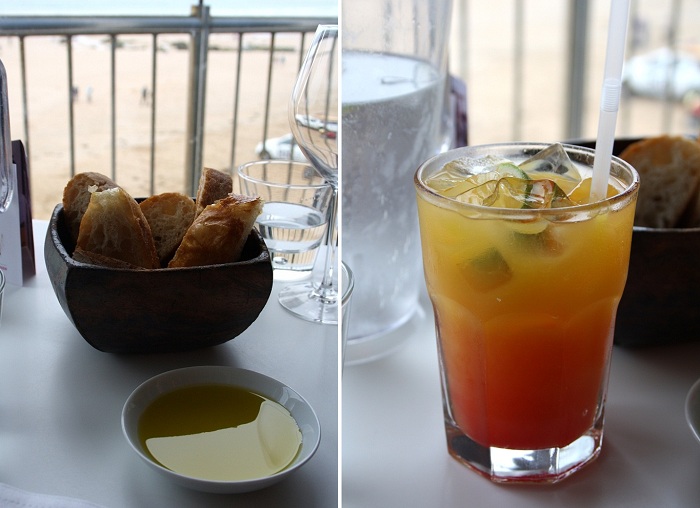 I started with a fresh, summery Insalata of char grilled Italian nectarine, mozarella di bufala, rocket and toasted almonds.  The cool, creamy mozarella went very well with the heavenly soft and juicy nectarines and they were topped with peppery rocket, delicious toasted almonds and drizzles of olive oil and balsamic vinegar.
The portion size was very generous, particularly the mozarella and it was a real joy to eat.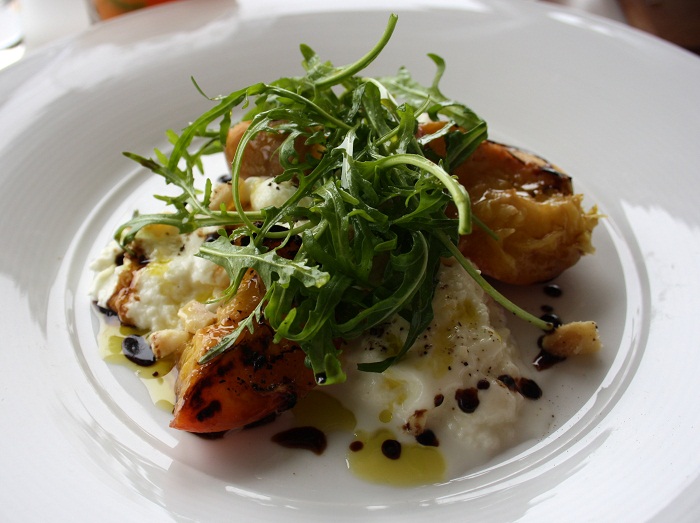 Steven tested Fifteen's fish credentials and went for the Grilled Cornish mackerel, Fifteen's amazing potato salad, Amalfi lemon oil.  The warm mackerel was succulent, full-bodied and very fresh.  The potato salad was incredibly delicious – thick slices of red skin potatoes smothered in a dill, olive oil and fresh herb dressing, served cold.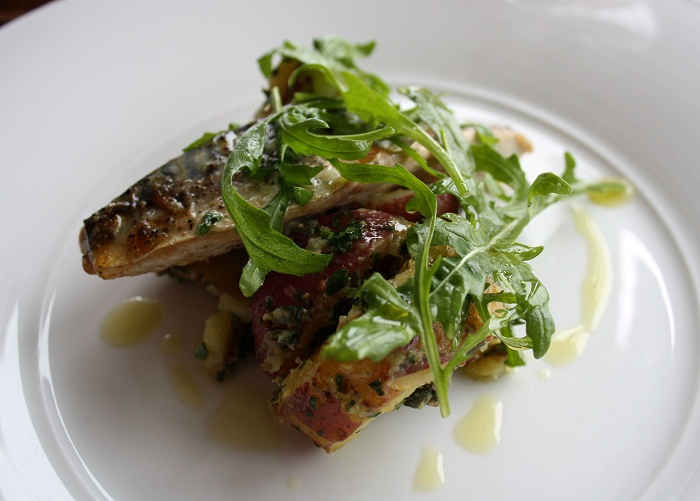 I've always enjoyed Jamie Oliver's pasta, whether was an authentic Italian sauce made at home from one of his many cookbooks in my collection, or at Jamie's Italian in London, so I went for the Tortelini of smashed pea, broad bean and prosciutto in a lemon butter sauce.
It was the most artistic, beautifully constructed pasta I've ever seen.  The tortellini looked so elegant and handmade, covered with just the right amount of parmesan and greenery.  The pasta was perfectly cooked, the filling was flavoursome and not overly dense and the sage butter sauce made the pasta all silky.  It was easy to wolf them down in one as they were so delicious, but the portion size was quite small (a sentiment echoed by nearby diners who ordered the same dish), so I cut the tortellini in half to really savour the flavours.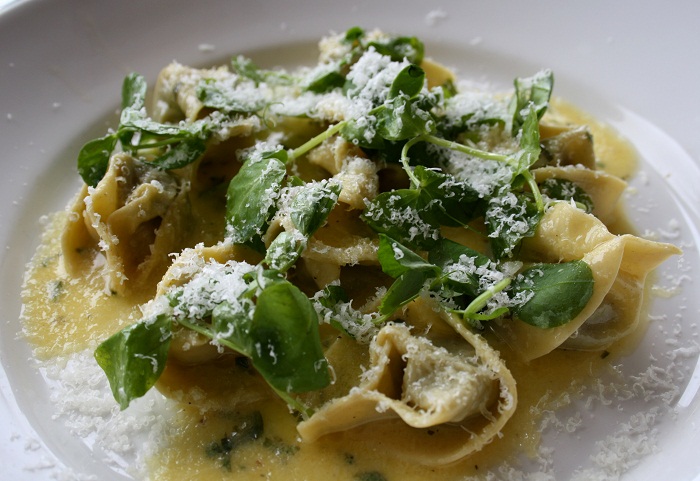 Steven's main course was the star of the meal – Slow cooked shoulder of Ballardsfield pork with lenticchie di Castelluccio, rainbow chard and crispy sage.  The char grilled pork was so tender, lean and succulent and the lentil stew was rich and slow-cooked, with a balsamic zing and aromatic crispy sage.
The portion size and rich flavours dwarfed my tortellini, so I couldn't help having serious food envy (luckily Steven was in a caring sharing kind of mood).  The lentils were very filling and there was a big hunk of mouth-watering meat, so this made for a more satisfying dish.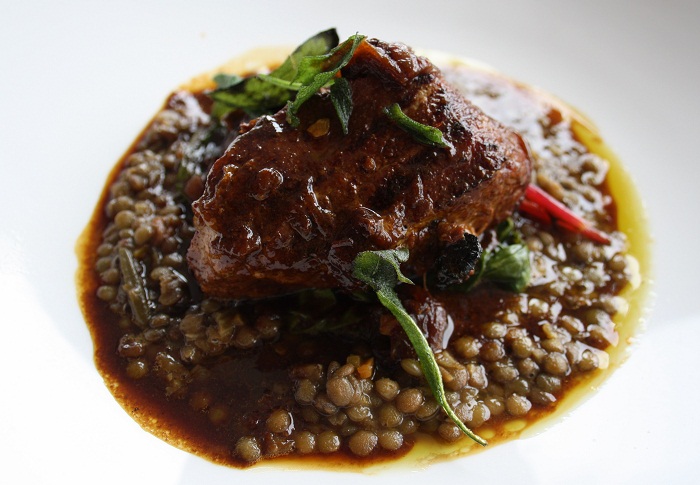 For dessert, I went with the classic Fifteen's fantastic treacle tart, vanilla and gooseberry compote and clotted cream.  Far from being sickly-sweet or stodgy , this treacle tart was smooth, elegant and topped with a deliciously grainy caramelised crunch.  The accompanying gooseberry compote was sharp and fragrant and of course nowhere does clotted cream better than Cornwall.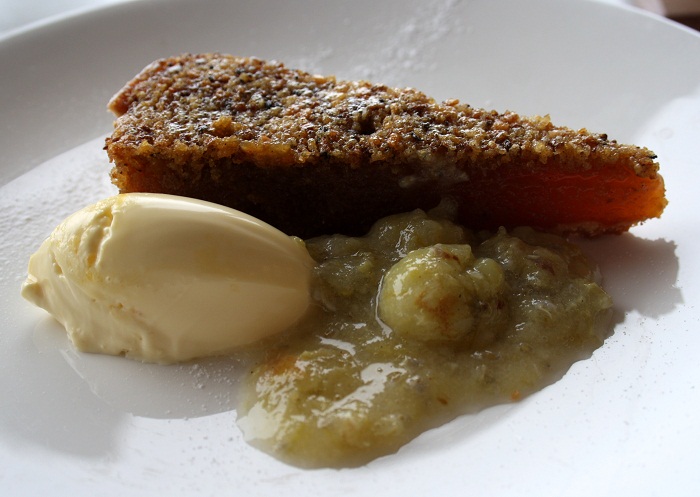 If I hadn't already enjoyed nectarines as a starter, I might have ordered Steven's Puglian apricots, with zabaglione, crushed amaretti and frangipane ice cream.  The peaches were sweet and bursting with juiciness and were a perfect match for the subtle frangipane ice cream and authentic Italian zabaglione.  The dessert was finished with roughly crumbled amaretti biscuits and crushed pistachio – a perfect taste of the Med in Cornwall.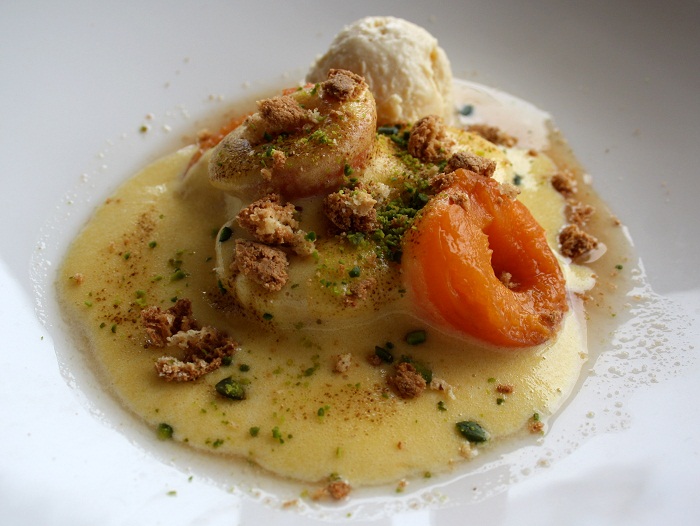 Fifteen Cornwall is an absolute delight to visit and should be top of the itinerary for a visit to Cornwall.  The ambiance is chilled out and family-focused and the food is outstanding yet unpretentious.
If you're staying in nearby Mawgan Porth like we did, take the coastal path back and walk off lunch.  Just be sure to leave over an hour and wear suitable shoes – it's a real hike with plenty of uphill trekking and steep declines, but the breathtaking views over the bay will reward your efforts.
For more information and booking, visit: www.fifteencornwall.co.uk
Chérie City received 50% off the total bill at Fifteen Cornwall.
All food images by Chérie City