There's no better way to cool down in the summer than with a scoop or two of Italian gelato.  I've always assumed that gelato should be left to the experts, but in fact, it's easier to make by hand than expected.
American kitchenware brand Cuisinart invited me to a special gelato masterclass at La Cucina Caldesi cookery school in Marylebone, taught by the wonderful Katie Caldesi.  Founded by Katie and her husband Giancarlo, La Cucina Caldesi offers classes on authentic Italian cooking and also includes the stylish Caffe Caldesi, serving up regional dishes from Giancarlo's native Tuscany.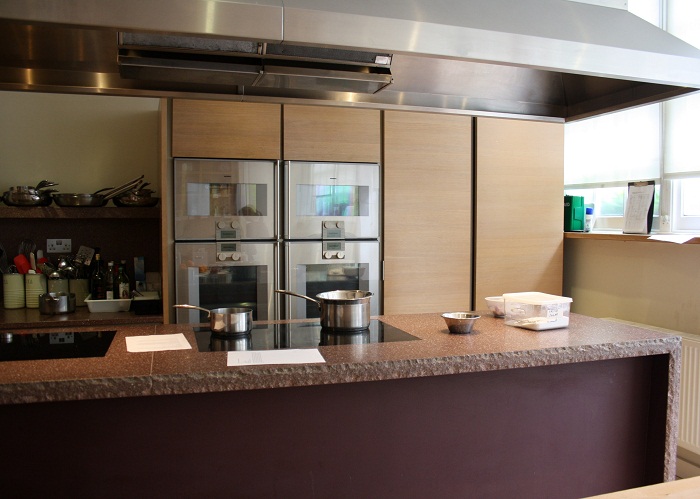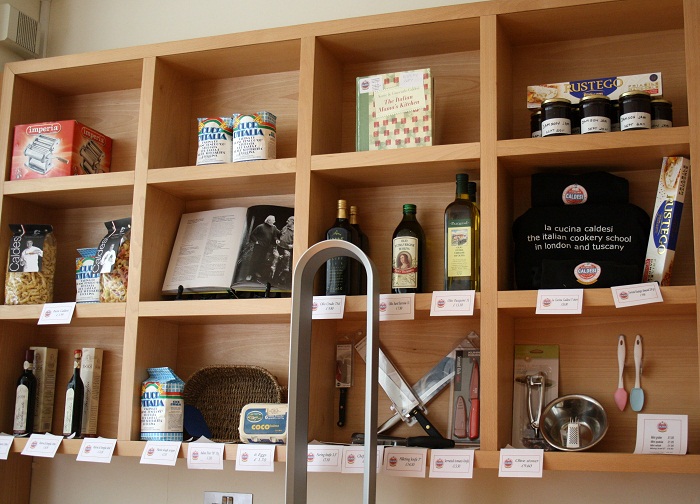 On the cooking agenda that afternoon were three different gelati, inspired by Katie's recent travels in Sardinia and Italy.  We began peeling and juicing oranges and lemons for our first custard-based gelato, Sunset in Amalfi.  The mixture of beaten egg yolks, caster sugar, citrus fruit zest, warm milk and cream was then heated to 85 degrees and stirred constantly.  Once the custard is thick enough, sieve, add the orange juice and leave to cool.  Then it's ready to pour into the Cuisinart Ice Cream Professional and that's all of the work done.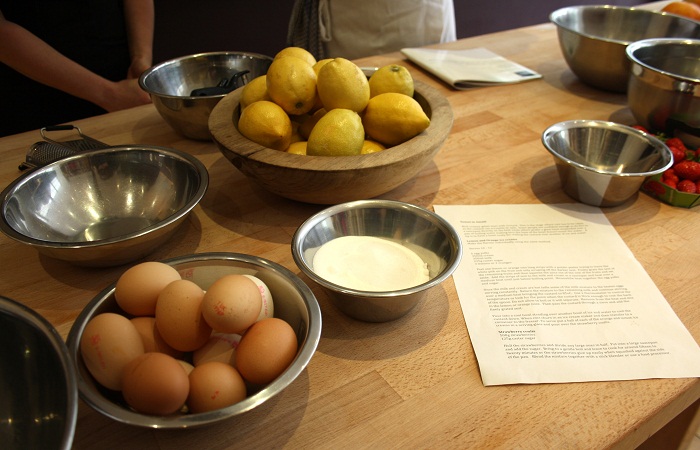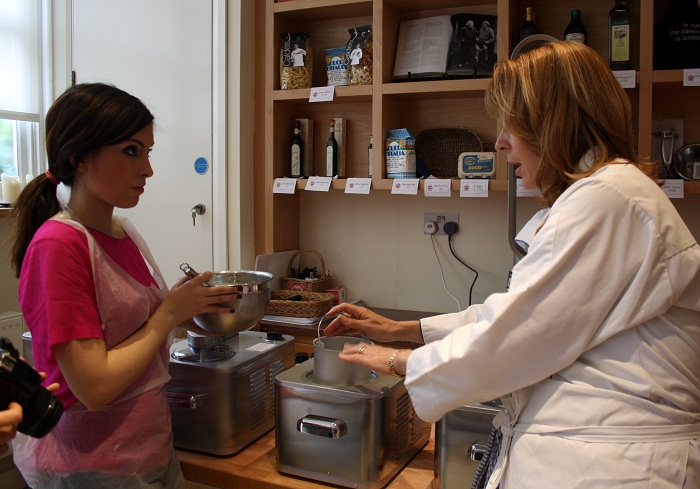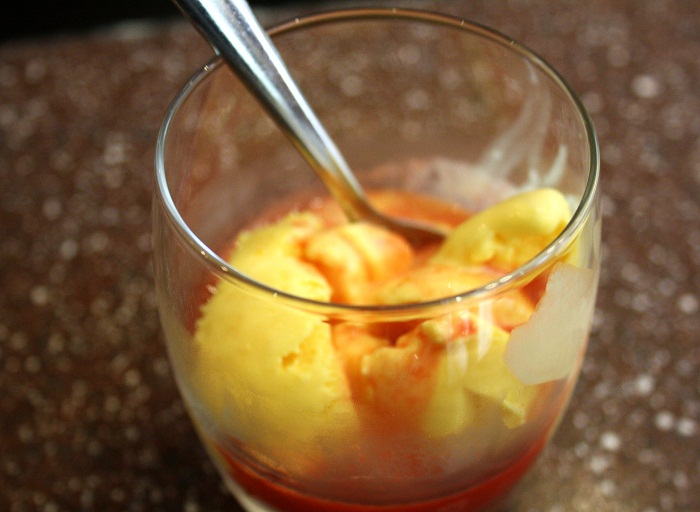 The Sunset in Amalfi gelato was served with a fresh strawberry coulis and tasted so summery and fruity, bringing back memories of holidays in Alghero (not quite Amalfi, but close enough).
Our second concoction was yogurt ice cream served with fresh berries.  Frozen yogurt in London can sometimes be a little bland, but this one was creamy and with a silky texture.
One of my favourites was the almond milk ice cream served with an shot of espresso and/or melted chocolate sauce and Amaretti biscuits for dipping.  It was more like a sorbet than the other two flavours, as there's no cream or yogurt involved.  This is a great choice for those who are lactose intolerant and you could even substitute the incredibly delicious chocolate sauce for melted carob or dairy-free chocolate.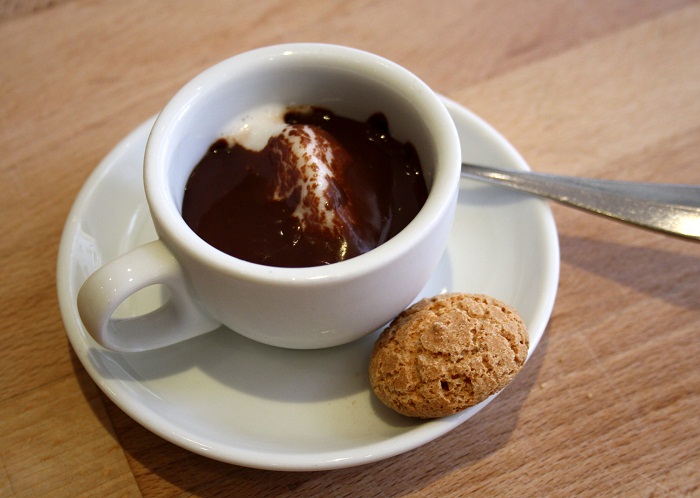 Katie gave us plenty of expert tips to get the best gelato and the most important one was that there needs to be enough sugar to make it freeze.  Adding just a bottle of fruit smoothie will not be sufficient for a successful sorbet – a little sweet indulgence is needed for it to work.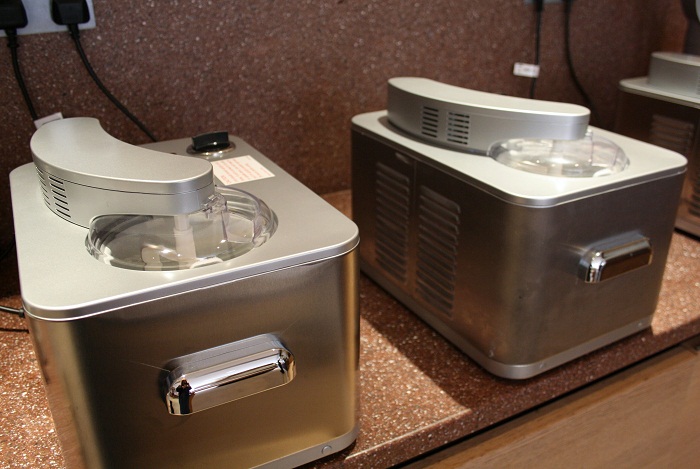 The Cuisinart Ice Cream Professional is very easy to use and if you don't always have time to create flavours from scratch, there are a few time-saving tricks for express gelato.  It also comes with a book of recipes, so you won't get stuck for ideas.
The Cuisinart Ice Cream Professional is priced at £280 and is available from Harrods, House of Fraser, Lakeland and selected indepedent cookshops – www.cuisinart.co.uk
For more information and a list of upcoming Italian cookery classes with Katie and Giancarlo Caldesi, visit: www.caldesi.com