Chef Michael Schulson's Sampan brings Asian fusion to Philadelphia's chic Midtown Village.  The restaurant has a sleek vibe with simple wood tables and striped banquettes, back-lit murals throughout the two dining rooms and a bar overlooking the kitchen.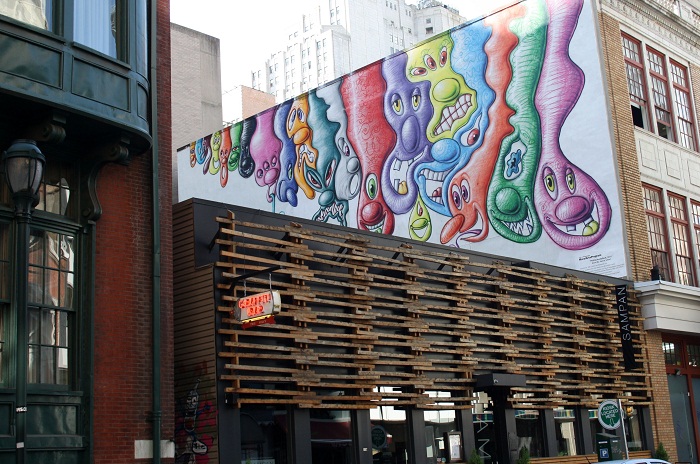 I visited alone for a pre-theatre bite, before seeing the Philadelphia Orchestra at the nearby Kimmel Center.  I was originally placed at the bar, but after requesting a proper seat, I got a much better table outside on the terrace, so I could people-watch in the sun.  Luckily Sampan had availability just less than an hour before dining on a Saturday night, as I'd spent the day exploring and hadn't foreseen restaurant reservations for that evening.
I sat in the glorious sunshine and ordered a Plum Tea – Finlandia Vodka with plum oolong tea and mint, served in a jam jar.  It was refreshing, cooling and aromatic, with just the right amount of vodka.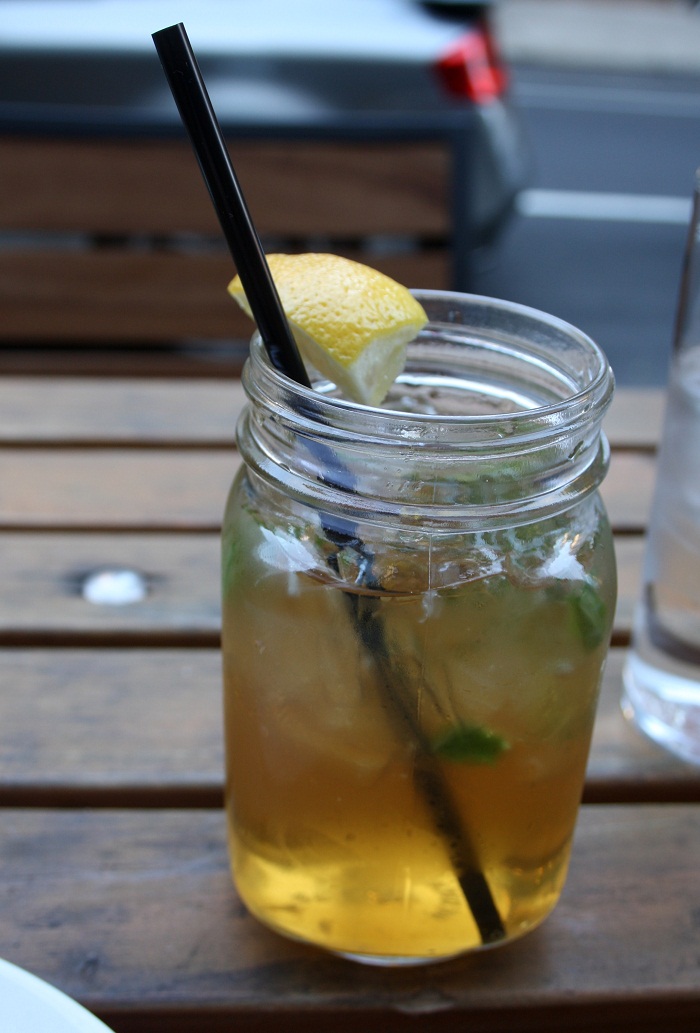 The menu at Sampan offers a combination of small plates, larger meat and fish dishes and sides.  I unknowingly over-ordered, forgetting that 'small plates' in Philly don't correspond to those in London.  I asked the waitress to recommend a suitable number of dishes to order, but she must have suspected I had a voracious appetite – not so, since the week of indulgence in Philadelphia had taken its toll.
I started with the Shrimp & Lobster Dumpling with miso broth, scallion and tofu ($7).  The broth was light and cloudy and the plump dumplings were intensely flavoured and full of fresh seafood and plenty of ginger.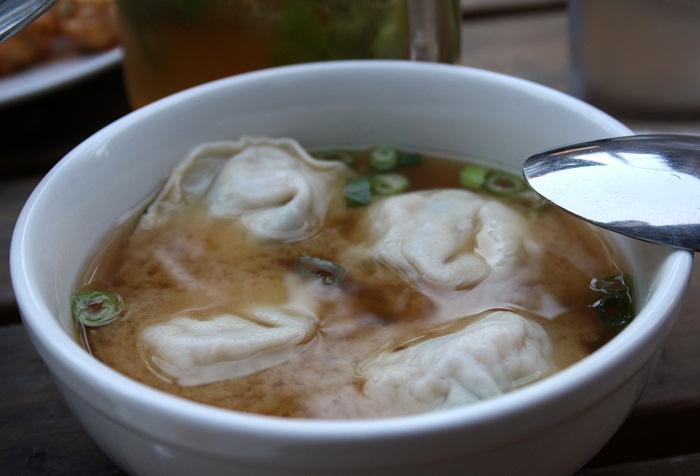 Shortly after came the delicious Chicken Satay with sage, mustard and Togarashi ($8).  The two sticks of chicken were succulent, well-marinated and nicely chargrilled.  The portion size was large and could be shared or ordered as part of a main meal.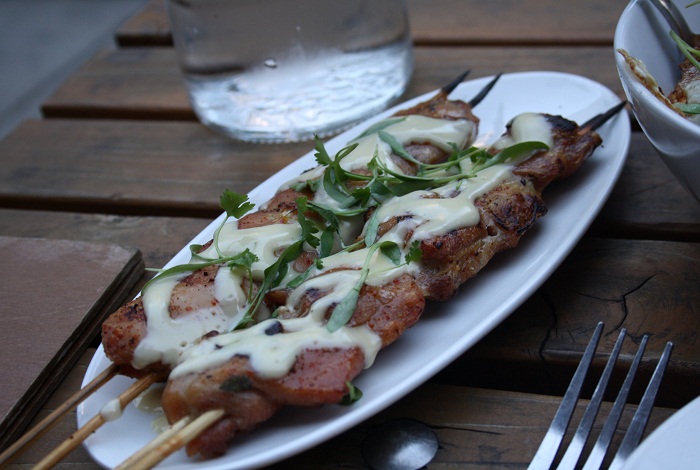 I enjoyed the chicken satay with a side Kim Chee Fried Rice with shrimp, shallot and Sunny Side egg ($8).  The fried rice was rich, slightly sweet and filled with fresh shrimp.  This side dish was more than enough for two to share.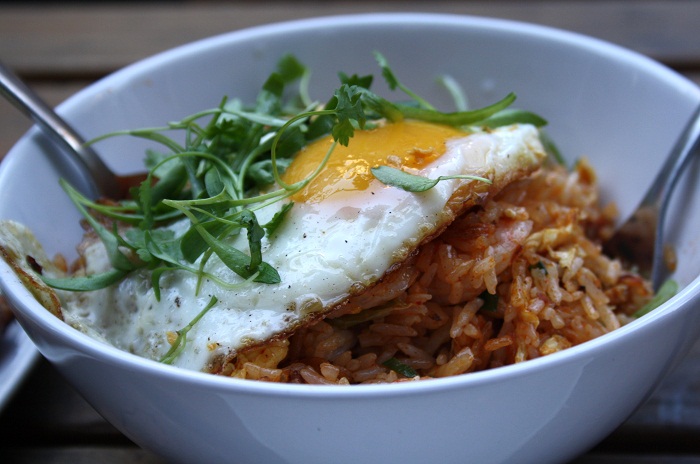 I was beginning to feel really full when my Crispy Rock Shrimp with pickled radish, yuzu and chili aioli ($14) arrived.  I was expecting perhaps three large piece of rock shrimp, but there were at least 20 chunky pieces.  The batter was a little too thick and they were smothered in chili aioli, taking away some of the crispiness.  The rock shimp was tasty, but overly rich and so my attempt to get through the dish was pitiful.
Surely the waitress could have foreseen that one person couldn't eat a whole plate of battered rock shrimp, however she did offer to bag up all of the left-overs to take out.  I'm sure the Philadelphia Orchestra wouldn't appreciate the wafting aromas of fried rock shrimp while trying to get through Ravel's Daphnis et Chloé.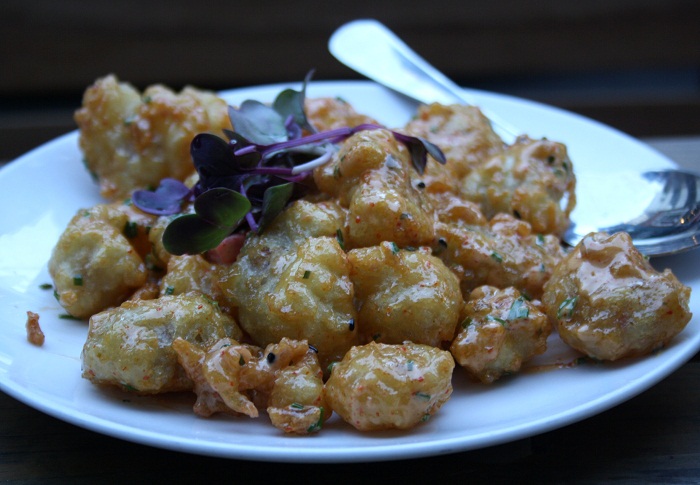 There was no time for dessert, but I strolled back from the Kimmel Center, past Sampan and saw that Capogiro Gelato was still open.  I couldn't resist stopping by for a scoop of the most incredible Bacio and Cannella ice cream.  Late night gelato is a real perk of summer in the city!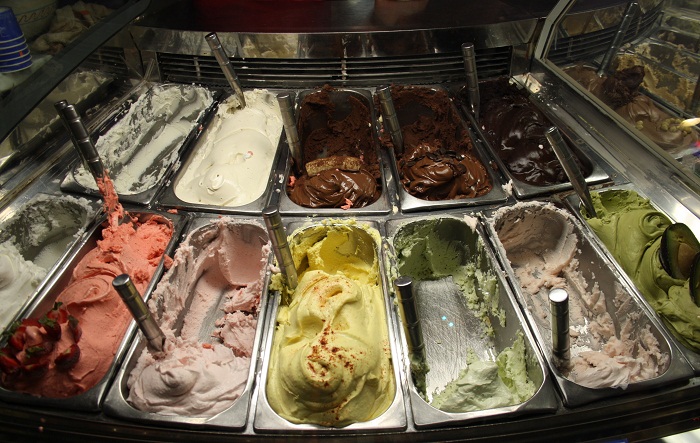 Sampan is a great place to come with a group of friends or for an intimate dinner a deux and share a few plates, so you can try a good selection of dishes.  There is also a Happy Hour menu of appetisers and sides and a Chef Tasting menu ($45) for something more inventive.  Sampan's next door Graffiti Bar is the place to continue the cocktails on the open-air patio.
Chérie City dined with a gift card courtesy of PCVB.
All photos by Chérie City