For a taste of 'old world New York', head to The Lambs Club at Empire Art Deco hotel, The Chatwal.  Located in the heart of New York's theatre district, just a block from Times Square, The Lambs Club was once America's first professional theatre club.
Becoming a 'Lamb' meant that you'd really made it in the theatre world and notable Lambs have included the great Charlie Chaplin, Fred Astaire and Irving Berlin.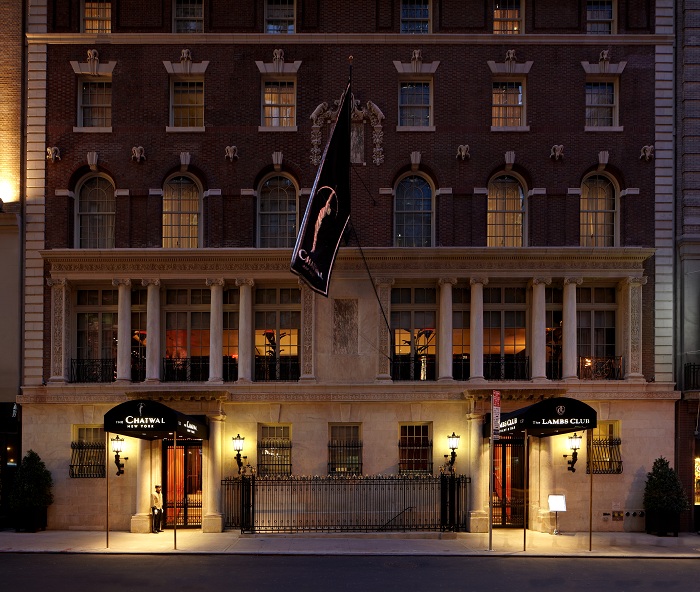 The Chatwal occupies the site of an old church and the building was designed by renowned American architect, Stanford White.  2010 saw its reincarnation as luxury design hotel The Chatwal, extensively renovated and modernised by Thierry Despont.
The stunning hotel is all about 1930s glamour, balancing original features with luxurious designer furnishings.  It's so civilised that it even offers guests a cup of hot apple cider in the Lobby.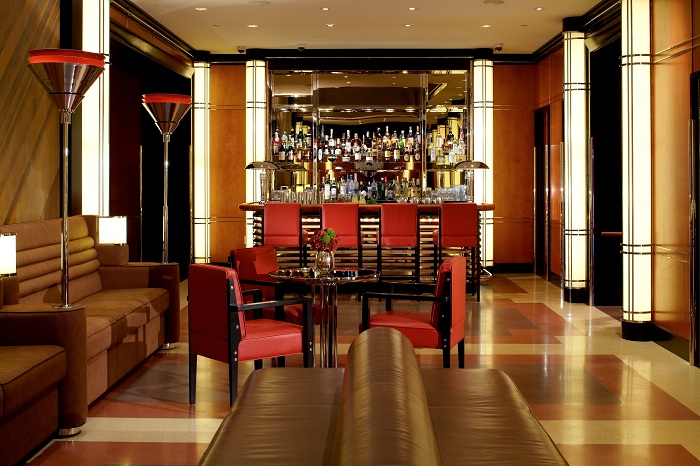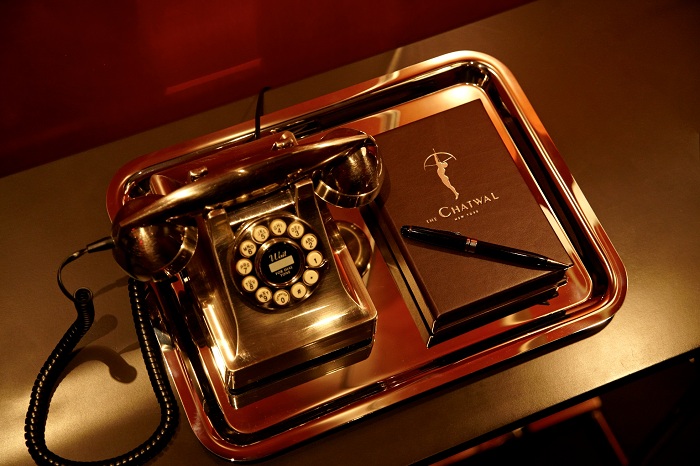 The Lambs Club has an intimate, clubhouse ambiance and offers all day dining with a Modern American menu.  The sumptuous 80-seat restaurant features red leather banquettes, shiny chrome fittings, sleek black walls and a roaring floor-to-ceiling fireplace.  On the walls are black and white images of Broadway and Hollywood legends and original Lambs, referencing the building's stellar past.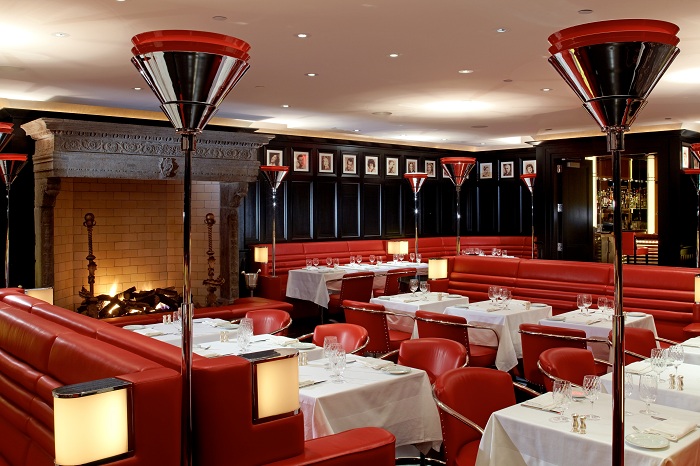 At the helm of The Lambs Club is renowned Executive Chef Geoffrey Zakarian, who also oversees The National Bar & Dining Rooms in Midtown, Miami's Tudor House and The Water Club in Atlantic City.  Zakarian is a regular on the Food Network and was named the winner of The Next Iron Chef 2011, beating Chef Elizabeth Falkner.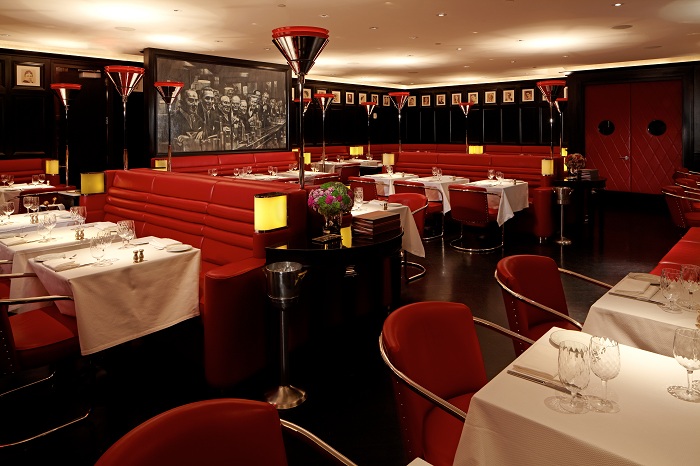 New York is known for its gourmet salads, so I ordered the Crispy Duck Confit Salad with black truffles, poached egg and lardon ($22).  This really was the king of salads!  Two generous portions of rich, succulent duck confit were covered in golden breadcrumbs and served with the most flavoursome maple-cured bacon, scattered piece of crispy duck skin, a soft poached egg and curly, lightly dress frisée, topped with fresh chives.  It was an absolute delight and was a light but filling dish.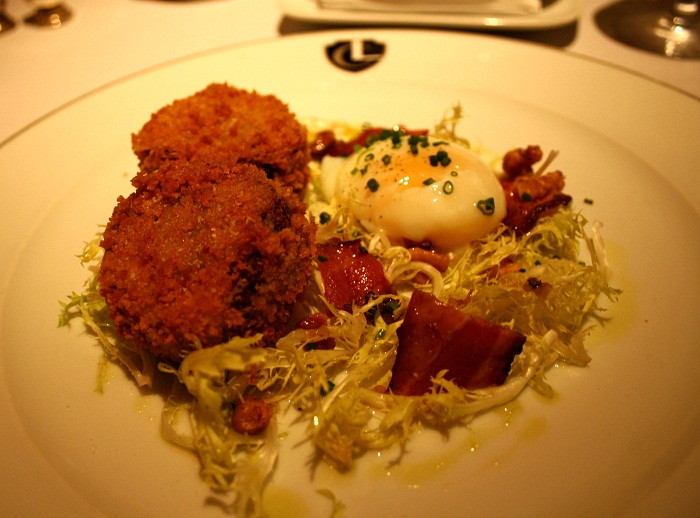 I ordered a side of Shaven Brussels Sprouts ($9), which came coated in olive oil, balsamic vinegar and shaved Parmigiano-Reggiano.  I momentarily forgot that sprouts can often be served raw in New York, so they were more like an extension of my salad, however this was most welcome as there was plenty of crispy duck confit to accompany the beautifully-seasoned sprouts.
Steven went for a New York classic – the Turkey Club, Dagwood Style with house roasted turkey, avocado, bacon and sprouts ($21).  The slow-cooked turkey was incredibly moist and tender, packed generously between two thick slices of butter-fried ciabatta.  It was garnished with fresh tomato, ripe avocado and crunchy sprouts, topped with a big hunk of melon.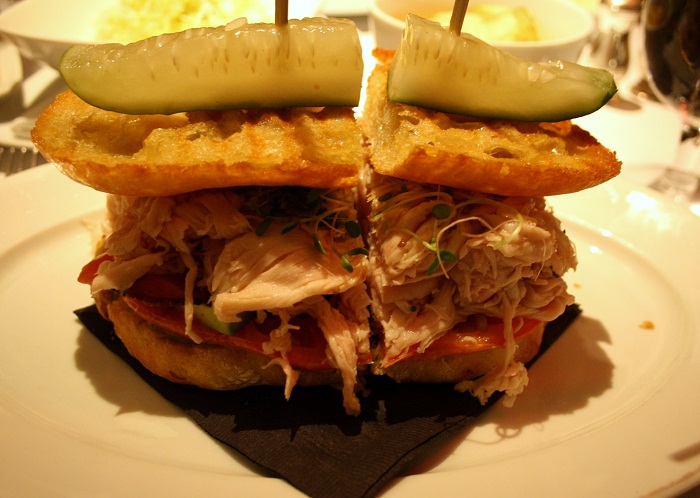 The restaurant was packed full, as it was a Friday, so service was a little on the slow side.  We didn't have time for dessert, as our Sex and the City tour was drawing near, but the Manager brought us a delightful express plate of petit fours for a sweet end to the lunch.  In light of Steven's mountainous turkey club and the forthcoming Magnolia Bakery cupcakes, the delectable selection of chocolate truffles, macarons and pistachio biscotti was a good choice.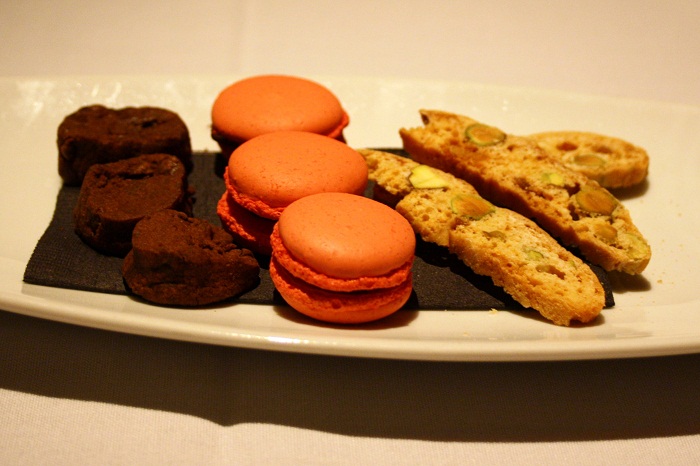 I would have loved to linger a little at The Chatwal, as the Lobby Bar was so elegant and inviting.  The Bar at The Lambs Club is certainly worth a visit, particularly on a lazy Sunday when there is live jazz.
The stylish Prohibition-style cocktail menu has been created by Milk & Honey's Sasha Petraske and includes freshly-pressed juices and hand-cut ice.  I loved the suspended Empire State Building light fixtures above the bar.
The Lambs Club at The Chatwal brings back the refined elegance of 1930s New York and is the perfect place to slip away from Times Square for a decadent meal or cocktails.  It should be in every New Yorker's 'little black book'.
For more information and reservations, visit: www.thechatwalny.com/The-Lambs-Club
Chérie City was a guest of The Lambs Club, The Chatwal
Photos by Chérie City and The Chatwal