When Seven Hotel opened its doors in 2010 (following the success of its sister The Five Hotel), it was one of the leaders of a new style of design hotel in Paris, bringing a touch of fun, whimsy and imagination to the hotel scene.
Paris may have a reputation for being slightly conservative and erring on the side of 'good taste', however, the city has a crazier side.  Let's not forget that Paris was once at the centre of the Surrealist and Dada movement!
The Seven Hotel is an experience like no other, and only dreamers will appreciate its charm.  Located on the rue Berthollet, the Seven is on the edge of the Latin Quarter, just a few steps from the lively, foodie hotspot, rue Mouffetard.  Who would have known that such a fantasy world would be hidden behind this typical Parisian Haussmann facade on a quiet residential street?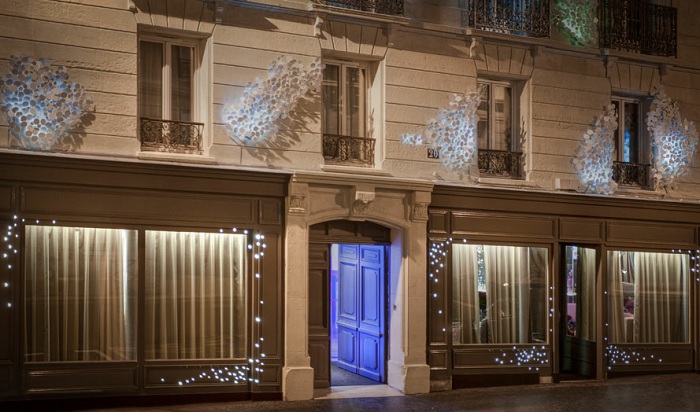 The Seven Hotel may seem a little far from the city's main attractions, but it's close to two metro stops and The Pont-Royal RER is a 10-15 minute walk from the hotel, making handy for the Eurostar.
The hotel is best known for its 28 'Levitation' rooms, with floating beds, however there are also seven themed suites, including the James Bond, the decadent Black Diamond, the urban ski lodge Lovez-vous, the all-white Sublime and the zany Alice in Wonderland-inspired Alice suite.
I stayed in the Marie Antoinette suite, presumably where one should elegantly graze on Ladurée macarons and yell out to the Parisians below, 'let them eat cake'!  In fact, there were some typically 'Marie Antoinette' features, such as the 'voluptuous lounge' with an enormous chaise-longue, a rather regal canopy bed and a fabulous claw foot bath tub for unwinding.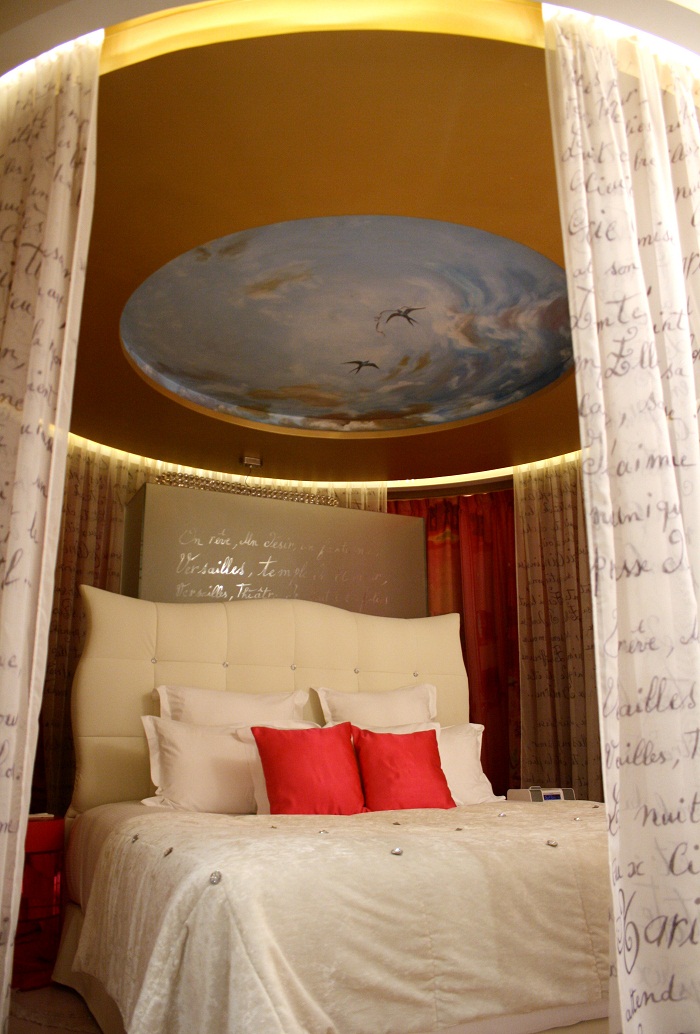 The spacious suite was the most girly of boudoirs, with a large round bed, a diamond-studded velvet bed spread, dozens of cushions, attractive hand-painted fantasy world scenes and lashings of pink.  Like a true 'honorary Parisienne' I found the crazy cushions a little de trop, as they detracted from some of the prettier features (less is more, in this case).
It was certainly a room of discoveries, with plenty of 'push me' buttons to activate different features.  Billowing drapes covered the extensive shelving and wardrobe and there was a cute vanity dresser tucked neatly behind the bed.  Strangely there were two pristine blazers hanging in both of the wardrobes.  While they were meant to be decorative, they could come in handy if your date forgets his dinner jacket!
I also loved the twinkly star lights that filled the entire room and bathroom, extending to the hallways and separate toilet, which offered hot pink toilet paper, no less.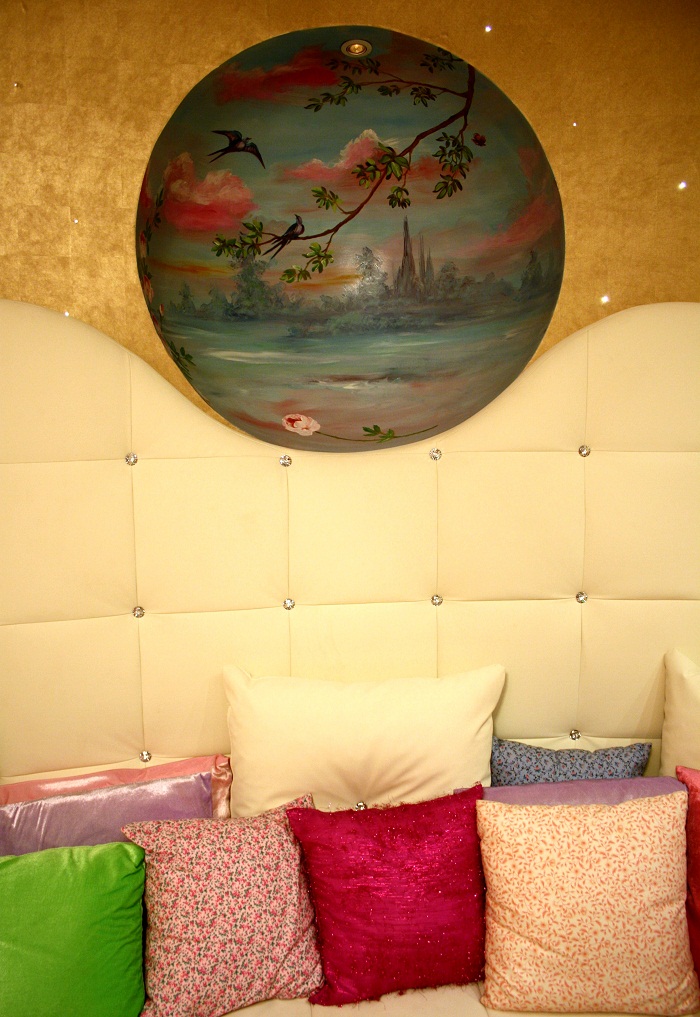 Of course, a modern day Marie Antoinette needs to be connected to the outside world (ironically my stay coincided with the French elections), so the room includes a very large flat screen TV, complimentary wifi, an iPod base and electrical sockets on each side of the bed.
Other room comforts include a complimentary Nespresso machine (although no tea), 24-hour room service, in-room massages on request and laptops available for loan.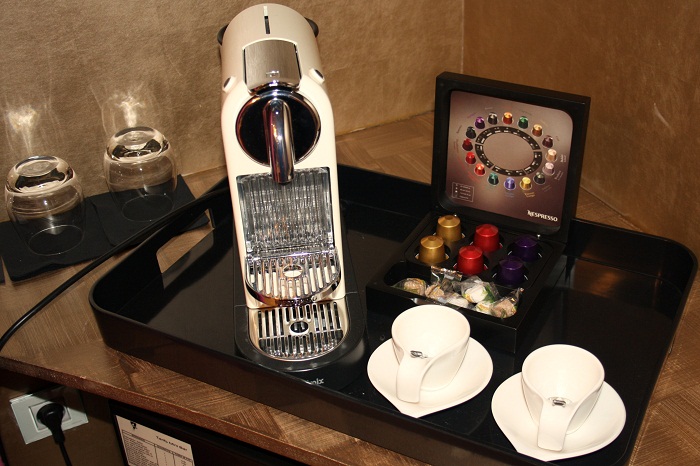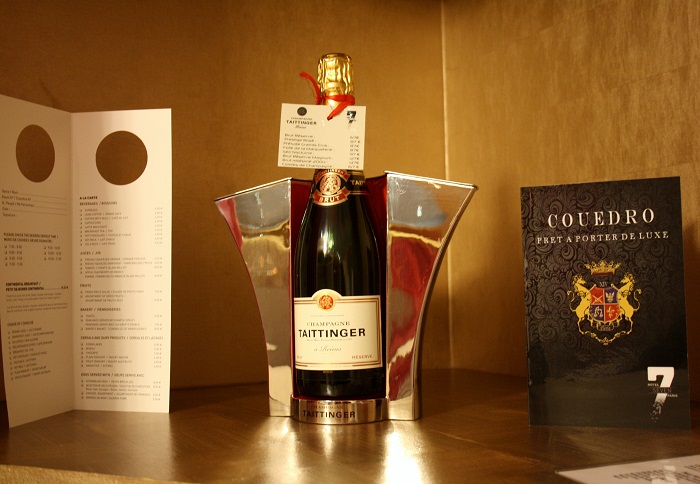 The stunning open-plan bathroom features a separate shower and claw foot bath tub and has the most adorable gold star sink.  There was a generous supply of L'Occitane bathroom amenities, including shea butter hand cream, and fluffy bathrobe and slippers.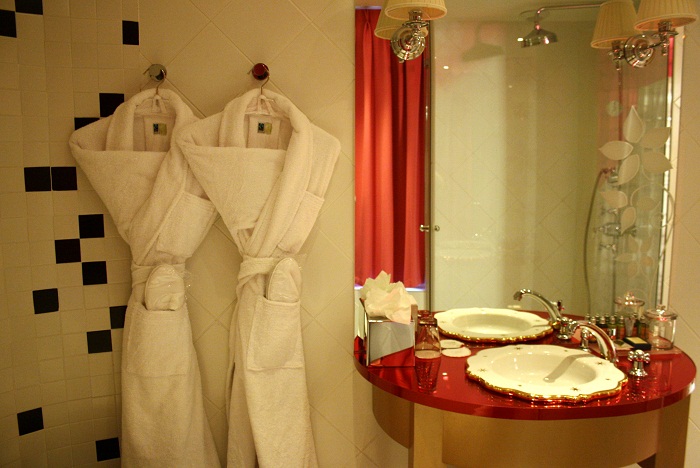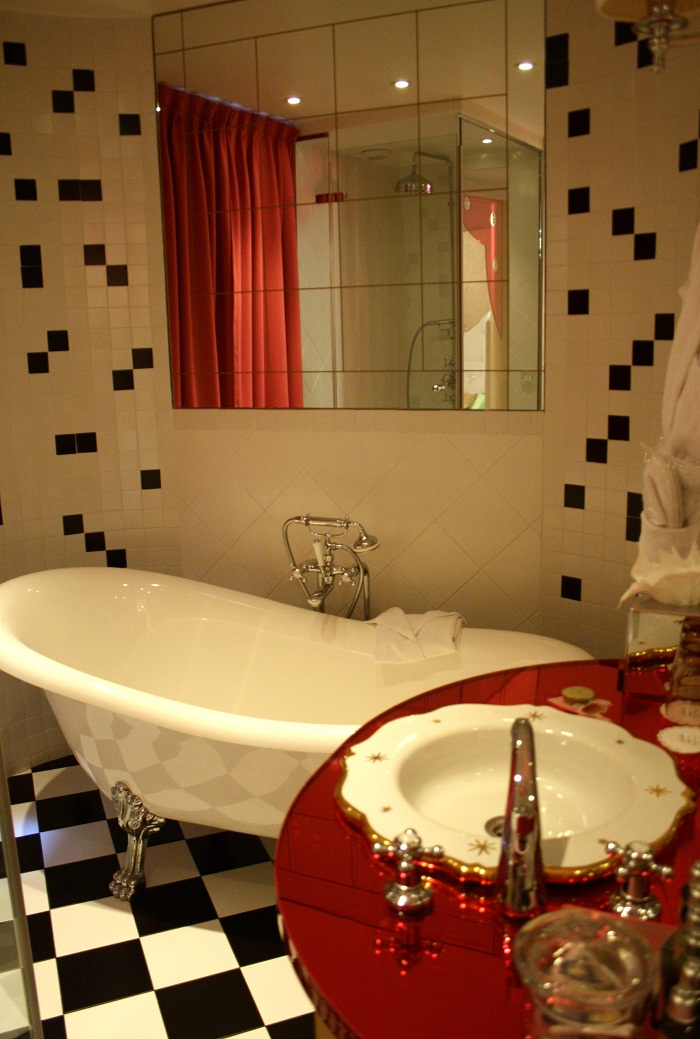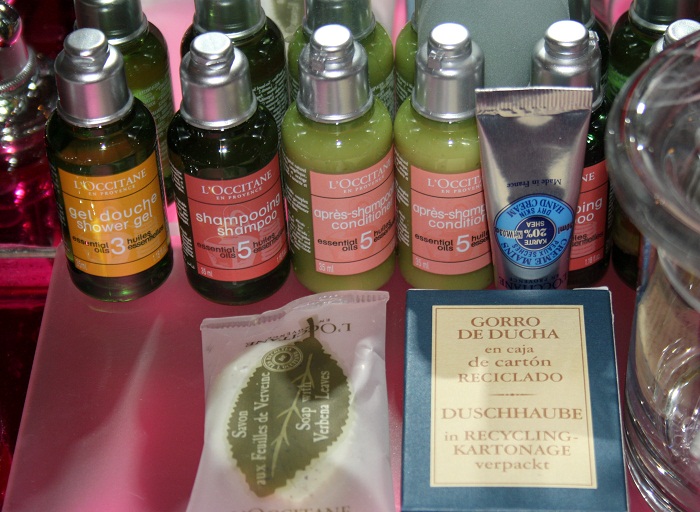 After a heavenly sleep, the next morning I went down to the breakfast room on the lower ground floor. The buffet breakfast was varied and excellent – definitely leaning towards the sweet side, of which Marie Antoinette would surely approve.
There was a savoury selection of really good scrambled eggs, bacon, sausages and charcuterie and then a sweet array of pastries, crêpes, pancakes, waffles, muffins, brioche and macarons.  I particularly liked the big bowls of speculoos spread and Nutella to smother on the pancakes and a selection of fine teas, especially my favourite, caramel tea.  Also on offer are jelly snakes and gummy bears, should you wish to pimp your pancakes and start the day on a sugar high.
Breakfast can also be taken in the room or an express breakfast at the ground floor bar with velvet chairs and interesting artwork.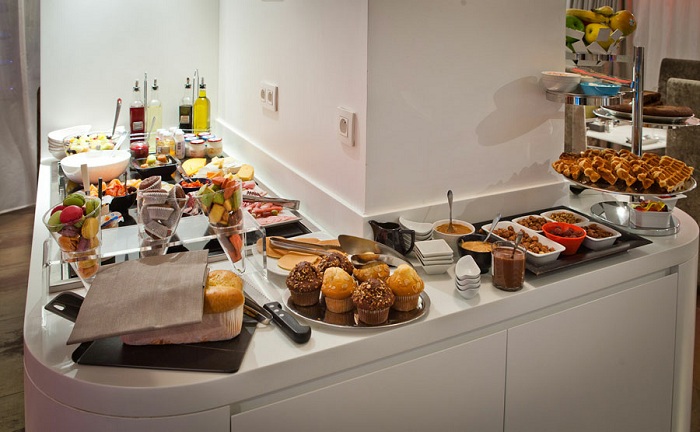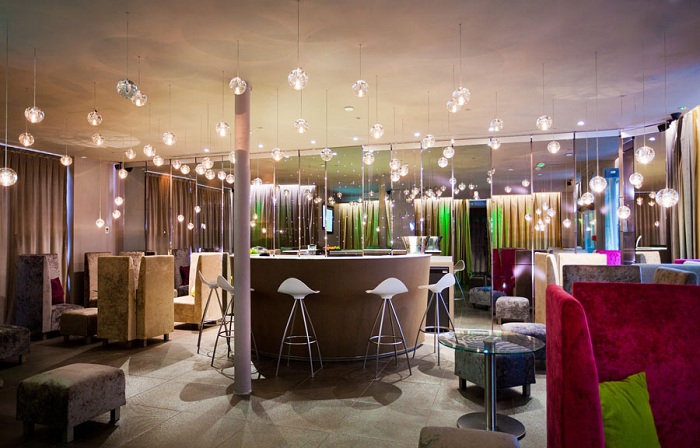 The Marie Antoinette suite is feminine and frothy – perfect for a girly weekend break with friends or a mother-daughter trip to Paris.  Those who prefer a sleeker stay might prefer the darker, sexier 'Levitation' room with stark white acrylic interiors and a veil of blue and purple LED lighting.  Whichever room appeals, it will certainly be an adventure!
Rooms at Seven Hotel start from €197 per night and the Marie Antoinette suite is priced at €367 per night.  For more information and booking, visit: www.sevenhotelparis.com
Chérie City was a guest of Seven Hotel
Photos by Chérie City and Seven Hotel Paris