Rebecca Brett shakes up lunchtime with the fresh, raw food concept straight from Copenhagen…
Lunchtime in London leaves one spoilt with choice, from huge generously-filled burritos, freshly made baguettes, hot and warming soup, salty beef sandwiches, naughty takeaway burgers and fish finger wraps. But with summer, comes the urgency to look better and feel better, to don a skirt without worrying about the wobbly bits and to opt for a lighter lunch that is both healthy and nutritious.
This is where 42°Raw comes in.  Fresh from Copenhagen comes the acclaimed restaurant that specialises in raw food. Not one single thing that leaves the kitchen has been cooked, everything is served in its most natural state. That means no added sugar, no dairy products, no colouring and no nasty preservatives.  Just really healthy and natural food. Boring right?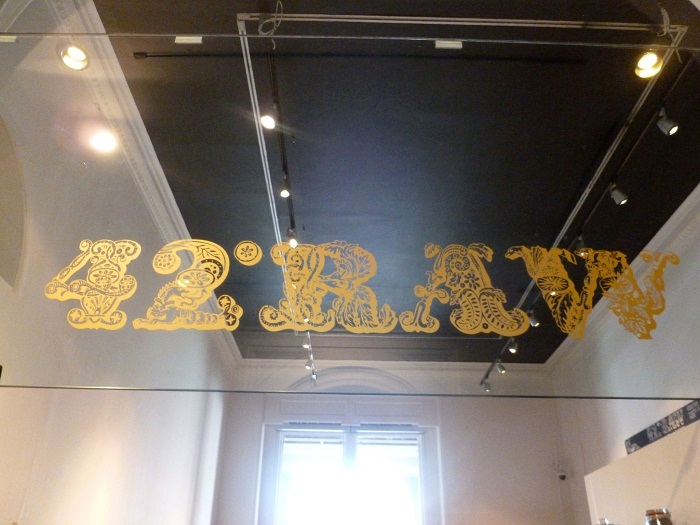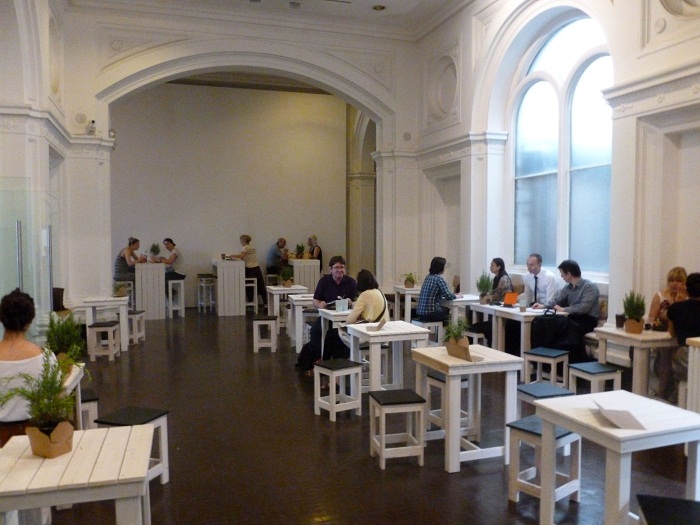 I'm the first person to shun salads for pizza, dollop a huge blob of mayonnaise on my triple-cooked chips and add an extra sugar to my tea. So an invite to 42°Raw was intriguing yet I expected to hate every minute. For moral support and guidance I took along my spirulina-loving, fat shunning, health freak friend Lisa, who I knew would love every minute of the weird and alien (to me) wholesome world.
The 100% plant-based healthy fast food cafe is in the well to do area of  Mayfair, on Burlington Gardens, with the likes of Cecconis and The Embassy Club as neighbours.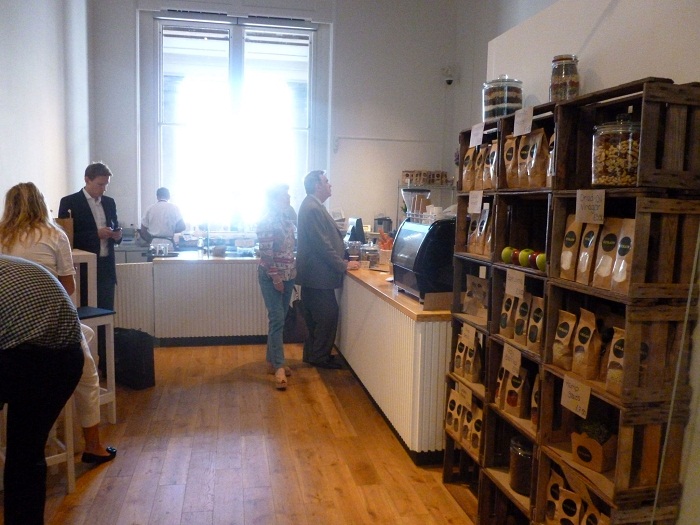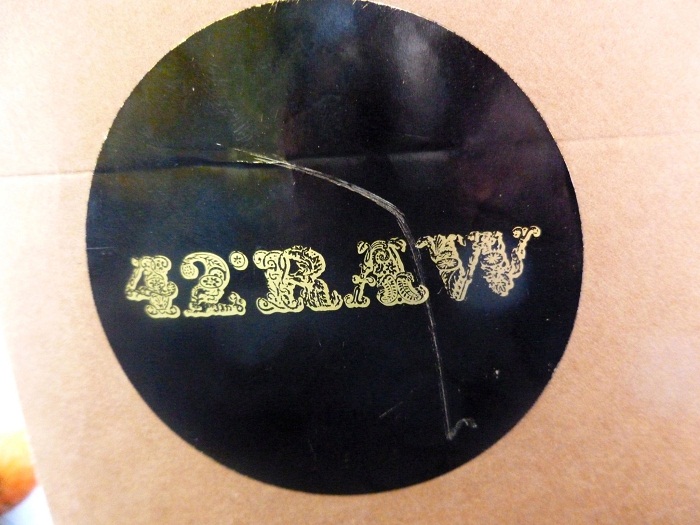 Set in the beautiful Royal Academy of Arts, the idea is to choose which dish, or dishes in our case, you would like from the extensive menu, hand over your money and then you get a numbered carrot, no wooden spoons here! You then find a table and wait while your lunch or dinner is freshly prepared and bought to the table.
After some recommendations we chose the Lasagna (£7), Mango and Pumpkin Seed Salad (£6) and Tapas (£10) which is trio of mini samplers including the lasagna, Thai noodles and apple and walnut salad.
While we waited for our lunch, we supped on a smoothie each, the Milano with basil, ginger, apple and cucumber for Lisa and the Stockholm with mango, mint, chilli, apple and carrot for me. Packed full of goodness but not heavy or sweetened, I loved the extra chilli kick in mine – good for the metabolism too!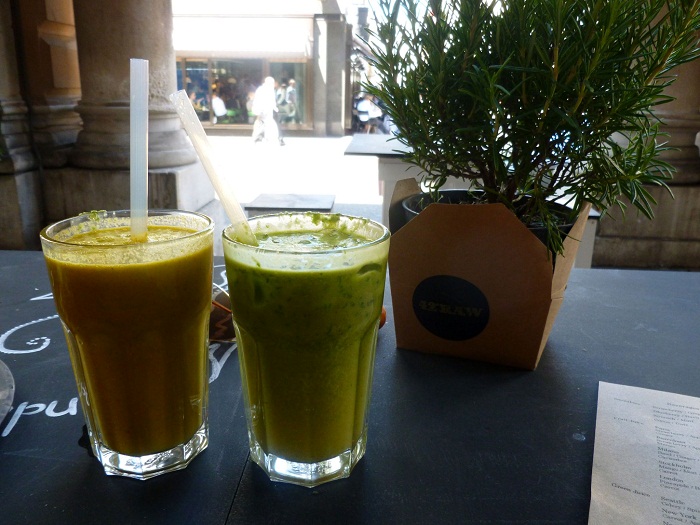 Then these works of art arrived, the presentation of our lunch was stunning. Thinly sliced layers of courgette, tomato and baby spinach with walnuts, parsley and cashew made up the huge portion of lasagna. It was divine. As we were eating, we kept discussing our disbelief that everything was raw, it just tasted so good but the creaminess in the lasagna didn't come from artery clogging dairy fats but the natural fats from the cashew cream. Genius.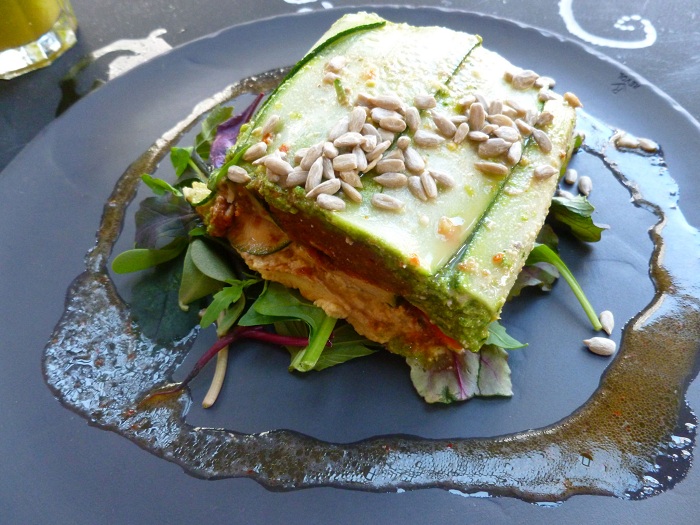 The tapas selection was very large and definitely best to share, we were happy to devour more of the lasagna, the Thai noodles were ribbons of carrot and courgette dressed in curry, red chilli and ginger with coconut oil and a small apple and walnut salad with courgette, avocado, apple, walnuts and a creamy mint and cardamom dressing.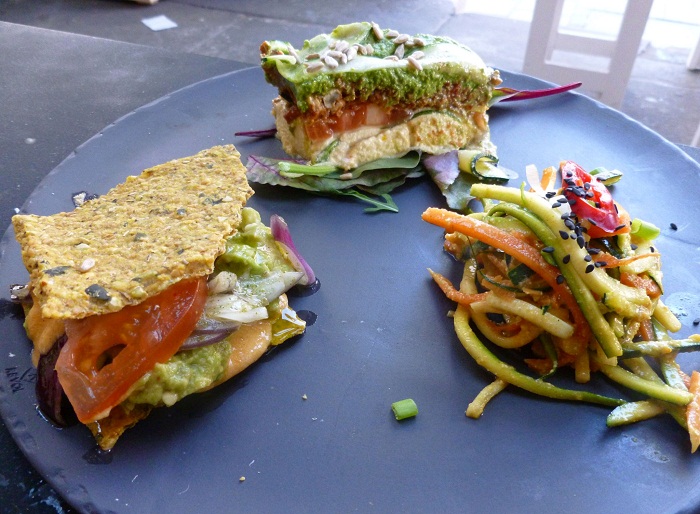 Another huge serving came, this time the mango and pumpkin seed salad, again with courgette (it's popular here!) avocado, mango pumpkin seeds and a mango and chilli dressing.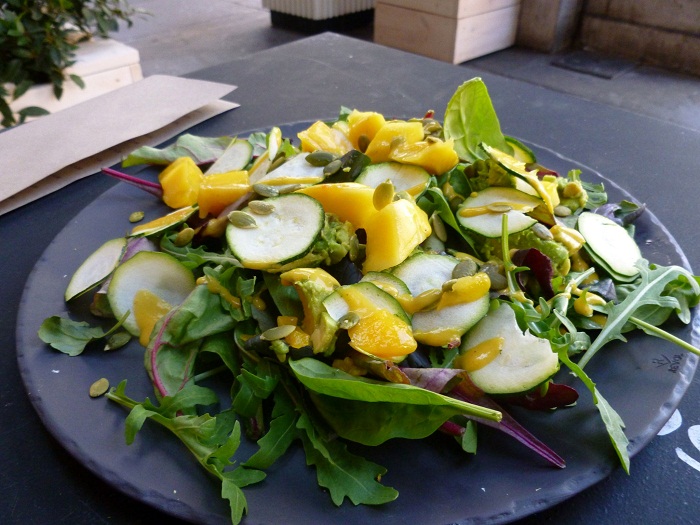 The most surprising thing about this huge array of healthy foods was that although it felt light, it was all really filling as well as being good for you, even though sometimes you couldn't tell!
42°Raw was a complete surprise to me and my senses. Common preconceptions around raw food is that it's rabbit food for the uber skinny supermodels of the world but the great food we ate completely blew that idea out of the water. The dishes we ate were delicious, especially that beautiful plate of lasagna, as well as being really good for you! A trip to 42°Raw definitely sees to the five-a-day in just one sitting.
I was also thrilled to find out that they serve breakfast too, the organic chia-cocoa pudding and chai latte with almond milk and cinnamon is already on my radar.
Rebecca Brett was a guest of 42°Raw
Rebecca Brett writes the blog, Bon Appetit