Le Dali at Le Meurice is without a doubt one of Paris' finest restaurants, with three Michelin star chef Yannick Alléno at the helm.
Five star palace hotel Le Meurice has a prestigious Paris location on the Rue de Rivoli, nestled in between iconic monuments Le Louvre and Place de la Concorde, overlooking the Tuilerie Gardens.  A member of The Dorchester Collection, the 19th century hotel contrasts Louis XVI interiors with playful touches of Surrealist artwork.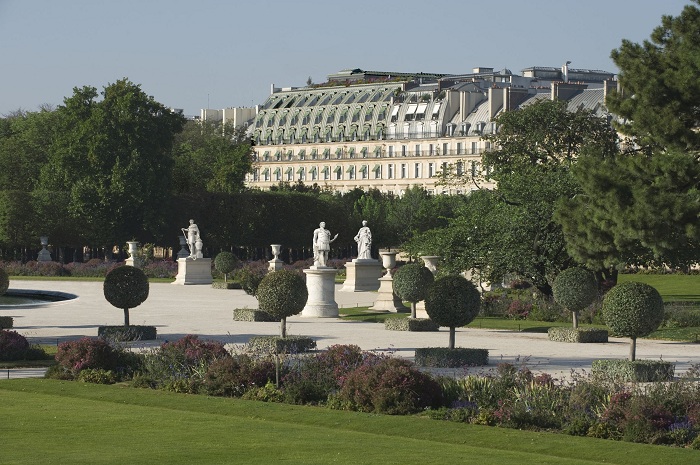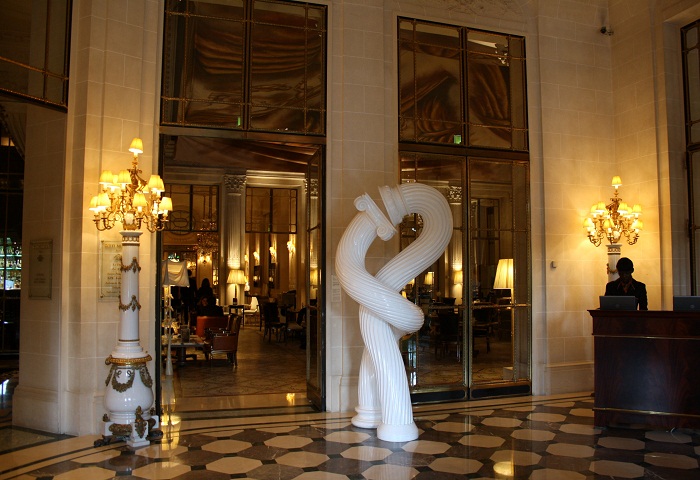 The French love affair with Surrealism continues at Le Dali, which is the only restaurant authorised to use the name by the Fundació Gala-Salvador Dalí.  The connection runs deep, as the legendary artist used to stay at Le Meurice for at least one month per year, keeping the staff on their toes with his eccentric demands.
Le Dali is the more casual sister of the rococo style, gastronomic Restaurant Le Meurice, however, its own grandeur cannot be underplayed.  The elegant mirror panelled room is punctuated with Surrealist furniture and boasts a spectacular ceiling canvas painted by Philippe Starck's daughter, Ara Starck.  The colour palette of gold, ochre and black, with soft lighting, gives it a decadent, seductive ambiance.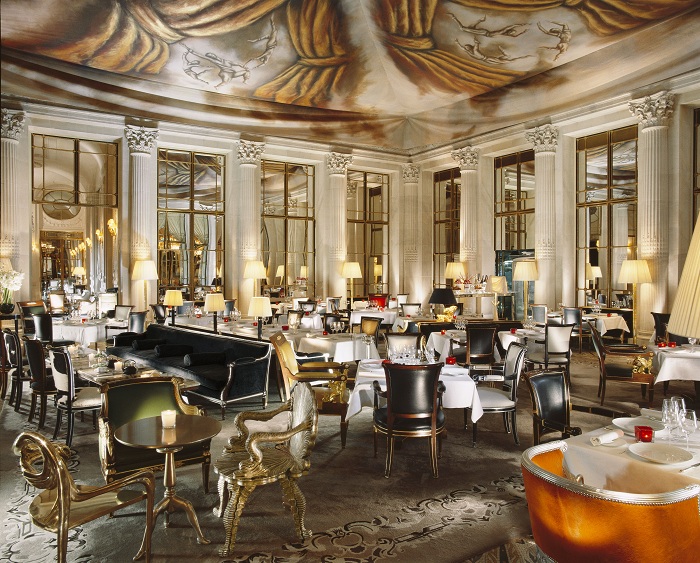 Head Chef Yannick Alléno has overseen the Restaurant Le Meurice and Le Dali since 2003 and has since received the Nation Order of Merit and was elected 'Best Chef of the Year 2008' by Chef Magazine.  Alléno is widely known as 'the chef with the rock star looks' and there is definitely something rock 'n' roll about Le Dali.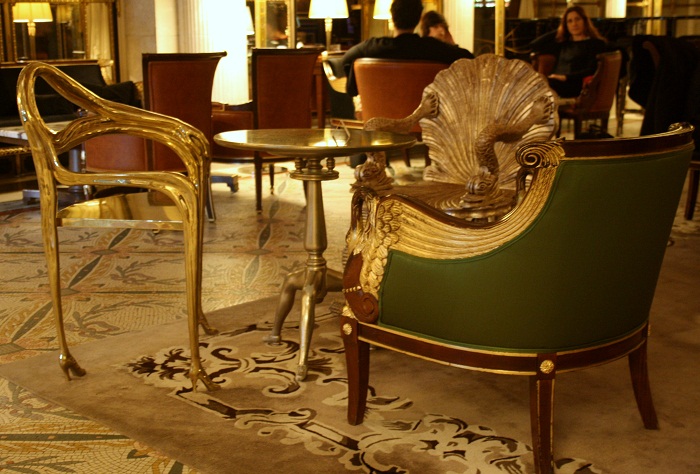 The main purpose of my Paris trip was an overnight stay chez Le Meurice's glamorous sister Hôtel Plaza Athénée and a rare visit to the Hermès Atelier, however, the second part was a dedicated girly day of catching up with Parisian friend Coralie.
Already au fait with the city's finest establishments, Coralie was the perfect partner to try Yannick Alléno's new menu, La Cuisine de Palace.  Often, my restaurant reports are from the perspective of a couple, but this time I was testing the patience of staff when encountered with two friends who are always indecisive and always the last to leave.
On arrival, we ordered a few bite-size snacks from the antipasti menu to accompany our drinks – a sensible Diet Coke and fresh fruit smoothie.  The Potato and ham croquettes (€14) were petite, crispy balls filled with strongly-flavoured ham.  The Crispy shrimp fritters (€16) were more like tempura shrimp than fritters, but they were succulent and meaty with a crispy, golden coating.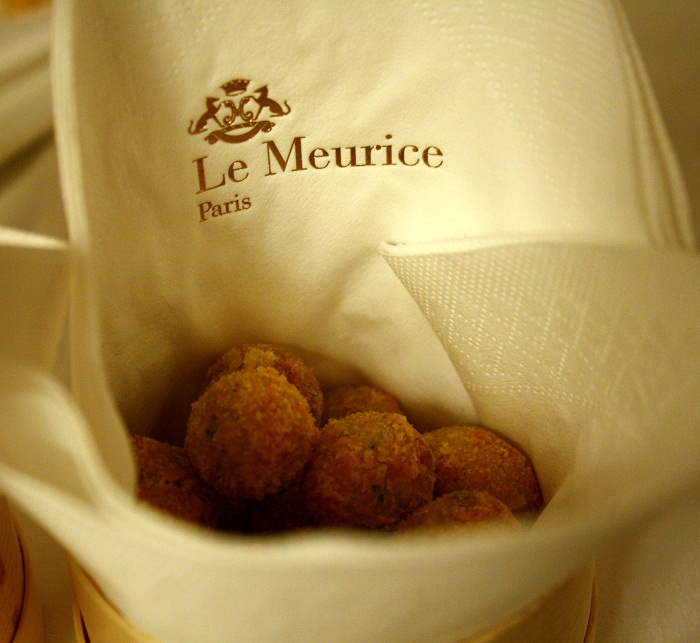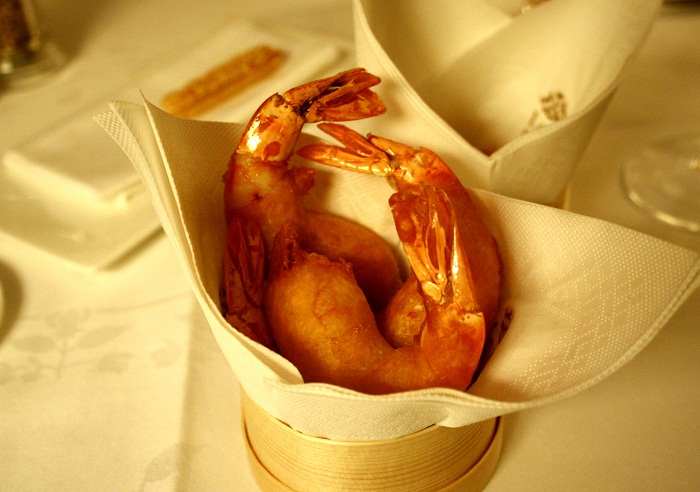 I started with the Ravioli steamed with citrus, soy sauce (€20).  The large ravioli were served at room temperature and generously filled with rich, well-seasoned minced pork and fresh herbs.  Unlike some ravioli that can be blitzed into sticky submission in the steaming basket, these ones were on the firmer side.  The colorful slices of pink grapefruit and orange added a burst of sweet and tart zestiness, lifting the rich flavour of the filling.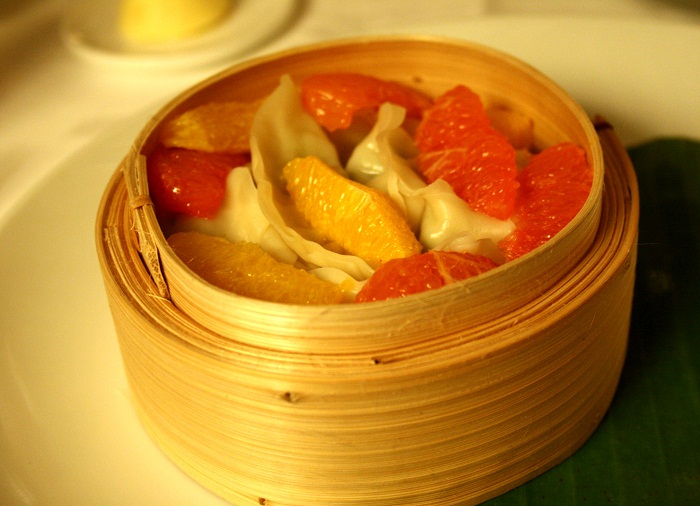 Coralie went for the Avocado and shrimp cocktail salad (€30).  The salad was made of large fresh green leaves, plump marinated shrimps, thick slices of avocado and wedges of citrus fruit.  It was a good size and a refreshing start to the meal.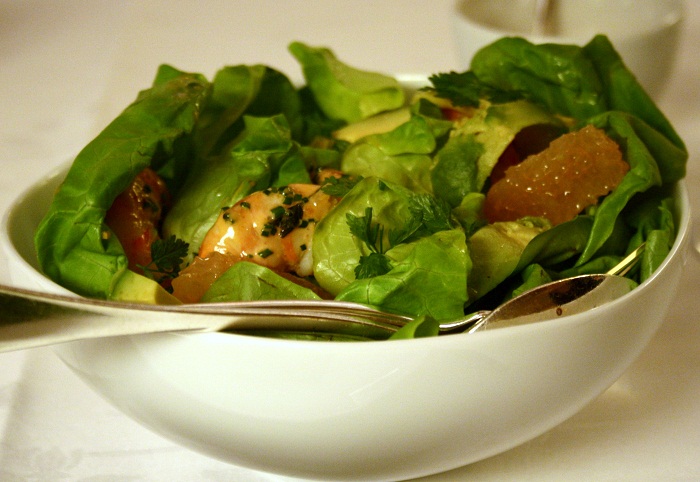 For the main course, I was tempted by the Spit-roasted free-range chicken (€28) and accompanied it with Home-made French Fries (€6).  Anyone who has ever visited the markets on the rue de Martyrs or the rue Mouffetard on the Left Bank will know that Parisians can cook a mean rotisserie chicken.
Yannick Alléno's spit-roasted chicken was succulent and juicy with the most delicious crispy, sticky, beautifully seasoned skin.  It was served in its own jus with roasted cloves of garlic and fresh rosemary.  The French Fries were also golden and slim with a slight crunch – just how they should be.
Had I not indulged already at Alain Ducasse au au Plaza Athénée at the beginning of my trip, I might have tried the 'Best Burger' of the New York Times, as this is surely worth tasting.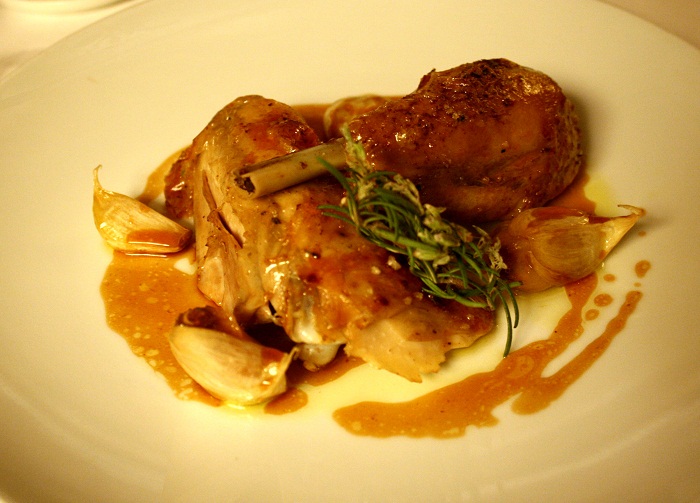 Coralie once again managed to order the healthiest dish on the menu, making me think that there could be some truth in Mireille Guiliano's book, French Women Never Get Fat.  She tried the Sea bass tartar with ponzu (€27) – fresh raw fish marinated in citrusy ponzu and garnished with fresh herbs and lots of dill.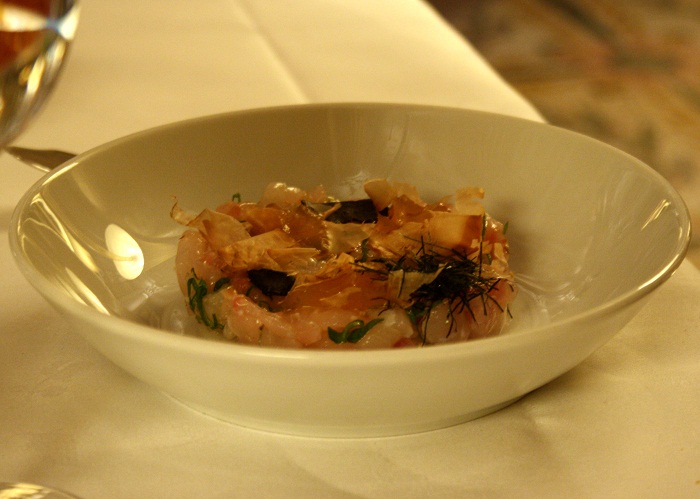 For dessert, it had to be my favourite Paris cake, the Religieuse.  Young Pastry Chef Camille Lesecq is another long-term fixture at Le Meurice, beginning his career in the kitchens there in 2004.  Voted 'Pastry Chef of the Year 2010' by Chef Magazine, Lesecq finds inspiration from tiny pâtisseries that he comes across while rollerblading around Paris.
I tried his delectable Crunchy caramel religieuse pastry (€14).  Covered in crunchy caramel spun sugar and filled with salted caramel crème pâtisserie, this was one intensely caramel dessert.  The choux pastry had a light, springy texture and the crème pâtisserie was cool, silky and just sweet enough.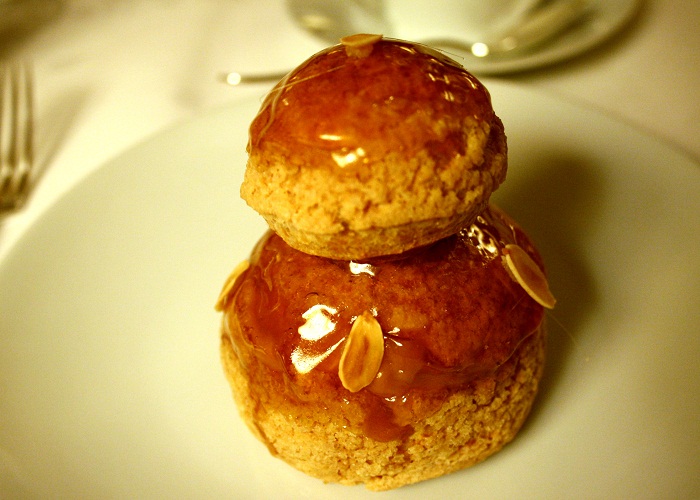 Coralie's Roasted rhubarb with vanilla, rosemary panacotta (€14) was another triumph.  The rosemary-infused panacotta was aromatic and creamy and the gold-leaf strawberries added luscious fruitiness to lift the flavours.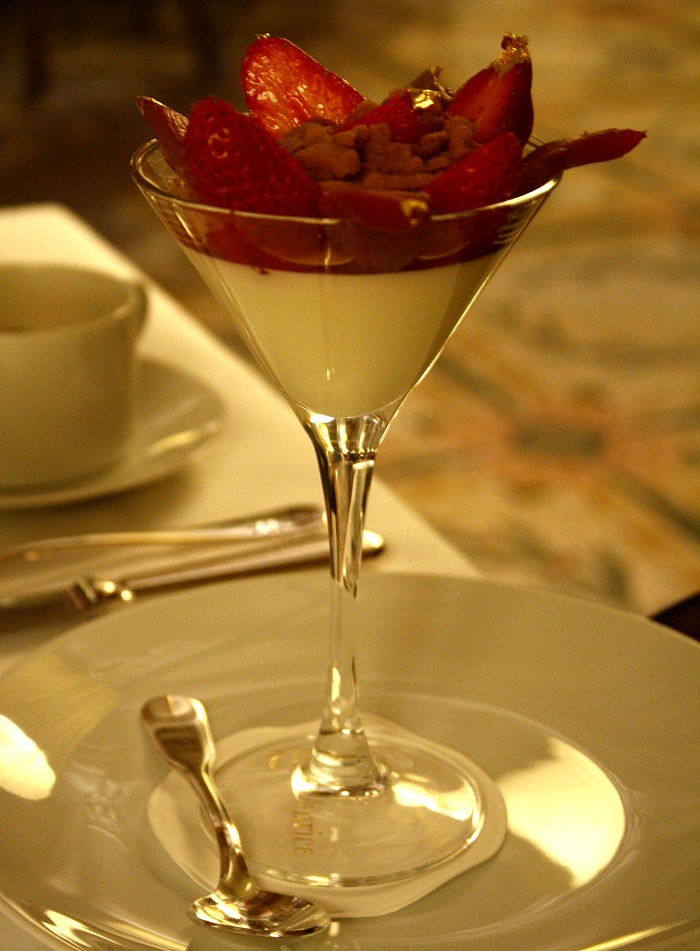 We finished with some fresh mint tea and lingered a little longer, never feeling rushed by the wonderful staff.
Another highlight at Le Dali is the delectable afternoon tea, including a selection of finger sandwiches, freshly-baked scones with jams and cream, a selection of pastries and cakes by Camille Lesecq and a choice of fine tea, coffee or hot chocolate.
Le Dali is a truly special restaurant in Paris, bringing together imaginative, superior quality and exceptional service.  Despite its stellar reputation, Le Dali feels like a secret spot among the grandeur of the 1e arrondissement and is the perfect place to revel in Paris' avant-garde past.
For more information and reservations, visit: www.lemeurice.com
Chérie City was a guest of Le Meurice
All photos by Chérie City (except the exterior and Le Dali by Le Meurice)