London pop up restaurants have to do a lot more to impress these days.  To excite jaded Londoners who have seen temporary dining done to death, restaurateurs must go the extra mile and build an aeroplane, fly in chefs from India to cook or find a venue in the shadow of the Olympic stadium.
Berlin-based catering group Kofler & Kompanie first launched the Pret a Diner dining experience (don't call it a 'pop up') in 2005 and has since hosted a number of events in Germany, last year's Minotaur at The Old Vic Tunnels and most recently On The Grid at Monaco Grand Prix.
Pret a Diner's latest London venture, Italians Do It Better, located in Mayfair's stunning grade II-listed 50 St James, is simply magnificent.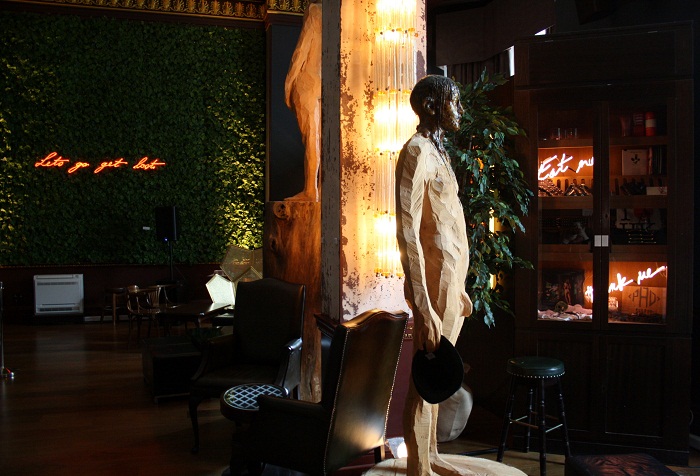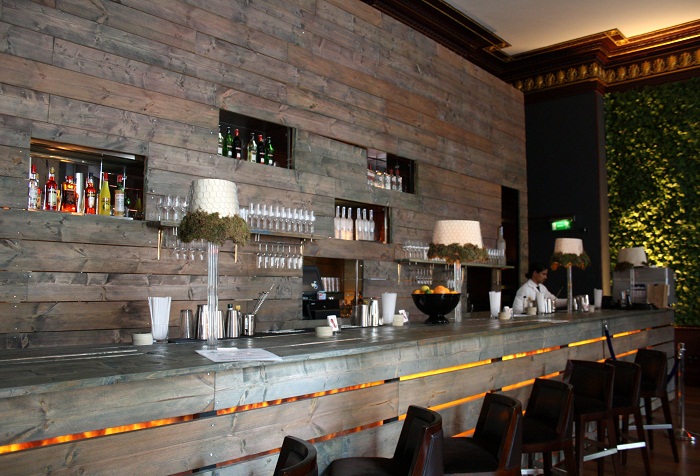 Italy's hottest chefs have been invited for a ten day residency each, including Viviana Varese, Norbert Niederkofler, Accursio Craparo and the Costardi brothers.  Each evening, there is a choice of two menus – a classic and more innovative option.
Designed by Benjamin and Philip Wyatt, Italians Do It Better is a visual feast of contemporary art, cutting-edge music, live performance and Michelin Star Italian cuisine with an avant-garde twist.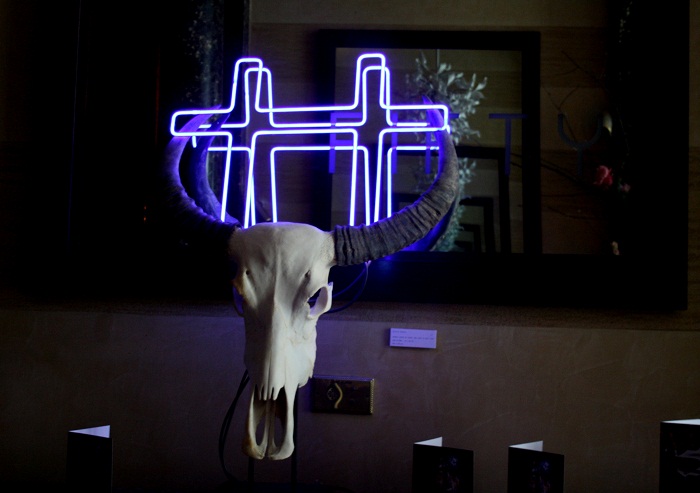 The palatial building is filled with neon installations, elaborate candelabras and dozens of tea lights – think Baz Luhrmann's Romeo + Juliet.
By the entrance is the downstairs cocktail bar, managed by 69 Colebrooke Row and filled with neon installations by Olivia Steele, including the highly appropriate 'You'll Miss Me When I'm Gone'.  Opposite is an art exhibition by the acclaimed Gazelli Art House, featuring contemporary Italian artists Monica Bonvicini, Aron Demetz, Vittorio Corsini and Giovani Ozzola.  The grand staircase is lit up by Corsini's striking red neon cross and at the top of the staircase is Manet's Le déjeuner sur l'herbe, covered in the Louis Vuitton monogram.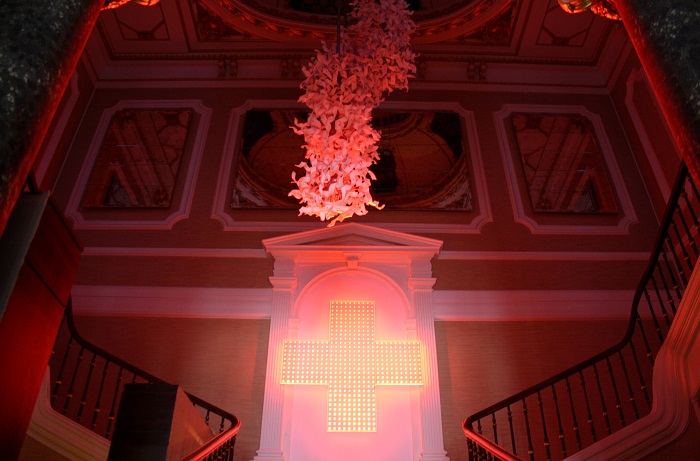 After dinner, the bar area is transformed into a club and so far, entertainment has come from The Box and DJ sets by Fischer & Kleber and Silvio Pacini.
The rustic wooden tables with Philippe Starck chairs are covered with recycled paper place settings, terracotta side plates, hand-made Italian lace doilies, charcoal slates, printed napkins and a copy of Pret a Diner's own newspaper, Il Corriere.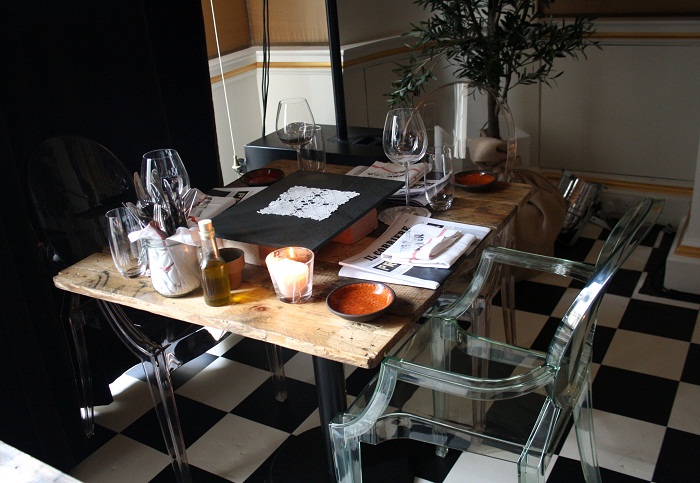 Last night, I had the pleasure of attending an exclusive preview tasting of the new menu by Norbert Niederkofler – the two Michelin star chef at Hotel & Spa Rosa Alpina in The Dolomites.  It was a perfect opportunity to marvel at the artwork and chat to Norbert, the owners and the team, before the well-heeled Friday night crowd arrived.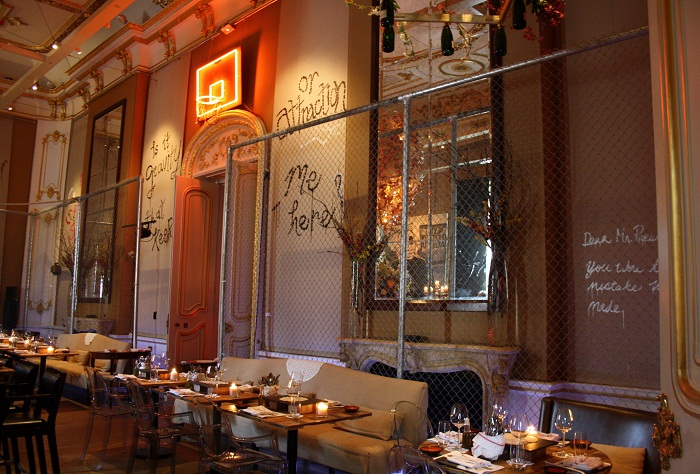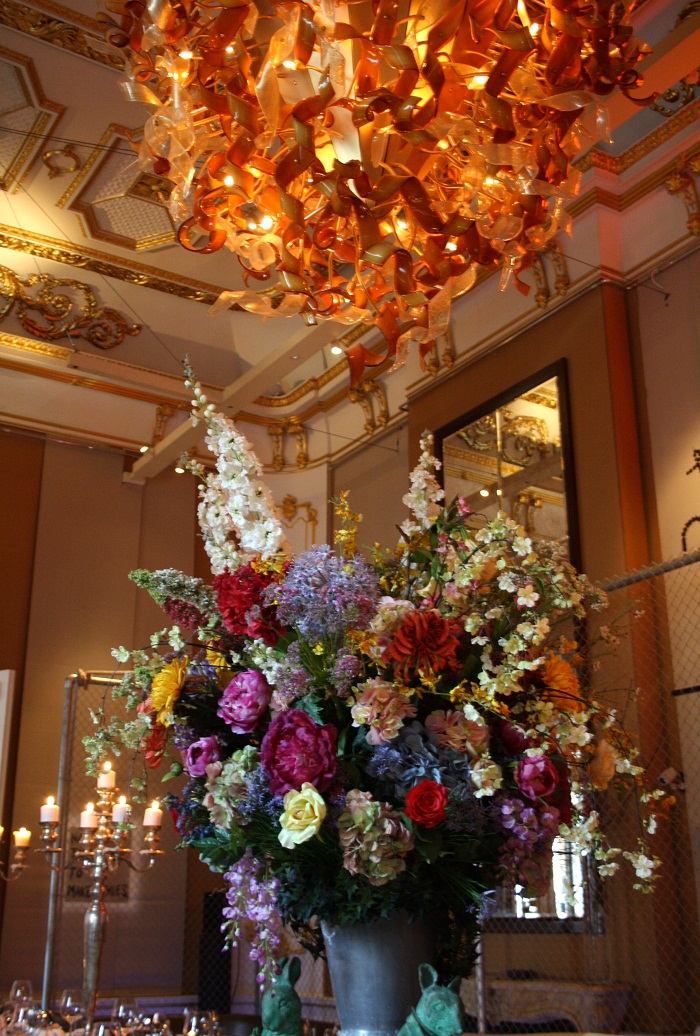 On arrival we were met with an aperitivo of Prosecco, which had a delightfully sticky flavour with notes of brioche and bergamot.
We started with an amuse bouche of green apple and cauliflower purée.  The tart and crunchy pieces of green apples went extremely well with the chilled, creamy cauliflower – two flavours that I've never thought of pairing.
The starter was without a doubt the most innovative on the menu – 'North and South' – Angus Beef, Burrata, Rhubarb.  Lean, top quality and perfectly seasoned steak tartare was served with a plump ball of milky burrata and accompanied by the most fabulous basil ice cream.  The combination of the three components made for an icy, extremely fresh, tongue-tingling, raw masterpiece.  The flavours were so clean and the textures so silky – this was a truly exciting dish.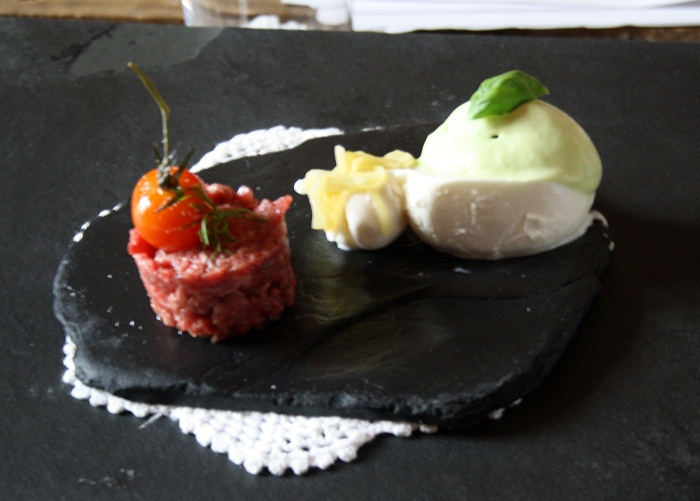 Next up was the primi platti of 'Water and Terra' – Salmon, Gnocci, Balsamic Glaze.  I'm not a fan of smoked salmon, but these wafer-thin slices had an intense, oaky flavour which complimented the insanely delicious gnocci.  I rarely order gnocci because like risotto, it can be so dense and rich that I tire of it quickly.  However, this gnocci was light yet satisfying and the balsamic glaze added the necessary sweet acidity to lighten the flavours.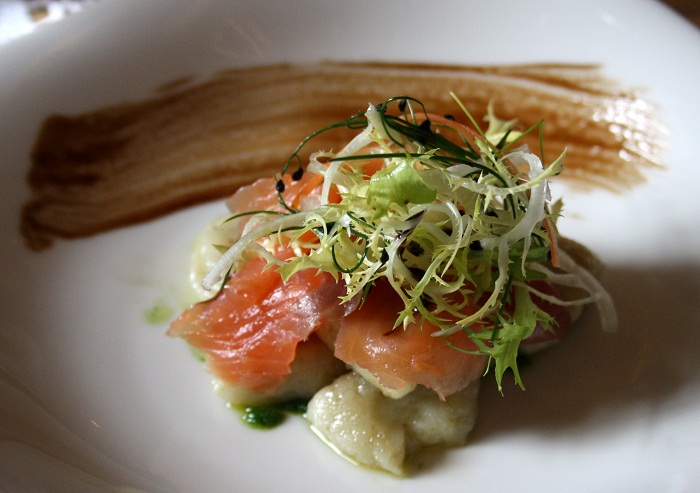 Then a little bit of tradition crept back in for the secondi – 'Patience and Lust' –  Veal, Caponata, Fig.  The plump, medium-cooked veal shoulder was succulent, tender and juicy, with a roasted layer of fat and a rich port reduction.  The 'caponata' was confusing and appeared to be slightly hard, pickled root vegetable cubes rather than the traditional olive oil smothered concoction of slow-roasted aubergines and capers.  This modern interpretation of caponata left me cold, however the roasted figs were much more pleasing.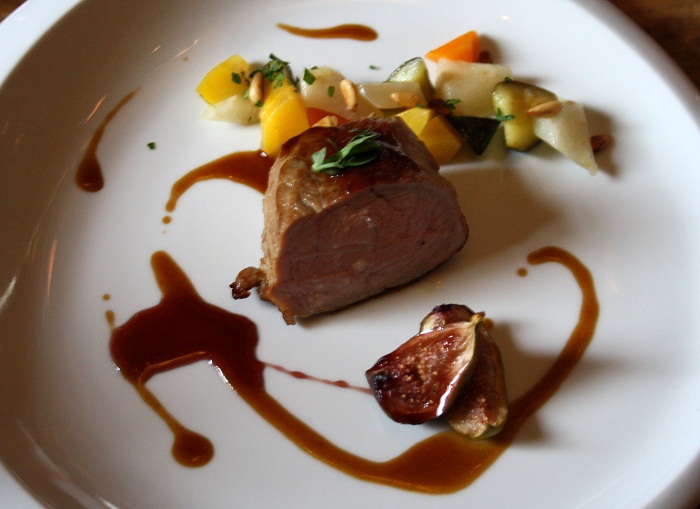 The tasting ended on a high note with the scrumptious dessert – SweetSourSpicy – Crème Brûlée, Cherries, Black Pepper.  This was crème brûlée done the Italian way – creamy with a slight ricotta texture and infused with candied fruit, making it taste like the filling of a cannoli.  The sugar crust could have been crunchier and thicker, however the liquor marinated cherries were bursting with intoxicating sweet-sour intensity and the black pepper added an aromatic edge.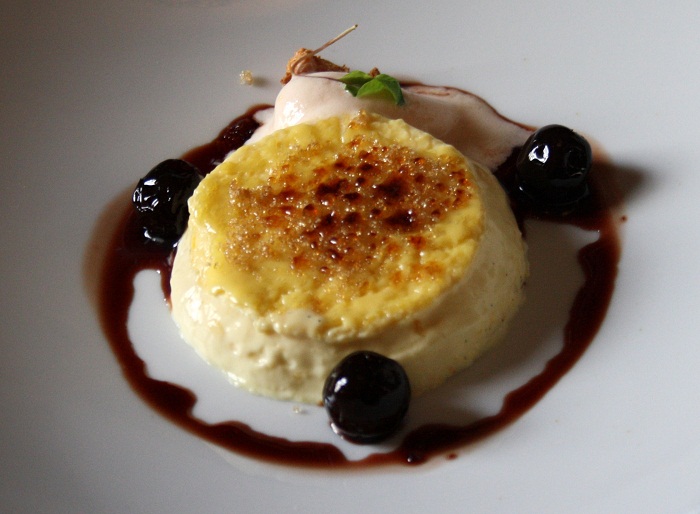 Each set menu is priced at £75 and wine starts from £6 per glass.  My only criticism is the number of extra fees – a £14 supplement to pimp your main course, £8 cover charge for evenings with live performance and £9 extra for dessert (surely a set menu should include dessert).
Pret a Diner really does live up to its fine reputation and the attention to detail and ambiance is exceptional.  Never before have I known Italian food to be so innovative, exciting and incredibly fresh.  There are still some tables left on selected dates, so for find out for yourselves if Italians really do do it better.
Pret a Diner will be moving on to Berlin from 28 June until mid-July and arrives in Sao Paulo at the beginning of September.
The Costardi Brothers' menu begins on 13 June and Pret a Diner is open until 30 June.  For more information and to request a booking invite, visit: www.pretadiner.com
Chérie City was a guest of Pret a Diner
All photos by Chérie City