Hôtel Plaza Athénée is one of Paris' most stylish and romantic five star hotels with an unrivalled fashion heritage.  Located on the chic Avenue Montaigne, this Art Nouveau palace hotel has been epitome Parisian luxury since 1911.
I was recently invited to spend the night at Hôtel Plaza Athénée as part of a luxury trip to the Hermès Atelier and Hermès Left Bank store.  Staying at Plaza Athénée has always been a dream and pulling up to the hotel in our taxi, seeing the iconic red awnings was a real 'wow' moment.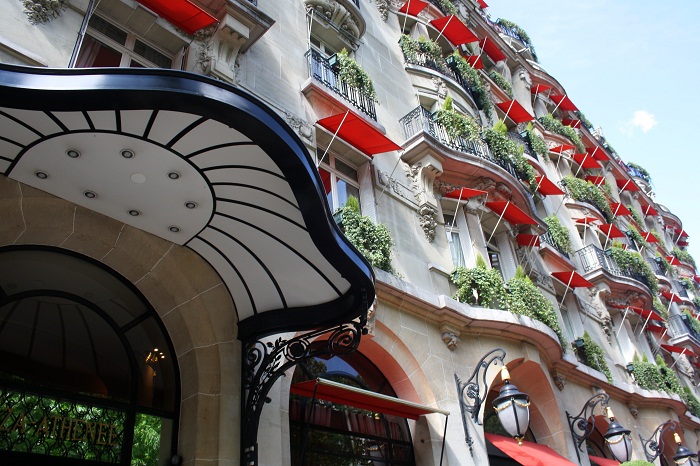 This is a good point to mention that Hôtel Plaza Athénée was the backdrop for Carrie Bradshaw's Paris adventures for 'An American Girl in Paris', the last two episodes of Sex and the City.  The lobby is elegant, intimate and filled with beautiful floral arrangements.  It is in fact cosier than in the TV series (a trick of the camera), yet just as spectacular.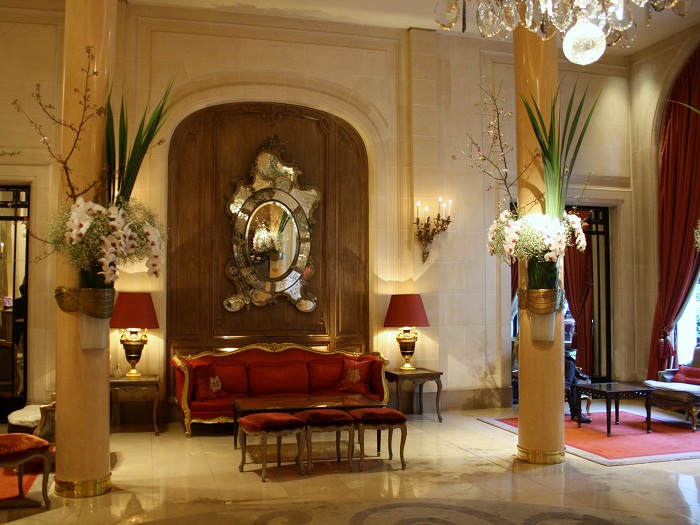 Throughout the hotel there is a luminous warmth, making you feel enveloped in a cashmere cocoon of luxury.  The friendly, attentive staff impressed by learning to pronounce my name perfectly, addressing me as 'Madame Alimohamadi' for the duration of my stay.  It's these small but notable touches that keeps Plaza Athénée, a member of the prestigious Dorchester Collection, at the top of its game.
My Deluxe Room on the first floor overlooking the Avenue Montaigne was simply exquisite.  It was designed in a Parisian style with a colour palette of pink, silver grey and light beige.  The stunning Louis XVI-style chairs and the heavy silk drapes were made of the finest fabric and I loved the antique lamps and marquetry writing bureau.
I was welcomed with a delicious lemon cake, large bottle of mineral water and fresh fruit.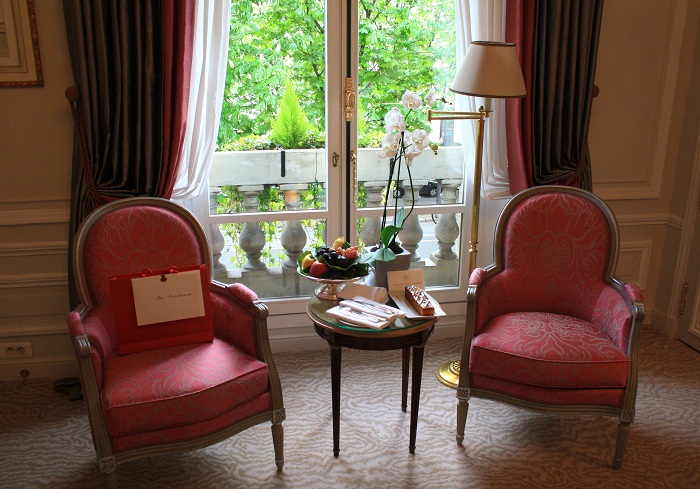 The spacious room also featured a separate dressing room with two wardrobes, a full-length cupboard and a vanity dresser.
The king-size bed was ever so comfortable and covered with crisp hypo-allergenic linen.  There is also a pillow menu, so you choose between de-stressing, osteopathic, beautifying, wheat, synthetic or horsehair.  I didn't have time to select my pillows before dinner, but the pillows selected for me were perfect (I'd like to think they were the beautifying ones).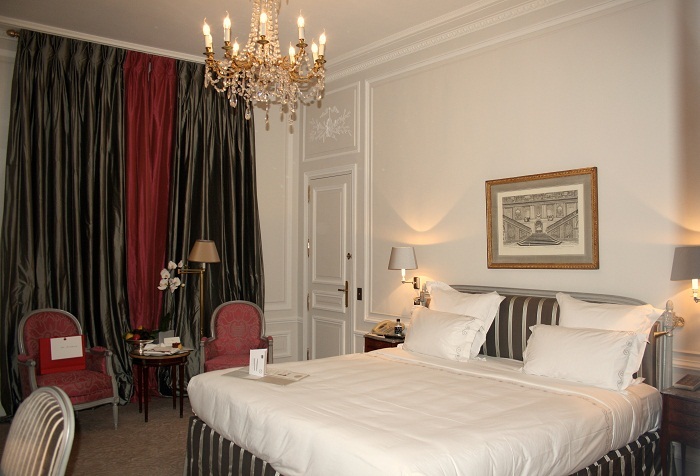 When I first arrived, it took a while to find the TV.  I searched the cupboards and tables for a sign of a screen and eventually discovered that the large gilded mirror turned into a plasma TV!
Other room features include remote-control air conditioning, internet access (for a fee), DVD player, twice daily housekeeping (including evening turn-down), complimentary shoe shine and a minibar stocked with 80 items.
The marble bathroom was also suitably luxurious with a marble bath, walk-in shower, double sink and embroidered bathrobes and slippers.  The chic bathroom amenities resembled Chanel No.5 bottles and were specially developed for the hotel by natural skincare brand, Plantation.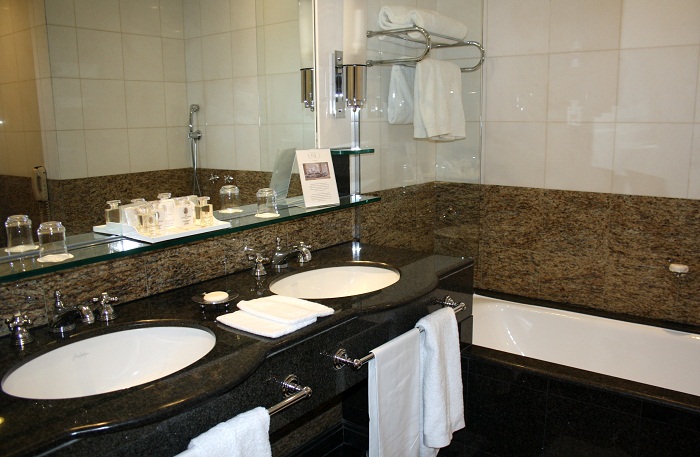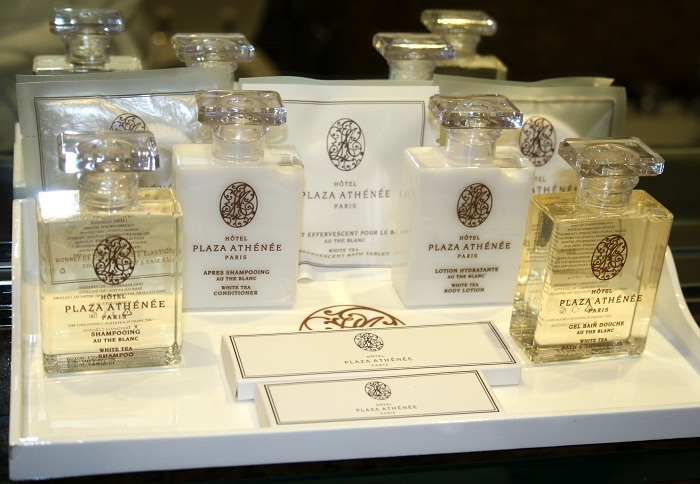 In the morning, we had an early start, so I ordered the American Breakfast – Poached Eggs on Toast with bacon, a selection of Viennoiserie, cereal, red berries, fresh orange juice and English breakfast tea.  The breakfast was excellent and beautifully presented on a full-size table with silver service.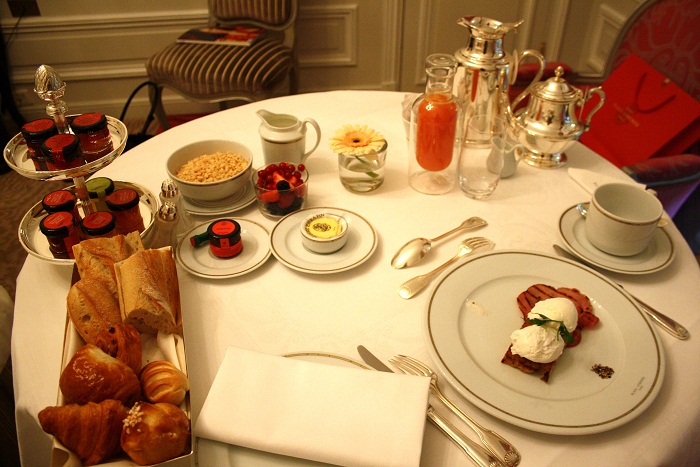 We were given a tour of the hotel, starting with the Eiffel Suite, also known as the Carrie Bradshaw suite.  The suite has since been redesigned, however, we stood on the balcony where a Sonia Rykiel-clad Carrie screams at the Eiffel Tower.
On this one rare occasion, I felt slightly more fortunate than Carrie Bradshaw, as I had the pleasure of spending my time there with Hermès and fabulous fashion bloggers, rather than the tedious Aleksandr Petrovsky!  However, wearing her mille-feuille couture gown to dinner would have been most welcome.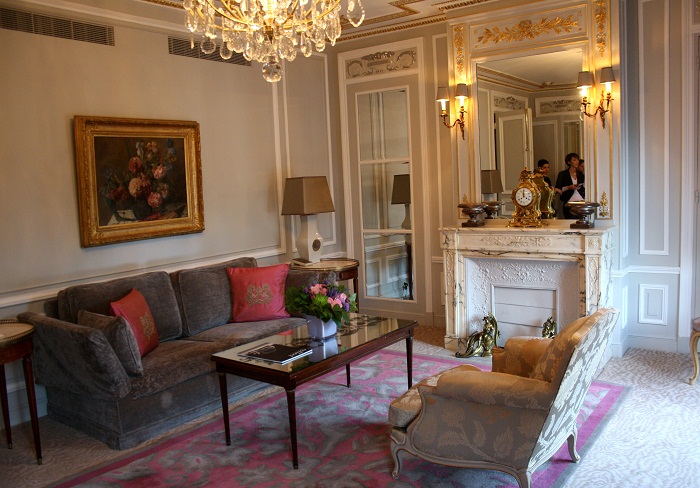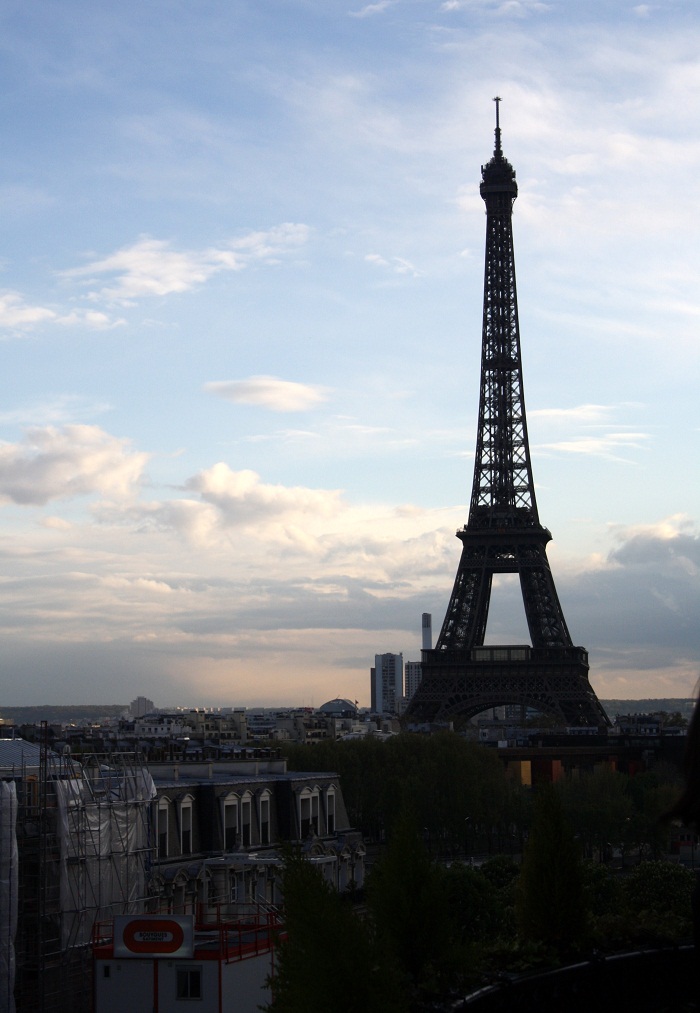 Dining at Plaza Athénée is an absolute delight.  Enjoy tea and cake by renowned pastry chef Christophe Michalak in the elegant Galerie des Gobelins or summer outdoor dining at the 'place to be seen' La Terrasse Montaigne or the romantic Cour Jardin.
For something more traditional and typically Parisian, try Le Relais Plaza with its steak and seafood focused bistro menu by Alain Ducasse.  The interiors are inspired by the Art Deco liner Le Normandie and the entrance is lined with photographs of celebrity guests at Le Relais Plaza.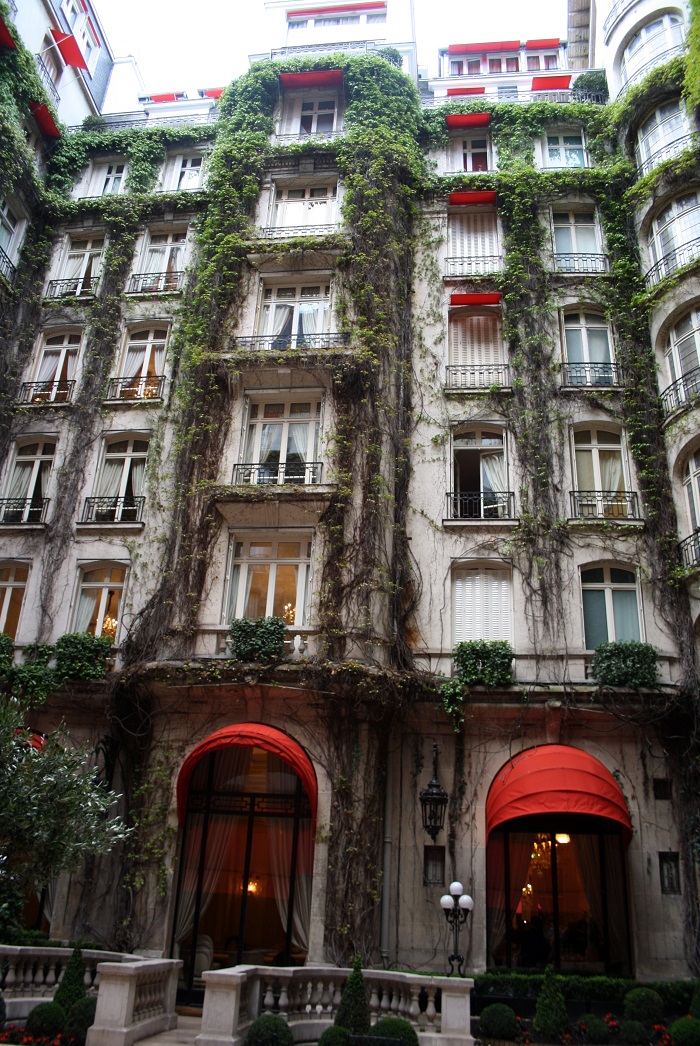 However, the jewel of the hotel is the three Michelin star restaurant, Alain Ducasse au Plaza Athénée.  We enjoyed a long, multiple course dinner at The Chef's Table – an experience for special occasions that cannot be bought.
An apéritif or a cocktail at Le Bar du Plaza Athénée is an absolute must.  The hip bar is designed by Patrick Jouin, a former protégé of Philippe Starck and has cool features such as a sculpted glass bar and iPads for ordering cocktails.  Recently, the Plaza Athénée mixologist Thierry Hernandez collaborated with perfumer Sophie Labbé on L'ELIXIR DE PRINTEMPS, a unique cocktail and perfume experience.  With each cocktail, guests will receive a limited edition bottle of L'ELIXIR DE PRINTEMPS perfume.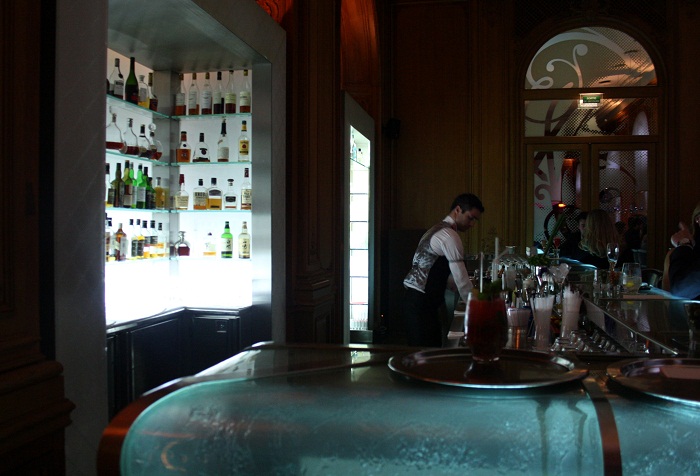 Another perk of staying at Hôtel Plaza Athénée is access to the stunning Dior Institut.  Opened in 2008, the Dior Institut pays tribute to the long-standing relationship between the hotel and Christian Dior.  In 1947, Christian Dior opened his first shop on Avenue Montaigne, so that he could be close to his beloved Plaza Athénée and his well-heeled clients. In fact, Monsieur Dior even named some of his collections 'Plaza' and 'Athénée'.
This stylish, peaceful sanctuary offers a relaxation lounge, tea room, steam baths, saunas and fitness centre. Luxurious Dior Beauté skin and body treatments are offered in private rooms designed to reflect Christian Dior's iconic geometric lines and signature colours, white and grey.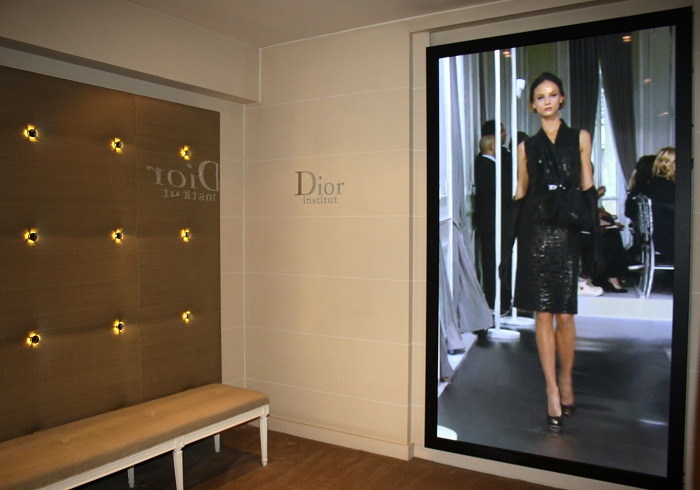 Hôtel Plaza Athénée continues its strong fashion legacy by hosting the Dorchester Collection Prize 2012.  The judging panel, from different sectors of the fashion industry, includes Kenzo Takada, Lorenz Baumer, Bruno Frisoni, Nathalie Rykiel, Chantal Thomass, Alexandra Golovanoff, Harumi Klossowska de Rola and Jean-Jacques Picart.
Staying at Hôtel Plaza Athénée is a dreamy, awe-inspiring experience, where luxury is a fine art.  A more stylish Paris address simply cannot be found.
A Deluxe Room is priced at €995 per night.  Suites start from €1,255.  For more info and booking, visit: www.plaza-athenee-paris.com
Chérie City was a guest of Hôtel Plaza Athénée
All photos by Chérie City