The Plaza is a New York landmark, immortalised in the pages of American history, literature and film since its opening in 1907.  The Plaza has had some great moments – the tea garden was featured in F. Scott Fitzgerald's The Great Gatsby (The Beautiful and Damned was based on the author's exploits at the hotel), Eartha Kitt played The Persian Room, The Beatles stayed during their first trip to the U.S and Truman Capote hosted his legendary Black & White Ball in the Grand Ballroom.
More recently, Sex and the City and Gossip Girl have played a part in maintaining The Plaza's reputation as the most desirable place in the city to get married, enjoy afternoon tea or a glamorous cocktail hour.  Of course, being located in New York's most prestigious spot, overlooking Central Park and 5th Avenue, certainly helps.
We visited The Plaza for lunch at Palm Court, the renowned restaurant and focal point of the hotel.  Entering the spectacular dining room feels like walking into a bygone era, with a stunning stained glass cupola, crystal chandeliers, marble pillars and elegant palms.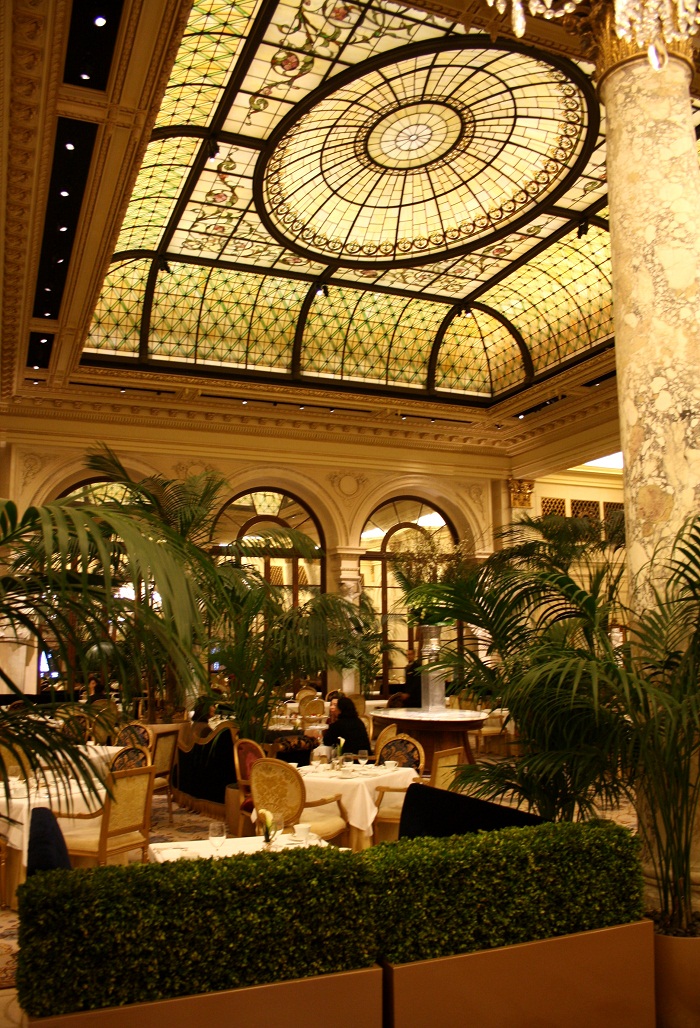 Palm Court is ever so civilised and romantic, however the atmosphere is refreshingly informal.  The waiters are polite yet warm and friendly, making conversation as though it was an old family establishment.
Afternoon tea is a particular favourite at Palm Court, with four special teas available – The Classic, The New Yorker, Chocolate Tea and Eloise Tea (named after author Kay Thompson's young character Eloise, who lived at The Plaza).
We ordered from the lunch menu by Executive Chef Willis Loughhead, which features classic American dishes and European brasserie favourites.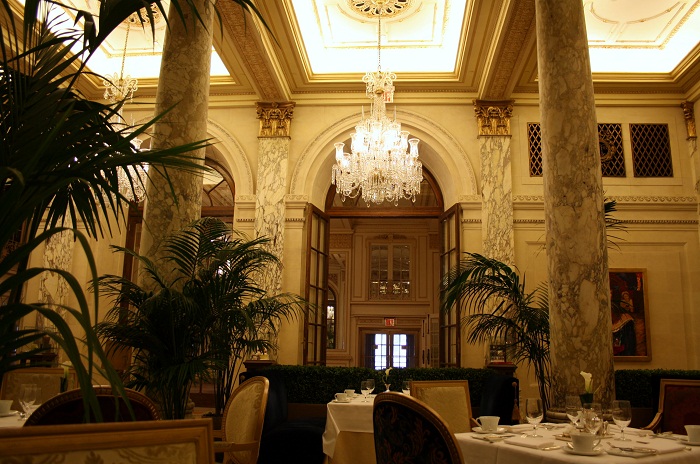 We both started with the Jumbo Lump Crab Cake with grilled melon and whole grain mustard aioli ($21).  The crab cake was meaty and plump, with crispy golden breadcrumbs on a bed of lamb's lettuce and juicy grilled melon.  The whole grain mustard aioli was potent and piquant and worked perfectly with all of the flavours.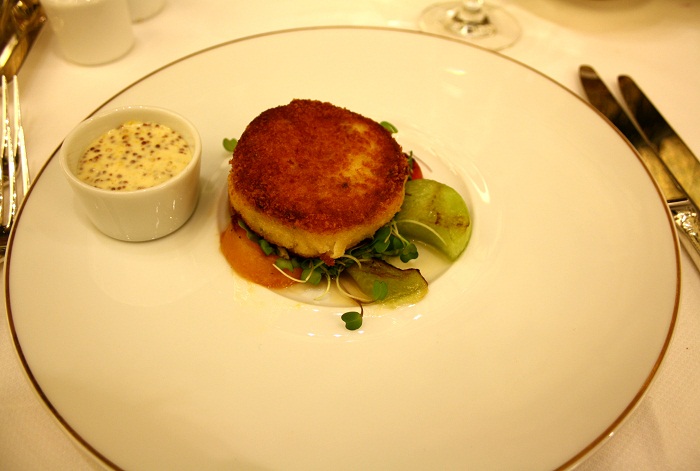 For my main dish, I was tempted by the Braised Beef Short Rib Stroganoff with mixed mushrooms, Harrison Creek Farms grey shallots, wide egg noodles and Dijon ($30).  The meat was tender and slow-cooked and fell off the bone.  The Stroganoff sauce had a light yet creamy texture and absorbed the flavours of the meat and mushrooms.
The noodles resembled thin fusilli pasta rather than the long ribbons I was expecting, however they were light and tasty.  I later found out that in America, the difference between pasta and noodles is whether a wheat or egg dough is used, even if they may look like pasta shapes.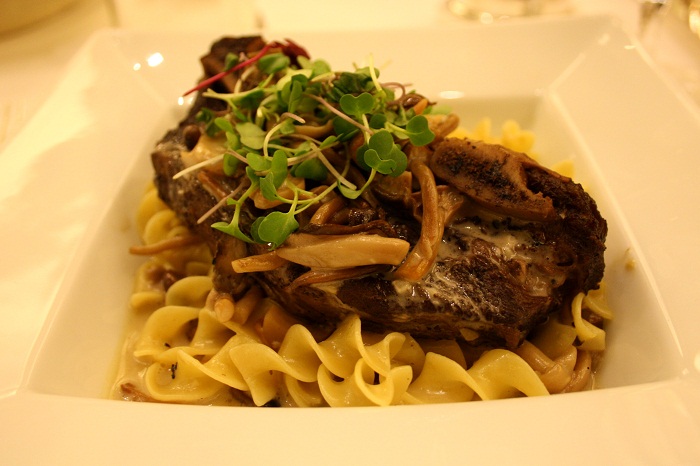 Steven ordered the Beer Braised Barbecue Pork with fresh tomato salsa, avocado, pickled red onion, brioche and house-made potato chips ($22).  The pulled pork was moist and well marinated and the fresh garnishes stopped it from being overly rich.  The thick-cut house-made potato chips were crunchy, properly seasoned and full of flavour – a welcome change from fries.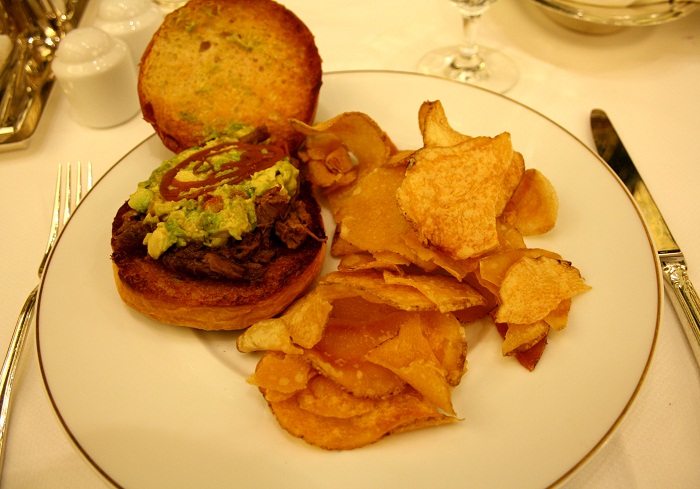 My Hazelnut Napoleon with hazelnut meringue and milk chocolate Chantilly ($14) was an absolute delight!  I loved the contrasting layers of wafer-thin chocolate, whipped Chantilly cream, dense chocolate ganache, nutty sponge and a decadent, crunchy praline base.  Any fans of Nutella or gianduja won't be able to resist this dessert.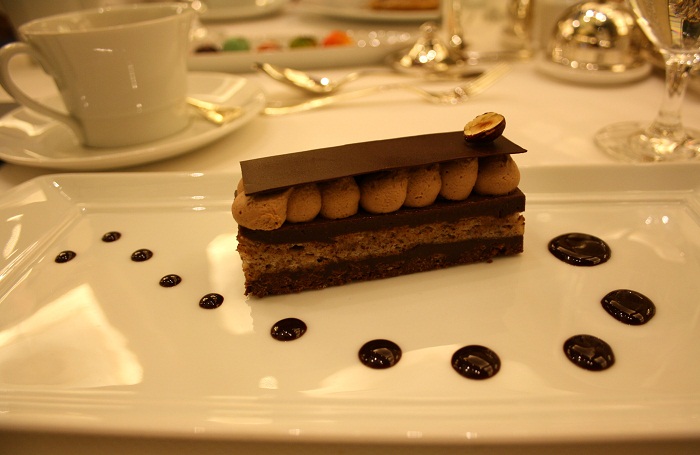 Steven went with the classic French Apple Tarte Tatin with caramelised Granny Smith apples and vanilla ice cream ($14).  This was a simple dessert done extremely well, with deeply caramelised soft apples on a flaky pastry base.  Pastry Chef Jasmina Bojic certainly brought flair to the dessert course.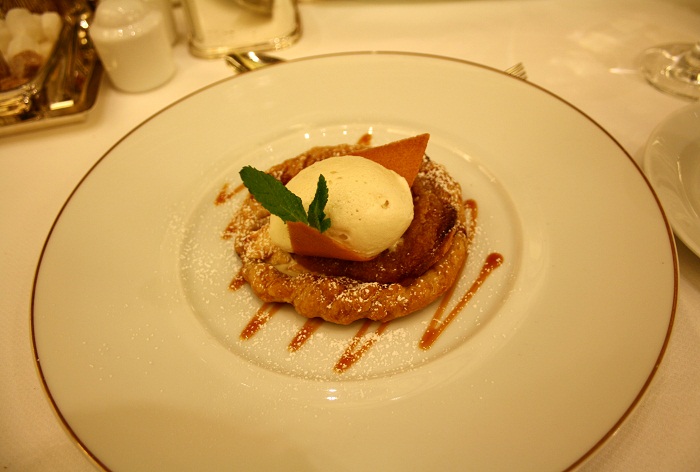 We finished with two large pots of fresh mint tea, accompanied by a platter of the most exquisite chocolate truffles.  Hand-painted and vibrant, these luxurious white, milk and dark chocolates resembled little meteorites and were filled with interesting combinations.  After three delicious courses, we had no room left, so our waiter kindly boxed them up for us to take away.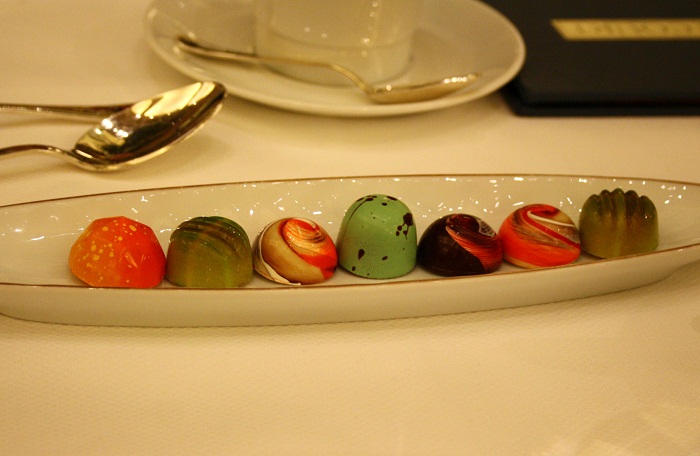 A popular alternative to the lunch menu and the afternoon tea is the Chef's Table – a selection of seasonal soup, salads, grilled vegetables, charcuterie, seafood, meats and desserts ($36).  This  self-service selection at the centre of the room was beautifully-presented and there were plenty of dishes to choose from.  This option makes dining at The Plaza more affordable, particularly for families.
Palm Court is a fabulous emblem of 'old world' New York and it was a real treat to have dined at The Plaza, in the footsteps of America's great and good.
For more info, visit: http://www.fairmont.com/theplaza
Chérie City was a guest of The Plaza
All photos by Chérie City