The Greenwich Hotel in New York's hip Tribeca neighbourhood is more than just one of the city's coolest hotels, it's a true home away from home.
Owned and designed by Robert De Niro, The Greenwich Hotel is full of character and charm, with a generous, friendly approach and fine attention to detail.
A member of The Leading Hotels of the World, The Greenwich Hotel has a bohemian-luxe aesthetic and feels like the grand residence of an intrepid explorer, with artefacts from around the globe.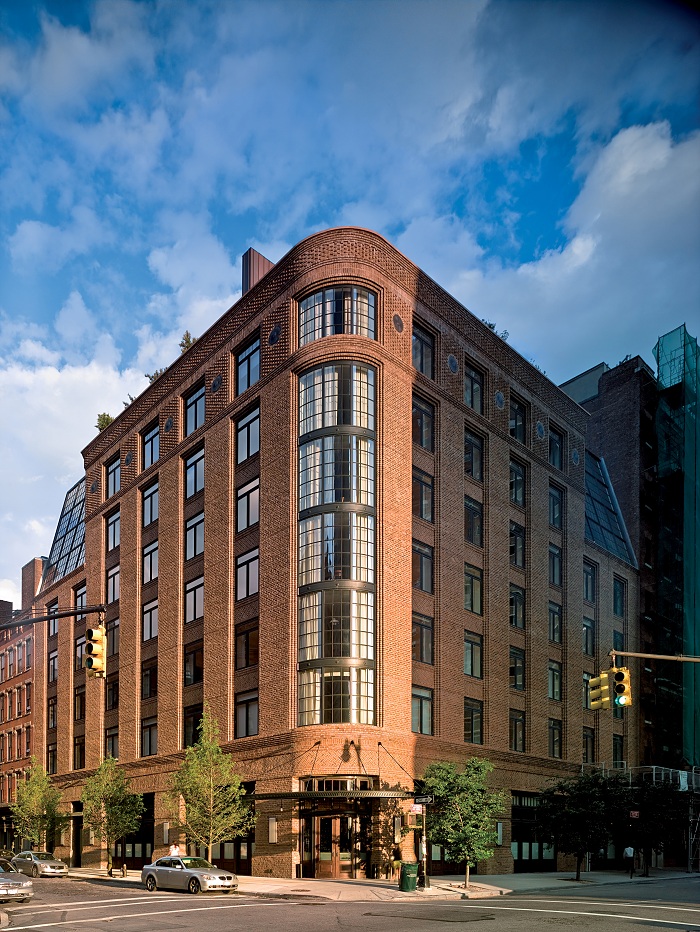 The first thing we noticed on arrival is that the urban lodge-style lobby and adjoining private guest lounge are filled with artworks by Robert De Niro, Sr.  This prestigious collection of the renowned painter's works has awarded the hotel 'gallery status'.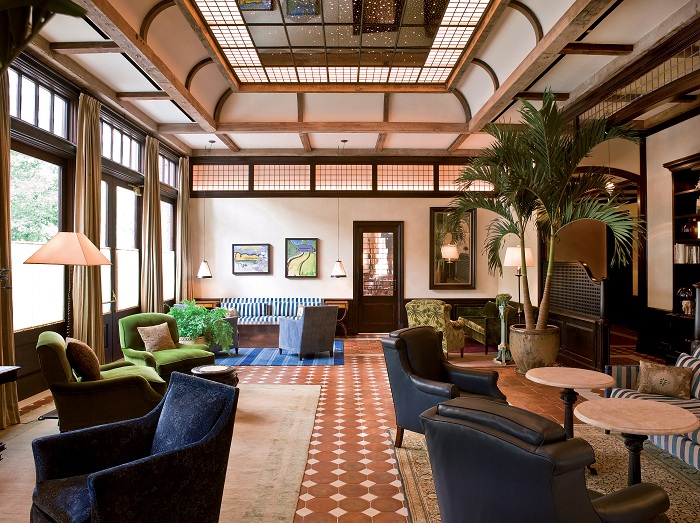 We were given a spectacular Studio Suite with a double window view over the picturesque terrace.  Each of the 88 rooms and suites are individually designed and our open-plan suite featured a light colour palette with touches of duck egg blue and tan, dark wood and leather touches.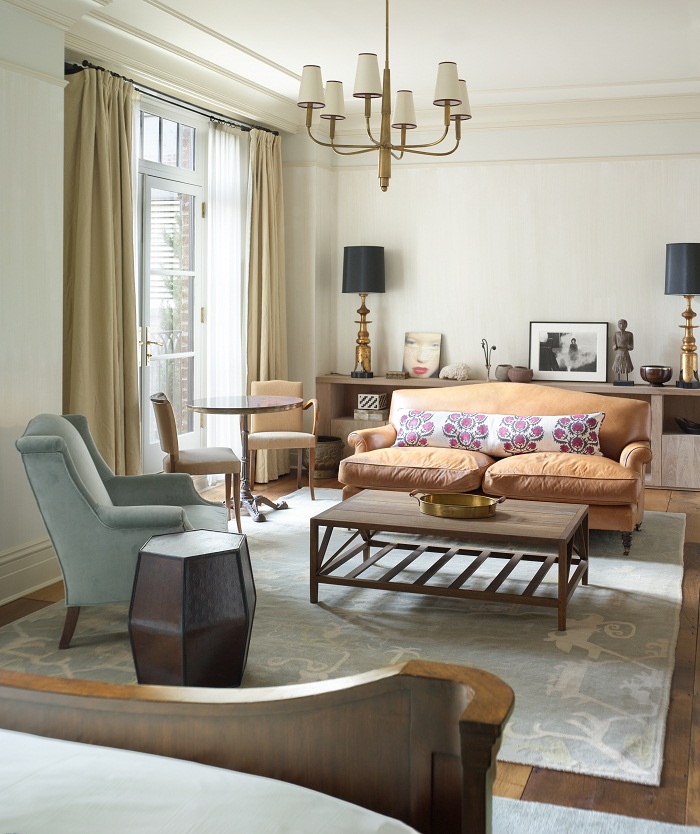 The room was an eclectic mix of heavy American and Asian furniture, oak floors, Tibetan rugs, antiques, objets d'art, coffee table books and original artworks.  It's all about texture, from the butter-soft over-sized leather sofa to the exquisite, hand-carved wooden bed.  It was like the apartment of my dreams – tasteful, cultured and quietly luxurious.
We were welcomed with a platter of Italian biscuits and nuts, large bottles of still and sparkling water and a copy of the ever-so-cool Revel In New York guidebook.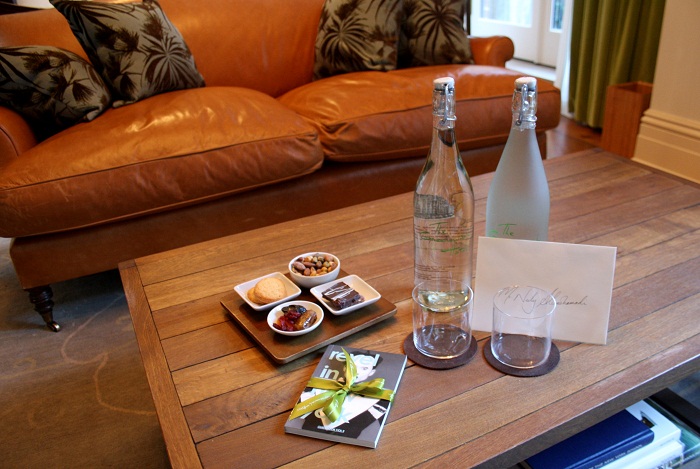 As expected from a hotel owned by a legendary movie star, our suite featured state of the art technology, including a large HDTV, DVD player and library, iPad, iPod docking station and free wifi access.
The king-size Duxiana bed with Kearsley linen and gold reading lights was sumptuous, plump and extremely comfortable.
One of the stand-out features was the generous selection of complimentary amenities.  We had free access to the soft drinks in the mini bar stocked with full-size Diet Coke, Coca Cola, San Pellegrino cans, Fiji Water, juices and mixers.  For a stronger drink, full-size premium spirits are available.
Also provided was a complimentary hamper filled with American treats – some healthy, some more indulgent – including extra dark pretzels, gourmet potato chips, chocolate chip cookies, mixed nuts, caramel pecan popcorn, cranberry oat bars, peanut M&Ms, Goobers, Swedish Fish, Tic-Tacs and many others.
As if that wasn't enough, there was a sweetie jar filled with chocolate and candy on the table.  Something tells me Robert De Niro has a sweet tooth…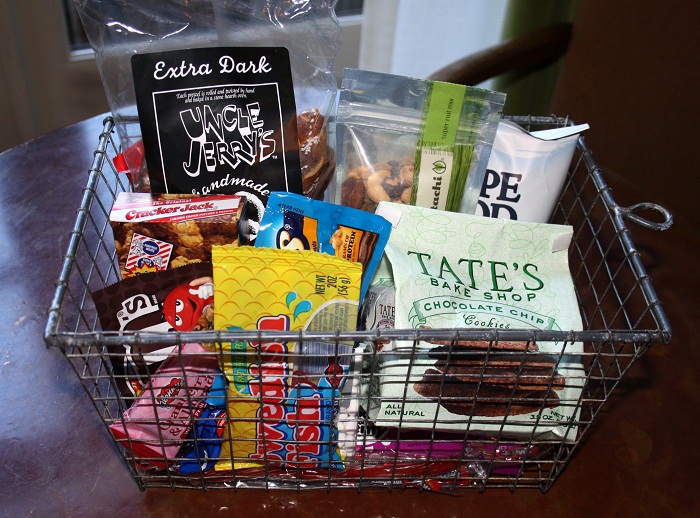 The spacious master bathroom was a real work of art, with hand-laid Moroccan tiles, walk-in shower, double sink and a spectacular free standing soaking tub carved from Italian Carrera marble.  There was also a smaller guest bathroom on entering the suite with pretty botanical illustrated wallpaper and a gilt gold mirror.
The bathroom amenities were impressive, with a generous selection of full-size products by Red Flower, a New York organic luxury skin and body care brand with a bijoux boutique in SoHo.  We were also offered plenty of fluffy towels, embroidered bathrobes and slippers and a morning Vitamin C drink sachet.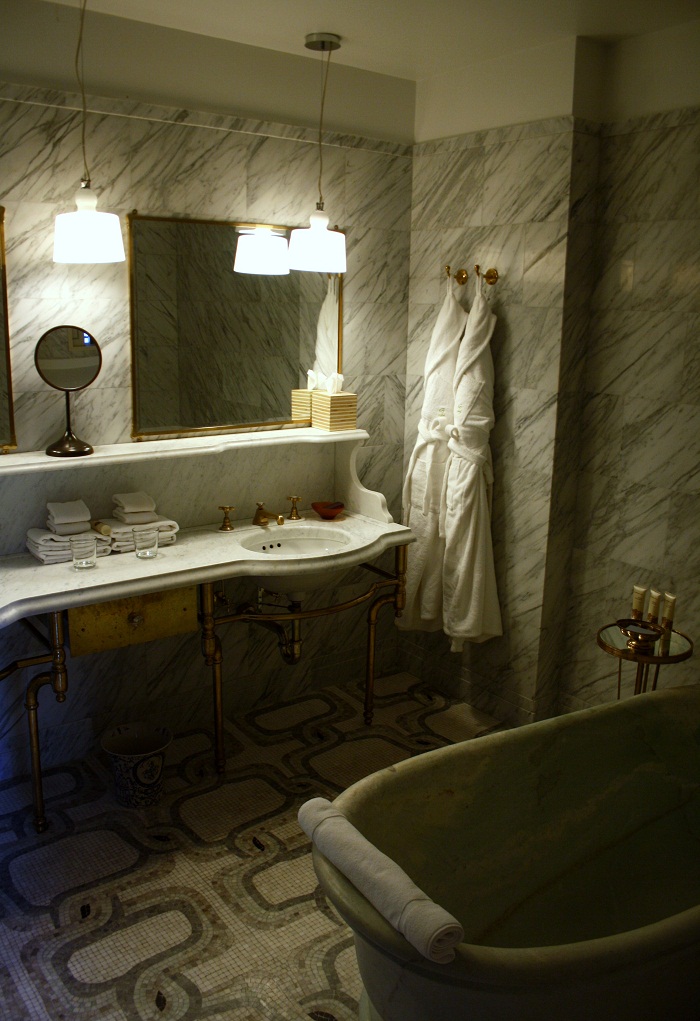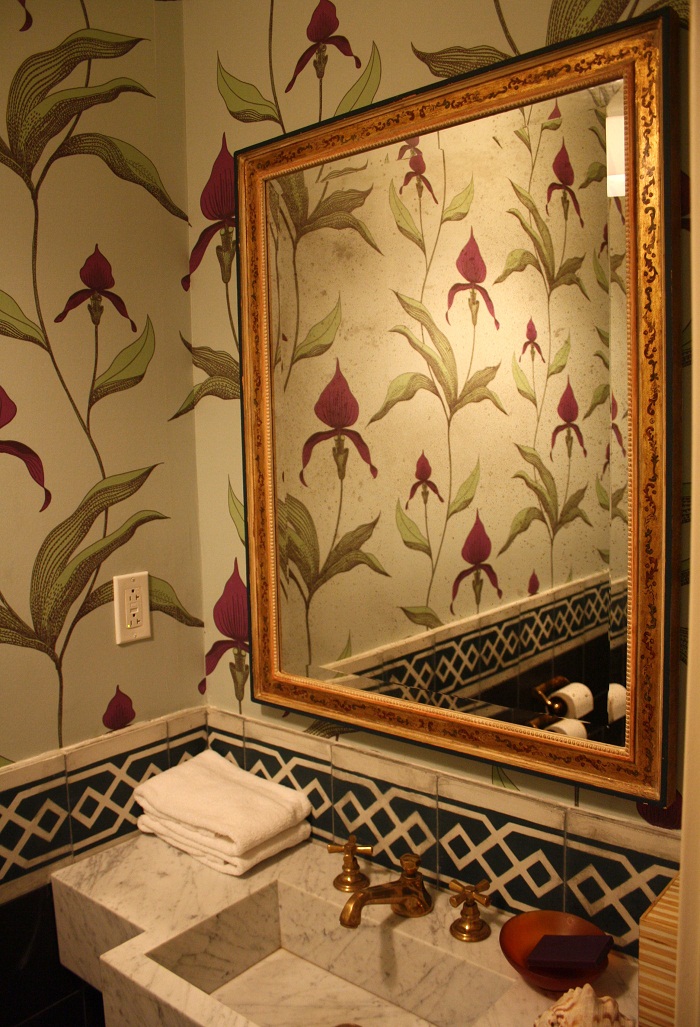 Shibui Spa, exclusively for hotel guests, is an Asian sanctuary of calm in the city. The spectacular, lantern-lit pool, under the wood and bamboo roof of a 250-year-old Japanese farmhouse transported from Kyoto and reconstructed by Japanese craftsmen in the spa, is both calming and seductive.  The blanket-covered loungers, subtle lounge music and bottles of Voss help set the mood.
The spa has four treatment rooms, including a shiatsu room, a wet room with a shower for wraps and scrubs, a traditional Japanese bathing room with a large tub for bathing rituals and a treatment room for massages and facials.  Other facilities include a powerful sauna and steam room in the changing rooms.
To start my New York trip with a sense of tranquility and well-being, I booked in for a Basic Lotus massage ($165) with expert therapist, Dan.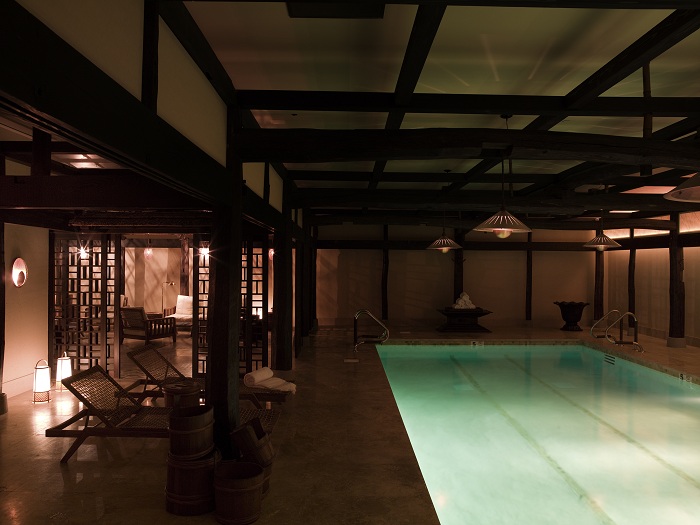 With superhuman speed, Dan kneaded and unknotted the tension all over my body, using soothing organic oils and hot towel compresses. By the end of the one hour treatment, my body felt supple and my spirit was uplifted and revitalised.  This is certainly not a snooze-inducing massage and Dan himself told me that he tends to 'go deep' to get the best results.  However, the divine head massage sent me off into other realms.
After a late-afternoon of unwinding in Shibui Spa, we had a light supper at Locanda Verde, Andrew Carmellini's casual Italian taverna at The Greenwich Hotel.
The expansive dining room is rustic chic and was already packed full when we came downstairs to eat on an early weekday evening.  The restaurant has real spirit – boisterous and buzzing with a well-heeled downtown crowd.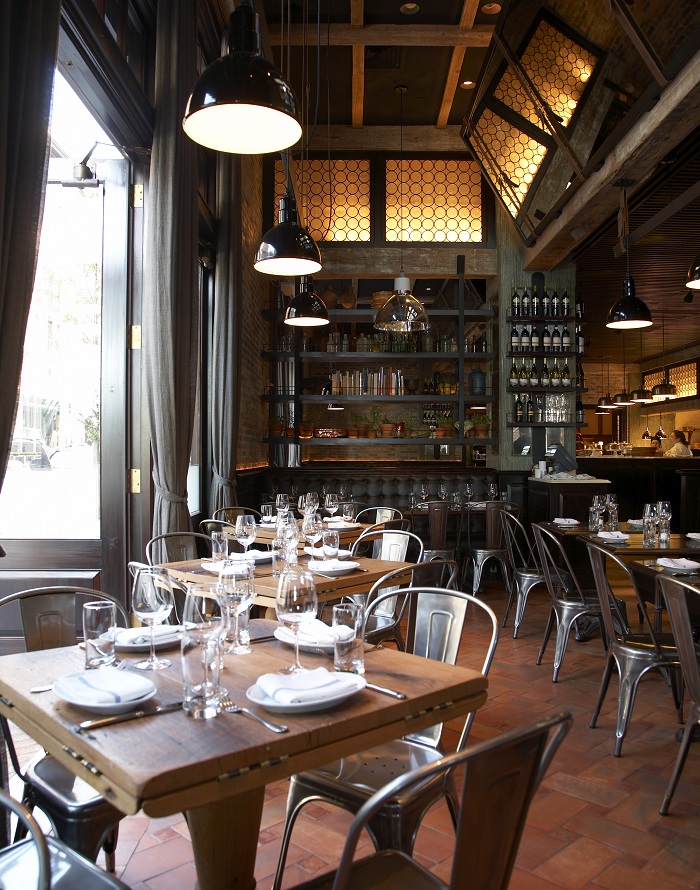 Instead of the usual bread basket, we started with a delicious trio of focaccia.
We were tempted by the mouth-watering selection of pasta dishes on the menu – every one sounds like a winner.  When a chef of high distinction mentions a secret family recipe, as in 'My Grandmother's Ravioli', you know that you're on to something good.
I ordered the Paccheri with Sunday night ragu and provolone piccante ($20).  The large, thick tubes of pasta were cooked perfectly al dente and were smothered in a rich roasted tomato sauce with succulent pulled pork and flavoursome beef.  The provolone piccante added intensity to the dish and torn fresh basil finished it off perfectly.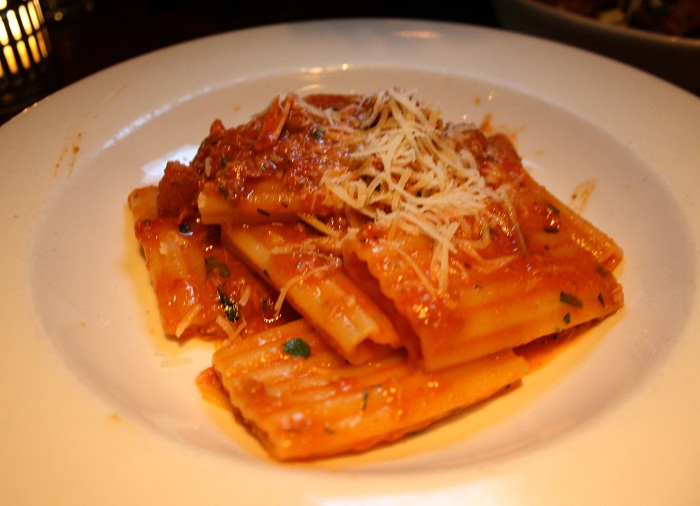 Steven's Orrechiette with fennel sausage, chickpeas, escarole and fiore sardo ($18) was a real triumph.  The sauce was fresh, zesty and Spring-like, but with the added tastiness of meat juices.  The combination of chickpeas and dense pasta made it a very filling, indulgent dish.  For something completely different to the staple Italian pasta dishes, this is the one to order!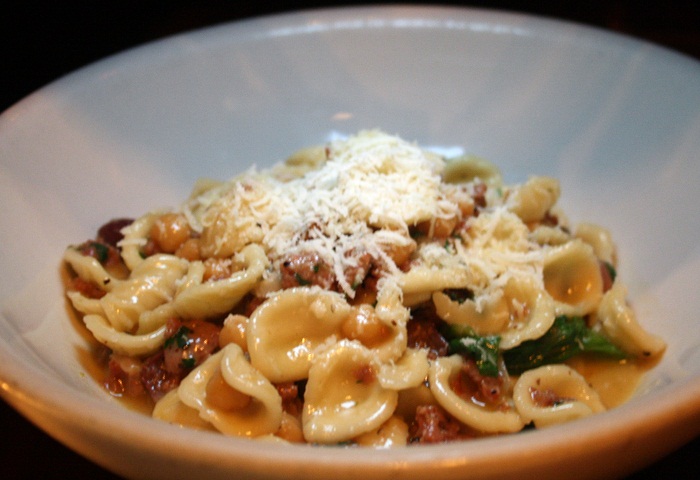 The Rustic Potatoes with garlic and parmigiano-reggiano ($8) were an excellent accompaniment – crispy, flavoursome and lightly covered in aioli and fresh herbs.

Full from the pasta, we skipped dessert in favour of a walk around Tribeca in the moonlight.  If you arrive late at the hotel or are exhausted after a long day exploring the city, 24-hour room service from Locanda Verde is available.  It's also possible order Carmellini's dishes in the quieter, more intimate private guest lounge.
In the morning, we enjoyed our wake-up call with complimentary tea, served beautifully on a silver tray with Dammann Frères teas, a cute little carafe of milk, Bonne Maman honey and plenty of hot water.  We opened the windows to our Juliette balcony and enjoyed our morning tea in the sunshine – what a delightful way to wake up!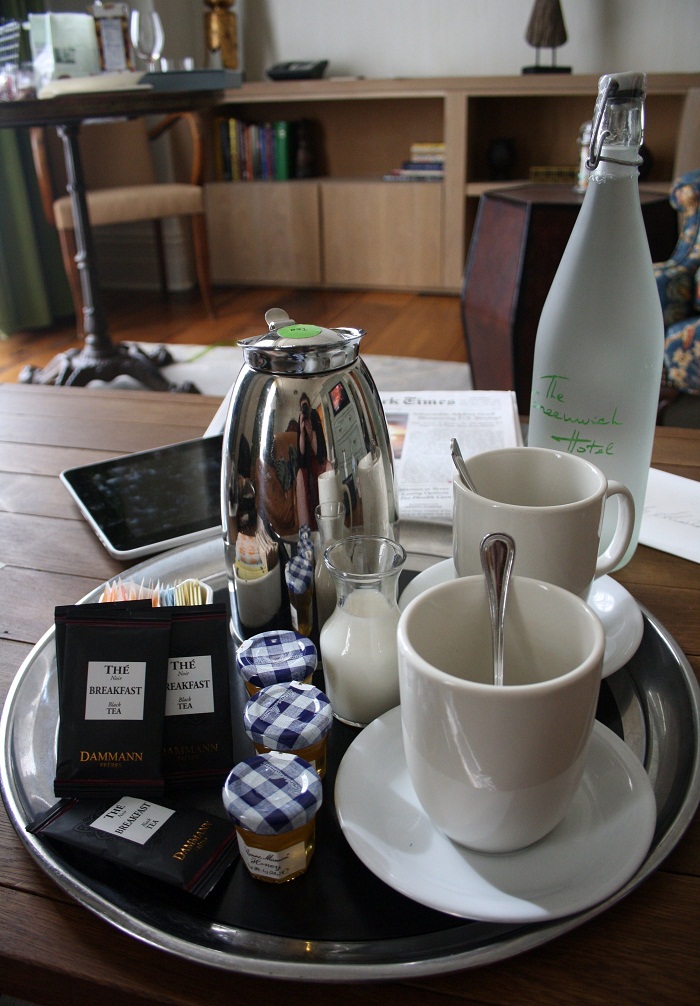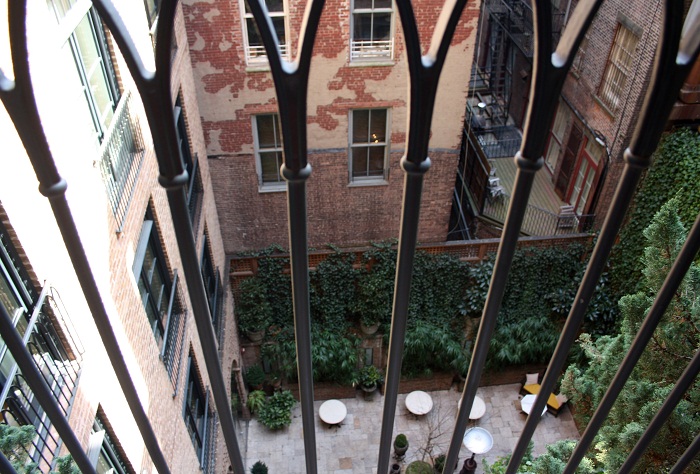 Locanda Verde serves a tempting breakfast with dishes such as Lemon Ricotta Pancakes, Toasted Hazelnut French Toast and the restaurant's famous Sheep's Milk Ricotta with truffle honey and burnt orange toast.  Or for a light bite, try one of pastry chef Karen DeMasco's authentic Italian pastries with a cappuccino.
The Greenwich Hotel is a benchmark for all other luxury hotels and is the kind of place that you fall in love with instantly.  From the exemplary service to the overwhelmingly dedicated design touches, The Greenwich Hotel is a downtown jewel that is hard to beat.
The Leading Hotels of the World (00800 2888 8882 (toll free) offers stays at The Greenwich Hotel from $495 per room per night based on two people sharing room only.  For more info and booking, visit: www.lhw.com/greenwich
Chérie City was a guest of The Greenwich Hotel on a room only basis and was offered a $100 gift certificate for Shibui Spa.
Photos by Chérie City & The Greenwich Hotel