Covent Garden is one of central London's most up-and-coming areas, with new dozens of hot new openings, so of course, it needs its own gastropub.  The Angel & Crown opened earlier this year and is owned by Tom and Ed Martin – those clever chaps behind The Gun, The Botanist, The Cadogan Arms and latest opening, The Jugged Hare.
St Martin's Lane is not exactly lacking when it comes to traditional English pubs, but they can be somewhat dreary and over-run with the after-work crowd.  The Angel & Crown is different – it's a real hidden gem in a busy, 'touristy' part of Covent Garden.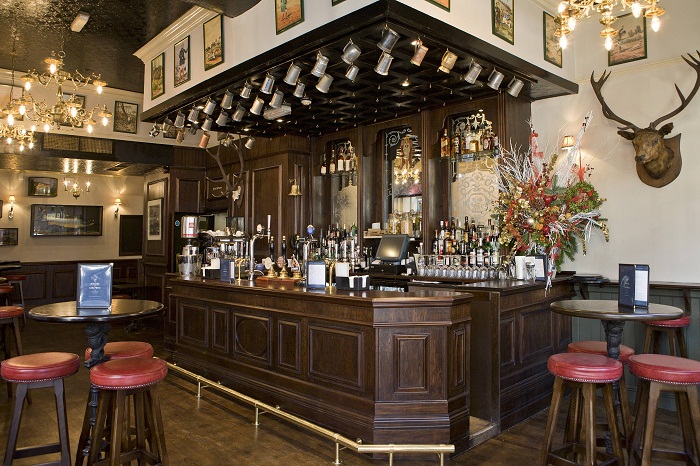 Downstair feels like a friendly London boozer with a mix of office workers, hipsters, foodies and locals.  The design is 'urban rustic' with stags heads, taxidermy squirrels, silver tankards and pictures of animals.  I liked the typical bar features such as the leather bar stools, lacquered plaster ceiling and chandeliers.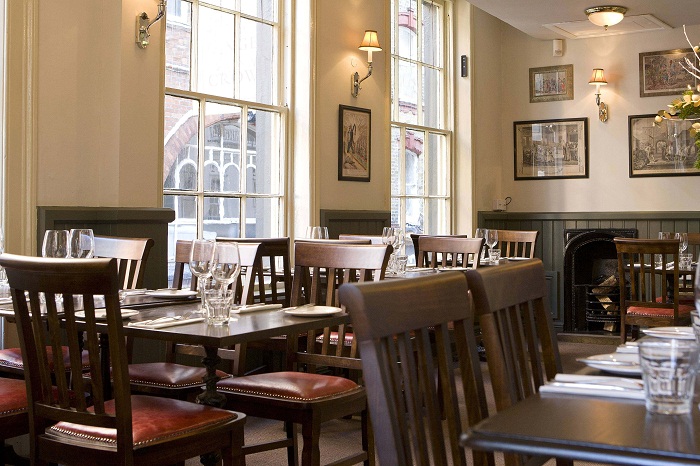 Upstairs was much more tranquil and we were instantly transported to a cosy pub dining room that felt like it should be in the countryside, not in the middle of Theatreland!
The Angel & Crown serves a strictly seasonal British menu, with ingredients sourced from artisan producers, regional farmers and London's own Billingsgate Market.  It offers a mix of classic pub dishes with a gourmet twist and more innovative contemporary dishes, with a nod to the current nose to tail trend.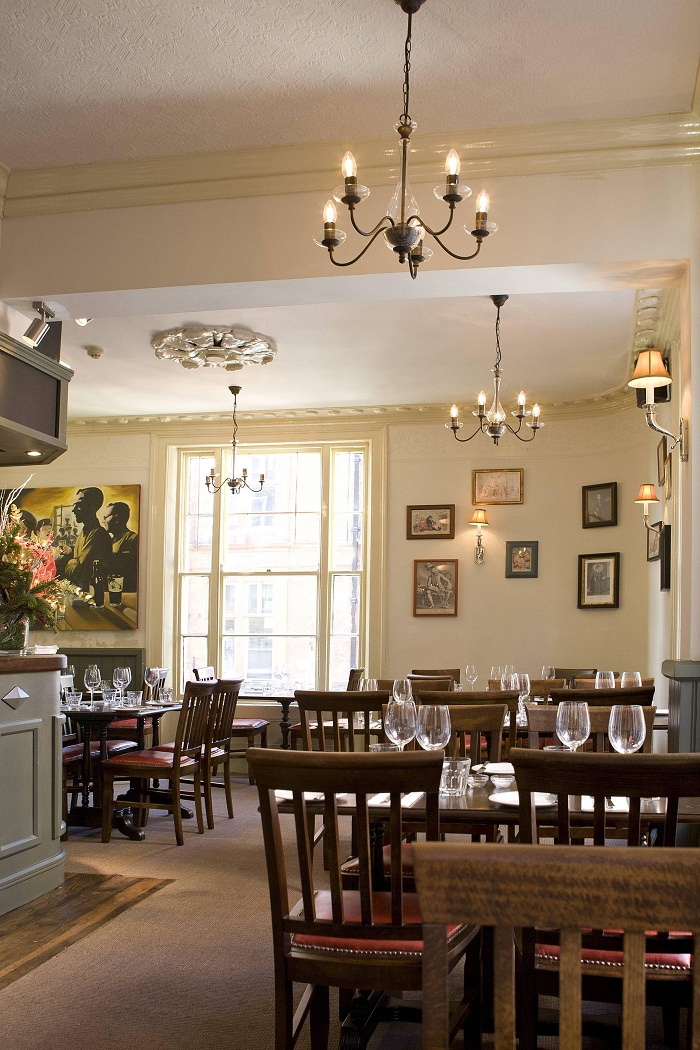 We were shown to our table overlooking St Martin's Lane by the warm, friendly staff and were quickly brought a basket of fresh, roughly sliced bread and chilled still water.
Knowing that my next course would be a bit of an Everest to work through, I went light and started with the White onion and cider soup (£6).  The soup was thick yet finely puréed, with a bold flavour of sharp onion and a hint of strong cheese.  It came with thinly-sliced, cider-infused onions at the bottom and topped with a drizzle of truffle oil and fresh parsley.
The only onion soup I'd previously tried was the rich, dark, slow-cooked French Onion Soup, but this white onion soup was refreshingly light and spring-like.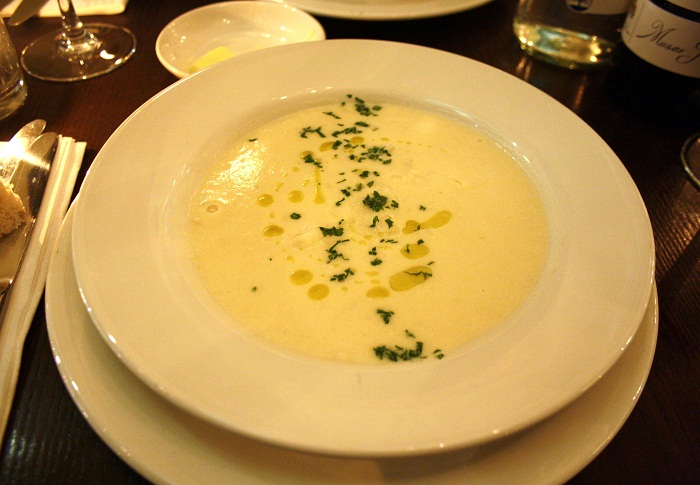 Steven started with the Dorset brown crab meat on toast (£8).  The crab meat was served as a pâté, thinly spread on sliced of toasted sourdough.  It had a full-bodied seafood taste and was smooth and simple – a delicious, light starter.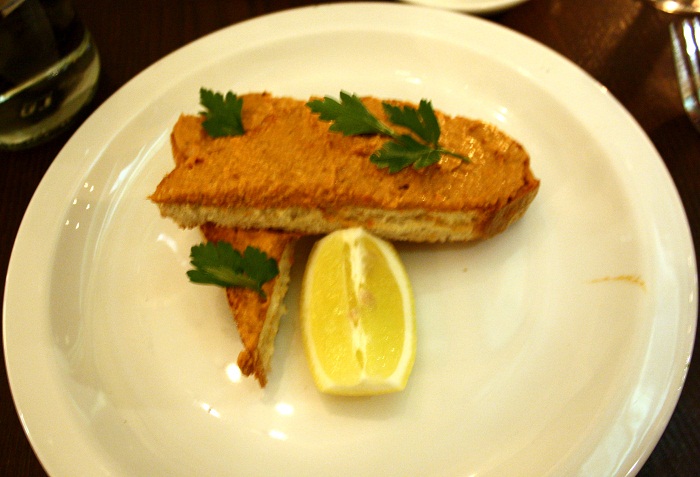 A gastropub burger is hard to beat, so I tried the 100% Dexter Beef Burger with smoked Cheddar, bacon and hand cut chips (£13).  What a glorious beast it was to get through!  The large beef patty was juicy, chargrilled and smothered in rich smoked cheddar and cubes of flavoursome lardons. I'm not a fan of too much burger garnish, as it can go limp quickly, so I was pleased to see that the Angel & Crown's burger was finished with two slim slices of gherkin and a delicious tomato relish.
The hand-cut chips were particularly tasty – golden, well-seasoned and crispy yet soft and fluffy on the inside.  The portion size and the richness of the toppings made it a struggle to get through, but it was so good that it was hard to show restraint.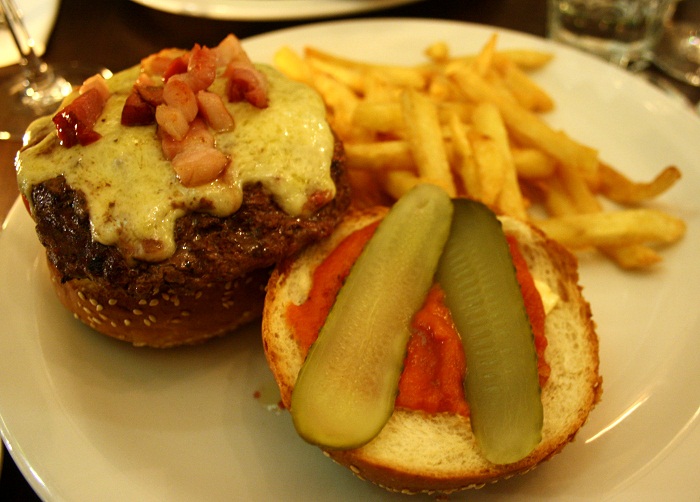 Steven went for another pub classic – Adnams battered haddock and chips with mushy peas and tartare sauce (£13.50).  The large fish was fresh and meaty, covered in crispy golden beer batter.  The extras were also of a high standard, particularly the chunky mushy peas and tarragon-filled tartare sauce.
We accompanied our meal with a bottle of Chateau Musar Jeune Musar (£31), my favourite Lebanese wine.  The wine list is extensive and interesting, with a carefully selected range of bottles.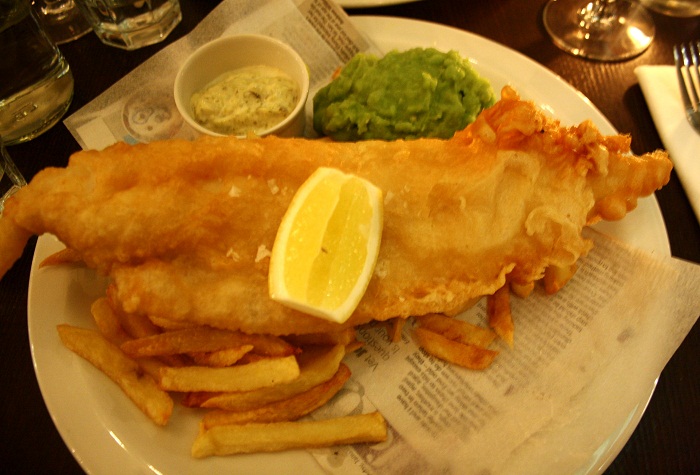 For dessert, I was tempted by the Devonshire custard tart, tea steeped prunes (£5.50).  On first glance the slice appeared rather petite, but this was no ordinary custard tart!  It was the most decadent, dense, creamy and heavenly custard tart I've ever tasted.  Packed full of vanilla pod seeds, the tart was almost like set double cream with a fragrant and not overly sweet taste.  The tea-steeped prunes came in liquid form and were malty with a cream consistency.  Perhaps a fruit coulis or compote would have been a better accompaniment to the custard tart to balance the richness.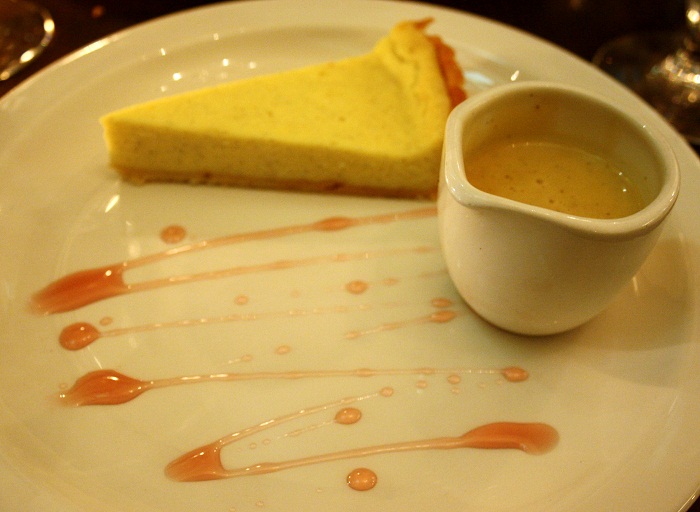 Steven went for another pub staple – Sticky toffee pudding with vanilla ice cream and fudge sauce (£5.50).  The pudding was dense and nicely gooey, with tiny pieces of oats and dates mixed in.  The home-made vanilla ice cream sat on a pile of golden, crumbly biscuit and the toffee sauce was molten and sweet.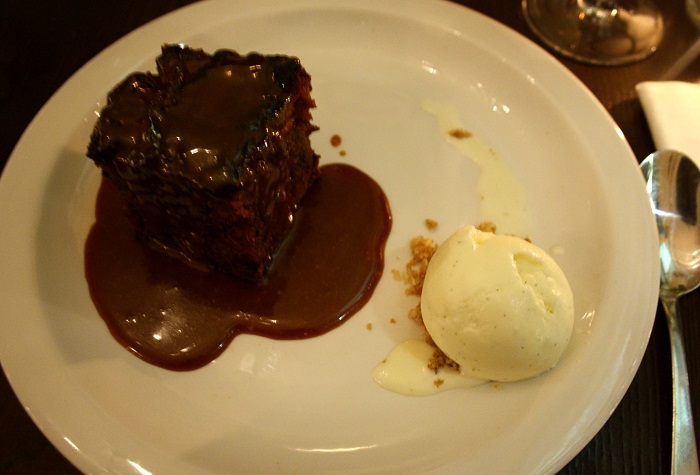 The Delaunay and Meat Market may be drawing the foodies to Covent Garden, but The Angel & Crown is the kind of low-key place that you're likely to go back to again and again.  The food is exceptionally good, service is friendly and efficient and finding that country atmosphere in the centre of London is priceless.
Chérie City was a guest of The Angel & Crown
All food images by Chérie City.