The Victoria public house, dining room and hotel is a real hidden gem, tucked away in West Temple Sheen, a leafy residential area of Richmond.
Owned and managed by restauranteur Greg Bellamy and chef Paul Merrett, The Victoria has the cosy atmosphere of a country pub, but being in well-heeled Richmond, it's finished with a touch of gloss.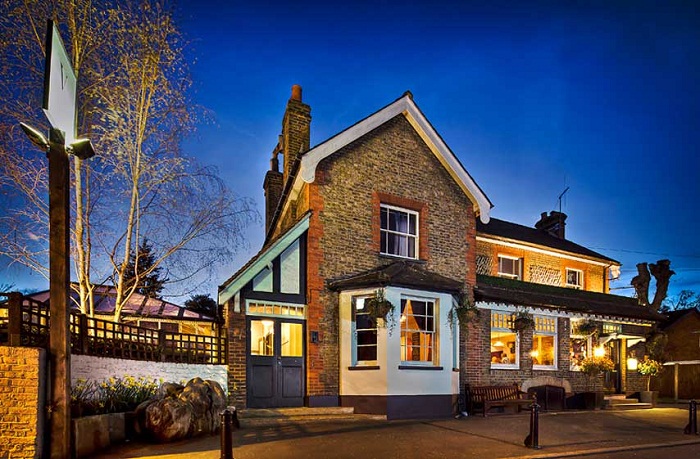 The hotel has seven spacious rooms in an adjoining building, accessed through a bright and airy Scandinavian style staircase with an attractive striped carpet and illustrated tree on the wall.
The rooms are simple and contemporary, tastefully designed in soft mauve and cream tones with a striking feature wall.
There aren't any fussy extras, just everything you need for a comfortable stay – a well-placed flat screen TV, iPod docking station, ample wardrobe hanging space and a full-length mirror.
Complimentary home comforts include high speed wifi, tea and coffee making facilities, two bottles of mineral water and a selection of glossy magazines such as Harper's Bazaar and CN Traveller.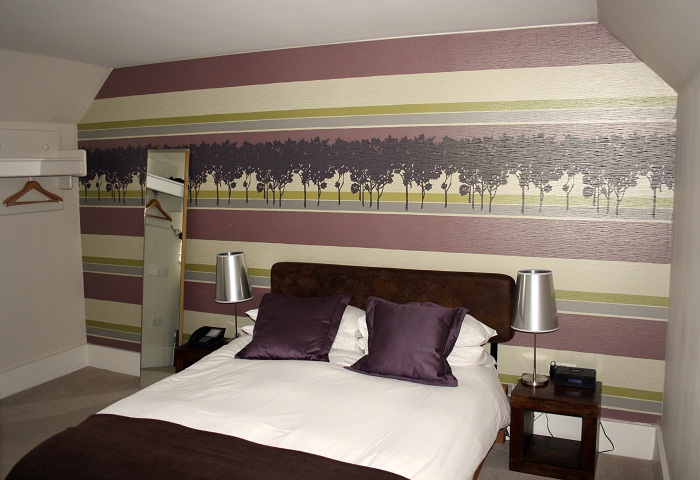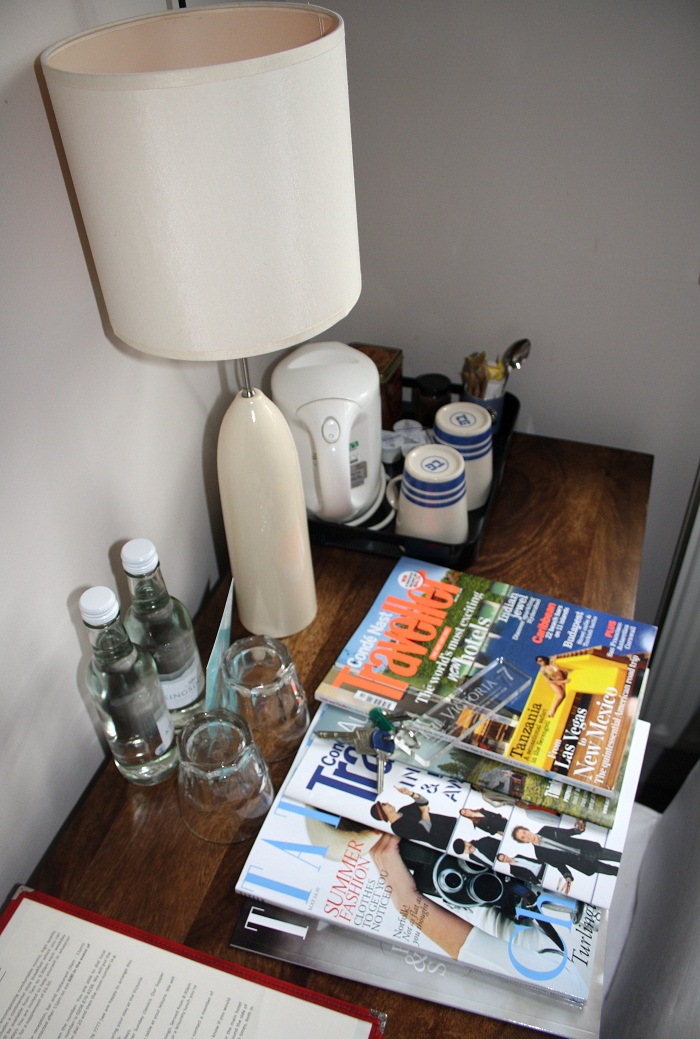 The queen size double bed was comfy, with luxurious Egyptian cotton sheets and plump pillows.  Outside was so quiet and tranquil that we had a great night's sleep.
Our bathroom was petite and functional with a powerful shower and bathroom amenities by Pecksniff's.  I particularly liked the monogrammed Victoria towels.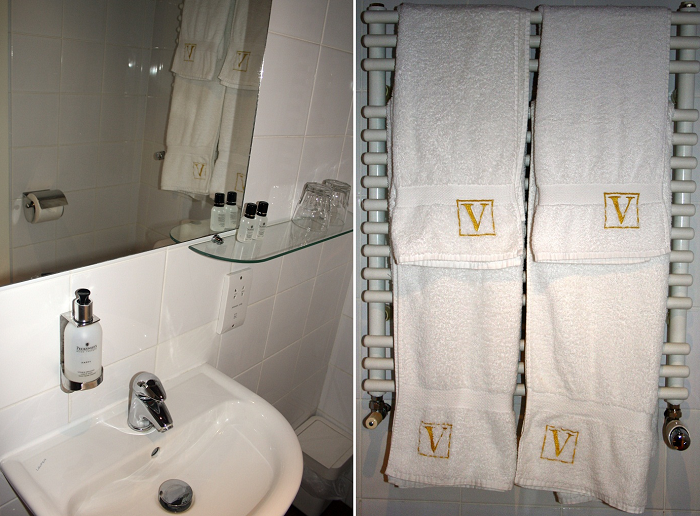 A privilege of staying at the hotel is that guests have priority restaurant reservation at the very popular restaurant.  Dinner is served in the large, bright conservatory and on a brighter day, outside on the large garden terrace.  The dining room staff are so welcoming and friendly and service was efficient, even when it became busy later in the evening.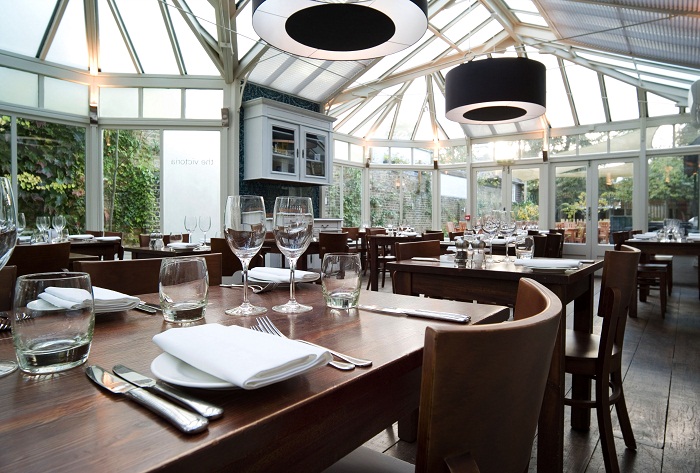 We were offered a basket of thick, crusty bread and a home-made vegetable samosa as an amuse-bouche.  This suited me perfectly, as I'm not a fan of fussy amuse-bouches and this samosa was exceptionally good – crispy, punchy and not at all greasy.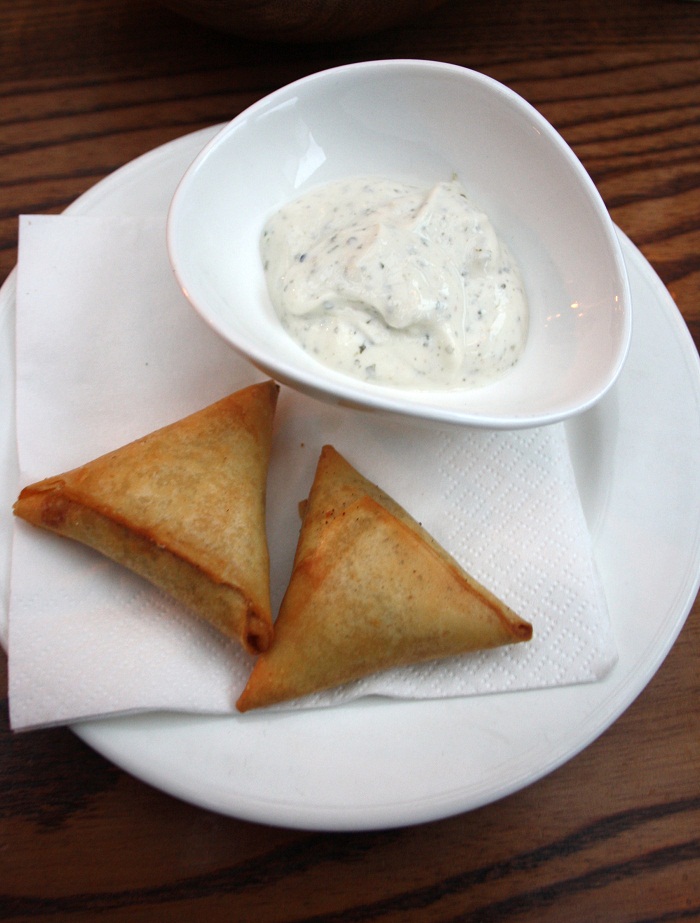 I started with the Seared Cornish diver caught scallops on cauliflower purée with caramelised chorizo and argan oil (£10.50).  The plump scallops were nicely grilled on one side and were perfectly complimented by the spicy chorizo and the rich cauliflower purée.  Argan oil was a new culinary discovery (more often found in skincare) and the deep purple colour of the leaves made it an attractive dish.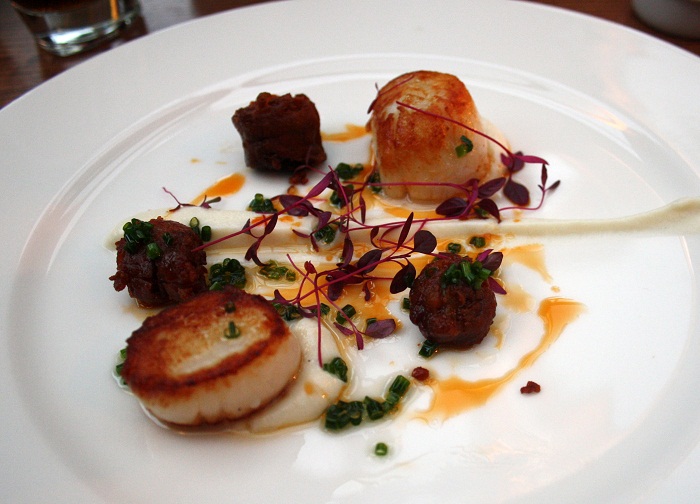 Steven tried the Warm salad of confit duck, Morris Gold black pudding, fried potato and a soft boiled hens egg (£7).  The duck was slow-cooked to perfection and the leaves had a light, tasty dressing.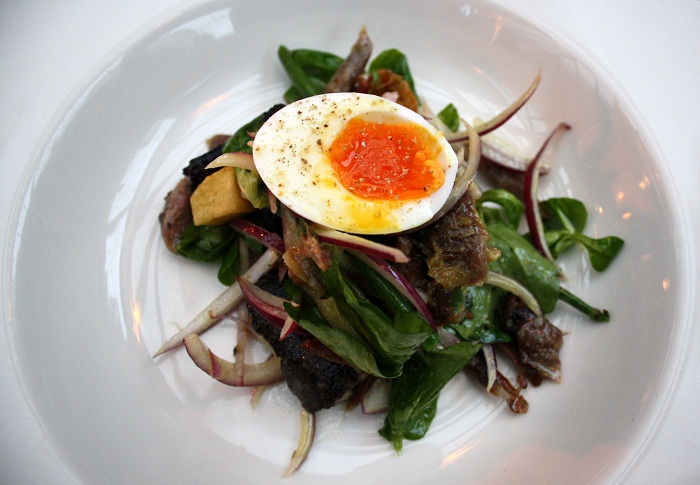 The test of a good gastropub is their burger, so I ordered the Victoria handmade Angus burger with trimmings 10oz (£10.50).  There is also the option of a 5oz burger, but learning from experience, it's better to be defeated by a burger than be left wanting.
Saying that, the Victoria burger was a real monster, especially when there was a big bowl of thrice cooked chips to work through too.  The patties were cooked medium on a charcoal grill and made from excellent quality beef.  They were nicely charred and smoky on the outside and oozing with juiciness.
The salad trimmings were fresh and the burger came with two fat slices of mature cheddar cheese.  It was decadent, satisfying and a real treat.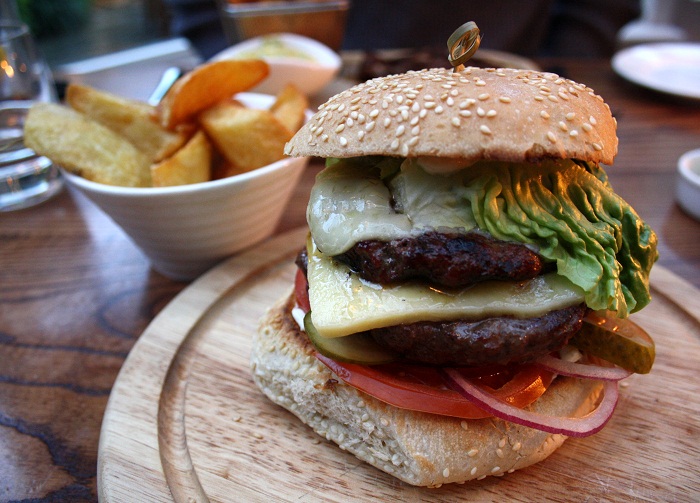 Another good testing dish is steak, so Steven tried the 28 day aged 7oz South Devon rib eye steak with thrice cooked chips and bearnaise sauce (£18).  The meat was tender and charred with just enough fat to give it flavour.  I couldn't help pinching some of the delicious bearnaise sauce to dip my chips into, as it was so tasty and fresh, with small gritty pieces of shallot and tarragon.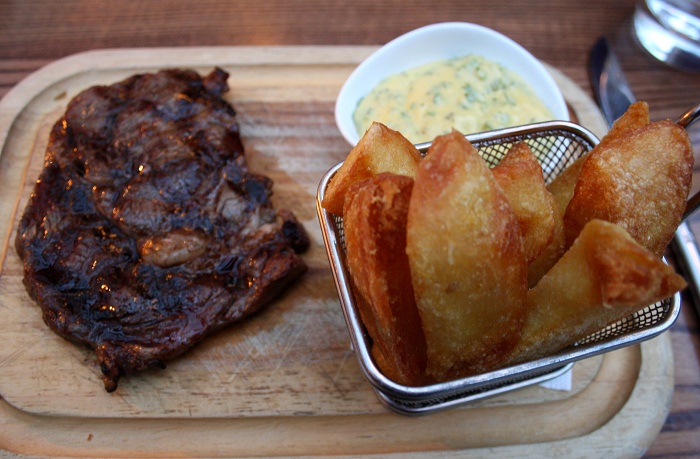 I somehow found room to indulge in the Warm chocolate pudding with peanut butter ice cream (£5.50).  The chocolate fondant dessert was perfect, with a delicate cake texture on the outside and filled with thick molten liquid chocolate.
The peanut butter ice cream was creamy and home-made, but the blobs of peanut butter could have been a little bit finer and less salty.  Still, they went extremely well together.
I accompanied this with a lovely red dessert wine from California, which was sticky and sweet with dark berry flavours.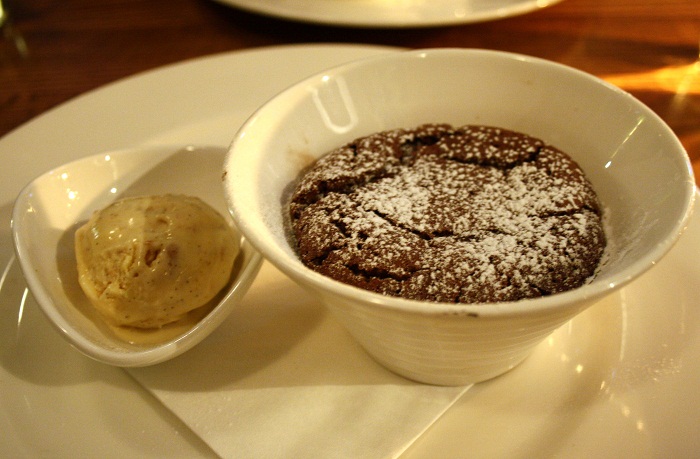 Steven's trio of Yorkshire rhubarb (£6.50) came with petite portions of oat and apple crumble, ginger and vanilla yoghurt, jelly and ice cream.  It was refreshing, sweet and sharp – a real visual treat.
We finished with a pot of fresh mint tea and a walk around the neighbourhood, where we spotted a fox!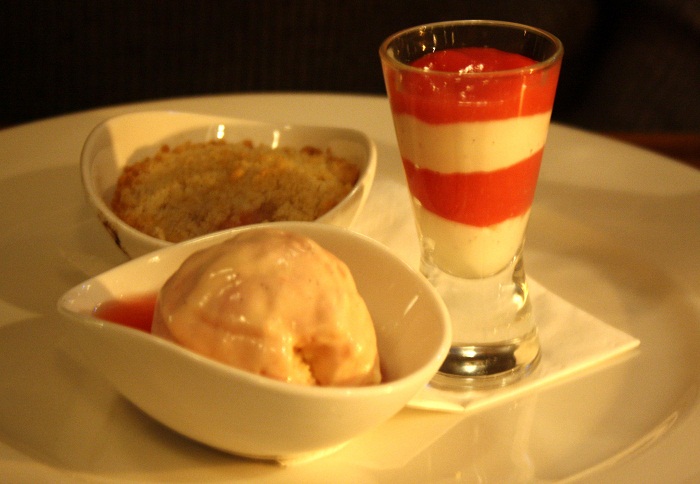 In the morning we came downstairs to a spectacular breakfast.  The Continental Breakfast table is laden with fresh bread, mini pasties, cereal and juices, all of which is included in the room price for hotel guests.
There is also a cooked breakfast menu and we tempted by The Victoria (very) full English breakfast (£10).  They weren't kidding when they said it was big – it includes two eggs, bacon, sausage, black pudding, flat grilled mushrooms, baked beans and fried bread.  The quality was exceptional and the sweetcure bacon and thick, meaty sausages were the best I've tasted in a breakfast dish.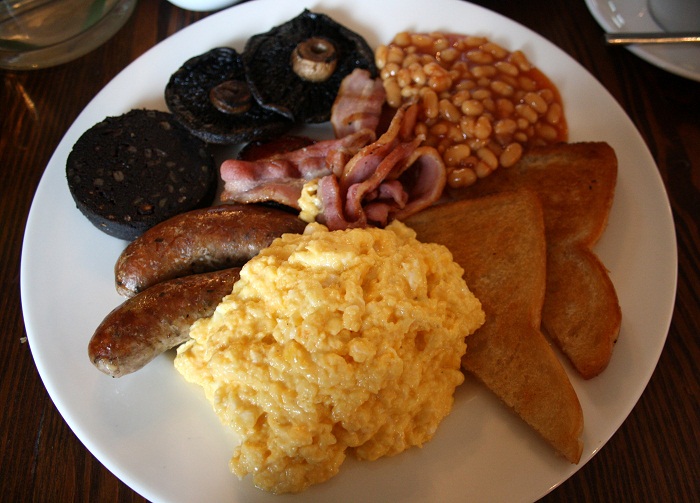 Throughout the morning, the pub becomes a hub of mothers and babies, ladies who breakfast, 'suburb-farmer' types with their dogs and ex-city freelancers tapping away on their Macs.  It has a friendly, buzzing atmosphere – it would definitely be my morning breakfast haunt if I lived anywhere near Richmond!
The Victoria is perfect for a short break away from city life for Londoners, or a clever choice for travellers looking for a high standard bed & breakfast without paying over-inflated city prices.  It's clearly run with pride and soul and it's easy to see why locals have adopted it as their own.
Rooms at The Victoria are priced from £120 per night, including continental breakfast.
For more info and booking, visit: www.thevictoria.net
Chérie City was a guest of The Victoria
All photos by Chérie City (except exterior)