Workshop Coffee Co. in Clerkenwell may look familiar – in fact, it has already been open since 2011 as ST. ALi, before relaunching under a new name earlier this year.
The story goes that the owners opened their own artisan coffee bar and restaurant under the umbrella of their Aussie friend at ST. ALi, however, such a long-distance relationship is hard to endure.  So now, along with a sister branch in Marylebone (formerly Sensory Lab), Workshop Coffee Co. goes forward in its own right, with just a few changes since the name change.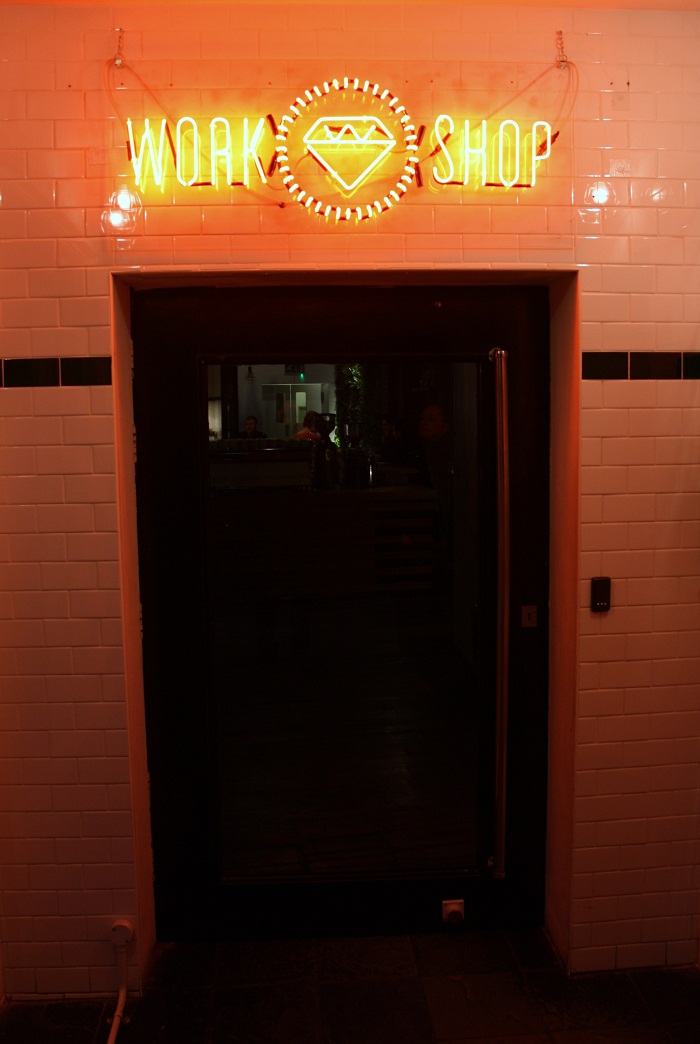 Workshop Coffee Co. not only looks cool, with its exposed brick work, rustic communal tables and living plant wall, but it also boasts its own in-house roastery.
Coffee beans from around the world are roasted and ground daily, moving seamlessly from roaster to machine to the cup.  Coffee used in the Marylebone branch of Workshop Coffee Co. also comes from the Clerkenwell roaster.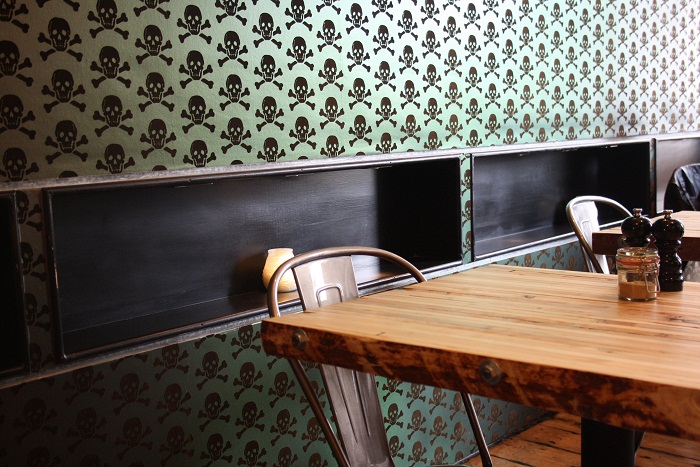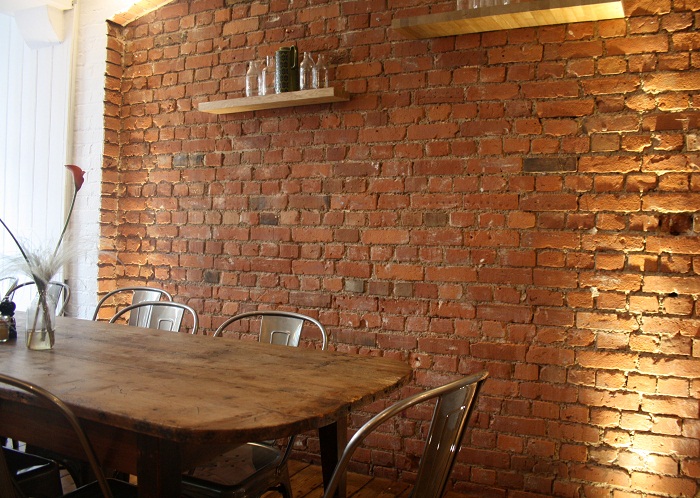 Last time I was here, I ate a gourmet toasted sourdough sandwich from the lunch menu, but this time, we tried the newly-launched evening menu.
It was hard to resist trying the Corn Frittettes (£4.50) with spiced yoghurt as a little aperitif before dinner.  They were crispy, fluffy and subtly seasoned and the yoghurt was a good accompaniment.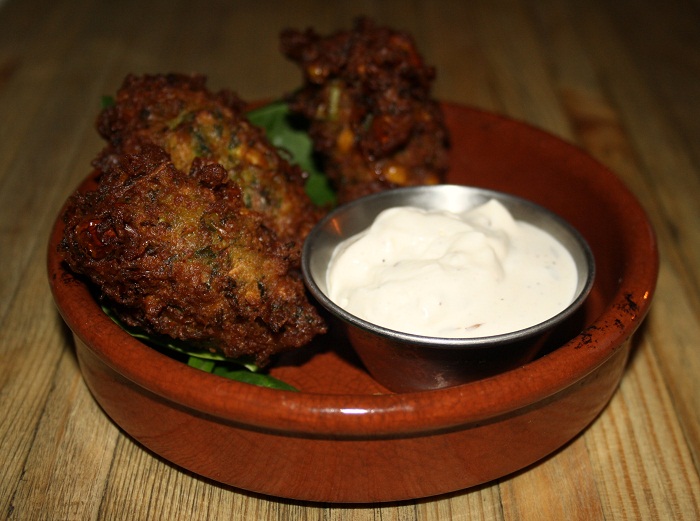 The menu is divided into small and large plates, so you can either order a few small plates to share, or do the conventional three-courses.  To start, we both ordered the Quail, poached and grilled with sumac and lemon & herb cous-cous (£8).
The quail was richly roasted and had a sharp, fruity taste with a sticky, cripsy skin.  The cous-cous was light and fresh, packed full of fresh herbs and a dusting of sumac.
For my main course, I tried the Dexter hamburger in a brioche bun with Comté, chipotle mayonnaise and fried ratte potatoes (£11.50).  This is without a doubt one of the best burgers in London!  The medium-cooked meat was juicy and high quality and the grilled brioche bun was fluffy, shiny and just on the right side of sweet.  I found the Comté cheese a perfect burger topping – flavoursome, slightly gooey and not overly rich.
The fried ratte potatoes were roughly chipped and covered in paprika with a crisp skin.  They were a refreshing change from fries and were extremely delicious when dipped in the smoky chipotle mayonnaise.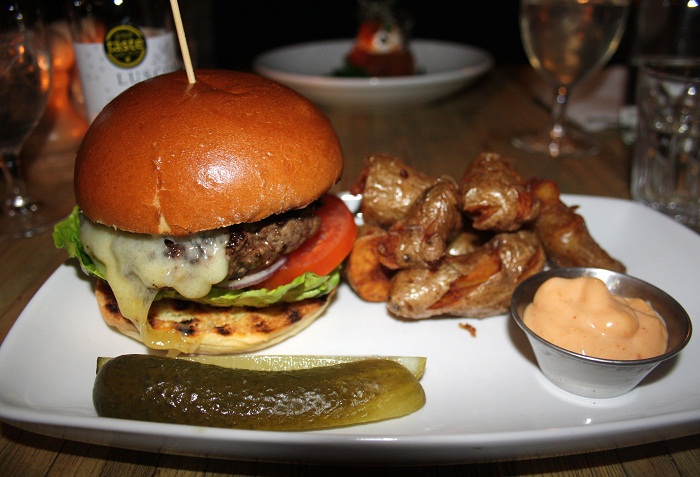 Steven tried the Smoked haddock fish cake with ginger and lemongrass, spinach and a poached egg (£11).  The large, thick fishcake was lightly smoked with a crispy breadcrumb coating and the rich tomato sauce added sweetness to the dish.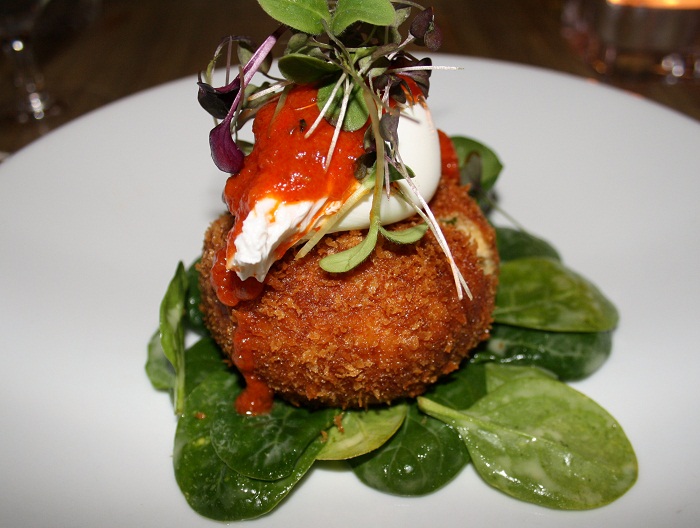 We managed to find room for dessert and it just had to be the Ginger pudding with raspberry mascarpone and toffee sauce (£5).  It included two slices of home-made ginger cake with small chunks of ginger and a baked crust.
The mascarpone was infused with raspberry and the fresh raspberries lifted the sweet, creamy flavours.  I loved the buttery home-made toffee sauce with tiny crunchy bits of melted sugar.  The dessert was so indulgent that it could easily be shared.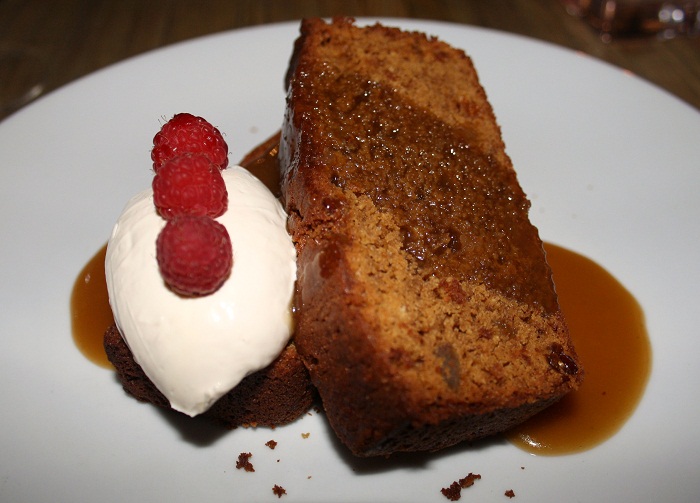 Interestingly, Workshop Coffee Co. suggests a choice of two slow-drip black coffees to finish a meal, rather than espresso.  To avoid being awake all night, we ordered two fresh mint teas, which came on a cute wooden tray in a teapot that resembled a Chemistry lab conical flask.  The coffee really is excellent here, so perhaps it's worth losing a few hours sleep for!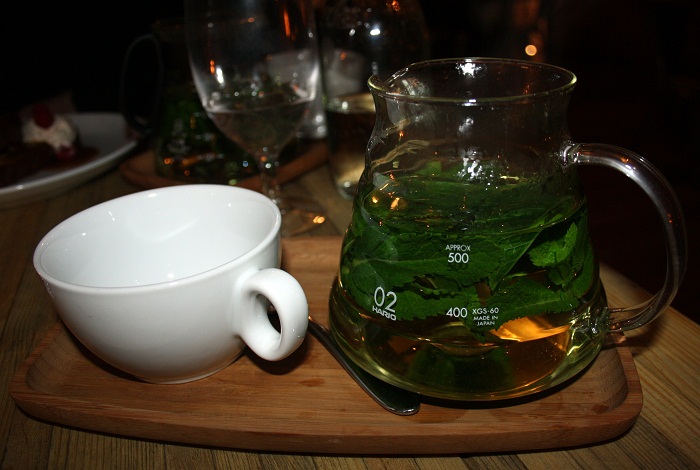 Workshop Coffee Co. is one of those cool all-day dining spots that you can rely on for great food, expertly-made coffee, friendly service and a great atmosphere.  The exceptional evening menu proves that Workshop Coffee Co. can do much more than just a good brew!
Chérie City was a guest of Workshop Coffee Co.
All photos by Chérie City