Alain Ducasse is considered one of the best chefs in the world and where better to experience his 'haute couture' cuisine than the stylish Hôtel Plaza Athénée in Paris.
For the tenth anniversary of the three Michelin starred Alain Ducasse au Plaza Athénée, he has decided to go back to basics, finding the beauty in simplicity.  This may be an unexpected concept from a world renowned chef, but Alain's new vision focuses on bringing out the flavours in natural produce and combining them to create something fresh and unique.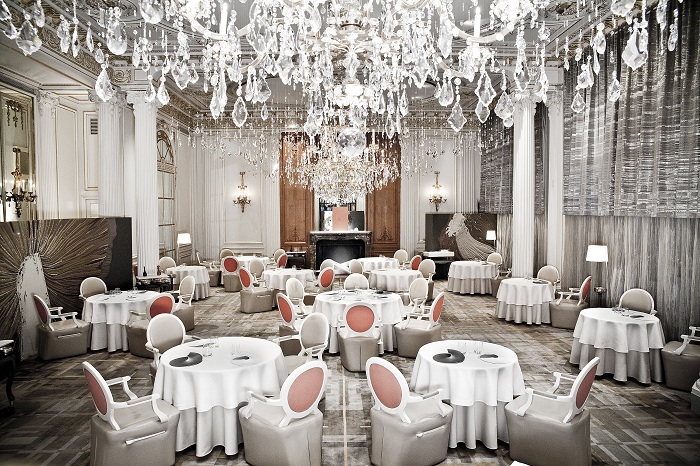 When I visited Alain Ducasse au Plaza Athénée with a group of bloggers, we were told there would be a special surprise.  We walked into the spectacular Louis XV-style dining room and were led back out the other side into the kitchen.  That evening, we were to dine at the Chef's Table – an experience only offered for very special occasions and one that cannot be bought.
We started with an exclusive tour of the kitchen and an introduction to the menu by head chef Christophe Saintagne (a protégé of Alain Ducasse who cut his teeth at the Élysée Palace, Aux Lyonnais and Hôtel de Crillon).  The most striking thing is the large number of staff gliding around the kitchen, preparing the dishes with expert speed and precision.  One particular chef was adding the finishing touches to a dish with tweezers!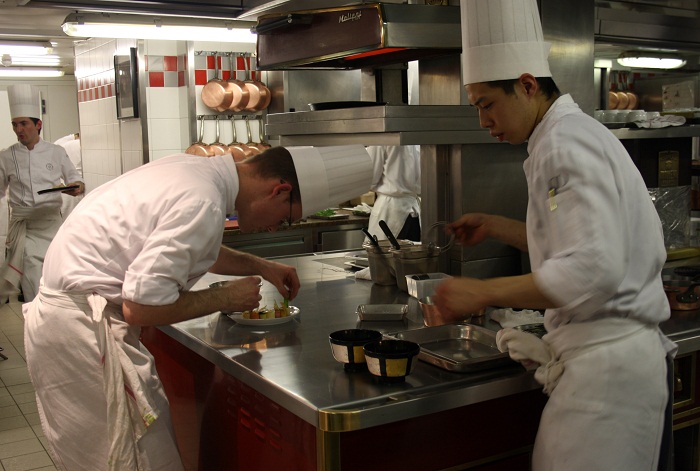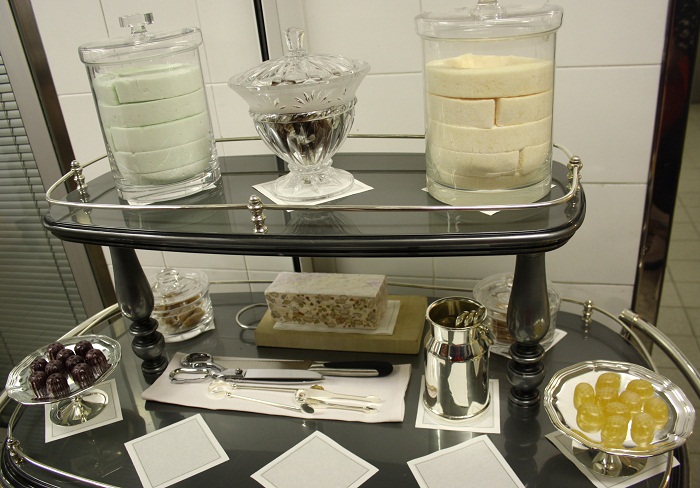 With Christophe's assistance, we chose four dishes to create a tasting menu.  The Chef's Table is located on the edge of the kitchen with rustic jars and photography on the shelves and a large round table.  There are also three flat screen TVs mounted on the wall, so diners with their backs to the kitchen can still watch all of the action.
Previously, Alain Ducasse designed his table centrepieces with elaborate porcelain gourdons (ornamental vegetables), but moving forward with his natural philosophy, these have been replaced with fresh vegetables and uniformly placed, slender mini baguettes.  Perhaps the baguettes merely represent the French people's reverence to daily bread, as we were shortly offered slices of rustic rye and sourdough bread, served with two different types of butter and a trio of seasonings.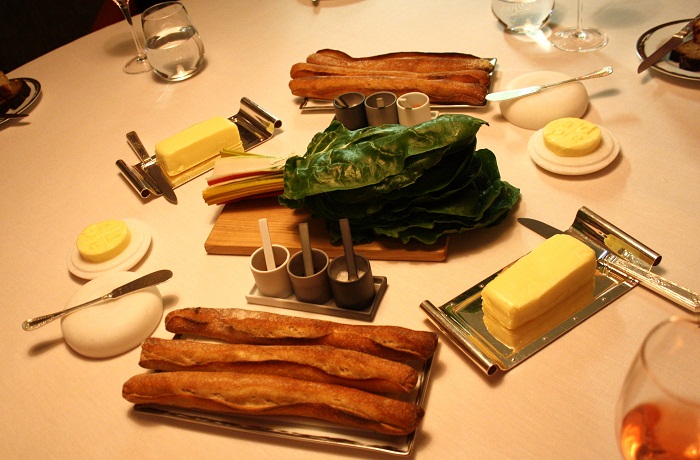 First to arrive was an amuse-bouche of smoked seabass and dry cured ham on rye toast, wrapped up in a parcel held together with a wooden peg, swiftly unpinned by our waiter.  They were deliciously light and smoky and it was a refreshing change to nibble on something simple but tasty.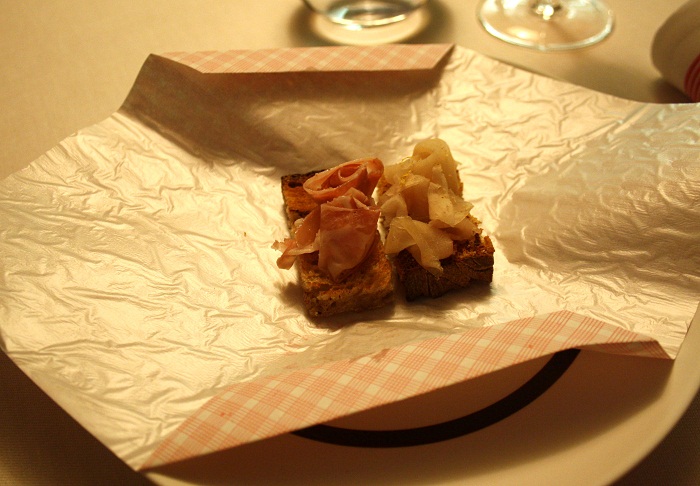 For starters, we tried the Steamed langoustines served cold, caviar.  The petite mounds of langoustines topped with crème fraiche and dotted with a generous portion of caviar were extremely fresh, meaty and pleasantly sweet.  They were served with a scrumptious Asian-style lobster broth infused with lemongrass and ginger, which I could have drunk in abundance.
I'd never tried caviar, so I thought this will be the night to take the plunge (Paris always seems to make me more adventurous with food).  As expected, I didn't enjoy the taste at all, but as a testament to its quality, my dining companions with a more tolerant palate wolfed it down.
Each course was matched with a wine chosen to compliment the flavours, ending with a tasting of potent fine rums.  My personal favourite was the Corsican dessert wine.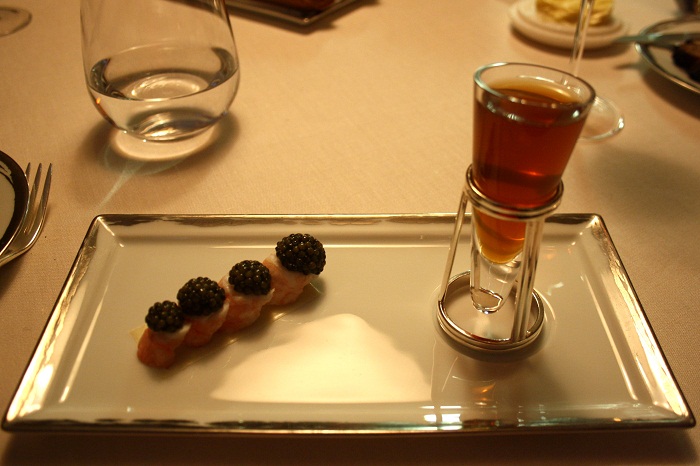 One of the most interesting dishes on the menu was Vegetables and Fruits (the name really gives very little away).  Lightly poached pears and apples were placed alongside partly-cooked avocado, fennel, radicchio and avocado purée topped with tiny pearls of lemon caviar that burst with an intensely sharp citrus flavour – now that's a kind of caviar I can get on board with!  The presentation was stunning and the flavours were so fresh and unlike anything I've ever tasted.
Between each course, a different style of cutlery, crockery and napkins are presented, including a rather regal-looking gold set.  This is attention to detail is a vital part of Alain Ducasse's Art of Fine Dining approach.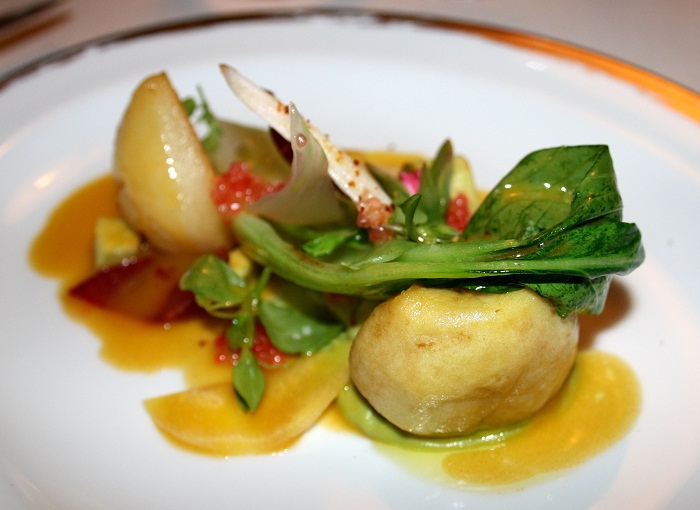 John Dory with artichokes and bitter herbs was a highlight of the meal, as the fish was so meaty and succulent.  Many high profile chefs tend to eschew fried onions, perhaps due to their association with provincial home cooking, but Alain Ducasse has made a feature on them in this dish.  They really complimented the robust texture of the John Dory.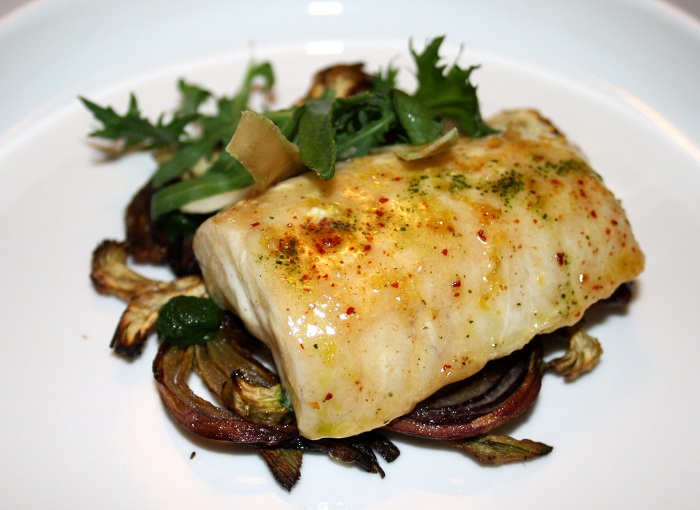 Roasted poultry with morels was a simple dish done extremely well.  The chicken was juicy and succulent and came with spongy morels, soft wilted vegetables and a confit of giblets on a disc of fried bread.  The giblets had a strong offal taste, but that flavour softened when eaten with the roast chicken and the rich jus.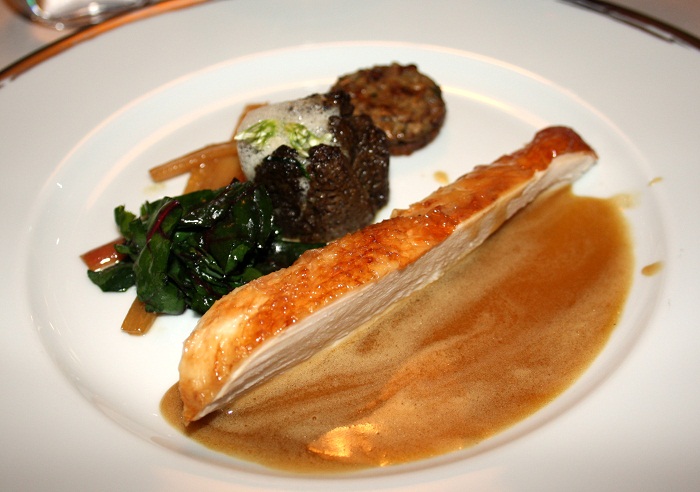 I was interested to try some top quality French cheese, so luckily everyone agreed on adding a cheese course.  The cheese trolley was impressive and pungent and the waiter asked which kind of cheese we prefer – mild, medium or strong.  I went for a trio of medium cows milk cheeses – one was a sweet and nutty gruyere and the other two were soft, creamy and Camembert-esque.
For dessert, we were served the minimally named Citrus.  On first impressions, I couldn't help thinking that a citrus fruit salad was really dull, but how wrong I was!  The glass was filled with candied orange and lemon slices, kumquats, a light citrus jelly and shredded fresh mint, topped with Campari granita and some more of that delicious lemon caviar.
The Citrus dessert was so intense, interesting and refreshing and the sweetness of the candied fruit was balanced with the bitterness of the Campari and the sharp, bursting lemon caviar.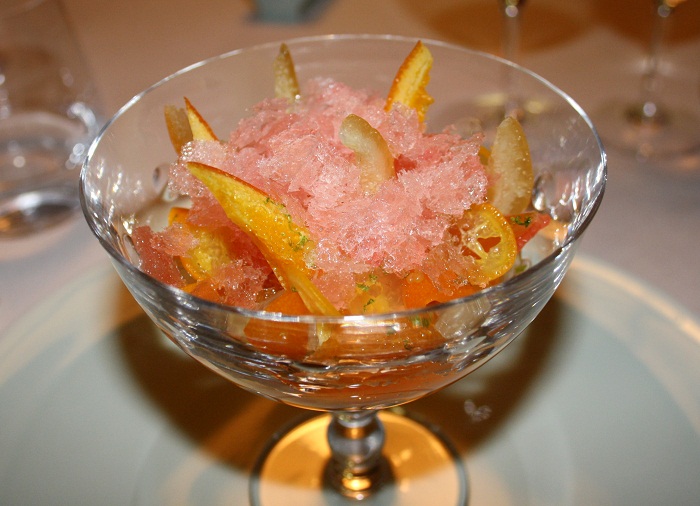 We were also offered a Rum baba as in Monte-Carlo to share as a little extra dessert.  The light, spongy cake was soaked in rum at the table and topped with bourbon vanilla cream.  It was decadent, sweet and delicious but I was glad that we'd tried something unique with Citrus.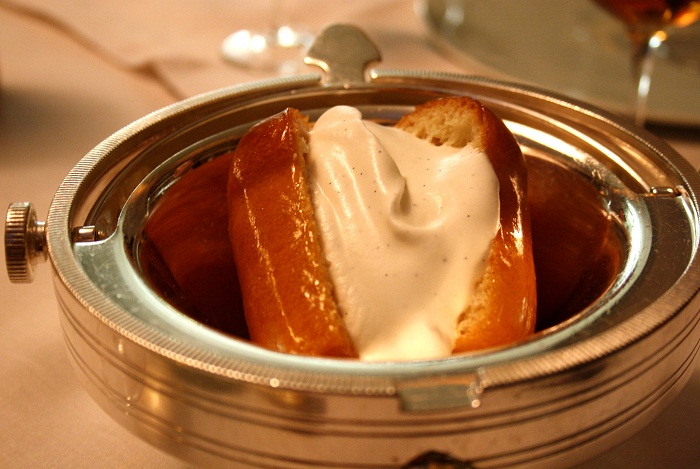 Dessert was followed by enough after-dinner treats to count as another full course!  Our table was laden with milk and dark chocolate florentines, Chartreuse and Campari marshmallows, nut brittle wafer-thin crisps, toffees, chocolate truffles, pralines, and pâtes de fruits – oh, mon dieu!
We found room to try one of each, but the dark chocolate florentines infused with orange were particularly addictive.  We were kindly given a bag full of soft toffees to take away, which somehow made it back on the Eurostar with me.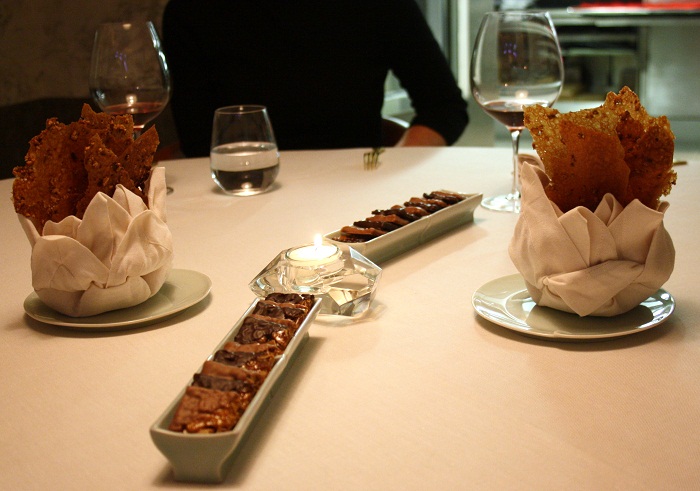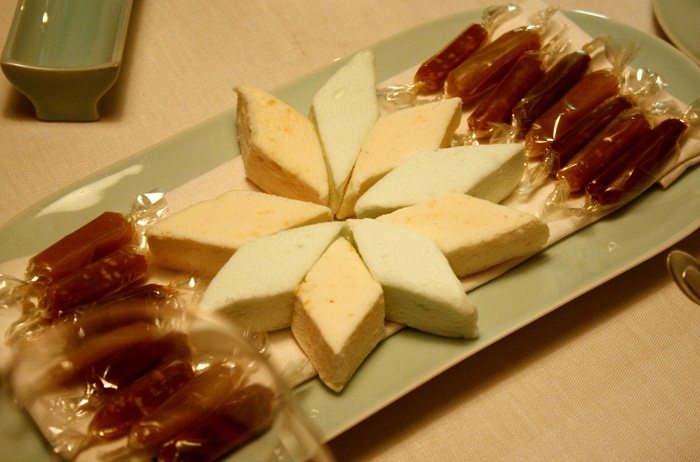 Dining at Alain Ducasse au Plaza Athénée was an evening full of culinary discoveries and it's clear that his reputation is well-deserved.  Every dish perfectly reflected the Spring season and a dedication to simplicity.
The Spring Collection Menu (four dishes, cheeses and dessert) is priced at 380 Euros.  For more info and booking, visit: www.plaza-athenee-paris.com
Chérie City was a guest of Alain Ducasse au Plaza Athénée
All photos by Chérie City (except dining room)